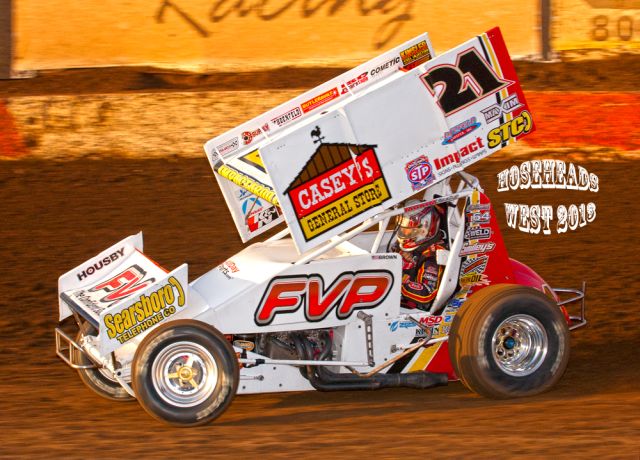 From Bryan Hulbert
Grain Valley, MO —  (April 19, 2013) — Brian Brown started his season with the Speedway Motors Warrior Region on the right foot; with a win at the Valley Speedway in Grain Valley, Mo.
Moving into the lead on the second lap, Kyle Bellm's Christian County Collision No. 14 set the pace until Lap 18 before surrendering the spot to Brian Brown's FVP/Casey's General Store/Searsboro Telephone No. 21 as Bellm's engine began going south and finally failing on Lap 20. Logan Forler advanced from fifth to make a bid for the win but ultimately settled for the runner up spot followed by 2012 Warrior Region champion Jonathan Cornell. Miranda Arnold and Tyler Blank made up the top five.
Wyatt Burks, Cody Baker, Jay Russell, Kyle Bell, and Taylor Walton completed the top ten.
The Speedway Motors Warrior Region continues the weekend at the Springfield Raceway in Springfield, Mo. on Saturday, April 20 with the American Bank of Oklahoma Sooner Region joining the line-up.
Cody Ledger won the Valley midget car feature.
Speedway Motors ASCS Warrior Region
Valley Speedway – Grain Valley, Mo.
Friday, April 19, 2013
Car Count: 13
Heat 1 (8 Laps): 1. 28-Jonathan Cornell; 2. 14K-Kyle Bellm; 3. 93-Taylor Walton; 4. 5M-Miranda Arnold; 5. 38-Cody Baker; 6. 75-Tyler Blank; DNF 73-Lane Stone
Heat 2 (8 Laps): 1. 21-Brian Brown; 2. 2L-Logan Forler; 3. 53-Jack Dover; 4. 76-Jay Russell; 5. 11W-Wyatt Burks; DNF 9-Casey Baker
A Feature (30 Laps): 1. 21-Brian Brown; 2. 2L-Logan Forler; 3. 28-Jonathan Cornell; 4. 5M-Miranda Arnold; 5. 75-Tyler Blank; 6. 11W-Wyatt Burks; 7. 38-Cody Baker; 8. 76-Jay Russell; 9. 14K-Kyle Bellm; 10. 93-Taylor Walton; 11. 53-Jack Dover; 12. 73-Lane Stone; 13. 9-Casey Baker
Lap Leaders: Taylor Walton (1), Kyle Bellm (2-18), Brian Brown (19-30)
Valley Midgets
1. Cody Ledger
2. J.D. Black
3. Pat Schudy
4. Matthew Gilbert
5. Brian Rieck
6. Zachary Sanders
7. Todd Jackson
8. Tyler Nelson
9. Daniel Robinson