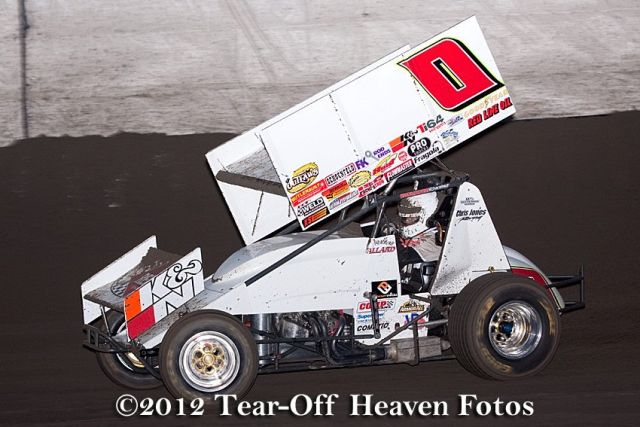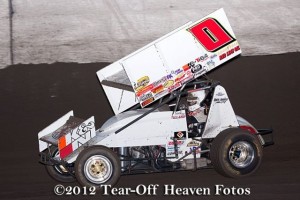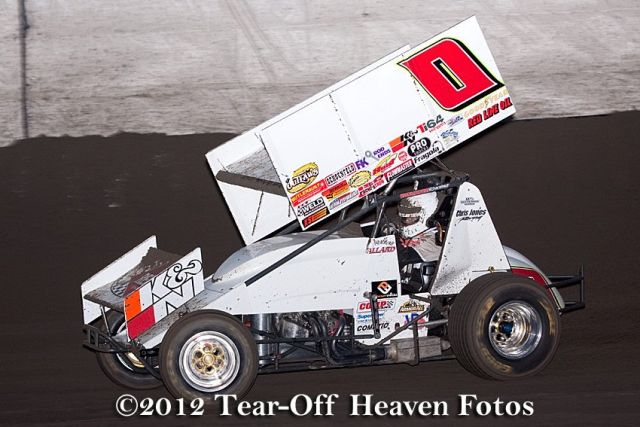 From Bill Sullivan
Chico, CA — (May 10, 2013) — Chico's Jonathan Allard secured his 46th career main event win when he passed Willie Croft while the two were battling in heavy lapped traffic Friday night at Silver Dollar Speedway. "I need to thank my dad for working on this motor most of this week," said Allard in victory lane. "We came up here to figure it out and we are close." Allard also stated, "It's a pleasure to drive this car for Morrie and Katie Williams. I have to thank my crew and the entire Williams Motorsports supporters." Other winners during Wells Fargo point racing #6 included Ryan McDaniel in the Limited Late Models, Duane Cleveland in the dirt modifieds, Tony Richards in the economy winged sprints and Rowdy McClenon in the Perma-Zyme wingless sprints.
Sacramento's Willie Croft led the charge of 19 winged sprint cars who took the green flag for the 25-lap main event. The race began with a spectacular flip involving Jason York and Tyler Spath. Both cars were junked during the back straight away melee. On the restart Justyn Cox turned it over in turn two. On the third start Croft jumped out to the lead and began to put some quick laps down. It was soon evident that Croft and Allard were in a drag race around the quarter mile track. Slower traffic is always a factor in sprint car racing and it was no different tonight as Croft was handcuffed going down the back straight. Allard drove the inside as Croft was stuck on the outside. Allard took the lead and never looked back. Sean Becker started fourth and finished third. Andy Forsberg finished in the fourth spot while Rico Abreu finished fifth. Tyler Spath earned the Tyler Wolf Fast Time award by going 12.400 in qualifying. Mason Moore, Peter Murphy and Justyn Cox were all winners in heat race action.
"I almost forget what this view looks like," joked Duane Cleveland from victory lane. Cleveland is a former champion of the dirt modifieds, however, it's has been a while since the Yuba City driver had won at Chico. "It was nice to have such a racy track and to be able and race clean against the other guys tonight was fun." Cleveland started third but quickly moved into second and raced with leader Oreste Gonella. The modifieds continue to provide some of the best racing we have seen in years at Chico. Unfortunately two of the top runners had problems tonight. Chico's Richard Papenhausen and Mark Abouzeid each did not finish the main event. Ryan McDaniel made the race for the lead interesting with a few laps to go as he emerged to battle the top two. Once Cleveland made the winning move he went on to lead the final few laps. It was a clean sweep for Cleveland as he won the lone eight lap heat race.
The best race of the night definitely was the limited late model main event. The 12 cars that started the 20 lap main event need to be commended for their skills. The race went 20-laps non-stop. "The Big Cat" Jerry Bartlett looked like he had finally regained his championship form at Chico. Bartlett led the first 16 laps of the main event. Yet, Ryan McDaniel made the pass of the night to get around Bartlett with four to go. McDaniel went on to then hold off his father, Randy, who had also passed Bartlett. Ryan crossed the line with a two car advantage over his father. Bartlett held on to finish third. Matt Micheli came home in the fourth spot. David Newquist rounded out the top five. Ken Micheli won an exciting second heat race. Randy McDaniel won the first heat.
The Perma-Zyme wingless sprint car series main event featured an entertaining battle for the lead between Ron LaPlant and Rowdy McClenon. Those two kids put on a battle that we have not seen in recent memory. Give LaPlant credit as he drove that car as hard as it would go. Unfortunately LaPlant's car did not survive the entire race. While battling McClenon the #69 flipped off the edge in turn one. He returned to the race but later pulled off. That left McClenon up front and dominating all by himself. At the line McClenon won the race easily. It was his third win in a row at Chico as he continued to march towards a second track championship at Chico. Nick Larson, Don Emery, Tayler Nelson and Fast Eddy Lewis all put on a great show for second place on back. While the finish for Dustin Thompson might be disappointing the kid should hold his head high. Thompson was up near the front for most of the race. Series title sponsored car of Nathan Johnson finished sixth. McClenon won the lone heat race.
Orland's Tony Richards returned to his winning ways when he led all 15 laps during the winged economy sprint car main event. Courtney Dozier shadowed him for the majority of the race. Paradise's Mike Funkhouser ran a solid third tonight. It's good to see him back at the race track. Seventh place starting Dusty Barton finished fourth. Shawna Overton rounded out the top five. The race was slowed by a few accidents. Scott Gannett and Jason Standley were the first two out when they stopped on the outskirts of turn three. Gannett and Dozier were victorious during the heat race action. A nice turnout of 12 cars showed up for point race number 6,.
410 Sprint Car Feature:  1. Jonathan Allard, 2. Willie Croft, 3. Sean Becker, 4. Andy Forsberg, 5. Rico Abreu, 6. Micahel Tarter, 7. Kevin Sharrah, 8. Mason Moore, 9. Bud Walberg, 10. Peter Murphy, 11. Chris Bell, 12. Keith Bloom, 13. Brad Bumgarner, 14. Craig Swim, 15. B.J. Martin, 16. Clint Wilson, 17. Justyn Cox, 18. Jason York, 19. Tyler Spath
Wingless Sprints:  Rowdy McClenon, 2. Nick Larson, 3. Don Emery, 4. Taylor Nelson, 5. Eddy Lewis, 6. Nathan Johnson, 7. Dustin Thompson, 8. Ron Laplant
eSprints:  1. Tony Richards, 2. Courtney Dozier, 3. Mike Funkouser, 4. Dusty Barton, 5. Shawna Overton, 6. Ron Wyman, 7. Kyle Standley, 8. Doug Emery, 9. Brandon Powell, 10. Gary Koster, 11. Jason Standley, 12. Scott Gannett.