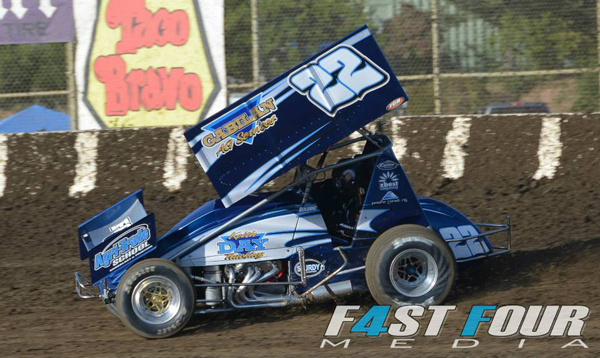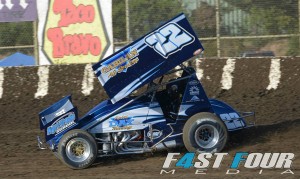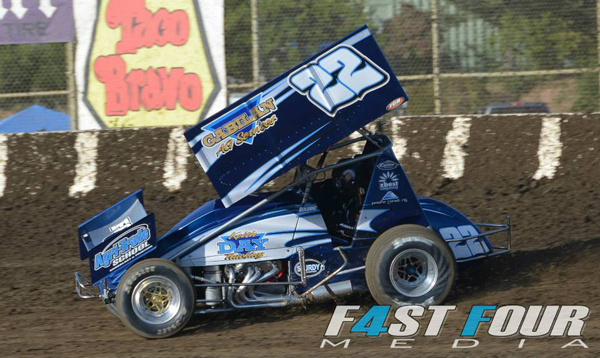 From Steven Blakesley
Watsonville, CA — (May 19, 2013) — 2012 Ocean Sprints presented by Taco Bravo champion Shane Golobic returned to victory lane Friday night, fending off a hard-charging Bud Kaeding to claim the victory at John Prentice's Ocean Speedway Watsonville. Golobic had come close several times this season in the Keith Day Trucking #22 ride before finally completing the deal this time around.
Golobic led the field to the green from the pole, while fast-time qualifier Bud Kaeding elected to start at the rear and take Earl Stanton's "Nobel Construction Back Row Challenge". Race fans had their eyes glued on Kaeding's charge in the BZE #29 while also watching the leaders.
San Jose's Ryan Ruscon went upside down in turn two on lap two for the first Ocean Sprints flip in the last three races for the series. He was uninjured. Golobic paced points leader Brad Furr through lapped traffic while Kaeding made his way up into the fifth position by lap 13.
Kaeding found himself with a big gap to overcome to catch the top four, and got his break when Nick Foster, Jr. of San Jose tipped over in turn four to bring out the caution. Kaeding took advantage to pick hi was through the top-five cars and lapped traffic. After some battling, Kaeding found his way around Carson Macedo and Furr to set his sights on Golobic.
2012 Rebel Cup series champion DJ Netto of Hanford fell out of the event with a top-five run with engine problems on lap 24.
With five laps to go, Kaeding was within two car lengths of Golobic in heavy lapped traffic. Golobic navigated through several side-by-side lapped cars to stay in front of Kaeding. Kaeding went aggressively to the bottom and bounced off of the turn one tire in the infield several times. The third time was the charm as Kaeding's car suffered left front damage.
Golobic stormed away to a 2.4 second victory while Furr overhauled Kaeding for second place, with Kaeding nursing his wounded entry home third. Macedo finished fourth with Gilroy's Kurt Nelson rounding out the top-five.
Heat races were won by Bud Kaeding and Shane Golobic. Kaeding's drive from the back earned him the DDNi Hard Charger award worth $100.
The Ocean Sprints presented by Taco Bravo take a week off before returning on Friday May 31st.
For more information on the Ocean Sprints log onto http://www.oceansprints.com and for more on the Ocean Speedway visit http://www.oceanspeedway.com
Ocean Speedway would like to thank Taco Bravo, Digital Delivery Networks, Nobel Construction, Get Som Sports, Ray Scheidt's Electric, Hoosier Tires West, and Kaeding Performance for their support.
May 17, 2013 Ocean Sprints presented by Taco Bravo – Watsonville, California
RAY SCHEIDT'S ELECTRIC QUALIFYING: 29 Bud Kaeding 11.652
HEAT 1: 29 Bud Kaeding
HEAT 2: 22 Shane Golobic
30 LAP FEATURE: 1) 22 Shane Golobic, 2) 2 Brad Furr, 3) 29 Bud Kaeding, 4) 21x Carson Macedo, 5) 72w Kurt Nelson, 6) 92 Koen Shaw, 7) 8 Jeremy Chisum, 8) 11 Nick Rescino, Jr., 9) 4x Tim Decarlo, Jr., 10) 2x Carter Train, 11) 199 Nick Foster, Jr., 12) 4 Nathan Washam, 13) 88n DJ Netto, 14) 25z Jason Chisum, 15) 98 Ryan Rusconi
LAP LEADERS: 22 Shane Golobic 1-30