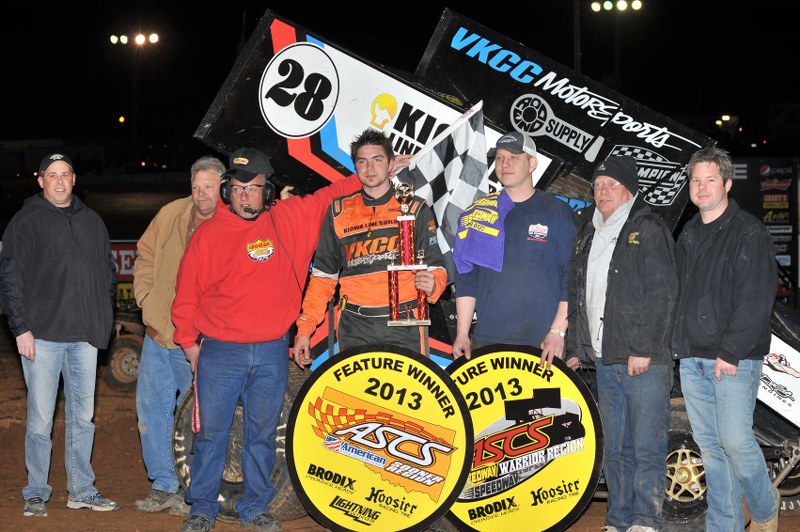 From Bryan Hulbert
California, MO —  (May 26, 2013) — It is only fitting that a VKCC Motorsports backed car should make it to victory lane on Sunday, May 26 as the Double X Speedway hosted its annual Tribute to Jesse Hockett with Jonathan Cornell wiring the 30 lap feature with the Speedway Motors Warrior Region.
Staying to the high side of the quarter mile oval, Cornell topped the Martin family on the podium with Randy and Evan Martin gracing the remaining steps. Tyler Blank and Russ Hall made up the top five. The top ten rounded out with Cody Baker, Jason Johnson, Bryan Grimes, Adam Jones, and Kevin Whitworth from seventeenth.
The Speedway Motors Warrior Region continues the 2013 season at the Lucas Oil Speedway with the Lucas Oil American Sprint Car Series presented by MAVTV American Real on Saturday, June 22.
Speedway Motors Warrior Region
Double X Speedway – California, Mo.
Sunday, May 26, 2013
Car Count: 21
Heat 1 (8 Laps): 1. 45C-Russ Hall; 2. 1P-Curtis Evans; 3. 14-Randy Martin; 4. 9-Casey Baker; 5. 24-Lanny Carpenter; 6. 65-Trevor (T.J.) Muths; DNF XX-A.J. Wirts
Heat 2 (8 Laps): 1. 4-Evan Martin; 2. 75-Tyler Blank; 3. 6-Bryan Grimes; 4. 72-Curtis Boyer; 5. 04-Brad Graham; 6. 77-Kevin Whitworth; 7. 49-Tyler Elliott
Heat 3 (8 Laps): 1. 28-Jonathan Cornell; 2. 38-Cody Baker; 3. 41-Jason Johnson; 4. 1A-Adam Jones; 5. 92J-J.R. Topper; 6. 76-Jay Russell; 7. 5-Matt Close
A Feature (30 Laps): 1. 28-Jonathan Cornell; 2. 14-Randy Martin; 3. 4-Evan Martin; 4. 75-Tyler Blank; 5. 45C-Russ Hall; 6. 38-Cody Baker; 7. 41-Jason Johnson; 8. 6-Bryan Grimes; 9. 1A-Adam Jones; 10. 77-Kevin Whitworth; 11. 1P-Curtis Evans; 12. 72-Curtis Boyer; 13. 76-Jay Russell; 14. 9-Casey Baker; 15. 24-Lanny Carpenter; 16. 5-Matt Close; 17. 65-Trevor (T.J.) Muths; 18. 49-Tyler Elliott; 19. 92J-J.R. Topper; DNF 04-Brad Graham; DNS XX-A.J. Wirts
Lap Leader(s): Jonathan Cornell 1-30