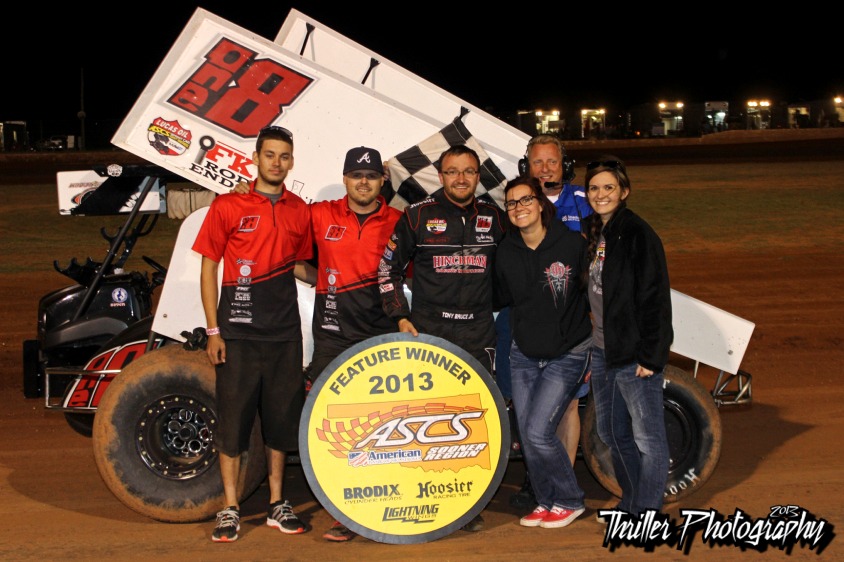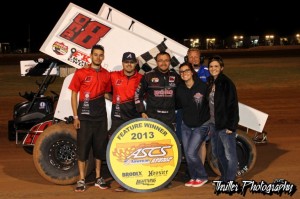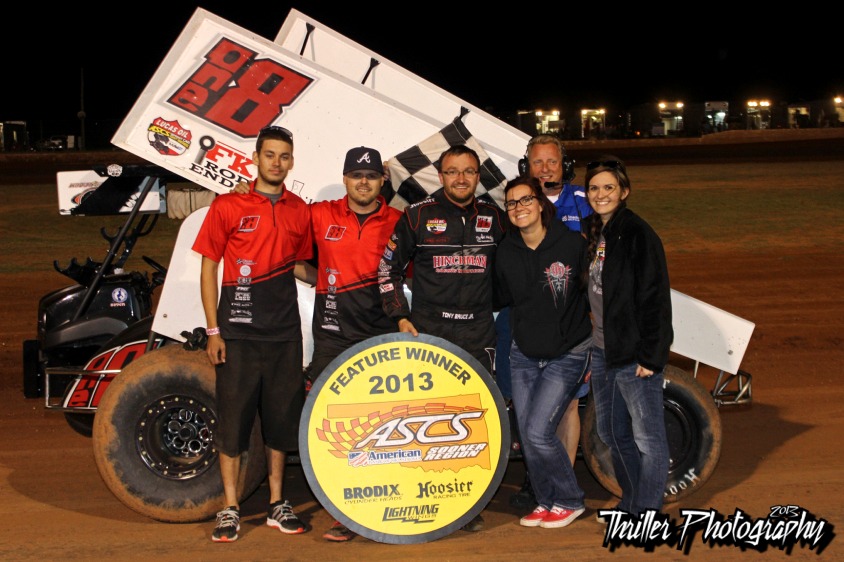 From Bryan Hulbert
Lawton, OK — (June 1, 2013) — With his TBJ Promotions backed Hinchman Racewear Eagle Nationals flooded out, Tony Bruce, Jr. turned south to the Lawton Speedway to collect the winner's check with the American Bank of Oklahoma Sooner Region.
Leading the distance in the night's 25 lap feature, Bruce was challenged briefly to the high side by eighth starting Joe Wood, Jr. on the fourth lap. Not able to clear the Inside Line Promotions No. 18, Bruce adjusted his line to the top to go uncontested to the finish.
Joe Wood, Jr. crossed second with Robert Sellers, Johnny Herrera, and Logan Forler completing the top five. Mike Goodman, Seth Bergman, Danny Jennings, Danny Wood and Koby Barksdale made up the top ten.
American Bank of Oklahoma Sooner Region
Lawton Speedway – Lawton, Okla.
Saturday, June 1, 2013
Car Count: 25
Heat 1 (8 Laps): 1. 17-Blake Hahn; 2. 8X-Alex Sewell; 3. 23-Seth Bergman; 4. 22-Koby Barksdale; 5. 81-Danny Wood; 6. 7-Michelle Decker; 7. 8-Shane Pace; 8. 9$-Kyle Clark; 9. 22K-Kevin Barksdale
Heat 2 (8 Laps): 1. 18-Tony Bruce Jr; 2. 94L-Layne Himebaugh; 3. 4AM-Mike Goodman; 4. 2L-Logan Forler; 5. 25-Chad Koch; 6. 95-Matt Covington; 7. 57-Kyle Chady; 8. 7X-Shane Sellers
Heat 3 (8 Laps): 1. 45X-Johnny Herrera; 2. 7S-Robert Sellers; 3. 03-Joe Wood Jr; 4. 1-Danny Jennings; 5. 17W-Harli White; 6. 5-Joe Bob Lee; 7. 35-Rick Wright Jr; 8. 97-Kevin Cummings
B Feature (12 Laps): 1. 95-Matt Covington; 2. 7-Michelle Decker; 3. 9$-Kyle Clark; 4. 5-Joe Bob Lee; 5. 7X-Shane Sellers; 6. 8-Shane Pace; 7. 22K-Kevin Barksdale; 8. 97-Kevin Cummings; DNF 57-Kyle Chady; DNF 35-Rick Wright Jr; DNF 25-Chad Koch
A Feature (25 Laps): 1. 18-Tony Bruce Jr; 2. 03-Joe Wood Jr; 3. 7S-Robert Sellers; 4. 45X-Johnny Herrera; 5. 2L-Logan Forler; 6. 4AM-Mike Goodman; 7. 23-Seth Bergman; 8. 1-Danny Jennings; 9. 81-Danny Wood; 10. 22-Koby Barksdale; 11. 7X-Shane Sellers; 12. 95-Matt Covington; 13. 7-Michelle Decker; 14. 17W-Harli White; 15. 94L-Layne Himebaugh; 16. 8X-Alex Sewell; DNF 8-Shane Pace; DNF 17-Blake Hahn; DNF 9$-Kyle Clark; DNF 5-Joe Bob Lee
Lap Leader(s): Tony Bruce, Jr. (1-25)