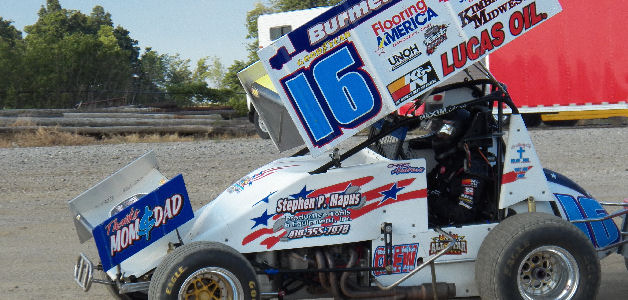 By Bill W
Chris Andrews won his first ever All Star Circuit of Champions feature at Attica Raceway Park capturing the 40 lapper over Dale Blaney, Caleb Griffith, Justin Henderson and Dean Jacobs.
6/21/13
Attica Raceway Park
Attica, OH
Ohio Speedweek Night #1
41 cars
Cap Henry (9th car out to time) set the standard in time trials at 12.272 seconds.  Tim Shaffer (29th car out) was second quick, followed by Dale Blaney (16th), Chris Andrews (17th), DJ Foos (3rd), Caleb Griffith (8th), Craig Mintz (28th), Stuart Williams (7th), Brandon Wimmer (18th) and Rob Chaney (30th).  With 41 cars in the field, each driver got one lap on the clock.
Heat one (started): 1. Brian Lay 45L (1) 2. Greg Wilson w20 (3) 3. Wimmer 9w (2) 4. Foos 53 (5) 5. Byron Reed 5 (9) / 6. Dallas Hewitt 2m (7) 7. Jordan Harble 5H (8) 8. Henry 54 (4) 9. Bruce White 96au (10) 10. Dave Blaney 10 (6) DNS – Jac Haudenschild 59
Jac lost a muffler before the heat got started.  It was the start to a long night for him.  J. Harble spun before a lap could be completed.  Lay shot out to the lead and would keep it to the checkers in the 10 lapper that took the top five to the main event.  Reed had worked his way up from the back to a transfer spot in the first two laps.  Dave Blaney dropped out with mechanical issues on lap two.  Henry dropped out while running fourth on lap four.
Heat two (started): 1. Logan Schuchart 1s (1) 2. Bryan Sebetto 24H (3) 3. Chaney 9x (4) 4. Sheldon Haudenschild 33m (2) 5. Shaffer 83 (6) / 6. Justin Henderson 0 (9) 7. Danny Smith 4 (8) 8. Adam Wilt 15 (7) 9. Rodney Hurst 97x (10) 10. Griffith 40DD (5)
Sebetto shot out to the lead in 3-wide action with Schuchart and Chaney, back in the Courtad #9x.  Schuchart used the low side to move out front a lap later.  Griffith was fighting for the final transfer spot with Shaffer back and forth when he smacked the frontstretch wall on lap four.  Schuchart carried out the win after the restart.  A late run by Henderson fell short of a transfer.
Heat three (started): 1. Cole Duncan 7K (2) 2. Brandon Martin 11x (3) 3. Dale Blaney 2 (6) 4. Mintz 09 (5) 5. Dean Jacobs 97 (4) / 6. Stuart Brubaker 35 (1) 7. Travis Philo 5T (7) 8. Brad Bowman 55 (8) 9. Paige Polyak 27P (9) 10. Trey Gustin 80 (10)
Duncan led flag to flag and won going away in his first night in the Jessup #7K.  Brubaker held a transfer until Jacobs rolled by on lap five.
Heat four (started): 1. Caleb Helms 40 (1) 2. Danny Holtgraver 45 (3) 3. Andrews 16 (6) 4. Brad Sweet 49 (4) 5. Williams 46 (5) / 6. Gary Taylor 40T (8) 7. Jacob Allen 1a (9) 8. Duane Zablocki 9z (7) 9. Jimmy Pooler 787 (10) 10. Mitch Harble 15H (2)
Helms led the distance.  Andrews impressed, moving up nicely and getting by Sweet for third.
Dash (started): 1. Foos (2) 2. Andrews (4) 3. Dale Blaney (1) 4. Mintz (3) 5. Williams (6) 6. Shaffer (5)
A three-wide early battle went to Foos.  Andrews stormed back and took the lead on lap two, with the track yielding three grooves at a minimum.  Foos would get back by to take the win in the 6-lapper that determined the first three rows of the feature.  The Aussie Williams appears to improve each time he hits the track.
B main (started): 1. Henry (1) 2. Griffith (2) 3. Philo (8) 4. Bowman (12) / 5. Wilt (5) 6. Hewitt (6) 7. Zablocki (7) 8. Smith (9) 9. Taylor (11) 10. Polyak (13) 11. Gustin (17) 12. Allen (16) 13. Hurst (18) 14. Pooler (20) 15. White (19) 16. L. Harble (15) 17. Brubaker (3) 18. M. Harble (4) 19. Henderson (14) 20. Dave Blaney (10) DNS – Jac Haudenschild
Jac did not start due to nozzle problems, ending a frustrating night.  Henry would lead all 12 laps with plenty of action behind him.  M. Harble spun with four laps in the books.  At the time, Henry led Griffith, Hewitt, Brubaker and Philo.  The race third through fifth was fierce, with the top four making the show.  Philo shot to third on the restart, and another caution came a lap later.  J. Harble spun over the top of the track with seven laps in, for the last caution.  Philo passed Griffith for second on the restart.  Bowman picked his way forward from row six and got by Hewitt for the final transfer on lap nine.  Griffith rode the cushion around Philo for second on lap ten.
A main (started): 1. Andrews (2) 2. Dale Blaney (3) 3. Griffith (12) 4. Martin (15) 5. Jacobs (9) 6. Shaffer (6) 7. Reed (24) 8. Holtgraver (16) 9. Wilson (13) 10. Foos (1) 11. Schuchart (20) 12. Lay (19) 13. Wimmer (7) 14. Williams (5) 15. Sebetto (14) 16. Henry (11) 17. S. Haudenschild (17) 18. Helms (21) 19. Chaney (8) 20. Bowman (23) 21. Philo (22) 22. Mintz (4) 23. Duncan (18) 24. Sweet (10)
Mintz won a hotly contested lead over Andrews, Foos and Dale Blaney early in 40 laps of chaos.  Sweet stopped with mechanical issues with four laps in.  Blaney shot by Foos to third on the restart, before Foos spun out of fourth on lap six.  Chaney shot his way into the top five on that restart.  When Bowman stopped on lap thirteen, Mintz and Andrews had been battling for the lead, ahead of Blaney, Shaffer and Chaney.  Disaster struck for the leader Mintz with 14 laps in the books when his steering broke.  Andrews assumed the lead ahead of Blaney, Shaffer, Martin and Chaney at that point.  Three more laps were in before Henry spun, with the lead five unchanged.  Wilson moved by Chaney into the top five on lap 22.  Two laps later, Helms would come to rest.  Andrews led Blaney, Shaffer, Martin and Wilson back to green.  Chaney and Wilson exchanged fifth a few times more before Sebetto spun with 25 laps complete.  It was time for an open red fuel stop.  Andrews seemed unaffected by the delay.  With 29 laps completed, S. Haudenschild spun.  The yellow negated a Martin pass of Wilson for fourth.  Griffith shot by Martin and Wilson into fourth on the restart.  The final caution when someone hit a turn one tire, saw Andrews leading Blaney, Shaffer, Griffith, Martin, a charging Jacobs and Wilson.  Martin dove by Griffith and Shaffer into third briefly, before Griffith drove by them all for the show position behind Andrews and Blaney at the checkers.  It was Andrews first All Star win, and his fourth career at Attica.  He and Blaney collected $500 from Kistler engines for using the powerplant.  It's on to Eldora tomorrow night.
Attica Raceway Park – 6/21/2013
Ohio Caterpillar Night
O'Reilly Auto Parts 410 Sprints (41 Cars)
[#]-Starting Position
Qualifying – Kistler Engines
1. 54-Cap Henry, 12.272; 2. 83-Tim Shaffer, 12.297; 3. 2-Dale Blaney, 12.306; 4. 16-Chris Andrews, 12.331; 5. 53-DJ Foos, 12.387; 6. 40DD-Caleb Griffith, 12.409; 7. O9-Craig Mintz, 12.410; 8. 46AU-Stuart Williams, 12.423; 9. 9W-Brandon Wimmer, 12.428; 10. 9x-Rob Chaney, 12.443; 11. 97-Dean Jacobs, 12.502; 12. 49-Brad Sweet, 12.503; 13. w20-Greg Wilson, 12.518; 14. 24H-Bryan Sebetto, 12.531; 15. 11X-Brandon Martin, 12.539; 16. 45-Danny Holtgraver, 12.540; 17. 59-Jac Haudenschild, 12.624; 18. 33M-Sheldon Haudenschild, 12.629; 19. 7K-Cole Duncan, 12.632; 20. 15H-Mitch Harble, 12.643; 21. 45L-Brian Lay, 12.648; 22. 1S-Logan Schuchart, 12.657; 23. 35-Stuart Brubaker, 12.703; 24. 40-Caleb Helms, 12.716; 25. 2m-Dallas Hewitt, 12.717; 26. 15-Adam Wilt, 12.717; 27. 5t-Travis Philo, 12.726; 28. 9Z-Duane Zablocki, 12.737; 29. 10-Dave Blaney, 12.743; 30. 4-Danny Smith, 12.749; 31. 55-Brad Bowman, 12.758; 32. 40T-Gary Taylor, 12.759; 33. 5-Byron Reed, 12.829; 34. O-Justin Henderson, 12.841; 35. 27P-Paige Polyak, 12.989; 36. 1a-Jacob Allan, 13.213; 37. 5H-Jordon Harble, 13.219; 38. 97x-Rodney Hurst, 13.448; 39. 80-Trey Gustin, 13.468; 40. 787-Jimmy Pooler, 13.673; 41. 96AU-Bruce White, 13.685
Heat 1 – Nitro Black Performance by Engine Pro (10 Laps – Top 5 finishers transfer to the A-feature)
1. 45L-Brian Lay[1] ; 2. w20-Greg Wilson[3] ; 3. 9W-Brandon Wimmer[4] ; 4. 53-DJ Foos[5] ; 5. 5-Byron Reed[9] ; 6. 2m-Dallas Hewitt[7] ; 7. 5H-Jordon Harble[10] ; 8. 54-Cap Henry[6] ; 9. 10-Dave Blaney[8]
Heat 2 – Summit Racing Equipment (10 Laps – Top 5 finishers transfer to the A-feature)
1. 1S-Logan Schuchart[1] ; 2. 24H-Bryan Sebetto[3] ; 3. 9x-Rob Chaney[4] ; 4. 33M-Sheldon Haudenschild[2] ; 5. 83-Tim Shaffer[6] ; 6. O-Justin Henderson[9] ; 7. 4-Danny Smith[8] ; 8. 15-Adam Wilt[7] ; 9. 97x-Rodney Hurst[10] ; 10. 40DD-Caleb Griffith[5]
Heat 3 – Ultra Shield Race Products (10 Laps – Top 5 finishers transfer to the A-feature)
1. 7K-Cole Duncan[2] ; 2. 11X-Brandon Martin[3] ; 3. 2-Dale Blaney[6] ; 4. O9-Craig Mintz[5] ; 5. 97-Dean Jacobs[4] ; 6. 35-Stuart Brubaker[1] ; 7. 5t-Travis Philo[7] ; 8. 55-Brad Bowman[8] ; 9. 27P-Paige Polyak[9] ; 10. 80-Trey Gustin[10]
Heat 4 – Bell Racing Products (10 Laps – Top 5 finishers transfer to the A-feature)
1. 40-Caleb Helms[1] ; 2. 45-Danny Holtgraver[3] ; 3. 16-Chris Andrews[6] ; 4. 49-Brad Sweet[4] ; 5. 46AU-Stuart Williams[5] ; 6. 40T-Gary Taylor[8] ; 7. 1a-Jacob Allan[9] ; 8. 9Z-Duane Zablocki[7] ; 9. 787-Jimmy Pooler[10] ; 10. 15H-Mitch Harble[2]
Dash – R & R (6 Laps, finishing order determined first 6 starting positions of A-feature
1. 53-DJ Foos[2] ; 2. 16-Chris Andrews[4] ; 3. 2-Dale Blaney[1] ; 4. O9-Craig Mintz[3] ; 5. 46AU-Stuart Williams[6] ; 6. 83-Tim Shaffer[5]
B-Main – Computer Man Inc. (12 Laps – Top 4 finishers transfer to the A-feature)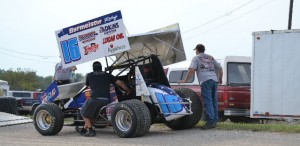 1. 54-Cap Henry[1] ; 2. 40DD-Caleb Griffith[2] ; 3. 5t-Travis Philo[8] ; 4. 55-Brad Bowman[12] ; 5. 15-Adam Wilt[7] ; 6. 2m-Dallas Hewitt[6] ; 7. 9Z-Duane Zablocki[9] ; 8. 4-Danny Smith[11] ; 9. 40T-Gary Taylor[13] ; 10. 27P-Paige Polyak[15] ; 11. 80-Trey Gustin[19] ; 12. 1a-Jacob Allan[16] ; 13. 97x-Rodney Hurst[18] ; 14. 787-Jimmy Pooler[20] ; 15. 96AU-Bruce White[21] ; 16. 5H-Jordon Harble[17] ; 17. 35-Stuart Brubaker[5] ; 18. 15H-Mitch Harble[4] ; 19. O-Justin Henderson[14] ; 20. 10-Dave Blaney[10] ; 21. 59-Jac Haudenschild[3]
A-Main – (40 Laps)
1. 16-Chris Andrews[2]; 2. 2-Dale Blaney[3]; 3. 40DD-Caleb Griffith[12]; 4. 11X-Brandon Martin[15]; 5. 97-Dean Jacobs[9]; 6. 83-Tim Shaffer[6]; 7. 5-Byron Reed[24]; 8. 45-Danny Holtgraver[16]; 9. w20-Greg Wilson[13]; 10. 53-DJ Foos[1]; 11. 1S-Logan Schuchart[20]; 12. 45L-Brian Lay[19]; 13. 9W-Brandon Wimmer[7]; 14. 46AU-Stuart Williams[5]; 15. 24H-Bryan Sebetto[14]; 16. 54-Cap Henry[11]; 17. 33M-Sheldon Haudenschild[17]; 18. 40-Caleb Helms[21]; 19. 9x-Rob Chaney[8]; 20. 55-Brad Bowman[23]; 21. 5t-Travis Philo[22]; 22. O9-Craig Mintz[4]; 23. 7K-Cole Duncan[18]; 24. 49-Brad Sweet[10]
Hard Charger: 5-Byron Reed[+17]