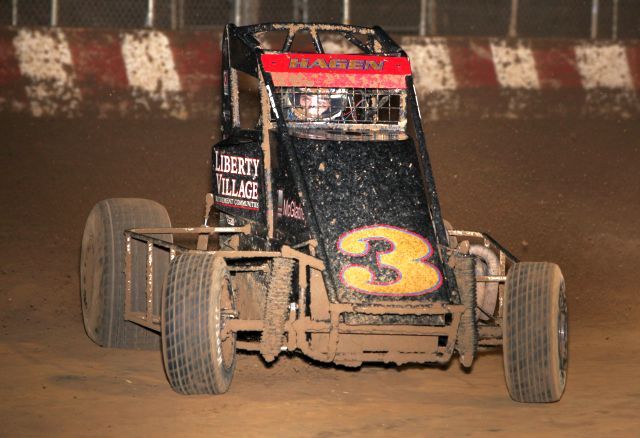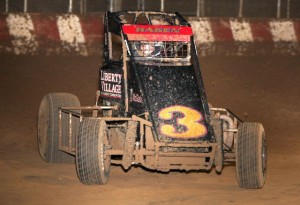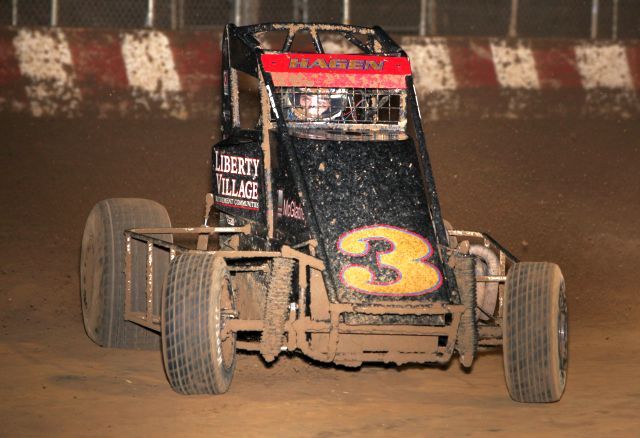 From Dick Jordan and Tim Tuttle
Belleville, IL — (July 5, 2013) — Darren Hagen held off a strong challenge by Chris Bell in the closing laps to win the feature in the POWRi Lucas Oil National Midget Series, Honda USAC National Dirt Midgets and Badger Midgets tri-sanctioned event and Joe B. Miller drove to his eighth career victory in the POWRi Speedway Motors 600cc Outlaw Micro Series on Friday at Belle-Clair Speedway.
Hagen of Riverside, Calif., led the final 29 of 30 laps in his Liberty Village Esslinger-powered DRC, but was locked in a spirited battle with Bell's Toyota-powered Bullet after a restart with seven laps remaining on the one-fifth mile track.
Bell of Norman, Okla., began sliding under Hagen in turns one and two and nearly held the lead on the back straight on several attempts. But the veteran Hagen was able to get back to the throttle sooner than Bell and stay in front.
Bell's best shot to overtake Hagen came on the 28th lap. They went side-by-side, Hagen on the inside, into turn three and he emerged ahead on the front straight. Instead of waiting for Bell to attack again, Hagen slid through turns one and two, bottom to top, and came out directly in front of Bell, who had gone to the top to try to pass. Bell was forced to lift and Hagen finished one car length in front of him.
"I knew if Bell did a big slide on me, I could have been in trouble," Hagen said. "I did a big slide by myself to break his momentum. It's something I learned from Dave Darland one year at the Four Crown Nationals."
Hagen's slide job in turns one and two on the 29th lap, Bell said, "Killed my momentum."
Bell started sixth and climbed to second for an 11th-lap restart. Hagen was faster in the middle stint and wasn't seriously threatened until after the final restart.
"I had to run him down," Bell said. "When I started sliding him, he ran me out of real estate (entering the back straight)."
Hagen's victory was his sixth in POWRi National Midgets and 20th in USAC National Midgets. It counted as a belated celebration for his 27th birthday on Tuesday (July 2) and a present for his father, Jim McMinn, who had flown from his home in Riverside, Calif., to see him race for the first time since last November.
"There were two things that were special about tonight," Hagen said. "I haven't lost on my birthday and the team said since this was closest to my birthday, it counted. And you've always got to get up on the wheel when your dad is there."
Brad Kuhn of Avon, Ind., finished third, Ryan Criswell of Mount Vernon, Ill., was fourth and Nick Knepper of Belleville, Ill., fifth. There were 52 Midget entries.
Miller, the 2012 POWRi Micro champion who is running a partial season in the series this year, led all 20 laps, but had to fend off Trey Datweiler of Herscher, Ill., on the final lap.
"I had to go to the bottom and block him," Miller, who had run the high line the entire race to that point, said.
Datweiler's runner-up finish was the best of his POWRi career.
"I didn't want to take Joe B. out," Datweiler said. "I was happy with where I was.'
Jake Neuman of New Berlin, Ill., finished third.
There were 52 entries in the Micros.
The second half of the Belleville Bash concludes tonight with the POWRi/USAC/Badger Midgets and the POWRi Micros.
HONDA USAC NATIONAL DIRT MIDGET RACE RESULTS: July 5, 2013 – Belleville, Illinois – Belle Clair Speedway – Co-sanctioned by Powri and Badger – "Belleville Bash"
QUALIFICATIONS: 1. Chris Bell, 71, Kunz/Curb-Agajanian-11.390; 2. Brad Kuhn, 10, Cook-11.393; 3. Zach Daum, 5D, Daum-11.407; 4. Colten Cottle, 5c, Cottle-11.415; 5. Andrew Felker, 11A, Felker-11.421; 6. Tyler Thomas, 91T, Thomas-11.427; 7. Ryan Criswell, 11R, R&C-11.441; 8. Tracy Hines, 24, Parker-11.470; 9. Nick Knepper, 155, Knepper-11.481; 10. Jake Blackhurst, 25, Blackhurst-11.492; 11. Darren Hagen, 3, RFMS-11.503; 12. Bubba Altig, 37, Felker-11.509; 13. Jerry Coons, Jr., 63, Dooling-11.512; 14. Parker Price-Miller, 9P, Ronk-11.523; 15. Terry Babb, 88, Babb-11.529; 16. Tanner Thorson, 67, Kunz/Curb-Agajanian-11.535; 17. Bryan Clauson, 39, Tucker/BCI/Curb-Agajanian-11.
606; 18. Justin Grant, 56, Hmiel-11.608; 19. Shane Cockrum, 14c, Cockrum-11.632; 20. Tyler Robbins, 35, Robbins-11.644; 21. Jake Neuman, 3N, Neuman-11.647; 22. Danny Stratton, 2x, Lein-11.695; 23. Caleb Armstrong, 7c, C&A-11.723; 24. Aaron Andruskevitch, 37x, Felker-11.727; 25. Rich Camfield, 87,
Mathias-11.742; 26. Austin Brown, 7, KBR-11.753; 27. Seth Motsinger, 2M, KBR-11.765; 28. Derrick Myers, 25M, Myers-11.795; 29. Garrett Aitken, 32, Aitken-11.803; 30. Davey Camfield, 86c, Camfield-11.816; 31. Darren Kingston, 94, Kingston-11.826; 32. Taylor Ferns, 55, Ferns-11.872; 33. Tony Roney, 1T, Roney-11.885; 34. Daniel Adler, 50, Adler-11.892; 35. Tim Siner, 15, Siner-11.940; 36. Ross Rankine, 39x, Rankine-11.941; 37. Matt Ponder, 5H, Hoppe-11.942; 38. Cameron King, 55K, King-11.951; 39. Dalton Camfield, 10c, Camfield-11.963; 40. Dalton Armstrong, 7A, C&A-12.002; 41. Jeff Flesher, 6, Camfield-12.018; 42. Daniel Robinson, 57, Ecker-12.091; 43. Alex Bright, 27, RW/Curb-Agajanian-12.096; 44. Chett Gehrke, 11c, Gehrke-12.104; 45. Danny Frye, 5, Frye-12.130; 46. John Campbell, 19, Campbell-12.241; 47. Payton Pierce, 2P, Murdock-12.331; 48. Nick Bailey, 07, Bailey-12.391; 49. Jake Palmisano, 401K, Kirkpatrick-12.418; 50. Brian Rieck, 57x, McCreery-12.439; 51. Dave Camfield II
I, 16,
Camfield-12.474; 52. Bobby Brewer, 1, Brewer-12.807.FIRST QUALIFYING RACE: (10 laps) 1. Siner, 2. Roney, 3. Frye, 4. Ponder, 5. Dalton Camfield, 6. Pierce, 7. Palmisano, 8. Flesher, 9. Bright, 10. Dave Camfield III. NTSECOND QUALIFYING RACE: (10 laps) 1. Adler, 2. Rankine, 3. King, 4. Robinson, 5. Campbell, 6. Gehrke, 7. Brewer, 8. Rieck, 9. D. Armstrong. NT
FIRST HEAT: (10 laps) 1. Clauson, 2. Bell, 3. Felker, 4. Coons, 5. Knepper, 6. Siner, 7. R. Camfield, 8. Aitken, 9. Neuman. NT
SECOND HEAT: (10 laps) 1. Grant, 2. Price-Miller, 3. Brown, 4. Kuhn, 5. Blackhurst, 6. Stratton, 7. Roney, 8. Camfield, Jr., 9. Thomas. NT
THIRD HEAT: (10 laps) 1. C. Armstrong, 2. Hagen, 3. Cockrum, 4. Babb, 5. Adler, 6. Criswell, 7. Daum, 8. Motsinger. NT
FOURTH HEAT: (10 laps) 1. Altig, 2. Andruskevitch, 3. Thorson, 4. Hines, 5. Robbins, 6. Cottle, 7. Rankine, 8. Ferns, 9. Myers. NT
SEMI: (12 laps) 1. Daum, 2. Criswell, 3. Cottle, 4. Knepper, 5. Stratton, 6. Robbins, 7. Aitken, 8. Motsinger, 9. Siner, 10. Camfield, Jr., 11. Roney, 12. Adler, 13. Neuman, 14. Rankine, 15. Ferns, 16. R. Camfield, 17. Blackhurst. NT
FEATURE: (30 laps) 1. Darren Hagen, 2. Chris Bell, 3. Brad Kuhn, 4. Ryan Criswell, 5. Nick Knepper, 6. Andrew Felker, 7. Tracy Hines, 8. Bryan Clauson, 9. Jerry Coons, Jr., 10. Danny Stratton, 11. Zach Daum, 12. Shane Cockrum, 13. Tyler Robbins, 14. Parker Price-Miller, 15. Garrett Aitken, 16. Caleb Armstrong, 17. Aaron Andruskevitch, 18. Tanner Thorson, 19. Austin Brown, 20. Bubba Altig, 21. Colten Cottle, 22. Justin Grant, 23. Terry Babb. NT
———————————
FEATURE LAP LEADERS: Lap 1 Altig, Laps 2-30 Hagen.
NEW HONDA NATIONAL DIRT MIDGET POINTS: 1-Bell-393; 2-Clauson-356; 3-Hagen-352; 4-Felker-333; 5-Coons-312; 6-Hines-298; 7-Kuhn-272; 8-Daum-269; 9-C.Armstrong-258; 10-Rico
NEXT HONDA NATIONAL DIRT MIDGET RACE: July 6 – Belleville, IL – Belle Clair Speedway – "Belleville Bash" – Co-sanctioned by POWRi and Badger