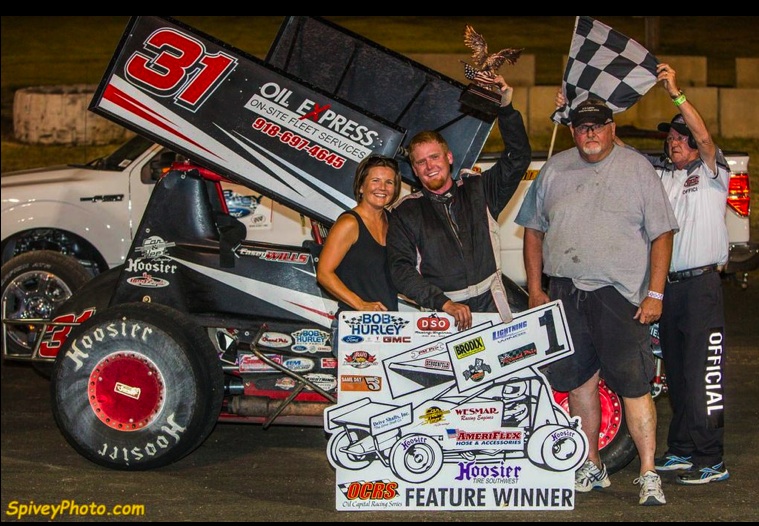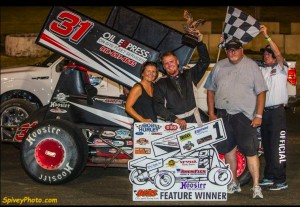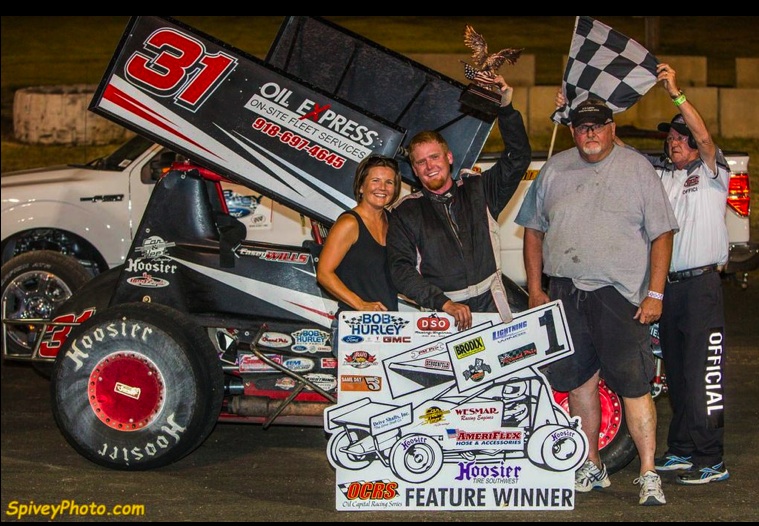 From John Lemon
Salina Oklahoma (July 13, 2013) – There is the grand ole saying that "Only the strong survive". There is also something to be said about those that are just fortunate to survive also. Such was the case in tonight's Oil Capital Racing Series main event at the Salina Highbanks Speedway, where you were either fortunate to survive or you were kicked to the curb. Sperry Oklahoma's Casey Wills was as strong as he was fortunate to claim his first ever OCRS A-Feature victory on the Highbanks. The win for Wills makes him the sixth "first time winner" this season following Harli White, Kade Morton, Chance Morton, Kacee Frazier and Alex DeCamp. Wills also becomes the 9th different winner in 14 outings by the Tulsa Oklahoma based traveling series.
With a light rain falling as the cars prepared to go green, Andrew Deal broke from his pole position to lead the pack going into turn one only to have outside front row starter Kyle Clark take the lead by going around Deal as the cars exited turn two and headed down the back straight. Shayla Waddell, Wills, Alex Decamp, Danny Smith and Harli White trailed. Wills would overtake Waddell on the backstretch on lap five for third. The next lap saw Smith and White get by DeCamp coming out of turn two. Coweta's Kade Morton would set Decamp yet another spot back the next time around.
Deal, who was piloting the Wade Cagle / C&P Racing Supply / Jennings Engines / ART for the second consecutive week and for the second straight week, Deal would be a feature leader as he chased down Clark on lap eight and took the top spot as the leading duo charged into turn three. On the ninth lap, Wills moved the AmeriFlex Hose and Accessories / Casey's Oil Express / DSO Engines / ART sprinter into the runner-up position when he took down Clark down the back straight. At this point, the racing surface was showing signs of taking on rubber.
Clark would swing high on top of turns three and four that would allow Waddell, Smith and White to all slide past. Deal would stretch his lead to 12 car lengths over Wills while Clark would fallout of competition by exiting to the pits. A couple of laps later, craziness would be best to describe what was about to transpire.
On lap 17, Danny Smith would blow a right rear tire as he came out of turn two. Smith had every opportunity to lie dead on the track, but in order for the race to continue without stoppage, Smith limped his mount off the racing surface. As it turned out, the field would go yellow in moments anyway when Deal would pop a right rear while being comfortably ahead as he exited turn two and wound up stopping on the back straight. Under the ensuing yellow, White would see her right rear go down and the series point leader would exit the track for the work area. Terry Easum would have tire issues and he would also exit the track.
White was still idle in the work area when the call was made to close the track for cars returning for the restart so the field could go back to green. As the field formed up to restart the race, White fired off form the work area and returned to the track. OCRS officials displayed the black flag to White but she stayed on the track and after other attempts to have White exit the track failed, the race restarted but White would be listed as a 'disqualified car' as the threat of rain kept officials from taking time to keep the field at bay and having White sent pitside prior to the restart.
Decamp would be the benefactor of the dropouts as he passed Wills a lap before the yellow was displayed thus he restarted in front with Wills second followed by Waddell and Kade Morton third. As if there already wasn't enough craziness, the last lap produced more. As Decamp came down to accept the white flag from OCRS flagman JD Etter, his right rear gave way to an airless liking and that allowed the rest of the field led by Wills, to sweep by as Decamp kept motoring on the high side of the Highbanks.
Waddell pressured Wills heavily in her Production Engine & Pump /  Shores Sentry / TS Construction / PM Pro / Red Rock Distributing / Jaguar – Volvo of OKC / Boyd Engines / Eagle. Likewise, Kade Morton was all over Waddell's rear bumper in the Morton Excavating / Shock Doc / A-C Man Of Oklahoma / Napa-Coweta Auto Supply / STK Racing Engines / XXX chassis. The trio stayed glued together as they made their last lap around the Highbanks. As they came down for the checkers, it was Wills by a single car length over Waddell. As Kade Morton crossed the stripe on Waddell's backside, Morton's tire gave way as well. DeCamp kept motoring onward to complete the last lap to earn the fourth spot with Michael Tyre rounding out the top five. Tyre earned the AmeriFlex Hose and Accessories 'Hard Charger' award after starting in the 13th position. The balance of the top ten were: Chance Morton with Michael Bookout next while Deal was scored eighth, Easum ninth and Smith tenth.
From the winner: " I saw Harli and Danny smoking pretty good and I just backed out of the throttle. Once I saw the first one (tire) pop, I thought I better save my right rear as I was pushing anyway. I got second here last year behind Jeremy Allen and I like this track, its fast here. I have to thank AmeriFlex Hose and Accessories my dad, my wife and my pit crew. David Stephenson at DSO worked on my motor this week and got me a little more (performance)."
Shayla Waddell: "On the last lap I thought if he (Wills) maybe bobbled or something I could sneak around him but he was fast and if he didn't mess up, he had it won. I knew there was someone right behind me so I just protected my line. The highbanks here makes it pretty easy to stay on the gas. I just tried not to spin my tires so they would make it (to the end). And a second here is a pretty good finish."
Kade Morton: " That was a crazy race. My tire started shaking about halfway through the race. I was just hoping it wasn't a rear end. As soon as we crossed the checkered, the tire blew. Prior to the race, you could tell where it was going to rubber up but in some places you didn't know what the track was going to do so it made it kind of hard to read. I just gave it hell and hoped for the best. All in all, you just have to go for it (the victory).
The 2013 OCRS tour takes a breather next week. Action will resume for the open wheel warriors on July 27th when the Oklahoma Sports Park in Ada hosts OCRS for the second time in 2013. Gary Owens was victorious in the first visit to OSP back on May 11th.
OCRS Race Results
Salina Highbanks Speedway / Salina Oklahoma
Date of Race:  Saturday, July 13, 2013
(Pos-Car-Driver-Start)
AmeriFlex Hose and Accessories Heat
1, 84-Alex DeCamp[1]. 2, 88-Terry Easum[4]. 3, 17W-Harli White[2]. 4, 31-Casey Wills[3]. 5, 11-Michael Tyre[5]. 6, 33-James Estes[6].
Bob Hurley Auto Family Heat
1, 25-Andrew Deal[4]. 2, 88S-Shayla Waddell[3]. 3, 9$-Kyle Clark[6]. 4, 22-David Stephenson[1]. 5, 7m-Chance Morton[5]. 6, 78-Perry Pickard[2].
Drive Shafts Inc. Heat
1, 5$-Danny Smith[1]. 2, 55-Johnny Kent[3]. 3, 8-Alex Sewell[5]. 4, 8M-Kade Morton[4]. 5, 007-Michael Bookout[2]. 6, 94-Dan Schnackenberg [DNS]
OCRS A Feature
1, 31-Casey Wills[3]. 2, 88S-Shayla Waddell[4]. 3, 8M-Kade Morton[7]. 4, 84-Alex DeCamp[6]. 5, 11-Michael Tyre[13]. 6, 7m-Chance Morton[10]. 7, 007-Michael Bookout[14]. 8, 25-Andrew Deal[1]. 9, 88-Terry Easum[9]. 10, 5$-Danny Smith[11]. 11, 9$-Kyle Clark[2]. 12, 78-Perry Pickard[12]. 13, 22-David Stephenson[5]. 14, 17W-Harli White[8] (DQ). DNS: 8-Alex Sewell, 33-James Estes, 55-Johnny Kent,
94-Dan Schnackenberg.
AmeriFlex Hose and Accessories Hard Charger: Michael Tyre +8
Dyno Services of Oklahoma Hard Luck Recipient: Johnny Kent