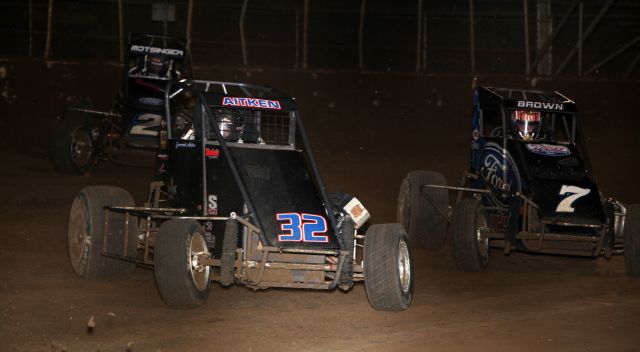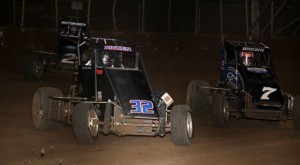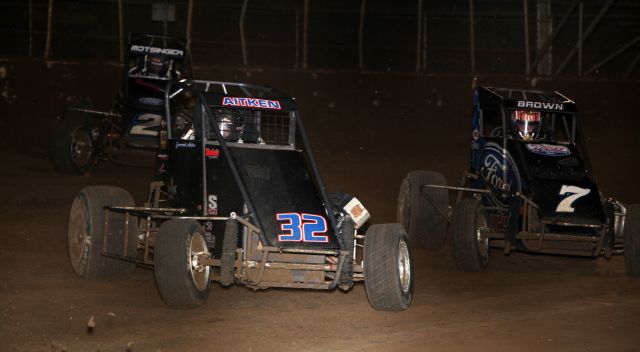 From Tim Tuttle
Garrett Aitken of Paris, Ill., has put together three top-10s and made five straight features to climb to seventh in the championship in the POWRi Lucas Oil National Midget Series going into events on three consecutive nights, Tri-City Speedway in Pontoon Beach, Ill., Thursday (July 25), US 36 Raceway in Cameron, Mo., Friday and Valley Speedway in Grain Valley, Mo., Saturday.
The 17-year-old finished 10th in the championship in his rookie POWRi season a year ago and has gained momentum this year following a slow start. Aitken was a season-best sixth at Wilmot (Wis.) Raceway on July 13, eighth at Bloomington (Ind.) Speedway on June 28 and 10th at Angell Park Speedway in Sun Prairie, Wis., on July 14. He was 15th n a field of 52 cars and 14th in a field of 49 in a POWRi/USAC/Badger back-to-back on July 5-6 at Belle-Clair Speedway in Belleville, Ill. Aitken's best finish in his opening five POWRi events was 12th at Jacksonville (Ill.) Speedway and he failed to reach in the feature in two of them.
"At the beginning of the year, we kind of struggled," Aitken said. "We (with father and crew chief Greg) took our notes out from last year and went to familiar setups and stuff and it's working out pretty well. We're pretty happy with where we are."
Aitken has never driven at Tri-City's three-eighths mile track. He finished ninth at three-eighths US 36 and was 10th at one-third Valley in one of two POWRi stops year ago. Aitken didn't make the feature in the second Valley event in 2012.
"I went to Tri-City to watch the Four Crown Midget Nationals a couple of years ago and it's big and fast," Aitken said. "It got pretty slick when we were there and that's what we are expecting Thursday. US 36 is a crazy track, how it's banked and how fast it is. I was getting real tired during the feature. I wasn't in shape for that track and it was one of the reasons I hit the weight room this winter. Valley is an on-the-top track and really smooth. I like those."
Aitken entered 21 events a year ago and had one top five, at Jacksonville, and 10 top-10s in 16 features. He's on a similar pace this season with eight features and three top-10s in 10 events.
"We want better finishes, more top-fives, this year," Aitken said. "We're not really worried about points. We're getting the car (Spike-Fontana) figured out and we'd like to get one of those top –fives every night."
Andrew Felker of Carl Junction, Mo., has a 340-point lead over Zach Daum of Pocahontas, Ill, 2,060-1,720, and Brad Kuhn of Avon, Ind., is third with 1,430. The top rookie is Parker Price-Miller, seventh with 745. Thirteen of the 30 events remaining on the schedule have been run.
The US 36 and Valley events are co-sanctioned by the POWRi Lucas Oil West Series.
POWRi Lucas Oil National Midget Series top-10 points standings (after 13 of 30 events): 1. Andrew Felker 2,060, 2. Zach Daum 1,720, 3. Brad Kuhn 1,430, 4. Jake Blackhurst 1,215, 5. Tyler Thomas 1,135, 6. Austin Brown 1,105, 7. Garrett Aitken 750, 8. Parker Price-Miller 745, 9. Alex Bright 480, 10. Colten Cottle 475.
POWRi Lucas Oil National Midget Series feature winners: Jacksonville, Ill.—Shane Cockrum; Belleville, Ill.—Chris Bell; Macon, Ill.—Brady Bacon; Sun Prairie, Wis.—Michael Pickens; Jacksonville, Ill.—Kyle Larson; Lincoln, Ill.—Michael Pickens; Macon, Ill.—Andrew Felker; Sun Prairie, Wis.—Rico Abreu; Bloomington, Ind.—Zach Daum; Belleville, Ill.—Darren Hagen; Belleville, Ill.—Bryan Clauson; Wilmot, Wis.—Brad Kuhn; Sun Prairie, Wis.—Darren Hagen.
For more information, go to www.POWRi.com.