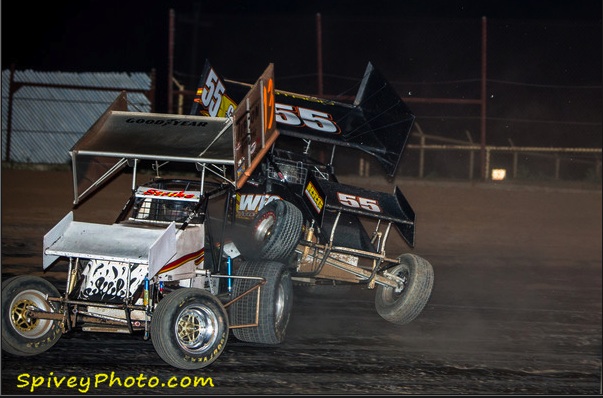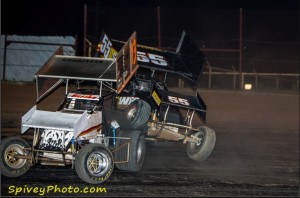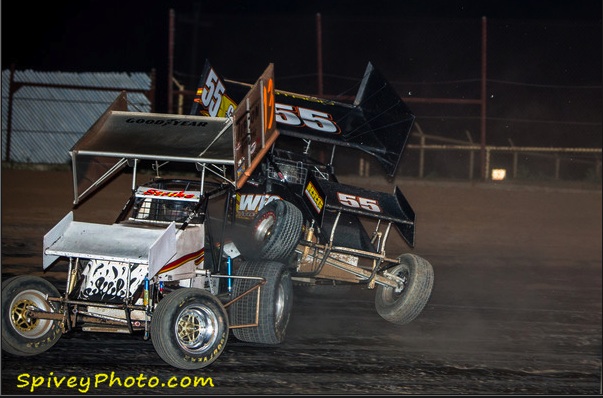 From John Lemon
Tulsa OK — (July 23, 2013) — After a week off from six straight weeks of fierce fighting action on the battlegrounds throughout the region, the fiery competitors of the Oil Capital Racing Series are ready to get back into the ring for more rounds of battle. This Saturday night, the Oklahoma Sports Park in Ada Oklahoma will host the OCRS sprinters for the second time this season. In the first stop at the 4/10 mile track in May, it was Gary Owens taking the win for his second career OCRS triumph.
   The highly talented racer from Pauls Valley is always a threat to win at OSP as evidenced by his top five finishes in OCRS main event action. Owens has consistently placed the Glen Owens / Field's Pecan Pies / Eagle chassis in the top five in eight of the last ten trips to George Welch's house of speed. Keep a watchful eye on the #33.
   Owens will have to contend with the likes of current OCRS point leader Harli White from Lindsay Oklahoma who has five feature tallies on the OCRS circuit thus far. White is trying to finish what she started, to take the OCRS championship. Then there is Sapulpa's Danny Smith, the only other multi main event winner on the tour with two scores. Smith sits in the second spot in the standings just 65 points back of White (1131 – 1066).
Nine Feature Winners To Date – Will #10 Breakthrough Saturday?
  In all, the series is seeing resurgence this season in number of main event winners on the OCRS circuit. There were seven hardware collectors in 2010, six in 2011 and five last season. The nine winners this season have come with one-third of the 2013 racing season still remaining. The other victory lane visitors in 2013 are: Kade Morton, Alex DeCamp, Brian McClelland, Casey Wills, Chance Morton and Kacee Frazier. Will there be a breakthrough winner to produce the tenth winner this year? Current trend says don't bet against it. The weather forecast for this Saturday night shows high temps to be in the 80's with evening temps a cooler than normal 70's! This is an awesome opportunity to come enjoy an action packed night of wild OCRS sprint car action in a comfortable weather setting.
WHAT: Sprint cars sanctioned by the Oil Capital Racing Series
WHERE: Oklahoma Sports Park / Ada Oklahoma
WHEN: Saturday July 27, 2013
TIME: Gates open 5pm / Hot laps 7pm / Racing 7:30pm
TICKETS: Adults: $15 / 11 – 15 and Seniors: $12 / 10 & under: FREE
Pit Passes – $30
OCRS drivers meeting will be held at 6:30pm
Oklahoma Sports Park is home to a 4/10-mile clay oval track and is located just 10 miles northwest of Ada, Oklahoma on state highway 3W.  Parking is FREE!
Track Phone: 580-332-5535 / Promoters Phone: 580-332-5383
Track website: www.oklahomasportspark.com
For more information on the OCRS sprint car series including updates, stories, photos, complete 2013-point standings and future schedules, log onto:
You can also checkout our Facebook page at: https://www.facebook.com/oil.series