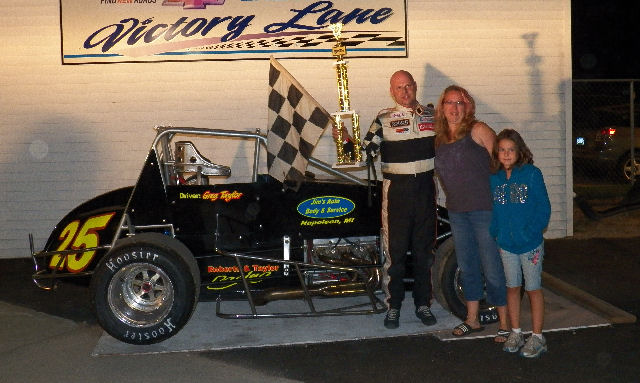 By Bob Buffenbarger
Greg Taylor overcame hopping a wheel, getting into the wall and survived several cautions and a red flag on his way to his first ever sprint car victory Friday night at Spartan Speedway. Taylor started outside of the front row for the 30 lap feature, but that really wasn't much of a factor in this wild and crazy main event.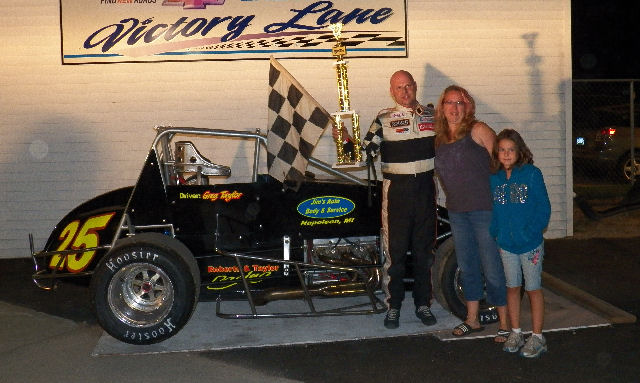 Only one lap had been completed when Jarett Andretti and Kyle Feeney tangled in turn three, with both cars restarting. Then on lap two Tom Fedewa, John Turnbull Jr. and Doug Dietsch were all involved in a turn one skirmish with only Turnbull able to continue.
After going back to green, racing picked up with Kevin Feeney leading the way with Greg Taylor and Steve Irwin breathing down Feeney's back. Leroy Ellis , Jay Rohrback, Don Hamilton, Gary Sherman and Turnbull were next in line for several laps.
Nearing the half way mark in the 30 lapper, Taylor, Irwin, Ellis, Turnbull and Rohrback were closing in on Feeney and racing hard. Irwin took the low line around Taylor on the 16th circuit and they made contact with Taylor jumping a wheel and making contact with the wall coming out of turn four. Somehow all cars continued without bringing out a yellow.
Lap 17 saw a red flag for Irwin, Turnbull and Rohrback caught up in mêlée in turn four with Ellis barely slipping through the carnage. The red came out for the cleanup.
After the restart, Feeney was still leading with Ellis and Taylor battling and Sherman, Hamilton, Andretti, Turnbull all racing towards the front. At this point, racing was intense until lap 25 when the leader, Feeney, spun off the backstretch into the infield.
With five to go, it was Ellis, Taylor and Turnbull in a dogfight. Taylor was fast and was able to get under Ellis for the lead and the win with Turnbull third, followed by Sherman, Andretti, Hamilton, Kevin Feeney, Kyle Feeney and Gavin Hunyady.
19 cars were in the pits tonight with heat wins going to Tom Fedewa, Kevin Feeney and Leroy Ellis. Doug Dietsch was fast timer on a very nice evening that saw a good crowd perched in the stands. During Time Trials Tom Hernley crashed hard into the turn four wall with his car suffering heavy damage. Hernley was not injured.
Spartan Sprint Cars
50 Leroy Ellis
187 Gavin Hunyady
71 Tom Fedewa
00 Joe Irwin
35 Jarrett Andretti
6K Jay Rohrback
8 Kyle Feeney
98 Kevin Feeney
Oi Steve Irwin
0d Doug Dietsch
25 Greg Taylor
37 Gary Sherman
31 Don Hamilton
12 John Turnbull
43 Bobby Jackson
81 Tom Hernley
7 Nic Rogers
17 Jim Heeney
2 Matt Kinzinger
(Results are not official)