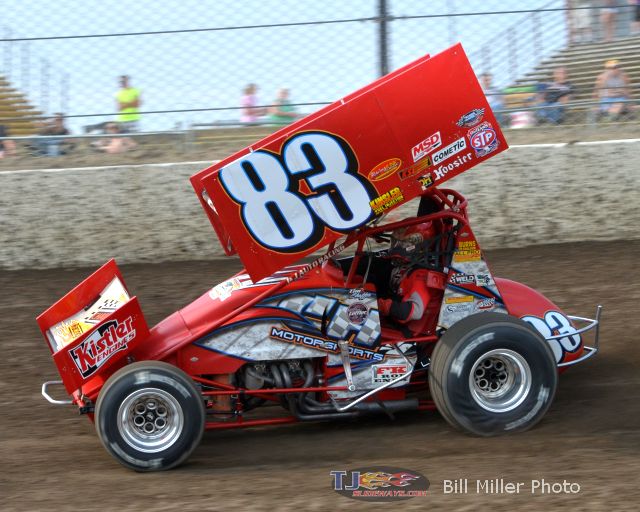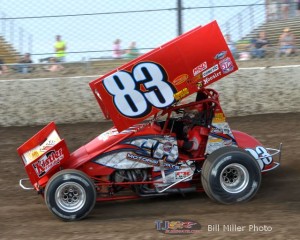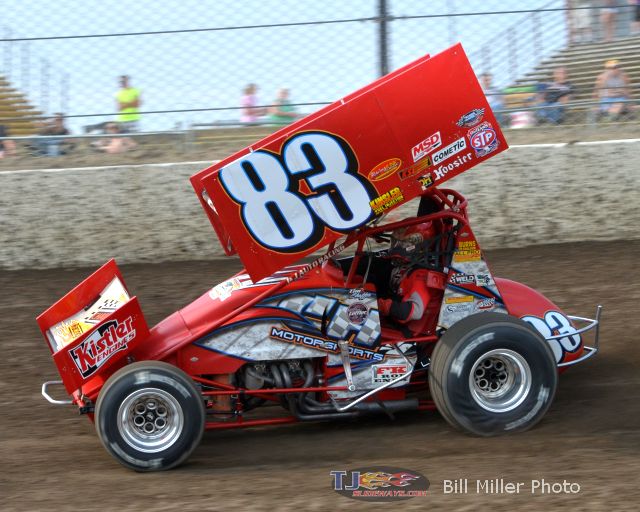 From Brian Liskai
Attica, OH — (August 30, 2013) — It's hard to believe Tim Shaffer came into the night's racing having not found victory lane with the University of Northwestern Ohio All Star Circuit of Champion Sprint Cars. The Aliquippa, Pennsylvania driver has pretty much dominated the series over the past four years, winning 40 series features in that time spend and four straight All Star championships. But, this season has been a struggle though "The Steel City Outlaw" has numerous seconds and thirds and sits second in the series' national points.
That all changed Friday night. Shaffer used the track's treacherous high line to pass Dale Blaney on a restart with six laps to go and went on to score his first All Star win of 2013. It is the 52nd career series win for Shaffer who now has 11 career victories at Attica.
"Finally. This is for this crew. Cody Jacobs, James Chambers and Jim Roby have worked their tails off and my owners Janet (Holbrook) and Aaron (Call) didn't give up on us," said Shaffer beside his Kistler Engines/J&J Auto Racing/VRP Shocks backed #83.
"The late models really changed the track. Getting in to turn one on the high side was tricky. I tried the bottom early and it just wasn't working. Everyone else was down there so I decided to go up top and the car was great," added Shaffer. "This win was huge for us. It gives me, the crew and everyone a little boost….some confidence. But, this is dirt track racing. That's the beauty of it…it can all change in one night."
Blaney, who took the lead from Stuart Williams with nine laps to go and held the point for four laps before Shaffer got around, would bring his Ti22 Performance/GF1 Chassis home in second.
"It might have been interesting if that caution wouldn't have come out (on lap 24). I thought Stuart would go up there and try it and when I saw Shaffer up there I knew I was in trouble. My car was good. Hats off to Shaff and those guys…they have worked hard all season. We'll take second and try for better tomorrow," said Blaney.
Local driver Chris Andrews, who scored his first career UNOH All Star win at Attica earlier this season, would bring his Burmeister #16 home in third.
"Any time you finish behind those two guys you can't feel bad. For the second time in two weeks we had a tire go down and it might have cost us another win. But, we'll take third," said Andrews beside his K&N Filters/Lucas Oil/Adkins Sanitation/Kistler Engines backed machine.
Several drivers experienced tire issues throughout the night, causing a jumbled starting grid for the 30-lap UNOH All Star feature. Wayne Johnson and Stuart Williams would bring the field to the green with Johnson grabbing the lead over Williams, Andrews, Shaffer, Greg Wilson, Blaney, Dean Jacobs, Danny Holtgraver and Byron Reed. Williams would drive under Johnson for the top spot on lap two just as the caution flew for a D.J. Foos spin.
Williams would pull away when the green flew with Andrews racing to Johnson's outside to grab second on lap four while Blaney took third a circuit later. With nine laps in, Andrews and Blaney were closing on Williams as Shaffer and Wilson rounded out the top five.
The leaders were nearing heavy lapped traffic by the 12th circuit and Andrews was gaining quickly on Williams with Blaney staying close. Williams would hit the back of the field by lap 16 as Blaney moved into second. With 18 laps in Shaffer had found the top groove to his liking and was closing on Williams, Blaney and Andrews. Blaney would slide under Williams in turns one and two on lap 19, but Williams diamond the corner to hold on to the top spot.
Blaney would drive under Williams for the lead on lap 21 with Andrews, Shaffer, Wilson and Brian Lay in pursuit. Shaffer would drive into third on lap 22 but his march to the front would have to wait as Jody Keegan took a tumble in turn one. He was okay.
On the restart Blaney led Williams, Shaffer, Andrews, Wilson and Lay. But, Lay would experience front end damage and coasted to a stop in turn one to bring out the caution. When the green flew, so did Shaffer – to the very top of the track as he drove by Blaney for the lead with Andrews taking third.
Shaffer would pull away for the win with Blaney, Andrews, Wilson and Holtgraver rounding out the top five.
All Star Circuit of Champions (35 Cars)
[#]-Starting Position
Qualifying – Kistler Engines: 1. 22-Cole Duncan, 12.777; 2. 11N-Randy Hannagan, 12.863; 3. 57X-Andrew Palker, 12.960; 4. 53-DJ Foos, 12.967; 5. 23-Jimmy Light, 13.024; 6. 45L-Brian Lay, 13.040; 7. 46AU-Stuart Williams, 13.052; 8. 77-Wayne Johnson, 13.084; 9. 2-Dale Blaney, 13.086; 10. 83-Tim Shaffer, 13.090; 11. 16-Chris Andrews, 13.090; 12. W20-Greg Wilson, 13.122; 13. 45-Danny Holtgraver, 13.161; 14. 97-Dean Jacobs, 13.162; 15. 9X-Rob Chaney, 13.170; 16. 9Z-Duane Zablocki, 13.175; 17. 5R-Byron Reed, 13.196; 18. 80-Trey Gustin, 13.212; 19. O-Christopher Bell, 13.217; 20. 35-Stuart Brubaker, 13.232; 21. 40DD-Caleb Griffith, 13.283; 22. 60-Jody Keegan, 13.284; 23. 4M-Kody Kinser, 13.302; 24. 29-John Ivy, 13.321; 25. 40XL-Mike Linder, 13.323; 26. 55-Brad Bowman, 13.323; 27. 24H-Bryan Sebetto, 13.366; 28. 54-Cap Henry, 13.368; 29. 787-Jimmy Pooler, 13.371; 30. 40-Caleb Helms, 13.519; 31. 17H-Jared Hortsman, 13.649; 32. 49-Shawn Dancer, 13.785; 33. 5T-Travis Philo, 13.854; 34. 17-Scott Euler, 14.250; 35. 97X-Rodney Hurst, 15.793
Heat 1 – Kears Speed Shop (10 Laps – Top 5 finishers transfer to the A-feature)
1. 5R-Byron Reed[2] ; 2. 45-Danny Holtgraver[3] ; 3. 40DD-Caleb Griffith[1] ; 4. 2-Dale Blaney[4] ; 5. 23-Jimmy Light[5] ; 6. 40XL-Mike Linder[7] ; 7. 5T-Travis Philo[9] ; 8. 787-Jimmy Pooler[8] ; 9. 22-Cole Duncan[6]
Heat 2 – All Pro Aluminum Heads (10 Laps – Top 5 finishers transfer to the A-feature)
1. 60-Jody Keegan[1] ; 2. 80-Trey Gustin[2] ; 3. 83-Tim Shaffer[4] ; 4. 97-Dean Jacobs[3] ; 5. 45L-Brian Lay[5] ; 6. 11N-Randy Hannagan[6] ; 7. 55-Brad Bowman[7] ; 8. 40-Caleb Helms[8] ; 9. 17-Scott Euler[9]
Heat 3 – Dragon Race Fuel (10 Laps – Top 5 finishers transfer to the A-feature)
1. 16-Chris Andrews[4] ; 2. O-Christopher Bell[2] ; 3. 9X-Rob Chaney[3] ; 4. 46AU-Stuart Williams[5] ; 5. 24H-Bryan Sebetto[7] ; 6. 57X-Andrew Palker[6] ; 7. 17H-Jared Hortsman[8] ; 8. 4M-Kody Kinser[1] ; 9. 97X-Rodney Hurst[9]
Heat 4 – Kinsler Fuel Injection (10 Laps – Top 5 finishers transfer to the A-feature)
1. 29-John Ivy[1] ; 2. 35-Stuart Brubaker[2] ; 3. 54-Cap Henry[7] ; 4. W20-Greg Wilson[4] ; 5. 77-Wayne Johnson[5] ; 6. 53-DJ Foos[6] ; 7. 49-Shawn Dancer[8] ; 8. 9Z-Duane Zablocki[3]
Dash – Outerwears Performance Products (6 Laps, finishing order determined first 6 starting positions of A-feature
1. 77-Wayne Johnson[1] ; 2. 46AU-Stuart Williams[5] ; 3. 45L-Brian Lay[2] ; 4. 83-Tim Shaffer[3] ; 5. 16-Chris Andrews[4] ; 6. 2-Dale Blaney[6]
B-Main – MSD Ignition (12 Laps – Top 4 finishers transfer to the A-feature)
1. 57X-Andrew Palker[2] ; 2. 11N-Randy Hannagan[1] ; 3. 53-DJ Foos[3] ; 4. 55-Brad Bowman[7] ; 5. 5T-Travis Philo[12] ; 6. 40-Caleb Helms[9] ; 7. 17H-Jared Hortsman[10] ; 8. 787-Jimmy Pooler[8] ; 9. 40XL-Mike Linder[6] ; 10. 17-Scott Euler[13] ; 11. 4M-Kody Kinser[5] ; 12. 49-Shawn Dancer[11] ; 13. 22-Cole Duncan[-] ; 14. 9Z-Duane Zablocki[4] ; 15. 97X-Rodney Hurst[14]
A-Main – University of Northwestern Ohio (30 Laps)
1. 83-Tim Shaffer[3]; 2. 2-Dale Blaney[5]; 3. 16-Chris Andrews[4]; 4. W20-Greg Wilson[6]; 5. 45-Danny Holtgraver[7]; 6. 11N-Randy Hannagan[13]; 7. 46AU-Stuart Williams[2]; 8. 40DD-Caleb Griffith[19]; 9. 5R-Byron Reed[10]; 10. 23-Jimmy Light[11]; 11. 55-Brad Bowman[22]; 12. O-Christopher Bell[17]; 13. 57X-Andrew Palker[14]; 14. 9X-Rob Chaney[9]; 15. 24H-Bryan Sebetto[23]; 16. 80-Trey Gustin[16]; 17. 54-Cap Henry[24]; 18. 53-DJ Foos[15]; 19. 35-Stuart Brubaker[18]; 20. 77-Wayne Johnson[1]; 21. 97-Dean Jacobs[8]; 22. 45L-Brian Lay[12]; 23. 29-John Ivy[21]; 24. 60-Jody Keegan[20]
Hard Charger: 40DD-Caleb Griffith[+11]