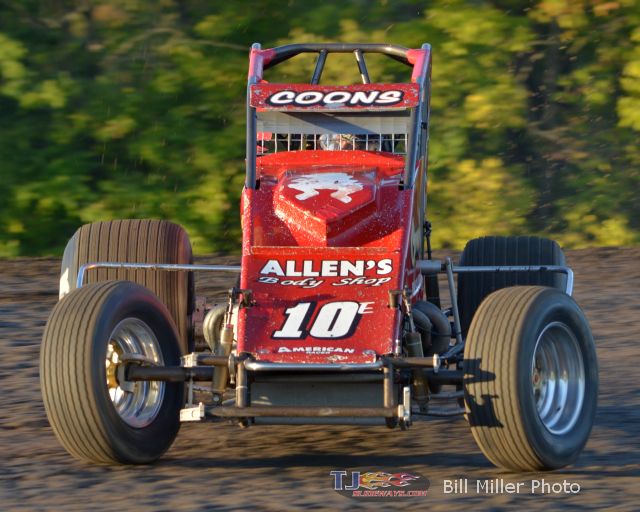 By Bob Buffenbarger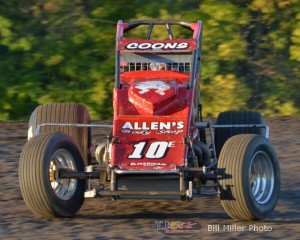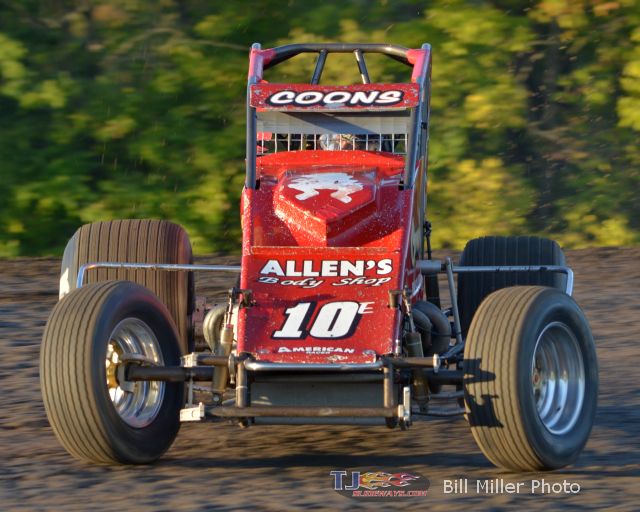 Kokomo,In. Oct. 18th, 2013- Jerry Coons Jr. led all 25 laps taking the sprint car portion of the Kokomo Klash Friday night. Coons started outside of the front row next to Gary Taylor for the 25 lap event.
The feature was only slowed once for a lap two caution for Wes McIntyre. Dave Darland, who started 10th quickly moved forward to  fourth on lap five. Jon Stanbrough and Darland spent the rest of the feature engaged in a spirited battle for 2nd, swapping positions several times with Darland finally securing the spot.
Meanwhile Coons had the hot hand tonight and was able to maneuver through traffic and never was seriously challenged.
Chris Windom who started 9th fought through traffic to work his way up to fourth with Scotty Weir taking fifth.
Heats for the 32 cars were won by C.J. Leary, Wes McIntrye, Scotty Weir and Jon Stanbrough. The two B mains were picked up by Kyle Robbins and Mike Terry Jr..
The track was in nice shape tonight with racing grooves high and low. The cool temperatures produced some cool steaming right rear tires.
In the 25 lap midget feature, Shane Cottle using the top, took the lead early and cruised to the victory.
As Cottle motored away, the battle for 2nd through 7th was intense with positions being traded almost every lap. At the checkers it was Cottle, Kurt Mayhew, Chet Gerke, Tate Martz, Shane Hollingsworth, Ross Rankine and Billy Wease.
Midget heats were won by Parker Price Miller and Shane Cottle.
Thanks goes out to Kokomo Speedway for another fine season.
10/18/13 Results
25 Lap Sprint Car A Main
1. 10e Jerry Coons, Jr.
2. 41 Dave Darland
3. 66 Jon Stanbrough
4. 11 Chris Windom
5. 40 Gary Taylor
6. 18k Scotty Weir
7. 12x Robert Ballou
8. 11p Brady Short
9. 17 Kyle Robbins
10. 18a Adam Andretti
11. 12g Chris Gurley
12. 66j Josh Spencer
13. 30 CJ Leary
14. 29 Logan Jarrett
15. 85 Mike Terry, Jr.
16. 21h Travis Hery
17. 27a Andrew Grant
18. 83 Wes McIntyre
19. 2e Shane Cottle
20. 3 Braylon Fitzpatrick
21. 10f Blake Fitzpatrick
22. 78 Adam Byrkett
12 Lap Sprint Car B Main #1 (top 2 transfer)
1. 17 Robbins
2. 18a Andretti
3. 12g Gurley (P)
4. 42 Conner Donelson
5. 54 Matt Westfall
6. 29 Jarrett (P)
7. 9 Parker Price-Miller
8. 95 Garrett Miller
12 Lap Sprint Car B Main #2 (top 2 transfer)
1. 85 Terry, Jr.
2. 27a Elson
3. 15 Aaron Farney
4. 58 Jamie Fredrickson
5. 18w Tyler Waltz
6. 27L Brad Lamberson
7. 27k John Knepper
8. 11 Nevil Algieo
(P) – Kokomo Speedway Points Provesional
25 Lap Midget Feature
1. 57 Shane Cottle
2. 21 Kurt Mayhew
3. 11 Chett Gherke
4. 39s Spencer Bayston
5. 2 Tate Martz
6. 39r Ross Rankine
7. 10 Billy Wease
8. 17 Michael Koontz
9. 52 Isaac Chapple
10. 5 Gary Gibson
11. 85 Shane Hollingsworth
12. 2 Andrew Henning
13. 9 Parker Price-Miller
DNS 5d Ken Drangmeister