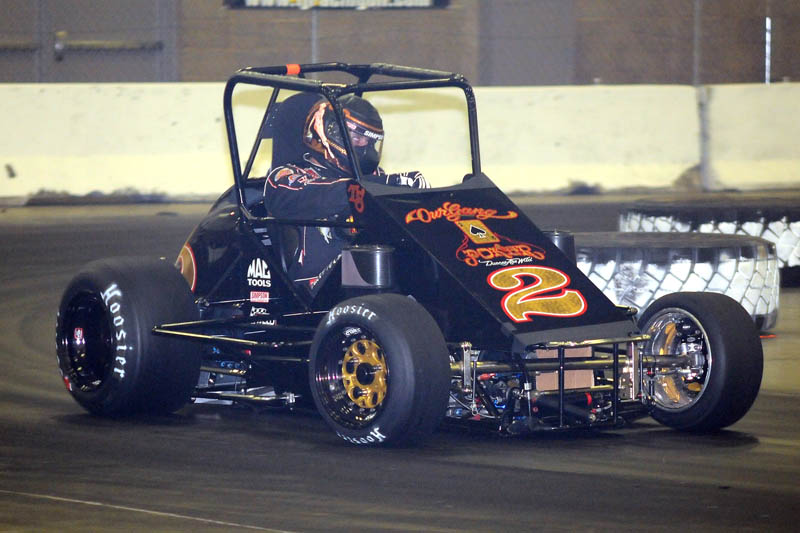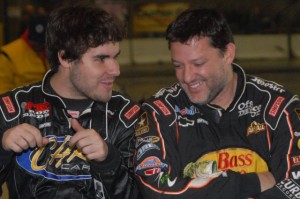 From the Rumble Series
Fort Wayne, IN — (November 26, 2013) —  He's still getting around on a motorized scooter, not a race car, but his badly broken right leg won't keep Tony Stewart away from the "Rumble in Fort Wayne" indoor midget races.
The three-time NASCAR champion, some two months away from returning to driving, will be honored with a "Salute to Tony Stewart" at the 16th annual holiday event on Friday, Dec. 27 and Saturday, Dec. 28 at the Memorial Coliseum Expo Center.
The native Hoosier will enter two cars – Munchkin chassis for longtime indoor teammate Mike Fedorcak and East Coast standout Lou Cicconi Jr. – while also greeting fans and signing autographs both days.
Rumble organizer Tony Barhorst said the recognition is well-deserved for Stewart, who has won a record nine features on the 1/6-mile track and continues to compete regularly on short tracks despite his superstar status.
For Stewart, a trip to the Rumble is something of a homecoming.
"I really enjoy competing up in Fort Wayne and having a chance to run the Munchkin," he said Tuesday, "so not being in the car this year is a bit different for me, but I'm still looking forward to it. Lou Cicconi is going to run the car this year, and it's going to be fun to spend time with him and watch him race.
"The Rumble event is a great time for me and the team. We get to see a lot of people that we might only see once or twice a year. It's also nice that some of my family can make the drive up for this event.
"With the Rumble being held during the holidays, it really gives us not only the chance to race when the weather isn't the greatest but the opportunity to see a lot of friends."
Barhorst marvels at Stewart's drive and his willingness to support short track racing.
"Throughout the history of major sports, it is extremely rare for a three-time champion to return to the roots of where they started," he said. "This is a chance for us to thank Tony for coming back to short track races and not forgetting where he came from.
"Tony will be doing some interviews between races, and we look forward to hearing about the progress he has made coming back from his injury."
Stewart, who was injured in a sprint car accident on Aug. 5, said Cicconi will drive his No. 2 Munchkin, while Fedorcak, from nearby Roanoke, will again pilot the No. 97. Both cars are fielded by Tony Stewart Racing, which also competes in the World of Outlaws sprint car series and the U.S. Auto Club's Silver Crown and sprint car divisions.
Cicconi, who has raced at Fort Wayne twice, is the only driver to win a feature in which Stewart's car was still running at the finish. That came on the final night in 2008, his most recent appearance, when Stewart ran second in a race that did not have a caution. Fedorcak, the builder and designer of the Munchkin chassis, likewise has one victory (2002) as well as a win at the old Memorial Coliseum track, making him the only driver to accomplish that feat.
"(Mike) and his family are great people," Stewart said, "and it will be fun to watch him and Lou battle it out on the track this year."
Some 300 entries are expected in midgets, winged and non-winged modified midgets, karts and quarter midgets. Spectator gates open at 11 a.m. each day, with midget time trials at 6 p.m. and the main portion of the program after 7:30.
Stewart will participate in a free, two-hour autograph session each day.
Information about tickets – including a special VIP package that includes a meet and greet with Stewart – is available at www.rumbleseries.com, along with entry forms and racer's rate hotels. Tickets may be ordered by mail without a service charge. The event information line is (317) 418-3216. Requests for information may be e-mailed to tbracefest@aol.com.