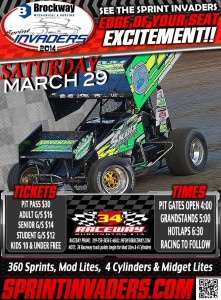 From Bill W
March 26, 2014 – It's been a long winter and the Brockway Mechanical & Roofing Sprint Invaders are excited to go back racing this Saturday night, March 29, at   the racy 34 Raceway in West Burlington, Iowa!  This weekend's event will mark the beginning of a sixteen-race schedule for the Brockway Mechanical & Roofing Sprint Invaders covering ten different venues in two states.
A great field of sprint cars is anticipated at the banked 3/8-mile oval this Saturday night!  Defending series' champion Russ Hall heads the expected card aboard the Skillz Motorsports #29.  "The Shocker" Dustin Selvage will also be on hand in Kenny Bragg's #73.  Selvage finished second in the season standings a year ago, and won the final race at 34 Raceway.
Others expected include Paul Nienhiser, winner of two series' events a year ago, three-time champion Ryan Jamison, veteran Jimmy Davies, "The Professor" Josh Schneiderman, Daniel Bergquist, two-time champ Bobby Mincer, "The Flying Farmer" Andy Huston, Jarrod Schneiderman, Tim Moore, Justin Newberry, John Greenwood, and brothers Mike and CJ Houseman.
Joey Moughan is also planning to make the event in the Wilson Brothers #17M.  The exciting Springfield, Illinois driver won in 2013 in West Burlington.  Carson McCarl has also indicated he will be in attendance in his new ride, the Rick Mastell #27.  Tony Shilling is also anticipated in the Goodno Promotion #22.  Many more are expected to get dirty on Saturday!
Thirty-three events have been run at 34 Raceway in Sprint Invaders history encompassing forty-one features.  Matt Rogerson still holds the career win mark with the series at five.  He is followed by Jerrod Hull (4), Mincer, Kaley Gharst and Matt Sutton (3 each).  Two-time winners include John Schulz, Mike Houseman Jr., Moughan and Selvage.  Selvage (2), Nienhiser, Moughan and Hall took the features there last year.
Also on the card Saturday night will be Mod-Lites, 4-cylinders and Midget Lites!  Thaw out your racing blood with us at 34 Raceway Saturday night!
Pit gates open at 4, with grandstands opening at 5.  Hot laps are scheduled for 6:30 with racing to follow.  Grandstand admission is just $16, with Seniors $14 and students $12.  Kids 10 and under are FREE.  For more information call 319-752-3434 or visit www.34Raceway.com!
For more information on the Sprint Invaders, including points, schedule, results and more, visit www.SprintInvaders.com!
2014 Sprint Invaders Schedule
Saturday, March 29 – 34 Raceway (West Burlington, IA)
Friday, April 4 – Lee County Speedway (Donnellson, IA)
Saturday, April 5 – Jackson County Speedway (Maquoketa, IA)
Wednesday, April 16 – Southern Iowa Speedway (Oskaloosa, IA)
Friday, April 18 – Independence Motor Speedway (Independence, IA)
Sunday, May 25 – 34 Raceway (West Burlington, IA)
Thursday, June 19 – Lee County Speedway (Donnellson, IA)
Friday, June 20 – Bloomfield Speedway (Bloomfield, IA)
Thursday, July 3 – Iowa State Fair Speedway (Des Moines, IA)
Friday, July 11 – Tipton International Speedway (Tipton, IA)
Friday, August 15 – Bloomfield Speedway (Bloomfield, IA)
Saturday, August 16 – 34 Raceway (West Burlington, IA)
Sunday, August 17 – Quincy Raceways – w/ASCS-Warrior region (Quincy, IL)
Thursday, September 11 – Farley Speedway (Farley, IA)
Saturday, September 20 – Jackson County Speedway (Maquoketa, IA)
Saturday, September 27 – 34 Raceway – Season Championship (West Burlington, IA)
Final 2013 Brockway Mechanical & Roofing Sprint Invaders Point Standings (Top 21)
 

# Races

Driver

Hometown

Car #

Total Points

1

12

Russ Hall

Pleasant Hill, IA

45c

2494

2

12

Dustin Selvage

Indianola, IA

73

2403

3

12

Paul Nienhiser

Chapin, IL

9

2347

4

12

Ryan Jamison

Mediapolis, IA

51J

2321

5

12

Jimmy Davies

Oquawka, IL

99

2211

6

12

Daniel Bergquist

Burlington, IA

9D

2150

7

9

Josh Schneiderman

West Burlington, IA

2

2079

8

11

Matt Sutton

Macomb, IL

3

2032

9

10

Bobby Mincer

Burlington, IA

15

1961

10

11

Andy Huston

Roseville, IL

40

1924

11

11

Jarrod Schneiderman

West Burlington, IA

88/14s

1903

12

12

Tim Moore

Rock Island, IL

10T

1859

13

12

Dave Getchell

Sperry, IA

83

1788

14

10

Justin Newberry

West Burlington, IA

36

1706

15

9

Matt Krieger

Fort Dodge, IA

56

1616

16

10

Harold Pohren

Lowell, IA

50P

1469

17

7

Mike Houseman Jr.

Des Moines, IA

68

1323

18

9

Mitchell Alexander

Knoxville, IA

6

1234

19

9

John Greenwood

Woodward, IA

1st

1186

20

5

Chris Martin

Ankeny, IA

44

1076

21

9

Chase Wanner

Agency, IA

85

994