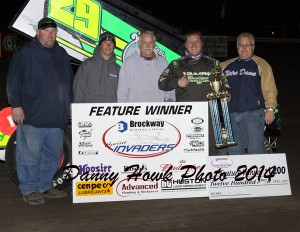 From Bill W
Donnellson, IA — (April 5, 2014) — Russ Hall's first outing with the Brockway Mechanical & Roofing Sprint Invaders last week at 34 Raceway was a rough one.  The Pleasant Hill, Iowa driver made up for it big time by dominating the feature Saturday night at the Lee County Speedway in Donnellson, Iowa.  The win was Russ's second at the 3/8-mile oval, and the fourth in his career with the Sprint Invaders.
Hall started from the pole in the feature by virtue of winning the Shake-up Dash and drawing the position.  The first lap saw chaos with several cars getting sideways in turn two and then turn four.  On the second go-around, Carson McCarl spun in turn two, collecting Jon Agan.  McCarl was sent upside down and was done for the night.
The restart saw Hall leading Tony Shilling, Mike Houseman Jr., Scott Thiel and Jarrod Schneiderman.  Thiel made quick work of Houseman on the restart to take the show position.  Paul Nienhiser, who was taken out of his heat, had worked his way from the rear to ninth by lap eight when he spun bringing the second and final caution to the event.
Hall had put several lapped cars between himself and Thiel, who had moved into second, but those cars were moved to the tail on the restart.  Hard-charger, Josh Schneiderman, who was taken out in the heat in the same incident as Nienhiser had charged from 17th to third by lap eleven and began to close on Thiel.
Meanwhile, Hall worked back through traffic to record the convincing win aboard the Skillz Motorsports #29.  "We were good tonight," said Hall afterwards.  "I like this track, it's one of my favorites.  It is racy and tricky.  When our Junior Fan of the night drew me the pole after the Dash, I knew it was going to be big.  Track position had a lot to do with it.  I have to thank my crew, Ostrich Racing Engines for fixing my motor in a day or two, Schnee chassis and HRP Wings."
Thiel held onto second.  "We were o.k. in the beginning, but Russ got out there," he said.  "Towards the middle of the race, I found some rubber and we were running him down a little.  Late in the race, the car started sputtering a little.  I thought I was running out of fuel, so I backed it down to half throttle or so.  I was just running my own race.  It turned out it was the fuel switch.  Overall, the Professional Plate XXX sprint car was phenomenal.  My congratulations to Russ."
Schneiderman completed the top three with his charge from the rear.  "We had a nice racecar.  We had some bad luck in the heat race.  We were able to get up through there, and pick some cars off after the caution.  I thought we had a shot at Scotty there, but we'll take 17th to 3rd.  We'll come back on the 16th (at Oskaloosa) and try to put it on them then."
Bobby Mincer was fourth ahead of Shilling.  Bret Tripplett, Jarrod Schneiderman, Agan, Nienhiser and Houseman rounded out the top ten.  Tripplett, Shilling and Jarrod Schneiderman won the heat races.  Kaley Gharst and Dustin Selvage, two threats to win entering the night, were both scratches after mechanical issues during hot laps sidelined them.
The Sprint Invaders will travel to the Southern Iowa Speedway in Oskaloosa, Iowa on Wednesday, April 16.  On Friday, April 18 they will two to the Independence Motor Speedway in Independence, Iowa.
Results
Brockway Mechanical & Roofing A main (started), 25 laps: 1. 29, Russ Hall, Pleasant Hill, IA (1) 2. 64, Scotty Thiel, Sheboygan, WI (7) 3. 49, Josh Schneiderman, West Burlington, IA (17) 4. 15, Bobby Mincer, Burlington, IA (9) 5. 22T, Tony Shilling, Knoxville, IA (3) 6. 22, Bret Tripplett, Lincoln, IL (6) 7. 11s, Jarrod Schneiderman, West Burlington, IA (4) 8. 4, Jon Agan, Knoxville, IA (8) 9. 9, Paul Nienhiser, Chapin, IL (15) 10. 68, Mike Houseman Jr., Des Moines, IA (5) 11. 6, Mitchell Alexander, Knoxville, IA (10) 12. 83, Dave Getchell, Sperry, IA (12) 13. 99, Jimmy Davies, Oquawka, IL (13) 14. 10T, Tim Moore, Rock Island, IL (14) 15. 40, Andy Huston, Roseville, IL (11) 16. 12G, Kelly Graham, Collins, IA (16) 17. 27, Carson McCarl, Altoona, IA (2) DNS – 73, Dustin Selvage, Indianola, IA, 41, Kaley Gharst, Decatur, IL. Lap Leader: Hall 1-25. KSE Hard-charger: Josh Schneiderman.
Advanced Plumbing & Machine Heat one (started), 8 laps, top two to Dash: 1. Bret Tripplett (4) 2. Russ Hall (5) 3. Scotty Thiel (3) 4. Mitchell Alexander (2) 5. Jimmy Davies (1) 6. Kelly Graham (6) DNS – Kaley Gharst
Huston Land Improvement Heat two (started), 8 laps, top two to Dash: 1. Tony Shilling (1) 2. Carson McCarl (3) 3. Jon Agan (2) 4. Andy Huston (4) 5. Tim Moore (5) DNS – Dustin Selvage
CenPeCo Lubricants Heat three (started), 8 laps, top two to Dash: 1. Jarrod Schneiderman (3) 2. Mike Houseman Jr. (4) 3. Bobby Mincer (2) 4. Dave Getchell (5) 5. Paul Nienhiser (1) 6. Josh Schneiderman (6)
Budweiser "King of Beers" Shake-up Dash (started), 6 laps: 1. Russ Hall (4) 2. Carson McCarl (1) 3. Tony Shilling (6) 4. Jarrod Schneiderman (3) 5. Mike Houseman Jr. (2) 6. Bret Tripplett (5)
Contingencies
Weld – Paul Nienhiser
Saldana Racing Products – Jon Agan
Pyrotec – Dave Getchell