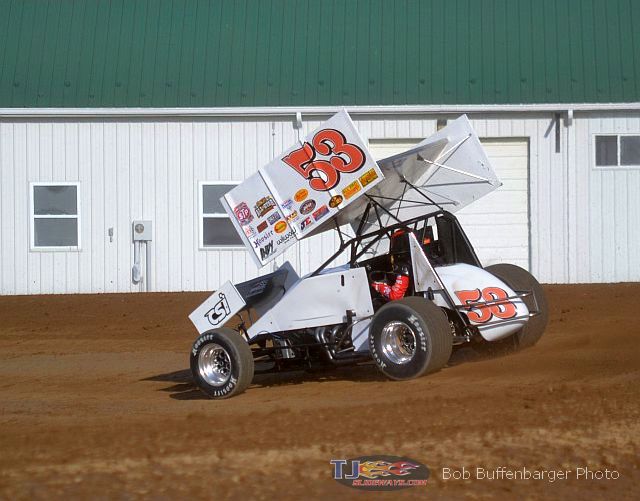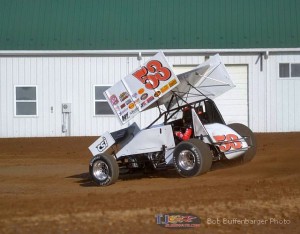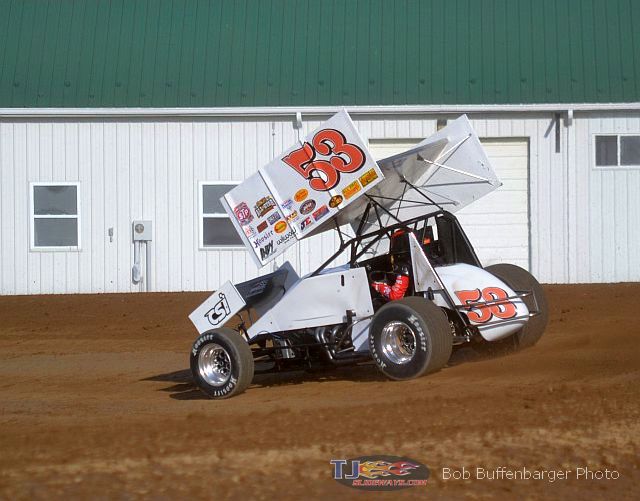 From Brian Liskai
Fremont, OH — (April 19, 2014) — Christopher Bell thought he had a feature locked up Friday night in Illinois only to experience mechanical issues. He wasn't going to be denied again. Bell, an Oklahoma native who now calls Columbus, Indiana home, led all 30 laps of the 410 sprint feature Saturday to claim his second career win at Fremont Speedway on Burns Petroleum Night.
Saturday's race was the second in the Kistler Racing Products FAST (Fremont Attica Sprint Title) Championship Series Presented by KS Sales and Service which will reward the champion $10,000 at season's end. It was the first FAST race of the year at "The Track That Action Built."
Bell was piloting the Keith Kunz winged 410 sprint car on Friday and had a motor issue leading late in the race. Bell, the 2013 USAC National Midget Champion, teamed up with Steve and Brad Fox in their #53 at Fremont Saturday to score the win.
"It's awesome to come out and have fun every time I get in this 53. Brad and Steve are awesome people and they are really fun to race with," said Bell beside his Foxco Racing Engines/Competition Suspension/Hinkles Hamburgers backed machine.
"We were going so good at Granite City in Keith's car. It's awesome to run so good there and come back here and get a win. This is my first sprint car win of the year…I've kind of struggled in the 410 stuff this year so it's nice to be back up here," continued Bell. "This Ohio deal is so tough. I got a little worried…at times when I caught the lapped cars they would drive away from me which told me I wasn't very good. I pulled the wing back and sat up in the seat and fortunately we're on the front stretch. Fremont is definitely one of the toughest places to win at."
It was also the second race of the year for the JLH General Contractors 305 Sprint FAST Championship Series presented by Engine Pro – the first of the year at Fremont. The season's champion will earn $2,000.
For Bellevue, Ohio's Jimmy Colvin it was a night of redemption. On the first lap of last week's Fremont Federal Credit Union 305 sprint feature Colvin took a nasty flip. He, his dad and crew worked all week to put his sprint car back together and it paid off. Colvin led all 25 laps but it wasn't easy as defending track champion John Ivy raced him hard the final five laps.
"I don't want to even talk about last week. It was one of those weeks when you get home from work at five o'clock and get back in the house and to bed at 10 o'clock just so we could get back out here this weekend. But this makes up for it. That was the longest 25 laps you could race when you know John Ivy is behind you. Especially when he sticks his nose inside of you and outside of you. Then we kind of got some good luck in lapped traffic. It was kind of one lane around the bottom but we held on for 25 laps," said Colvin beside his Concealed Carry Classes/Greber Custom Powder Coating #9.
"I have to thank mom and dad…they are there every week no matter what. Whether we're wadding a car up and spending all week in the shop or we're sitting here on the front stretch," added Colvin.
For the second consecutive week Risingsun, Ohio's Shawn Valenti would cruise to the win in the AAA Ohio Auto Club Dirt Truck feature. Valenti, who also scored a win last week at Attica Raceway Park, also set a new track record in qualifying for the second straight week.
"You know you're doing something right when you hear that," said Valenti in the victory lane amid a smattering of boos. "Once again I have to thank Jeff Babcock and all the sponsors on this thing…JP Enterprises, Dave Story Equipment, Craig Miller Trucking, Conrad Transportation, Gressman Powersports…it was Burns Petroleum Night so I'm glad to see we could finally get a race in…Day Dreams and Memories Crafts and Antiques, KS Sales and Service…can't think everyone enough."
"We kept watching the track conditions and in the heat race it kind of come back on us and we just kept adjusting on it and made the right calls and was able to keep all four tires on it," added Valenti.
Chad Kemenah and Bell would bring the 20 car field to the green for the Fort Ball Pizza Palace 410 Sprints. Bell would take the lead as third place starter Craig Mintz drove into second with Kemenah, Broc Martin, Travis Philo and Caleb Helms in tow. By lap six the leaders were racing into heavy lapped traffic as Mintz closed on Bell with Kemenah, Martin, Helms, Philo, Chris Andrews and Byron Reed giving chase.
By the ninth circuit Mintz was on Bell's rear bumper with Kemenah within striking distance. The race's only caution would fly on lap 10 for a Scott Euler spin and when the green reappeared Kemenah would drive around Mintz for the runner-up spot. Just past the half-way point as the leaders prepared to catch the back of the pack Kemenah closed on Bell with Mintz, Martin, Helms, Reed and Andrews in pursuit.
Bell would pick his way through the traffic and began to pull away slightly from Kemenah as Mintz was locked in a tremendous battle with Martin for third. With five laps to go Bell led Kemenah, Martin, Mintz, Helms, Reed and Andrews. Bell had a few close calls with lapped cars but used patience to cruise to the win. Kemenah, Martin, Mintz and Reed would round out the top five.
Colvin and last week's winner Steve Rando paced the field for the 305 sprint feature with Colvin taking the lead over Rando, Ivy, Tyler Gunn, Bobby Clark and Dustin Dinan. Ricky Peterson would spin to bring out the caution with two laps recorded.
Ivy would drive under Rando for second on lap four with Clark taking third a lap later. With six laps in Ivy closed quickly on Colvin with Clark, Rando, Dinan, Tony Beaber, Jordan Ryan, Gunn, Seth Schneider, Nate Dussel and Alvin Roepke in tow. The caution would come out on lap nine when Luke Griffith did a 360 spin. On the restart Colvin and Ivy would begin a great battle for the lead.
Colvin would stick to the bottom with Ivy trying several times to his outside. When Colvin moved up a little Ivy would try to sneak under. The two ran side-by-side through lap 16 when Colvin was able to pull away slightly. Meanwhile Rando, Clark, Dinan, Ryan and Beaber were locked in a tremendous battle for third.
The leaders finally hit the back of the pack on lap 18 but Colvin worked his way through and would take the checkered over Ivy, Rando, Dinan and Ryan.
In the 20-lap dirt truck feature Jimmy McGrath Jr. and Jeff Ward would pace the field of 21 trucks but before a lap could be completed the caution would fly for Keith Sorg while Ward went pit side with a flat tire. When the green came back out Dustin Keegan would grab the lead over Jim McGrath, Valenti, Jimmy McGrath, Matt Foos, Cory McCaughey and Bob Dible.
Valenti would take second on lap four, bringing Foos to third. The caution came back out for Andrew Lutman and Brandon Stuckey but when the green came back out Valenti and Keegan were locked in a side-by-side battle for the lead which would continue over the next four laps. Valenti would eventually pull away slightly as Keegan fell to the clutches of Foos with McGrath Jr., McGrath Sr., Dible, Art Ball and Dana Fry in pursuit.
Valenti would catch the rear of the field on lap 12 but Foos was unable to close with McGrath Jr., Dible, McGrath Sr., Ball and Keegan waging a tremendous battle for third. The final caution would fly on lap 14 for Stuckey with the running order Valenti, Foos, McGrath Jr., Dible, McGrath Sr., Ball and Keegan.
Valenti would pull away fro the win with Foos second while Dible got by McGrath Jr. late for third with Ball rounding out the top five.
Fremont Speedway will be back in action on Saturday, April 26th on Adkins Sanitation and Fence Night. It is Fan Zone Night and fans are encouraged to come prepared to support their favorite driver for a chance to win 10 free general admission tickets for the next regular weekly show on May 10th. Fans are being encouraged to make up banners/posters, wear their favorite driver's shirt and other fun activities which will be judged on the front stretch by all the fans.
For more information go to www.fremontohspeedway.com. For more information on the FAST series go to www.fastondirt.com
Fremont Speedway – 4/19/2014
JRC Transportation Night
Fort Ball Pizza Palace 410 Sprints (26 Cars)
[#]-Starting Position
Qualifying – Fricker's Restaurant/Callie's Performance
1. O9-Craig Mintz, 12.556; 2. 83M-Broc Martin, 12.588; 3. 46AU-Stuart Williams, 12.704; 4. 63-Chad Kemenah, 12.759; 5. 53C-Christopher Bell, 12.769; 6. 40-Caleb Helms, 12.829; 7. 45L-Brian Lay, 12.877; 8. 40DD-Caleb Griffith, 12.923; 9. 5T-Travis Philo, 12.934; 10. 16-Chris Andrews, 12.963; 11. 5R-Byron Reed, 12.983; 12. 35-Stuart Brubaker, 13.061; 13. 60-Jody Keegan, 13.076; 14. 2+-Brian Smith, 13.083; 15. 17-Scott Euler, 13.088; 16. 33M-Bryan Sebetto, 13.102; 17. 4K-Kris Spitz, 13.251; 18. 7-Dean Jacobs, 13.266; 19. 312-Mike Linder, 13.306; 20. 53-DJ Foos, 13.329; 21. 9Z-Duane Zablocki, 13.367; 22. 17H-Jarod Horstman, 13.486; 23. 55-Brad Bowman, 13.518; 24. 10X-Dustin Stroup, 13.574; 25. O7X-Dain Naida, 13.698; 26. 39M-Matt Merrill, 99.000
Heat 1 – American Power Sports (8 Laps – Top 5 finishers transfer to the A-feature)
1. 33M-Bryan Sebetto[1] ; 2. 60-Jody Keegan[2] ; 3. 16-Chris Andrews[3] ; 4. 63-Chad Kemenah[5] ; 5. O9-Craig Mintz[6] ; 6. 45L-Brian Lay[4] ; 7. 17H-Jarod Horstman[8] ; 8. 312-Mike Linder[7] ; 9. O7X-Dain Naida[9]
Heat 2 – Kistler Racing Products (8 Laps – Top 5 finishers transfer to the A-feature)
1. 2+-Brian Smith[2] ; 2. 53C-Christopher Bell[5] ; 3. 4K-Kris Spitz[1] ; 4. 83M-Broc Martin[6] ; 5. 5R-Byron Reed[3] ; 6. 40DD-Caleb Griffith[4] ; 7. 53-DJ Foos[7] ; 8. 55-Brad Bowman[8] ; 9. 39M-Matt Merrill[9]
Heat 3 – Hoosier Racing Tires (8 Laps – Top 5 finishers transfer to the A-feature)
1. 7-Dean Jacobs[1] ; 2. 17-Scott Euler[2] ; 3. 35-Stuart Brubaker[3] ; 4. 5T-Travis Philo[4] ; 5. 40-Caleb Helms[5] ; 6. 10X-Dustin Stroup[8] ; 7. 9Z-Duane Zablocki[7] ; 8. 46AU-Stuart Williams[6]
Dash – Borer Mirror and Glass (6 Laps, finishing order determined first 6 starting positions of A-feature
1. 63-Chad Kemenah[2] ; 2. 53C-Christopher Bell[1] ; 3. O9-Craig Mintz[4] ; 4. 83M-Broc Martin[3] ; 5. 40-Caleb Helms[5] ; 6. 5T-Travis Philo[6]
B-Main – Computer Man Inc. (10 Laps – Top 5 finishers transfer to the A-feature)
1. 45L-Brian Lay[2] ; 2. 46AU-Stuart Williams[1] ; 3. 312-Mike Linder[4] ; 4. 53-DJ Foos[5] ; 5. 40DD-Caleb Griffith[3] ; 6. 9Z-Duane Zablocki[6] ; 7. 10X-Dustin Stroup[9] ; 8. 17H-Jarod Horstman[7] ; 9. 55-Brad Bowman[8] ; 10. 39M-Matt Merrill[11] ; 11. O7X-Dain Naida[10]
A-Main –  (30 Laps)
1. 53C-Christopher Bell[2]; 2. 63-Chad Kemenah[1]; 3. 83M-Broc Martin[4]; 4. O9-Craig Mintz[3]; 5. 5R-Byron Reed[8]; 6. 40-Caleb Helms[5]; 7. 16-Chris Andrews[7]; 8. 35-Stuart Brubaker[9]; 9. 45L-Brian Lay[12]; 10. 53-DJ Foos[20]; 11. 33M-Bryan Sebetto[16]; 12. 40DD-Caleb Griffith[13]; 13. 46AU-Stuart Williams[11]; 14. 7-Dean Jacobs[18]; 15. 5T-Travis Philo[6]; 16. 2+-Brian Smith[14]; 17. 60-Jody Keegan[10]; 18. 4K-Kris Spitz[17]; 19. 17-Scott Euler[15]; 20. 312-Mike Linder[19]
Hard Charger: 53-DJ Foos[+10]
Fremont Federal Credit Untion 305 Sprints (23 Cars)
[#]-Starting Position
Qualifying – Callie's Performance
1. 8-Bobby Clark, 13.676; 2. 6-Dustin Dinan, 13.740; 3. 8I-John Ivy, 13.740; 4. 68G-Tyler Gunn, 13.748; 5. 19R-Steve Rando, 13.793; 6. 9-Jimmy Colvin, 13.799; 7. 39-Tony Beaber, 13.808; 8. 1W-Paul Weaver, 13.856; 9. 36-Seth Schneider, 13.873; 10. 2-Ricky Peterson, 13.884; 11. 1-Nate Dussel, 13.893; 12. 5R-Jordan Ryan, 13.921; 13. 12-Kyle Capodice, 13.980; 14. 8M-T.J Michael, 14.018; 15. 7A-Alvin Roepke, 14.033; 16. 25-Jason Keckler, 14.070; 17. 11G-Luke Griffith, 14.166; 18. 22D-Dan Hammond, 14.327; 19. 22M-Dan McCarron, 14.331; 20. 7M-Brandon Moore, 14.372; 21. 10-Josh Harrison, 14.461; 22. 32-Dan Hennig, 14.466; 23. 3J-Trey Jacobs, 14.699
Heat 1 – American Power Sports (8 Laps – Top 5 finishers transfer to the A-feature)
1. 25-Jason Keckler[1] ; 2. 2-Ricky Peterson[3] ; 3. 68G-Tyler Gunn[5] ; 4. 8-Bobby Clark[6] ; 5. 39-Tony Beaber[4] ; 6. 12-Kyle Capodice[2] ; 7. 22M-Dan McCarron[7] ; 8. 32-Dan Hennig[8]
Heat 2 – Kistler Racing Products (8 Laps – Top 5 finishers transfer to the A-feature)
1. 11G-Luke Griffith[1] ; 2. 1-Nate Dussel[3] ; 3. 6-Dustin Dinan[6] ; 4. 19R-Steve Rando[5] ; 5. 8M-T.J Michael[2] ; 6. 3J-Trey Jacobs[8] ; 7. 7M-Brandon Moore[7] ; 8. 1W-Paul Weaver[4]
Heat 3 – Hoosier Racing Tires (8 Laps – Top 5 finishers transfer to the A-feature)
1. 7A-Alvin Roepke[2] ; 2. 5R-Jordan Ryan[3] ; 3. 36-Seth Schneider[4] ; 4. 9-Jimmy Colvin[5] ; 5. 8I-John Ivy[6] ; 6. 22D-Dan Hammond[1] ; 7. 10-Josh Harrison[7]
B-Main – Computer Man Inc. (10 Laps – Top 5 finishers transfer to the A-feature)
1. 1W-Paul Weaver[1] ; 2. 12-Kyle Capodice[2] ; 3. 22D-Dan Hammond[3] ; 4. 22M-Dan McCarron[4] ; 5. 10-Josh Harrison[6] ; 6. 3J-Trey Jacobs[8] ; 7. 32-Dan Hennig[7] ; 8. 7M-Brandon Moore[5]
A-Main –  (25 Laps)
1. 9-Jimmy Colvin[1]; 2. 8I-John Ivy[4]; 3. 19R-Steve Rando[2]; 4. 6-Dustin Dinan[5]; 5. 5R-Jordan Ryan[11]; 6. 8-Bobby Clark[6]; 7. 39-Tony Beaber[7]; 8. 1-Nate Dussel[10]; 9. 7A-Alvin Roepke[13]; 10. 8M-T.J Michael[12]; 11. 1W-Paul Weaver[16]; 12. 68G-Tyler Gunn[3]; 13. 12-Kyle Capodice[17]; 14. 25-Jason Keckler[14]; 15. 36-Seth Schneider[8]; 16. 10-Josh Harrison[20]; 17. 11G-Luke Griffith[15]; 18. 2-Ricky Peterson[9]; 19. 22M-Dan McCarron[19]; 20. 22D-Dan Hammond[18]
Hard Charger: 5R-Jordan Ryan[+6]
AAA Auto Club Dirt Trucks (23 Trucks)
[#]-Starting Position
Qualifying – Callie's Performance
1. 7B-Shawn Valenti, 17.832 (New Track Record) 2. 17-Bob Dible, 17.903; 3. 5-Jim McGrath, 18.018; 4. 2-Matt Foos, 18.047; 5. D1-Dustin Keegan, 18.051; 6. 36M-Cory McCaughey, 18.145; 7. 33-Jeff Ward, 18.178; 8. 45-Brian Melnek, 18.253; 9. 5JR-Jimmy McGrath Jr., 18.316; 10. O1-Art Ball, 18.364; 11. 18W-Cory Ward, 18.381; 12. 7-Dana Frey, 18.457; 13. 3X-Brad Keckler, 18.516; 14. 4S-Keith Sorg, 18.563; 15. 9-Curt Inks, 18.666; 16. 99H-Art Howey Jr., 18.750; 17. 37-Eric Devanna, 18.870; 18. 115-Ben Good, 18.882; 19. 10-Roger Inks, 19.054; 20. 85S-Bradley Stuckey, 19.291; 21. 22-Brandon Leighton, 19.796; 22. 3-Andy Earnhart, 22.306; 23. 79-Andrew Lutman, 99.000
Heat 1 – American Power Sports (8 Laps – Top 5 finishers transfer to the A-feature)
1. 7B-Shawn Valenti[6] ; 2. 2-Matt Foos[5] ; 3. 3X-Brad Keckler[2] ; 4. O1-Art Ball[3] ; 5. 33-Jeff Ward[4] ; 6. 10-Roger Inks[7] ; 7. 99H-Art Howey Jr.[1] ; 8. 3-Andy Earnhart[8]
Heat 2 – Kistler Racing Products (8 Laps – Top 5 finishers transfer to the A-feature)
1. 17-Bob Dible[6] ; 2. 4S-Keith Sorg[2] ; 3. D1-Dustin Keegan[5] ; 4. 37-Eric Devanna[1] ; 5. 79-Andrew Lutman[8] ; 6. 85S-Bradley Stuckey[7] ; 7. 45-Brian Melnek[4]
Heat 3 – Hoosier Racing Tires (8 Laps – Top 5 finishers transfer to the A-feature)
1. 9-Curt Inks[2] ; 2. 5JR-Jimmy McGrath Jr.[4] ; 3. 7-Dana Frey[3] ; 4. 5-Jim McGrath[6] ; 5. 36M-Cory McCaughey[5] ; 6. 115-Ben Good[1] ; 7. 22-Brandon Leighton[7]
A-Main –  (20 Laps)
1. 7B-Shawn Valenti[8]; 2. 2-Matt Foos[5]; 3. 17-Bob Dible[7]; 4. 5JR-Jimmy McGrath Jr.[1]; 5. O1-Art Ball[9]; 6. D1-Dustin Keegan[4]; 7. 5-Jim McGrath[6]; 8. 3X-Brad Keckler[11]; 9. 7-Dana Frey[10]; 10. 33-Jeff Ward[2]; 11. 45-Brian Melnek[16]; 12. 115-Ben Good[18]; 13. 37-Eric Devanna[14]; 14. 9-Curt Inks[13]; 15. 99H-Art Howey Jr.[17]; 16. 10-Roger Inks[19]; 17. 22-Brandon Leighton[21]; 18. 85S-Bradley Stuckey[20]; 19. 4S-Keith Sorg[12]; 20. 36M-Cory McCaughey[3]; 21. 79-Andrew Lutman[15]
Hard Charger: 7B-Shawn Valenti[+7]