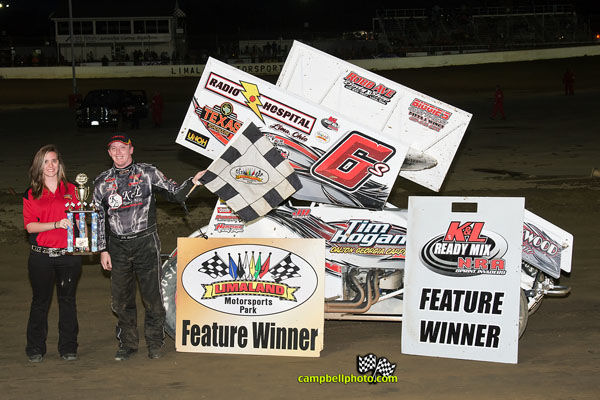 From Bob Fricke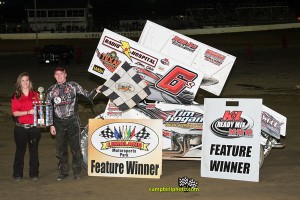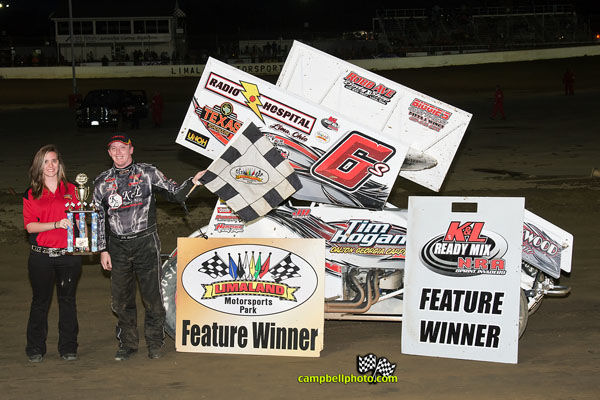 (5/9/14) – The opening night of racing action for both the K & L Ready Mix NRA Sprint Invaders and Limaland Motorsports Park produced a near perfect evening for veteran driver JR Stewart and the Hammons Motorsports team. Stewart led for virtually every lap he competed in during both his heat race and in winning the 25-lap sprint car feature. The irony for the defending track champion Stewart was that he failed to capture a main event feature in 2013, although he did win the point's championship.
Stewart, who also won track titles in '08, '09 and 2010, showed that championship form again after gaining the outside front row starting position. He roared to the lead position and only a second lap caution slowed his progress. As the race restarted, Stewart and Jared Horstman made it their own private playground as the two pulled away from the rest of the field. At first they used the high side of the track, but a moist gripping surface allowed them to move their racing line to the middle and bottom of the track when driving through lapped traffic.
Horstman pulled up to Stewart's tail but never seriously threatened to pass the familiar 6S numbered entry. A second and final caution through lap number eleven made little difference as Stewart pulled away from Horstman on the restart and was on his way to the season opening conquest.
"This is great to win tonight after not getting here (winner's circle) last season," an elated Stewart said afterward. "Ron (Hammons) gives me a really good car and with this win hopefully we'll have momentum with us all year" It was the ninth win for Stewart, of Bellefontaine, Ohio, in his Limaland Motorsport Park career.
The Budweiser Thunderstocks 15-lap feature had 2013 four-time winner Jeff Koz start from the point position and that was a huge advantage for the Lima based driver throughout last season. On this evening, it turned out to be not enough as veteran Tim Cole stuck with Koz and eventually set him up for an impressive pass for the lead. Cole executed the defining move on the inside coming thru turn two on lap number eight. It was a clean powerful pass and showed everyone that Tim Cole may well be a force to be reckoned with in 2014.
A caution on lap number ten allowed defending track champion Tony Anderson to move within position at catching Cole and matching Stewart from earlier as a 2013 track champion to win a feature after not being able to do so in last year's title run. In fact, the race set up for a fan-favorite white flag restart. Anderson tried to make an inside move, but Cole fought that off and rolled past the checkered flag for the first time in his career.
"It's really nice to win, but it's about time," said a relieved Tim Cole of Findlay, Ohio. "I've been racing for awhile and finally I have a car much better than what was previously the case. This will make a big difference for us moving forward this season. I can't wait to get back out here."
The first feature of the season for the Reineke Modifieds division saw a number of internal battles that led to the familiar number 65 of Todd Sherman as the eventual winner after 20 grueling circuits. Indiana driver Tommy Beezley and Wapakoneta, Ohio's Jerry Bowersock engaged in a tremendous duel during the early stages of the race, while second row starter Matt Westfall was working the higher line around the track and found himself also in the mix.
At race mid-point Westfall began rooting on the inside of event leader Bowersock. Just beyond half-way, Westfall made a crowd pleasing pass for the lead on the outside while rolling under the flag stand. Three laps later, Bowersock got the worst of a turn four collision and spun out below the track in turn four. The other end of the race track saw the race leading Westfall get tangled up with two other cars in a three-car accordion like pile-up against the wall in turn one. That brought out a red flag condition and when the dust settled, defending track champion Todd Sherman found himself leading the field with six laps remaining.
Sherman needed to hold off advances from fellow Hoosier drivers Terry Hull and Beezley to lock down the win. "The track was fast and after some erosion the middle seemed really good to me," observed Sherman later. "I was in a battle myself with Terry (Hull), (Casey) Luedeke and Tommy Beezley at the same time Jerry and Matt were going at it up front. I thought when we eventually got into lapped traffic there might be some opportunities for me, but ultimately those guys had to have troubles for me to be here."
It was Todd Sherman's 37th career win in a Modified at Limaland Motorsports Park.
Limaland Motorsports Park returns to action on Friday, May 16, for Modified Mayhem presented by Reineke Family Dealerships along with Meet the Drivers Night. The Elwer Fence Sprints, Reineke Modifieds and Budweiser Thunderstocks will battle on the famed ¼ mile oval. Gates open at 5:00 p.m. with hot laps beginning at 6:30 p.m. Racing begins promptly at 7:30 p.m.
All the latest news and information can be found at www.limaland.com. You can also find 2014 Limaland Motorsports Park on Facebook and Twitter.
Limaland Motorsports Park – 5/9/2014
Night of Champions / Whelen Night
NRA Sprints
Heat 1 – (8 Laps – Top 8 Transfer)
1. 22D-Dennis Yoakam; 2. 6M-Max Stambaugh; 3. 11-Tim Allison;
4. 10J-Jarrod Delong; 5. 28H-Hud Horton; 6. 69-Scott Curren; 7. 49-Shawn Dancer;
8. 27-Beau Stewart
Heat 2 – (8 Laps – Top 8 Transfer)
1. 6S-Jr.Stewart; 2. 17-Jared Horstman; 3. B20-Butch Schroeder; 4. 8J-Jess Stiger;
5. 83-Kyle Sauder; 6. 7K-Kyle Pitts; 7. 23M-Jack Miller
Heat 3 –  (8 Laps – Top 8 Transfer)
1. 35-Ron Blair; 2. 10X-Dustin Stroup; 3. 22R-Kevin Roberts; 4. 22H-Randy Hannagan; 5. 23-Devon Dobie; 6. 12H-Tim Hunter; 7. 49T-Gregg Dalman
A-Main –  (25 Laps) [#]-Starting Position
1. 6S-Jr.Stewart[2]; 2. 17-Jared Horstman[5]; 3. 22H-Randy Hannagan[12];
4. 10X-Dustin Stroup[6]; 5. 6M-Max Stambaugh[4]; 6. B20-Butch Schroeder[8];
7. 22D-Dennis Yoakam[1]; 8. 49-Shawn Dancer[19]; 9. 11-Tim Allison[7];
10. 28H-Hud Horton[13]; 11. 23-Devon Dobie[15]; 12. 35-Ron Blair[3];
13. 10J-Jarrod Delong[10]; 14. 22R-Kevin Roberts[9]; 15. 8J-Jess Stiger[11];
16. 12H-Tim Hunter[18]; 17. 7K-Kyle Pitts[17]; 18. 23M-Jack Miller[20];
19. 83-Kyle Sauder[14]