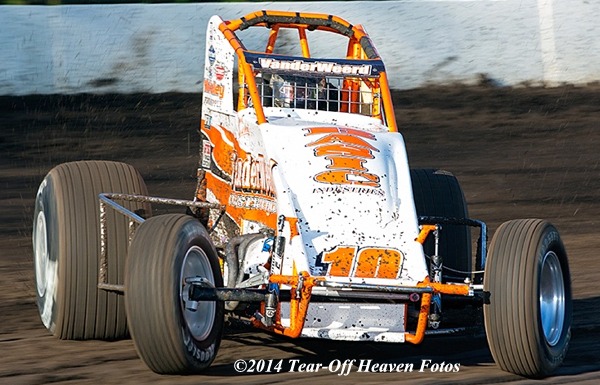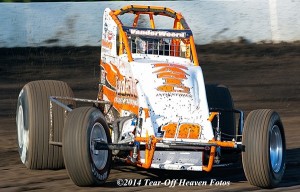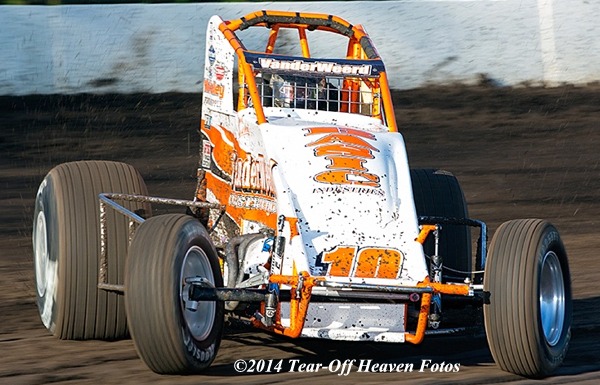 From Lance Jennings
Santa Maria, CA — (May 13, 2014) — The Northern California based USAC Western Classic Racing Series (WCRS) are set to battle the USAC West Coast Sprints for two nights of action. This Friday, May 16th, John Prentice's Ocean Speedway in Watsonville will open the special doubleheader. The following night, both groups will fight for bragging rights at Steve Faria's Merle Stone Chevrolet Thunderbowl Raceway in Tulare for the "Chris and Brian Faria Memorial."
NOTICE TO COMPETITORS: Watsonville's Ocean Speedway has a strict 90db at 100 feet state mandated sound rule and the Flowmaster "Suitcase" (Part 53545-USAC) is the track legal muffler. If the sound levels are broken, the racer will be disqualified and not allowed to compete.
Friday's show at Watsonville will be the first of two dates at the Santa Cruz County Fairgrounds. Heading into the event, the popular 1/4-mile oval has hosted the WCRS (including USAC/CRA co-sanctioned races) on nine occasions. Ryan Bernal and Mike Spencer lead all drivers with two wins and a new 1-lap qualifying record under the 360 engine rule will be established. The action packed showcase will also feature the winged Ocean Sprints presented by Taco Bravo, American Stocks, and IMCA Modifieds. The Pit Gates will open at 1:00pm, Spectator Gates will open at 4:30pm, Drivers Meeting at 4:30pm, with Racing scheduled at 6:00pm.
After rain cancelled last month's date, Saturday's "Chris and Brian Faria Memorial" will mark the debut of the Western Classic Sprints at the Tulare County Fairgrounds. Peter Murphy won the Non-Winged 360 "Faria Memorial" in 2009 as Craig Stidham, Bud Kaeding, and Kyle Larson have also won the Tulare Classic. The winged King of the West Sprints and IMCA Modifieds will share the spotlight as Spectator Gates will open at 4:30pm, Hot Laps at 5:30pm, with Racing scheduled at 7:00pm.
Heading to the third point race of the season, "The Human Highlight Reel" Geoff Ensign of Sebastopol holds a five point advantage over the competition. Racing Ted Finkenbinder's #3F Western Industrial X-Ray Maxim, Ensign scored two second place finishes at Calistoga's opening weekend. The 2011 Champion leads the series with two heat race victories and will be looking to add trophies from Watsonville and Tulare to his collection.
After winning the second night at Calistoga, Hollister's Ryan Bernal is second in the point standings. Driving Mike Phulps' #56 Core Power / Metal Works ART, the defending champion claimed third in the April 5th season opener. With 18 feature laps led to his credit, Bernal will have his sights on returning to victory circle at Watsonville and Tulare.
Richard Vander Weerd of Visalia is third in the Western Classic point chase. Piloting the family owned #10 Vander Weerd Construction / Battery Works Maxim, the 2011 USAC West Coast Champion scored thirteenth and third at Calistoga Speedway. With one Keizer Wheels / Racing Optics Hard Charger Award to his credit, Vander Weerd also ranks seventh in the West Coast standings. Richard will be looking to sweep the doubleheader and add more feature wins to his resume.
Huntington Beach's Nic Faas sits fourth in both the Western Classic and West Coast point standings. Racing Keith Ford's #73 Berry Pack / King Racing Products Spike, Faas lead all 20 laps to win the April 5th season opener and ran eighth the following night at Calistoga. The former USAC Western Midget Champion will be one of the favorites to claim victories at Watsonville and Tulare.
Stockton's Trevor Schmid is fifth in the chase for the championship. Driving the family owned #2 unsponsored Eagle, Schmid recorded two sixth place finishes at Calistoga Speedway. Trevor has two feature laps led on the season and will be looking to stand atop the podium at Watsonville and Tulare.
Among the other drivers expected to be in action are Matt Mitchell, Marty Hawkins, Landon Hurst, Jace Vander Weerd, Terry Schank Jr., D.J. Johnson, Scott Hall, Jim Richardson, "Wild" Billy Aton, and more.
Markus Niemela of Rauma, Finland leads the USAC West Coast point standings. Jace Vander Weerd, Troy Rutherford, Nic Faas, Matt Mitchell, "Hollywood" Danny Faria Jr., Richard Vander Weerd, "Shifter" Landon Hurst, Dennis Howell, and Austin Liggett round out the top-10 drivers. Other West Coast drivers expected to compete are Kevin Barnes, "The Wild Child" Chris Ennis, Davey Pombo, Garrett Long, Jeff Sibley, and more.
Ocean Speedway is located on the Santa Cruz County Fairgrounds in Watsonville, California at 2601 E. Lake Avenue. Adult Tickets are $20, Senior Tickets (over 65) are $19, Children Tickets (12-6) are $15, Kids (5 and under) are FREE. Family Passes (2 Adults & 2 Kids) are $60. For more information, visit the track's website at
www.oceanspeedway.com
or call 831.662.9466 (WINN).
Tulare's Merle Stone Chevrolet Thunderbowl Raceway is located at the Tulare County Fairgrounds at the corner of Bardsley and K Streets. Reserved tickets are $20 and General Admission seats are $18. Advance tickets are on sale and can be purchased by calling the track office at
559.688.0909
. For more event information, visit the track's website at
www.tularethunderbowl.com
.
The USAC Western Classic Racing Series thanks Amsoil, Hoosier Tire, Chris Kearns Presents, Competition Suspension Inc., Deist Safety, Engler Machine & Tool, Extreme Mufflers, Keizer Wheels, Pyrotect Racing Cells, Racing Optics, Rod End Supply, Rugged Radios, Saldana Racing Products, VanLare Steering Repair, and Woodland Auto Display for their support. If you or your company would like to become part of the series, email PR Director Lance Jennings at
lwjennings@earthlink.net
.
———————————————–
NON-WING CHRIS & BRIAN FARIA MEMORIAL WINNERS:
2009-Peter Murphy, 2010-Craig Stidham, 2011-Bud Kaeding, 2012-Kyle Larson, 2013-Not Held.
USAC WESTERN CLASSIC SPRINT POINT STANDINGS:
1. Geoff Ensign-130, 2. Ryan Bernal-125, 3. Richard Vander Weerd-115, 4. Nic Faas-113, 5. Trevor Schmid-102, 6. Matt Mitchell-92, -. Marty Hawkins-92, 8. Landon Hurst-89, 9. Jace Vander Weerd-84, -. Terry Schank Jr.-84, 11. D.J. Johnson-75, –. Scott Hall-75, 13. Jim Richardson-35, 14. Billy Aton-2, 15. Bradley Terrell-1.
USAC WEST COAST SPRINT POINT STANDINGS:
1. Markus Niemela-227, 2. Jace Vander Weerd-215, 3. Troy Rutherford-212, 4. Nic Faas-193, 5. Matt Mitchell-190, 6. Danny Faria Jr.-185, 7. Richard Vander Weerd-168, 8. Landon Hurst-157, 9. Dennis Howell-148, 10. Austin Liggett-130, 11. Kevin Barnes-94, 12. Marty Hawkins-90, 13. Chris Ennis-79, –. Brody Roa-79, 15. Davey Pombo-72, 16. Garrett Long-69, 17. Ricky Kirkbride-68, 18. Jeff Sibley-67, 19. Rusty Carlile-65, 20. J.J. Yeley-64.
2014 USAC WESTERN CLASSIC SPRINT CAR SERIES SCHEDULE
DATE – TRACK – LOCATION
May 16: *Ocean Speedway – Watsonville, CA
May 17: *Thunderbowl Raceway – Tulare, CA (Chris & Brian Faria Memorial)
August 2: *Kings Speedway – Hanford, CA (Billet Cup / $2,500-to-Win)
August 8: *Ocean Speedway – Watsonville, CA
August 9: *Chowchilla Speedway – Chowchilla, CA
September 20: Marysville Raceway Park – Marysville, CA
October 4: Petaluma Speedway – Petaluma, CA
———————————————–
* = Co-Sanctioned Event with USAC West Coast Sprints.
This schedule is subject to change.