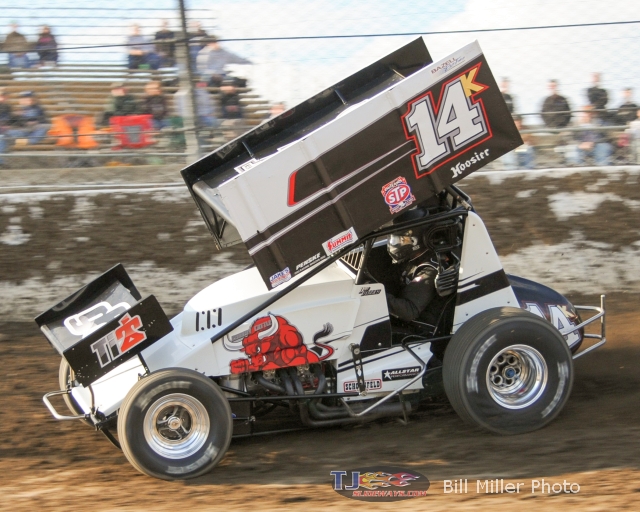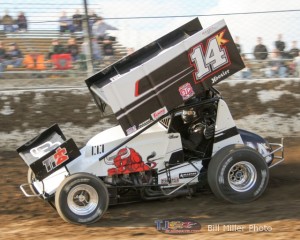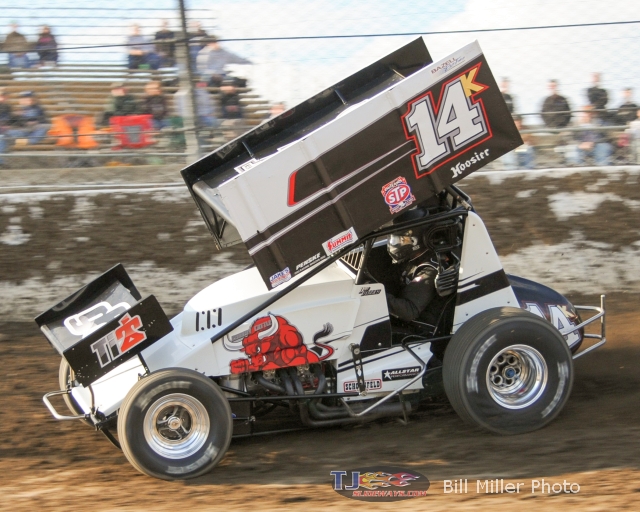 By Brian Liskai
ATTICA, Ohio – Dale Blaney exudes confidence. That spells trouble for the competition wherever he goes and that was very evident at Attica Raceway Park Friday on the Eric Phillips 26th Anniversary Classic Presented by American Powersports  the and Tiffin Paper Company.
The Hartford, Ohio driver drove into the lead of the O'Reilly Auto Parts 410 Sprints feature at Attica Raceway Park Friday on lap two and after a close battle in lapped traffic, benefitted from a caution at the half way point and then cruised to his second win of the season at "Ohio's Finest Racing" speedplant. The victory is the 19th of Blaney's career at Attica and moves him into fourth on the track's all-time win list.
Defending track champion Craig Mintz came up short in his bid for a second consecutive victory at Attica, but he earned valuable points with his second place finish. Mintz is gunning to repeat as the Kistler Racing Products FAST (Fremont Attica Sprint Title) Championship Series titlist and take home its $10,000 year-end prize.
"My car has felt so good ever since we got home from Florida. I can put it anywhere that I want to. That testament comes back to George (Fisher, crew chief) and Tony (Kennedy, team owner) and Donnie and Skippy. They do the work on this thing during the week and I go home and work a little bit and come back and get to drive it. Those guys have made me look awful good," said Blaney beside his Kennedy Cattle, Ti22 Performance Parts, Penske Shocks backed #14k.
"A confident race car driver is tough to beat and right now I feel like we can deal with anybody at any time and that's a good thing," continued Blaney.
"It was tough in lapped traffic. They were running up and down. I was circling the top in three and four but it was just so dirty up there following guys and I saw Craig (Mintz) inside of me in one and two. I knew where I wanted to go when we got rolling again (on the restart).  I knew I better get to the top. I've gotten beat a couple of times running the middle and the bottom on restarts last year," concluded Blaney.
Blaney is excited about the World of Outlaws STP Sprint Car Series coming to Attica on May 30. "I think we can qualify good enough. I have a lot of confidence that we can at least compete and do well. We've done that every time we've competed against them this year. Hopefully we can defend home tough for the Attica guys."
Wayne, Ohio's Jeff Babcock used a lapped car as a pick to drive around Rusty Schlenk on lap 17 and then cruised to his third victory of the season in the Summit Racing Equipment UMP Late Models. The win is the seventh career victory for Babcock and moves him into fourth on the track's all-time win list.
"It was really good on the bottom of one and two and the high side in three and four. It got pretty crazy there…me and the 15 were banging off each other and lapped cars. All and all it looked like a pretty good race from where I was sitting," said Babock beside his Best Performance Motorsports/Bulk Material Lift.com/Professional Drywall/Craig Miller Trucking backed #1.
"We're having a sensational year so far. I can't thank the Halcombs, and Tommy and all the guys that help out on this enough. These guys work their tails off on this thing and I just show up and see what I can do with it," added Babcock.
The Foster's Auto Body 305 Sprint feature came down to the final corner on the final lap. Race-long leader Tyler Gunn jumped the cushion in turn four while being pressured by Jason Keckler and smacked the front stretch wall as Keckler drove by for his first career Attica win.
It was also a JLH General Contractors FAST Championship Series event for the 305 sprints as they battle for the season-ending $2,000 payday.
"I've wanted to win one here so bad for so long. I love racing at this place," said Keckler beside his Tiffany's Furniture and Mattress/Meggit Farms backed #25.
"It felt good on the bottom the whole race but I could tell Tyler (Gunn) had enough of a run off of four and I was like 'I've got to do something.' I knew I was a little bit better than he was in one and two but everything I would gain he would gain back down there. I had to try something different and it worked," continued Keckler.
"I have to thank my Mom and Dad…my dad does a ton of work on this thing and I couldn't do it without him. Rick Ruhlman is here almost every night doing everything we ask and Zach Collum has been helping us out. I have to thank Paul and Andrea (Weaver), my sister," added Keckler beside his OC Shocks, Level Performance supported machine.
In the 30-lap 410 sprint feature Mitch Harble and Chris Andrews would bring the field to the green with Blaney and Rob Chaney in row two. Harble would gain the advantage as Blaney slid into second. A pile-up involving Caleb Helms, Tim Shaffer and Travis Philo after a lap was recorded would put Blaney right on Harble's rear bumper and when the green flew so did Blaney. The four-time UNOH All Star champion would rocket around Harble for the lead while Andrews battled with Mintz for third with Sheldon Haudenschild, Chaney, Chad Kemenah, Christopher Bell and Byron Reed in tow.
Mintz would take third on lap three and drive around Harble for second a circuit later, bringing Andrews up to third. Blaney had built a comfortable lead until he caught the back of the pack by lap 10. This allowed Mintz to close as Andrews, Harble, Chaney, Bell, Haudenschild and Reed gave chase. The lapped cars were racing side by side in front of Blaney and Mintz was there as the pair raced side by side dicing through the lapped cars.
At the half-way point Brady Bacon took a tumble off turn four bringing the action to a halt. He was unhurt but the stoppage gave Blaney a clear track and that's all he needed. When the green reappeared Blaney left the competition. His only close call was when he slipped off the cushion somewhat in turn four on lap 21 and glanced off the front stretch wall.
Meanwhile Mintz ran comfortably in second with a tremendous battle being waged for third. Bell would take the position on lap 18 after racing hard with Andrews with Chaney, Harble, Reed, Haudenschild and Kemenah close by. Blaney would catch lapped traffic again with seven circuits remaining but he got threw easily to take the win over Mintz, Bell, Andrews and Haudenschild.
Defending track champion Ryan Missler and Rusty Schlenk, the track's all-time winner in the late model division, would bring the field to green for their 25-lap affair. Missler would gain the advantage as Schlenk stayed close while Ky Harper, Mike Bores, Ryan Markham and Babcock gave chase. Bores would take third on lap two with Markham moving into fourth a circuit later. Markham would drive into third on lap five as the leaders prepared to encounter lapped traffic.
Schlenk would use a pair of lapped cars as a pick to drive around Missler and into the lead on lap eight with Markham, eighth starter Babcock, Bores, Harper and Matt Irey in pursuit. The caution would fly on lap nine for a Nate Potts spin. When the green flew again Schlenk and Missler ran nose to tail as Babcock drove under Markham for third.
By lap 13 Babock had caught Missler and drove into second a circuit later with Markham in fourth and Bores rounding out the top five. As the leaders raced into lapped traffic once again it was Babcock's turn to use a lapped car to block Schlenk as he drove into the lead on lap 17. The caution flew for a Harper spin on lap 19 with Babcock leading Schlenk, Missler, Bores, Markham, Irey and Larry Kingseed.
With a clear track, Babock rocketed away from the field for the win while Schlenk, Missler, Bores and Irey rounded out the top five.
Tyler Gunn and Jason Keckler brought the 305 sprint field to the green for their 25 lap feature with Gunn gaining the upper hand over Keckler, Ricky Peterson, Paul Weaver, John Ivy, Jordan Ryan, Dustin Dinan and Steve Rando. Gunn and Keckler pulled away slightly as Peterson ran comfortably in third with a tremendous battle for fourth involving Weaver, Ivy, Ryan, Dinan, Rando, Bobby Clark and Nate Dussel.
Peterson was able to catch the top two by lap six and it was a three car battle for the lead as they raced into lapped traffic on lap 9. With 10 laps to go Gunn, Keckler and Peterson ran nearly nose to tail with Weaver, Ryan, Dinan, Dussel and Ivy in tow. The race's only caution flew on lap 16 as someone hit one of the infield tires, throwing it on the track.
On the restart Gunn and Keckler pulled away from Peterson with Weaver, a charging Rando, Dinan and Ryan in pursuit. Dinan would move into fourth on lap 18, bringing Rando into fifth. With four laps to go Keckler changed his line from the bottom to the top in turns three and four and closed rapidly on Gunn.
As they took the white flag Keckler was beside Gunn as they raced to the bottom of turns one and two. Entering turn three on the last lap Gunn went to the extreme high side with Keckler a half a groove below. The pair were side by side and Gunn bounced over the cushion exiting turn four and made hard contact with the outside wall as Keckler drove to the win. Peterson, Dinan, Rando and Weaver would round out the top five.
There is no racing at Attica Raceway Park next weekend as the track prepares for the Kistler Engines Classic with the World of Outlaws STP Sprint Cars on tap on Friday, May 30th. Go to www.atticaracewaypark.com for reserved seat information.
Attica Raceway Park – 5/16/2014
Sutton Bank/ Fisher Performance/ Columbus Equipment Night
American Power Sports \ Tiffin Paper (33 Cars)
[#]-Starting Position
Qualifying – Kistler Engines
1. 14K-Dale Blaney, 12.179; 2. 45-Tim Shaffer, 12.239; 3. 22-Cole Duncan, 12.326; 4. O9-Craig Mintz, 12.336; 5. 40DD-Caleb Griffith, 12.413; 6. 5R-Byron Reed, 12.468; 7. 40-Caleb Helms, 12.513; 8. 15H-Mitch Harble, 12.576; 9. 11X-Brandon Martin, 12.584; 10. 16-Chris Andrews, 12.636; 11. 35-Stuart Brubaker, 12.643; 12. 67-Christopher Bell, 12.663; 13. 63-Chad Kemenah, 12.708; 14. 53-DJ Foos, 12.730; 15. 5H-Jordan Harble, 12.764; 16. 93-Sheldon Haudenschild, 12.785; 17. 5T-Travis Philo, 12.789; 18. 45L-Brian Lay, 12.807; 19. 17H-Jarod Horstman, 12.834; 20. 9X-Rob Chaney, 12.848; 21. 55-Brad Bowman, 12.877; 22. 14H-Todd Heller, 12.945; 23. 9-Dean Jacobs, 12.953; 24. 60-Jody Keegan, 12.961; 25. 99-Brady Bacon, 12.975; 26. 9Z-Duane Zablocki, 12.996; 27. 46AU-Stuart Williams, 13.163; 28. O7X-Dain Naida, 13.167; 29. 312-Mike Linder, 13.267; 30. 17-Scott Euler, 13.323; 31. 59-Bryan Nuckles, 13.560; 32. 60C-Kory Crabtree, 13.920; 33. 55P-Matt Phillips, 14.069
Heat 1 – Nitro Black Performance by Engine Pro (8 Laps – Top 4 finishers transfer to the A-feature)
1. 93-Sheldon Haudenschild[1] ; 2. 14K-Dale Blaney[4] ; 3. 63-Chad Kemenah[3] ; 4. 5T-Travis Philo[5] ; 5. 45L-Brian Lay[6] ; 6. 55-Brad Bowman[7] ; 7. 312-Mike Linder[8] ; 8. 5H-Jordan Harble[2] ; 9. 59-Bryan Nuckles[9]
Heat 2 – Summit Racing Equipment (8 Laps – Top 4 finishers transfer to the A-feature)
1. 9X-Rob Chaney[1] ; 2. O9-Craig Mintz[4] ; 3. 67-Christopher Bell[2] ; 4. 11X-Brandon Martin[3] ; 5. 14H-Todd Heller[5] ; 6. 9Z-Duane Zablocki[8] ; 7. 60-Jody Keegan[7] ; 8. 9-Dean Jacobs[6]
Heat 3 – Ultra Shield Race Products (8 Laps – Top 4 finishers transfer to the A-feature)
1. 16-Chris Andrews[1] ; 2. 45-Tim Shaffer[4] ; 3. 5R-Byron Reed[2] ; 4. 40DD-Caleb Griffith[3] ; 5. 35-Stuart Brubaker[5] ; 6. 53-DJ Foos[6] ; 7. 17-Scott Euler[7] ; 8. 55P-Matt Phillips[8]
Heat 4 – Bell Racing Products (8 Laps – Top 4 finishers transfer to the A-feature)
1. 15H-Mitch Harble[2] ; 2. 40-Caleb Helms[3] ; 3. 22-Cole Duncan[4] ; 4. 46AU-Stuart Williams[6] ; 5. 99-Brady Bacon[5] ; 6. 60C-Kory Crabtree[8] ; 7. O7X-Dain Naida[7] ; 8. 17H-Jarod Horstman[1]
B-Main #1 – Computer Man Inc. (10 Laps – Top 2 finishers transfer to the A-feature)
1. 45L-Brian Lay[1] ; 2. 53-DJ Foos[4] ; 3. 35-Stuart Brubaker[2] ; 4. 55-Brad Bowman[3] ; 5. 312-Mike Linder[5] ; 6. 17-Scott Euler[6] ; 7. 59-Bryan Nuckles[9] ; 8. 5H-Jordan Harble[7]
B-Main #2 – Computer Man Inc. (10 Laps – Top 2 finishers transfer to the A-feature)
1. 99-Brady Bacon[2] ; 2. 14H-Todd Heller[1] ; 3. 9Z-Duane Zablocki[3] ; 4. 9-Dean Jacobs[7] ; 5. 60-Jody Keegan[5] ; 6. 60C-Kory Crabtree[4] ; 7. O7X-Dain Naida[6]
A-Main –  (30 Laps)
1. 14K-Dale Blaney[3]; 2. O9-Craig Mintz[5]; 3. 67-Christopher Bell[10]; 4. 16-Chris Andrews[2]; 5. 93-Sheldon Haudenschild[7]; 6. 63-Chad Kemenah[9]; 7. 9X-Rob Chaney[4]; 8. 11X-Brandon Martin[14]; 9. 15H-Mitch Harble[1]; 10. 45-Tim Shaffer[6]; 11. 40DD-Caleb Griffith[15]; 12. 5R-Byron Reed[11]; 13. 53-DJ Foos[19]; 14. 40-Caleb Helms[8]; 15. 45L-Brian Lay[17]; 16. 14H-Todd Heller[20]; 17. 46AU-Stuart Williams[16]; 18. 99-Brady Bacon[18]; 19. 5T-Travis Philo[13]; 20. 22-Cole Duncan[12]
Hard Charger: 67-Christopher Bell[+7]
Summit Racing Equipment Late Models (17 Cars)
[#]-Starting Position
Heat 1 – Nitro Black Performance by Engine Pro (8 Laps – Top 9 finishers transfer to the A-feature)
1. 36-Matt Irey[2] ; 2. 5M-Ryan Markham[3] ; 3. 50Y-Ryan Missler[8] ; 4. 12-Ky Harper[1] ; 5. 51-Devin Shiels[6] ; 6. 88-Brandon Perkins[9] ; 7. 45-Nate Potts[5] ; 8. 69R-Doug Baird[7] ; 9. 53-Steve Sabo[4]
Heat 2 – Summit Racing Equipment (8 Laps – Top 9 finishers transfer to the A-feature)
1. 21-Larry Kingseed[4] ; 2. 1-Jeff Babcock[6] ; 3. 11-Rusty Schlenk[3] ; 4. 15B-Mike Bores[2] ; 5. 48-John Bores[7] ; 6. 27-Ken Hahn[8] ; 7. 5J-Josh Haynes[5] ; 8. 92-Cody Scott[1]
A-Main –  (25 Laps)
1. 1-Jeff Babcock[8]; 2. 11-Rusty Schlenk[2]; 3. 50Y-Ryan Missler[1]; 4. 15B-Mike Bores[4]; 5. 36-Matt Irey[7]; 6. 21-Larry Kingseed[5]; 7. 51-Devin Shiels[9]; 8. 5M-Ryan Markham[6]; 9. 27-Ken Hahn[12]; 10. 45-Nate Potts[13]; 11. 12-Ky Harper[3]; 12. 48-John Bores[10]; 13. 69R-Doug Baird[15]; 14. 53-Steve Sabo[17]; 15. 88-Brandon Perkins[11]; 16. 92-Cody Scott[16]; 17. 5J-Josh Haynes[14]
Hard Charger: 1-Jeff Babcock[+7]
Foster Auto Body 305 Sprints (27 Cars)
[#]-Starting Position
Qualifying – Kistler Engines
1. 8-Bobby Clark, 13.814; 2. 6-Dustin Dinan, 13.860; 3. 9-Jimmy Colvin, 13.908; 4. 36-Seth Schneider, 13.949; 5. 8I-John Ivy, 13.972; 6. 2-Ricky Peterson, 13.978; 7. 5R-Jordan Ryan, 14.013; 8. 68G-Tyler Gunn, 14.039; 9. 16-Jim Morris, 14.057; 10. 13D-Jeremy Duposki, 14.107; 11. 3J-Trey Jacobs, 14.146; 12. 11G-Luke Griffith, 14.184; 13. 25-Jason Keckler, 14.238; 14. 1W-Paul Weaver, 14.240; 15. 1-Nate Dussel, 14.252; 16. 22M-Dan McCarron, 14.312; 17. 8M-T.J Michael, 14.342; 18. 12-Kyle Capodice, 14.351; 19. 7A-Alvin Roepke, 14.368; 20. 22D-Dan Hammond, 14.369; 21. 32-Dan Hennig, 14.449; 22. 7M-Brandon Moore, 14.503; 23. 7-Troy Kingan, 14.543; 24. 39C-Scott Riley, 14.648; 25. 4T-Jim Taddeo, 14.661; 26. 29-Kyle Farmer, 15.659; 27. 19R-Steve Rando, 99.900
Heat 1 – Nitro Black Performance by Engine Pro (8 Laps – Top 5 finishers transfer to the A-feature)
1. 8I-John Ivy[3] ; 2. 6-Dustin Dinan[4] ; 3. 1W-Paul Weaver[1] ; 4. 19R-Steve Rando[9] ; 5. 3J-Trey Jacobs[2] ; 6. 22M-Dan McCarron[5] ; 7. 4T-Jim Taddeo[7] ; 8. 7A-Alvin Roepke[6] ; 9. 29-Kyle Farmer[8]
Heat 2 – Summit Racing Equipment (8 Laps – Top 5 finishers transfer to the A-feature)
1. 5R-Jordan Ryan[3] ; 2. 1-Nate Dussel[5] ; 3. 25-Jason Keckler[1] ; 4. 9-Jimmy Colvin[4] ; 5. 13D-Jeremy Duposki[2] ; 6. 8M-T.J Michael[6] ; 7. 12-Kyle Capodice[7] ; 8. 7M-Brandon Moore[8] ; 9. 39C-Scott Riley[9]
Heat 3 – Ultra Shield Race Products (8 Laps – Top 5 finishers transfer to the A-feature)
1. 2-Ricky Peterson[2] ; 2. 68G-Tyler Gunn[1] ; 3. 8-Bobby Clark[4] ; 4. 36-Seth Schneider[3] ; 5. 22D-Dan Hammond[7] ; 6. 11G-Luke Griffith[6] ; 7. 32-Dan Hennig[8] ; 8. 7-Troy Kingan[9]
B-Main – Computer Man Inc. (10 Laps – Top 5 finishers transfer to the A-feature)
1. 8M-T.J Michael[2] ; 2. 11G-Luke Griffith[3] ; 3. 22M-Dan McCarron[1] ; 4. 7A-Alvin Roepke[7] ; 5. 4T-Jim Taddeo[4] ; 6. 12-Kyle Capodice[5] ; 7. 7-Troy Kingan[9] ; 8. 7M-Brandon Moore[8] ; 9. 16-Jim Morris[12] ; 10. 39C-Scott Riley[11] ; 11. 29-Kyle Farmer[10] ; 12. 32-Dan Hennig[6]
A-Main –  (25 Laps)
1. 25-Jason Keckler[2]; 2. 2-Ricky Peterson[4]; 3. 6-Dustin Dinan[8]; 4. 19R-Steve Rando[10]; 5. 1W-Paul Weaver[3]; 6. 5R-Jordan Ryan[5]; 7. 1-Nate Dussel[9]; 8. 8I-John Ivy[6]; 9. 9-Jimmy Colvin[11]; 10. 8M-T.J Michael[16]; 11. 7A-Alvin Roepke[19]; 12. 8-Bobby Clark[7]; 13. 36-Seth Schneider[12]; 14. 11G-Luke Griffith[17]; 15. 22D-Dan Hammond[15]; 16. 3J-Trey Jacobs[13]; 17. 4T-Jim Taddeo[20]; 18. 68G-Tyler Gunn[1]; 19. 22M-Dan McCarron[18]; 20. 13D-Jeremy Duposki[14]
Hard Charger: 7A-Alvin Roepke[+8]
©2014 – Results Provided by: Computer Man Inc. Fremont, OH