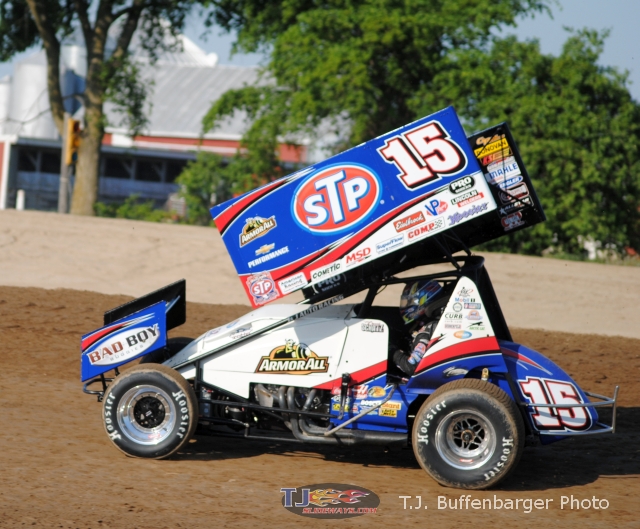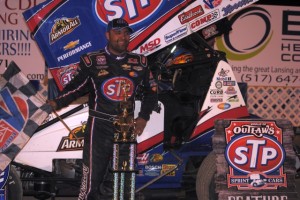 By T.J. Buffenbarger
Lake Odessa, MI – (May 31, 2014) – Donny Schatz used a late race restart to his advantage to win Saturday's Napa Rumble at I-96 Speedway with the World of Outlaws STP Sprint Car Series. Schatz took the lead from Brad Sweet during a restart on lap 21 and held on through slower traffic for the victory. The win was Schatz's second in four races and also boosted him into the World of Outlaws series point lead.
"(Sweet) picked the bottom , which was the preferred line at the start," said Schatz. "Once he got halfway down the straightaway we got a run on him, and I had no choice but to go for the slider and the car just stuck really good there and was able to hook up with the cushion and came out of there leading."
Kasey Kahne Racing teammates Cody Darrah and Brad Sweet started on the front row for the 35-lap feature event. Sweet jumped into the lead and pulled away from Darrah until catching slower traffic on lap 11. Darrah closed momentarily, but Sweet was able to motor around the outside of the slower cars while Darrah was remained boxed in.
Behind the KKR teammates a torrid battle for the lead was taking place between Joey Saldana, Schatz, McMahan, Pittman, and Gravel for various positions two and three wise. Schatz passed Saldana for third off turn two on lap 17, but was nearly a half a track behind the leaders. Then on lap 18 Sammy Swindell slowed on the front stretch with a flat right rear tire. After repairs Swindell rejoined the back of the field.
Sweet continued to lead until lap 21 when McMahan and Darrah made contact on the backstretch to bring out the caution flag. Darrah went to the work area with a flat tire while McMahan suffered minor wing damage but was able to keep under power without stopping. Darrah rejoined the field at the back and his crew changed the tire.
During the restart Sweet chose the low line again, but spun the tires during the restart and allowed Schatz to use his momentum around the top to take the lead. Schatz pulled away until encountering several lapped cars racing for position side by side. This allowed Sweet to close right in on Schatz's back bumper with six laps to go.
One lap later just as Sweet was in position to challenge for the lead Schatz cleared a slower car that boxed in Sweet and allowed Schatz to open some distance. Sweet climbed back up to Schatz's back bumper on the final lap, but could not overcome the deficit with Schatz winning by half a car length over Sweet, fast qualifier David Gravel, Pittman, and McMahan.
World of Outlaws STP Sprint Car Series Statistical Report; I-96 Speedway; Lake Odessa, Mich.; May 31, 2014
A-Main – (35 Laps) – 1. 15-Donny Schatz [5] [$10,000]; 2. 49-Brad Sweet [1] [$5,500]; 3. 83-David Gravel [8] [$3,200]; 4. 9-Daryn Pittman [6] [$2,800]; 5. 51-Paul McMahan [7] [$2,500]; 6. 2-Shane Stewart [12] [$2,300]; 7. 71M-Joey Saldana [3] [$2,200]; 8. 29-Kerry Madsen [9] [$2,100]; 9. 3G-James McFadden [15] [$2,050]; 10. 1S-Logan Schuchart [10] [$2,000]; 11. 11-Steve Kinser [11] [$1,500]; 12. 11K-Kraig Kinser [17] [$1,200]; 13. 1-Sammy Swindell [4] [$1,100]; 14. 7S-Jason Sides [18] [$1,050]; 15. 24H-Brandon Wimmer [14] [$1,000]; 16. 4-Cody Darrah [2] [$900]; 17. 99-Brady Bacon [13] [$800]; 18. W20-Greg Wilson [23] [$800]; 19. 2M-Dustin Daggett [16] [$800]; 20. 83D-Tommy Sexton [19] [$800]; 21. 5B-Quentin Blonde [21] [$800]; 22. 10S-Jason Steinebach [22] [$800]; 23. 1A-Jacob Allen [20] [$800]. Lap Leaders: Brad Sweet 1-20, Donny Schatz 21-35. KSE Hard Charger Award: 2-Shane Stewart [+6]
Qualifying – 1. 83-David Gravel, 13.985; 2. 15-Donny Schatz, 14.319; 3. 1-Sammy Swindell, 14.349; 4. 71M-Joey Saldana, 14.354; 5. 4-Cody Darrah, 14.370; 6. 29-Kerry Madsen, 14.465; 7. 49-Brad Sweet, 14.518; 8. 1S-Logan Schuchart, 14.570; 9. 11-Steve Kinser, 14.615; 10. 2-Shane Stewart, 14.712; 11. 9-Daryn Pittman, 14.781; 12. 51-Paul McMahan, 14.803; 13. 99-Brady Bacon, 14.906; 14. 24H-Brandon Wimmer, 15.052; 15. 3G-James McFadden, 15.084; 16. 2M-Dustin Daggett, 15.121; 17. 11K-Kraig Kinser, 15.122; 18. 7S-Jason Sides, 15.136; 19. 83D-Tommy Sexton, 15.153; 20. 1A-Jacob Allen, 15.445; 21. 5B-Quentin Blonde, 16.033; 22. 10S-Jason Steinebach, 16.679; 23. W20-Greg Wilson, nt
Heat 1 – (8 Laps – Top 6 finishers transfer to the A-feature) – 1. 49-Brad Sweet [2]; 2. 2-Shane Stewart [1]; 3. 71M-Joey Saldana [3]; 4. 99-Brady Bacon [5]; 5. 83-David Gravel [4]; 6. 2M-Dustin Daggett [6]; 7. 83D-Tommy Sexton [7]; 8. 10S-Jason Steinebach [8]
Heat 2 – (8 Laps – Top 6 finishers transfer to the A-feature) – 1. 9-Daryn Pittman [1]; 2. 15-Donny Schatz [4]; 3. 24H-Brandon Wimmer [5]; 4. 11K-Kraig Kinser [6]; 5. 4-Cody Darrah [3]; 6. 1S-Logan Schuchart [2]; 7. 1A-Jacob Allen [7]; 8. W20-Greg Wilson [8]
Heat 3 – (8 Laps – Top 6 finishers transfer to the A-feature) – 1. 51-Paul McMahan [1]; 2. 29-Kerry Madsen [3]; 3. 7S-Jason Sides [6]; 4. 1-Sammy Swindell [4]; 5. 11-Steve Kinser [2]; 6. 3G-James McFadden [5]; 7. 5B-Quentin Blonde [7]
Dash – (6 Laps, finishing order determined first 8 starting positions of A-feature) – 1. 49-Brad Sweet [1]; 2. 4-Cody Darrah [2]; 3. 71M-Joey Saldana [3]; 4. 1-Sammy Swindell [4]; 5. 15-Donny Schatz [5]; 6. 9-Daryn Pittman [7]; 7. 51-Paul McMahan [8]; 8. 83-David Gravel [6]
World of Outlaws STP Sprint Car Series Championship Standings