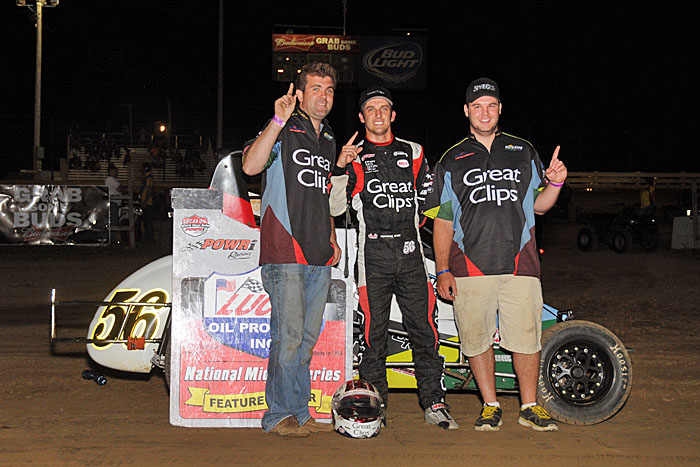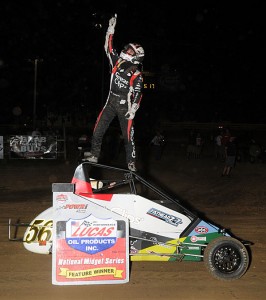 From Derek Schuett
Quincy, IL. — (June 6, 2014) — Darren Hagen of Riverside, California came from his fifth place starting position to take his second POWRi Lucas Oil National Midget Series win of 2014 and Frank Flud of Pryor, Oklahoma battled Chris Openshaw to take his first career POWRi Speedway Motors 600cc Outlaw Micro Series victory at the semi-banked ¼ mile Quincy Raceway.
The event held at Quincy Raceway is the first of four straight nights of racing for the 2014 Illinois SPEED week. Teams will travel to Lincoln Speedway in Lincoln, IL on Friday, June 6th and then to Macon Speedway in Macon, IL on Saturday, June 7th. The Illinois SPEED Week finale will take place at Belle-Clair Speedway in Belleville, IL on Sunday, June 8th.
Pole-sitter Michael Pickens of Auckland, New Zealand would take command at the drop of the green flag, while Darren Hagen would begin to work his way towards the front until the caution for the spun car of Garret Aitken slowed his charge. Piloting the RFMS owned-DRC Chassis, Pickens would be slid by Tyler Thomas entering turn one on the restart, but Pickens would return the favor in turn three, resulting in Thomas sliding over the banking and off the track bringing out the third caution.
When racing resumed, current second place driver Brad Mosen of Auckland, New Zealand would battle Darren Hagen. Hagen's chase after Mosen would be slowed when Andy Malpocker spun after making contact with another car in turns three and four. Following the caution, green flag racing would be short lived as Brad Mosen would bring out the first red flag of the feature upon making contact with one of the infield tires exiting turn four and flipping his racecar, collecting Terry Babb, Jason McDougal, Jacob Patton, and Nick Bailey. Mosen would be ok, but the damage to his car was extensive enough to end his evening.
Upon inheriting the second position due to Mosen's misfortune, Hagen would challenge Pickens on the restart with both drivers using every bit of the ragged-edged cushion in turns three and four. As Pickens and Hagen would begin to encounter lap traffic, Hagen would take point and never look back. As Hagen, Pickens, and Zach Daum began to lap cars, Jason McDougal would be pushed off the edge of the track in turn three and ended up flipping, bringing out the second red of the feature event. McDougal would be ok, but done for the remainder of the event.
When racing resumed, Hagen would pull away while Tanner Thorson of Minden, Nevada driving a RFMS owned- DRC would battle teammate Pickens for the second position. The duo would make contact in turns one and two, resulting in Pickens coming to an abrupt halt in which his engine would catch fire ending his night. Pickens would be ok. When racing resumed, Darren Hagen would lead the field to the checkered, followed by second place finisher Tanner Thorson, and third place finisher Zach Daum of Pocahontas, Illinois. "It's good to get another podium," said Daum.
"These guys worked their butts off to give me a great car," explained a pleased second place finisher, Tanner Thorson.
"I've got to give props to my crew chief," said a victorious Hagen. "This guy's one of the best in the country; and to the rest of my team as well. I can't thank Great Clips, Shane Hmiel and the rest of my sponsors enough."
Driving his Metric Cycles, Engler-injected, Sawyer Chassis, Frank Flud battled pole-sitter Chris Openshaw from the drop of the green flag to take home his first career POWRi Speedway Motors 600cc Outlaw Micro Series victory. "These guys are top caliber," said an excited Flud. "I know we run with them at the shootout, but the shootout is a different animal. I wanted to come here and know that I could run with anybody. Scott Sawyer's happy, Mike Ross is happy. I know they're both smiling and I'm smiling. I've got so many sponsors to thank; it's unreal what it took to get here to this point."
Chris Openshaw took the second position for a career-best finish. "We would have liked to get the win," said Openshaw. "But it's really pretty awesome to get a second place."
Rounding out the top three was Travis Senter of Osceola, Arkansas coming from the tenth position. "Where else can you go race on a Thursday night," explained a pleased Travis Senter. "Great fans, great race track, we're glad to be here."
POWRi Lucas Oil National Midget Series feature results (30 laps): 1. Darren Hagen, 2. Tanner Thorson, 3. Zach Daum, 4. Andrew Felker, 5. Austin Brown, 6. Parker Price-Miller, 7. Tyler Thomas, 8. Jake Blackhurst, 9. Chett Gehrke, 10. Seth Motsinger, 11. Spencer Bayston, 12. Ryan Criswell, 13. Terry Babb, 14. Garrett Aitken, 15. Daniel Robinson, 16. Colten Cottle, 17. Andy Malpocker, 18. Jacob Patton, 19. Nick Bailey, 20. Michael Pickens, 21. Jake Neuman, 22. Jason McDougal, 23. Brad Mosen
POWRi Speedway Motors 600cc Outlaw Micro Series results (20 Laps): 1. Frank Flud, 2. Chris Openshaw, 3. Travis Senter, 4. Trey Marcham, 5. Matt Ponder, 6. Nick Howard, 7. Nick Howard, 8. Frank Galusha, 9. Evan Weyant, 10. Joey Wirth, 11. Jason Harms, 12. Jeremy Camp, 13. Kyle Schuett, 14. Jake Neuman, 15. Nic Harris, 16. Aaron Andruskevitch, 17.Scott Sawyer, 18. Scott Klaasmeyer, 19. Jason McDougal, 20. Jake Galusha, 21. Nathan Benson, 22. Joe B Miller, 23. Lindsey Howard
For more information, visit www.powri.com