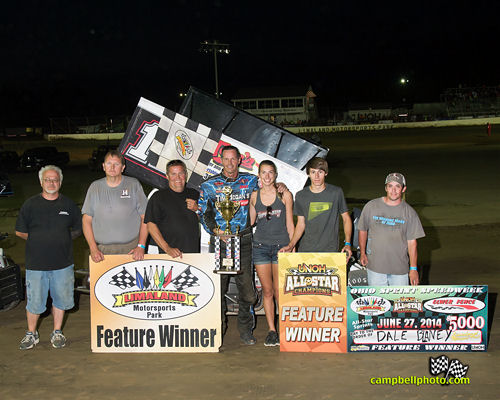 By Brian Liskai
LIMA, Ohio (Friday, June 27, 2014) – Dale Blaney won his 100th career University of All Star Circuit of Champions feature in April. He was held winless until the 32nd Annual Ohio Sprint Speedweek. On Friday "The Low Rider" recorded his third win out of the five speedweek events including Friday's stop at Limaland Motorsports Park.
Blaney inherited the lead when Jamie Veal smacked the front stretch wall on lap 27 and went on to record his 103rd career UNOH All Star victory. It was Blaney's fourth series win of 2014 and he now has five All Star wins at Limaland.
"We had a good car. It didn't take off the best but I knew we were going to have a good car by 40 laps. We kind of picked our way and I saw where they were running and the car got better and better. I can't say enough about Tony (Kennedy, car owner). He's put together a great team and we're having some fun. George (Fisher, crew chief) is focused as I've ever seen him," said Blaney beside his Kennedy Cattle/Ti22 Performance/GF1 Chassis/Penske Shocks/Tom's Sewer and Septic Service backed machine.
"I've made so many laps around here and I know the track's going to move. I knew when I had to get up on the track and to the middle. The guys give me a great car and it's second nature for me to go do those spots," added Blaney.
Greg Wilson, who started in the fourth row next to Blaney, would close on Blaney late in traffic, but had to settle for second.
"We fell back there early but man we had a bad fast race car there at the end. Dale and George and the Kennedy team…they're a team to beat anywhere in the country. To run second to them…it sucks but we had a car that could run with them tonight and I'm proud of that for our team," said Wilson beside his Hercules Tire/All Star Plumbing and Heating/Ohio Logistics/DNC Hydraulics backed #W20. "But damn I wanted to win that thing."
"But, as long as we good here in a couple of weeks at the Doty (Brad Doty Classic on July 9)…we want to win that race. That's pretty important to us. I want to really thank all the fans for coming out here and paying the prices to come and watch us race. I'm a blessed man to get to do this with my girls and my wife and it's damn good to be standing on the front stretch," added Wilson.
Byron Reed would finish third and considering how up and down his year has been, this may be the shot in the arm his team needed.
"This feels good. I've been doing this a lot of years and it can be very humbling. Sometimes I wonder if I know what I'm doing any more. But I know now we can still do this and I just need to get the confidence up," said Reed of his Crown Battery/Kistler Engines backed machine. "We got beat by two better cars but they weren't a lot better. We're getting there. Hopefully we can build on this."
Friday's Ohio Sprint Speedweek visit was the 29th appearance at Limaland for the UNOH All Star Circuit of Champions. The field of 45 cars was narrowed to the 24-car starting field for the 40-lap feature with Duane Zablocki and Stevie Smith comprising the front row.
When the green flew Zablocki would jump to the lead over Smith, Jamie Veal, Rob Chaney, Travis Philo, Reed and Blaney. Veal would grab second on lap 2 and immediately pressured Zablocki for the top spot. Veal would slide in front of Zablocki on lap five before the caution flew for Paul May.
On the ensuing restart Veal led Zablocki, Chaney, Reed, Philo, Smith and Blaney. After a lap was completed Ronnie Blair would stop with suspension damage. On the restart Sheldon Haudenschild and Derek Hagar would get together for another caution. When the green flew so did Veal as he pulled away from a tremendous battle for second between Zablocki, Reed, Chaney and Philo with Blaney staying close. Reed would take second on lap 10 with Chaney and Philo also getting around Zablocki.
Blaney would move into fifth by lap 11 with Veal pulling away from Reed with Chaney and Philo having a great battle for third. Philo would gain the position on lap 14.
By lap 15 the leaders were approaching heavy lapped traffic and Reed closed quickly on Veal with Philo third and Blaney in fourth. At the half-way point lapped cars were really coming into play with Veal leading Reed, Philo, Blaney, James McFadden, Wilson, Chaney and Smith.
Before Reed could try to get to Veal, Philo would challenge him for second and with 15 laps to go it was a tremendous three car battle for second with Blaney joining in. McFadden and Wilson would also close on the leaders. Blaney would drive by Phil for third on lap 26 and ran beside Reed for second. As the leaders came off turn four to complete lap 27 Veal bounced off the outside retaining wall as Blaney shot below to steal the lead.
Veal would stop on the front stretch, ending his great run. The restart order was Blaney, Reed, Philo, McFadden, Wilson, Chaney and Smith. When the green flew so did Blaney as Reed tried to stay close. Meanwhile Philo had his hands full with McFadden and Wilson as the trio traded sliders. Wilson would move into third with 10 laps to go.
Reed slowly ate into Blaney's lead as Wilson also closed and with four laps to go Wilson ducked under Reed to take second. Wilson closed to within two car lengths of Blaney but ran out of time as "The Low Rider" drive to the win. Behind Blaney, Wilson and Reed were Philo and McFadden to round out the top five.
In the five Ohio Sprint Speedweek events, Blaney has not finished outside of the top two as he looks to wrap up his fifth speedweek title at the finale at Fremont Saturday. Blaney's three Ohio Speedweek wins also puts him in a very good position to become the first ever five time UNOH All Star national champion.
For more information go to www.allstarsprint.com
Limaland Motorsports Park – 6/27/2014
UNOH Night
All Star Circuit of Champions (45 Cars)
[#]-Starting Position
Qualifying – Kistler Engines
1. 9X-Rob Chaney, 11.569; 2. 83-Stevie Smith, 11.715; 3. 35R-Ronnie Blair, 11.799; 4. 16-Danny Maumaw, 11.996; 5. 71MX-Paul May, 12.017; 6. 5T-Travis Philo, 12.029; 7. 9Z-Duane Zablocki, 12.031; 8. 5R-Byron Reed, 12.066; 9. 35AU-Jamie Veal, 12.074; 10. 67-Christopher Bell, 12.116; 11. 14K-Dale Blaney, 12.185; 12. W20-Greg Wilson, 12.204; 13. 3G-James McFadden, 12.214; 14. 40I-Mark Imler, 12.234; 15. 57X-Andrew Palker, 12.287; 16. 9-Dean Jacobs, 12.314; 17. 6M-Max Stambaugh, 12.318; 18. 70-Derek Hagar, 12.322; 19. 46AU-Stuart Williams, 12.330; 20. 2-Shane Stewart, 12.331; 21. 10H-Danny Holtgraver, 12.353; 22. 63-Chad Kemenah, 12.368; 23. 45-Tim Shaffer, 12.374; 24. 11N-Randy Hannagan, 12.394; 25. 24H-Brandon Wimmer, 12.441; 26. 23JR-Jack Sodeman Jr., 12.688; 27. 33M-Sheldon Haudenschild, 12.731; 28. 9W-Jac Haudenschild, 12.765; 29. 44W-Austin Wheatley, 12.820; 30. 55F-Taylor Ferns, 12.852; 31. 97-Sam Hafertepe Jr., 12.885; 32. 35-Stuart Brubaker, 12.981; 33. 78-Todd Kane, 12.987; 34. 81-Lee Jacobs, 13.004; 35. 28H-Hud Horton, 13.048; 36. 1ST-Gary Taylor, 13.087; 37. 5-Dave Glennon, 13.109; 38. 15-Brandon Ferguson, 13.291; 39. 96AU-Bruce White, 13.292; 40. 59-Bryan Nuckles, 13.303; 41. 38-Dennis Wagner, 13.360; 42. 41K-Cole Ketchem, 13.384; 43. 19P-Paige Polyak, 99.991; 44. 53-Cap Henry, 99.992; 45. 71AU-Ryan Davis, 99.993
Heat 1 – Kears Speed Shop (10 Laps – Top 5 finishers transfer to the A-feature)
1. 6M-Max Stambaugh[2] ; 2. 10H-Danny Holtgraver[1] ; 3. 3G-James McFadden[3] ; 4. 9X-Rob Chaney[6] ; 5. 35AU-Jamie Veal[4] ; 6. 24H-Brandon Wimmer[7] ; 7. 71MX-Paul May[5] ; 8. 78-Todd Kane[9] ; 9. 44W-Austin Wheatley[8] ; 10. 71AU-Ryan Davis[12] ; 11. 5-Dave Glennon[10] ; 12. 38-Dennis Wagner[11]
Heat 2 – All Pro Aluminum Heads (10 Laps – Top 5 finishers transfer to the A-feature)
1. 70-Derek Hagar[2] ; 2. 5T-Travis Philo[5] ; 3. 81-Lee Jacobs[9] ; 4. 83-Stevie Smith[6] ; 5. 23JR-Jack Sodeman Jr.[7] ; 6. 55F-Taylor Ferns[8] ; 7. 40I-Mark Imler[3] ; 8. 15-Brandon Ferguson[10] ; 9. 41K-Cole Ketchem[11] ; 10. 63-Chad Kemenah[1] ; 11. 67-Christopher Bell[4]
Heat 3 – Dragon Racing Fuels (10 Laps – Top 5 finishers transfer to the A-feature)
1. 45-Tim Shaffer[1] ; 2. 14K-Dale Blaney[4] ; 3. 33M-Sheldon Haudenschild[7] ; 4. 9Z-Duane Zablocki[5] ; 5. 57X-Andrew Palker[3] ; 6. 46AU-Stuart Williams[2] ; 7. 35R-Ronnie Blair[6] ; 8. 28H-Hud Horton[9] ; 9. 19P-Paige Polyak[11] ; 10. 96AU-Bruce White[10]
Heat 4 – Kinsler Fuel Injection (10 Laps – Top 5 finishers transfer to the A-feature)
1. 2-Shane Stewart[2] ; 2. W20-Greg Wilson[4] ; 3. 11N-Randy Hannagan[1] ; 4. 9-Dean Jacobs[3] ; 5. 5R-Byron Reed[5] ; 6. 1ST-Gary Taylor[9] ; 7. 9W-Jac Haudenschild[7] ; 8. 35-Stuart Brubaker[8] ; 9. 59-Bryan Nuckles[10] ; 10. 16-Danny Maumaw[6]
Dash – Howard Johnson Hotel – Lima, OH (6 Laps, finishing order determined first 6 starting positions of A-feature
1. 9Z-Duane Zablocki[1] ; 2. 83-Stevie Smith[3] ; 3. 35AU-Jamie Veal[5] ; 4. 9X-Rob Chaney[2] ; 5. 5T-Travis Philo[6] ; 6. 5R-Byron Reed[4]
C-Main – Computer Man Inc. (10 Laps – Top 2 finishers transfer to the B-feature)
1. 41K-Cole Ketchem[4] ; 2. 96AU-Bruce White[1] ; 3. 59-Bryan Nuckles[2] ; 4. 71AU-Ryan Davis[6]
B-Main – MSD Ignition (12 Laps – Top 4 finishers transfer to the A-feature)
1. 71MX-Paul May[3] ; 2. 24H-Brandon Wimmer[8] ; 3. 35R-Ronnie Blair[1] ; 4. 9W-Jac Haudenschild[9] ; 5. 1ST-Gary Taylor[16] ; 6. 63-Chad Kemenah[7] ; 7. 35-Stuart Brubaker[13] ; 8. 46AU-Stuart Williams[6] ; 9. 44W-Austin Wheatley[10] ; 10. 78-Todd Kane[14] ; 11. 5-Dave Glennon[17] ; 12. 40I-Mark Imler[5] ; 13. 55F-Taylor Ferns[11] ; 14. 41K-Cole Ketchem[20] ; 15. 15-Brandon Ferguson[18] ; 16. 28H-Hud Horton[15]
A-Main – University of Northwestern Ohio (40 Laps)
1. 14K-Dale Blaney[7]; 2. W20-Greg Wilson[8]; 3. 5R-Byron Reed[6]; 4. 5T-Travis Philo[5]; 5. 3G-James McFadden[9]; 6. 9X-Rob Chaney[4]; 7. 83-Stevie Smith[2]; 8. 2-Shane Stewart[16]; 9. 6M-Max Stambaugh[14]; 10. 57X-Andrew Palker[10]; 11. 24H-Brandon Wimmer[20]; 12. 9-Dean Jacobs[13]; 13. 11N-Randy Hannagan[19]; 14. 81-Lee Jacobs[24]; 15. 9W-Jac Haudenschild[23]; 16. 10H-Danny Holtgraver[17]; 17. 9Z-Duane Zablocki[1]; 18. 45-Tim Shaffer[18]; 19. 35AU-Jamie Veal[3]; 20. 23JR-Jack Sodeman Jr.[21]; 21. 33M-Sheldon Haudenschild[22]; 22. 70-Derek Hagar[15]; 23. 35R-Ronnie Blair[11]; 24. 71MX-Paul May[12]
Hard Charger: 81-Lee Jacobs[+10]
©2014 – Results Provided by: Computer Man Inc. Fremont, OH