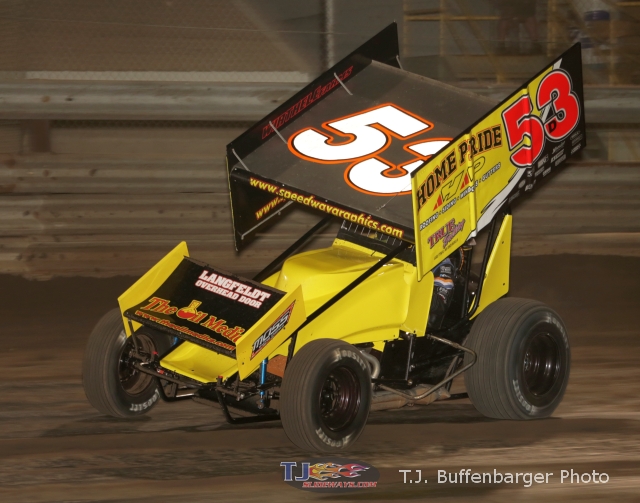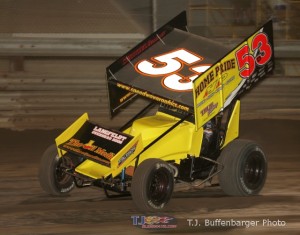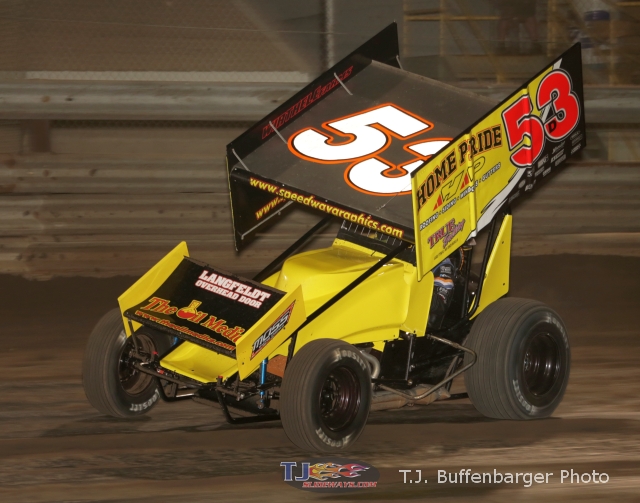 From Bryan Hulbert
McCool, NE — (September 6, 2014) — The Speedway Motors Midwest Region stopped into the Junction Motor Speedway on Saturday night with Jack Dover picking up his third ASCS victory of the 2014 season and second with the Nebraska based region.
Taking off from fourth, Dover was chased across the line by Tony Bruce, Jr. with eighth starting J.D. Johnson taking the final podium step. Fighting out of the night's B-Feature, Danny Lasoski clawed from seventeenth to fourth with Don Droud, Jr. coming from sixteenth to complete the top five.
Tennessee's Brandon Hanks crossed sixth with Jon Freeman seventh. Billy Alley was eighth with C.J. Johnson ninth. Jeremy Campbell from nineteenth completed the top ten.
The Nebraska Cup awaits teams on Sunday, September 7 at the Eagle Raceway in Eagle, Neb.
For continued updates on the Speedway Motors Midwest Region, or any part of the American Sprint Car Series, log onto http://www.ascsracing.com.
Speedway Motors ASCS Midwest Region
Junction Motor Speedway – McCool Junction, Neb.
Saturday, September 6, 2014
Car Count: 30
Heat 1 (8 Laps): 1. 18T-Tony Bruce Jr; 2. 3-Billy Alley; 3. 76-Jay Russell; 4. 3X-Cody Forshee; 5. 17X-Josh Baughman; 6. 77-John Klabunde; 7. 36-Rick Hansen; 8. (DNF) 5X-Jason Martin
Heat 2 (8 Laps): 1. 8-J.D. Johnson; 2. 35L-Cody Ledger; 3. 45X-C.J. Johnson; 4. 1M-Danny Lasoski; 5. 1B-Trevor Grossenbacher; 6. 2-Don Droud Jr; 7. 10C-Jeremy Campbell; 8. 44K-David Kubart
Heat 3 (8 Laps): 1. 82-Jason Danley; 2. 3H-Brandon Hanks; 3. 81-Jon Freeman; 4. 81A-Chris Morgan; 5. 20G-Jake Greider; 6. (DNF) 91-Jeff Stasa; 7. (DNF) 11X-Gregg Bakker
Heat 4 (8 Laps): 1. 18-Ryan Roberts; 2. 53-Jack Dover; 3. 12-Tyler Drueke; 4. 13V-Seth Brahmer; 5. 17-Gage Dorr; 6. 23S-Stuart (Stu) Snyder; 7. 11W-Wyatt Burks
B Feature 1 (12 Laps): 1. 13V-Seth Brahmer[2]; 2. 2-Don Droud Jr[10]; 3. 1M-Danny Lasoski[1]; 4. 17X-Josh Baughman[4]; 5. 10C-Jeremy Campbell[8]; 6. 1B-Trevor Grossenbacher[3]; 7. 20G-Jake Greider[7]; 8. 23S-Stuart (Stu) Snyder[11]; 9. 5X-Jason Martin[14]; 10. 11W-Wyatt Burks[12]; 11. 17-Gage Dorr[6]; 12. 77-John Klabunde[9]; 13. 36-Rick Hansen[15]; 14. 44K-David Kubart[16]; 15. (DNF) 91-Jeff Stasa[5]; 16. (DNF) 11X-Gregg Bakker[13]
A Feature (25 Laps): 1. 53-Jack Dover[4]; 2. 18T-Tony Bruce Jr[2]; 3. 8-J.D. Johnson[8]; 4. 1M-Danny Lasoski[17]; 5. 2-Don Droud Jr[16]; 6. 3H-Brandon Hanks[5]; 7. 81-Jon Freeman[1]; 8. 3-Billy Alley[7]; 9. 45X-C.J. Johnson[10]; 10. 10C-Jeremy Campbell[19]; 11. 82-Jason Danley[6]; 12. 12-Tyler Drueke[11]; 13. 76-Jay Russell[14]; 14. 81A-Chris Morgan[13]; 15. 17X-Josh Baughman[18]; 16. 1B-Trevor Grossenbacher[20]; 17. (DNF) 18-Ryan Roberts[3]; 18. (DNF) 35L-Cody Ledger[9]; 19. (DNF) 3X-Cody Forshee[12]; DNS 13V-Seth Brahmer