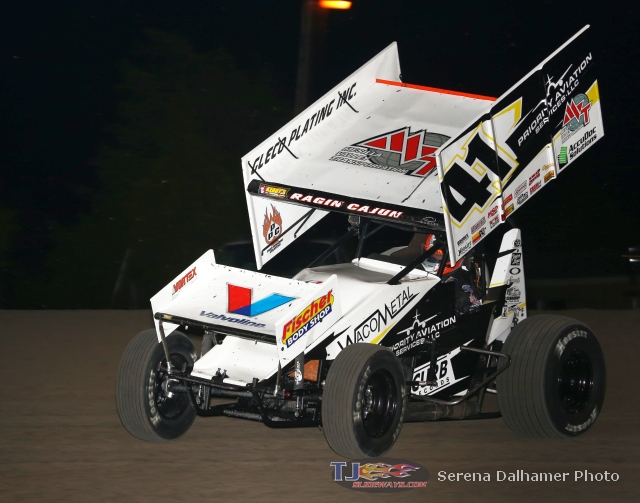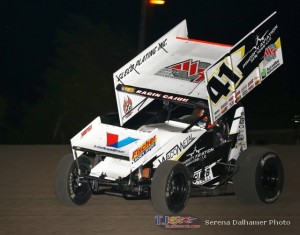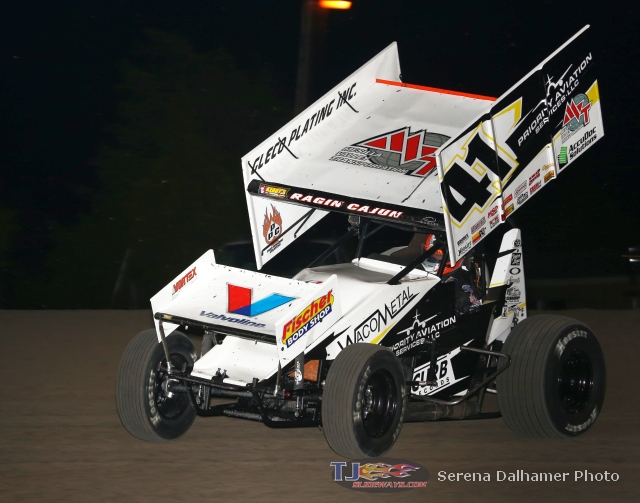 From Inside Line Promotions
Somerton, AZ — (October 20, 2014) — A trio of top-notch drivers vying for the Lucas Oil ASCS National Tour championship will get a prime opportunity to race at Cocopah Speedway before the inaugural Winter Heat Sprint Car Showdown.
Sam Hafertepe Jr., Brad Loyet and Jason Johnson are in the thick of the ASCS National Tour points battle, which will wrap up with a November doubleheader at Cocopah Speedway. All three drivers will return to the 3/8-mile oval less than two months later for the five-race Winter Heat Sprint Car Showdown, which is Jan. 2-3, Jan. 6 and Jan. 9-10.
"The Winter Heat event is a big deal so I think it will only help to get more laps at Cocopah Speedway during the ASCS National Tour races in November," Hafertepe Jr. said. "There's a few of us who are going after the ASCS championship and who will return to the track in January for the Winter Heat races. Hopefully we can win a couple of times in November, win the championship and that'll give us momentum heading into 2015."
Johnson, who swept all four ASCS National Tour events at Cocopah Speedway in 2013, said that he is thrilled with the idea of racing in the United States in January.
"I think it's a great idea," he said. "The reason we do this is because we love racing. The opportunity for the mixture of associations, whether you support ASCS, World of Outlaws, All Stars, it's a great opportunity to get together and have some fun. It will be tough competition. You will see where you stack up and start building toward your 2015 season."
The four weekend races each pay $12,000 to win and $1,000 to start with the midweek race giving $5,000 to the winner.
"For me it's perfect," Loyet said. "I've been to New Zealand a couple of times. To have the opportunity to go race for five nights for the amount of money they are paying out, you can't beat that. You don't have to get on a plane and fly 12 hours. You just get to go down to nice, sunny Arizona in January and do some racing and you're going to make some money."
Tickets are available for sale online by visiting http://www.CocopahSpeedway.com. Additionally, anyone who purchases a ticket by Dec. 1, 2014, will receive a free fan pit pass from 2-5 p.m. on that race date.
WINTER HEAT SPRINT CAR SHOWDOWN –
Dates: Jan. 2-3, 6, 9-10, 2015
Track: Cocopah Speedway in Somerton, Ariz.
Prize: $12,000-to-win, $1,000-to-start each night (Jan. 2-3, 9-10); $5,000-to-win (Jan. 6); approximately $250,000 total prize money
Type: 410ci sprint cars
TICKETS –
Fans can purchase tickets by clicking https://secure.pivotalracing.com/venues/cocopah-speedway. Anyone who purchases by Dec. 1, 2014, will receive a free fan pass to the pits from 2-5 p.m. on that race date.
PAY-PER-VIEW –
SPEED SPORT Productions will be broadcasting live Pay-Per-View video of the Winter Heat Sprint Car Showdown. Details on how to order will be released in the near future. The event will also be taped for a pair of one-hour delayed television broadcasts via MAVTV.
MEDIA LINKS –
Website: http://www.CocopahSpeedway.com
Twitter: https://twitter.com/CocopahShowdown
Facebook: https://www.facebook.com/WinterHeatSprintCarShowdown