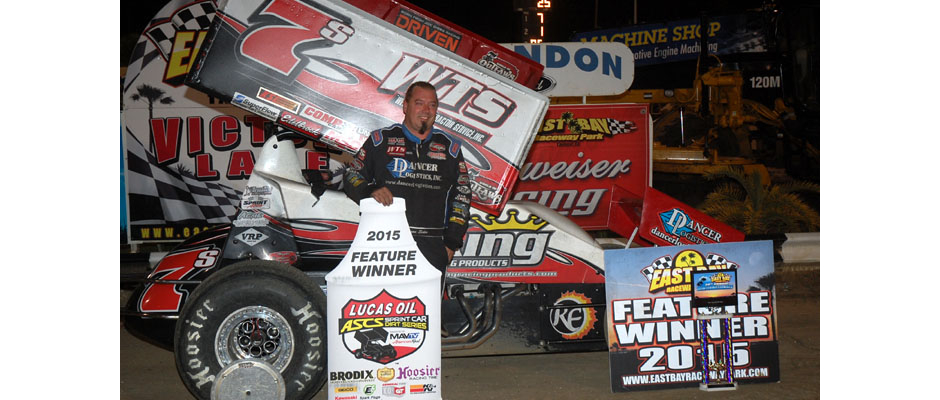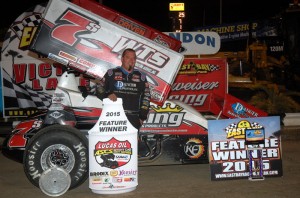 From Bryan Hulbert
Tampa, FL — (February 20, 2015) — Round two of the 17th annual King of the 360's and 14th Ronald Laney Memorial saw Tennessee's Jason Sides lead flag-to-flag at East Bay Raceway Park with the Lucas Oil American Sprint Car Series presented by MAVTV American Real.
Drawing the pole in the night's 25-lap feature event, the 2002 Ronald Laney Memorial winner was pressured on the highline by Mark Smith on the opening lap, but was able to keep the Pennsylvania ace at bay.
"The bottom was the place to be, but Mark had a pretty good start there. I spun the tires, and may have got into him a little bit there, but that was the key to the whole race was getting a good start and not making any mistakes."
Finding traffic by the Lap 5, Sides found clear racetrack two laps later as Thomas Kennedy spun to a stop in the fourth turn. Pulling away from Smith on the restart, it didn't take long to again find the back of the field.
Pacing around traffic, Sides didn't lose his edge, crossing 5.204 seconds ahead of Mark Smith for his first preliminary night victory in the King of the 360's.
Putting together a pair of podium finishes, Smith is locked into Saturday's $10,000 to win feature event. Smith alluded to that in his interview, "I could have maybe tried a little harder to roll Jason there at the beginning on the outside because I wasn't bad there; but I just had too much to lose tomorrow, so I figured I just drop in and ride it out and hopefully we can get this track better for tomorrow."
Improving one spot from Thursday night, Brad Loyet grabbed the final podium step, and in doing so, also put himself directly into Saturday A-Feature event, "We'll see what happens here. We just need to go for it tomorrow. Being locked into the show, we'll be in good position."
Jeff Swindell crossed fourth with Thursday night's winner, Aaron Reutzel coming from 10th to fifth to earn high points between the two prelim nights.
Despite the narrow racing groove, Greg Hodnett blazed a path from 22nd to sixth. Tony Bruce, Jr. seventh with Wayne Johnson, Terry McCarl, and Johnny Herrera completing the top-ten.
With preliminary nights in the books, the top-six are locked into Saturday's 40-lap, $10,000 to win A-Feature. Aaron Reutzel, Mark Smith, Brad Loyet, Jeff Swindell, Terry McCarl, and Greg Hodnett will re-draw for their starting positions inside the first three rows.
With the staggering number of cars, Saturday's forma will have Heats lined up by their accumulated point totals. Six (6) Heat Races will be contested with the top 10 in passing points making up positions 7-16 in the A-Feature. Heat Races will be 10 laps.
The remainder will fall into three B-Features, going 15 laps, taking the top two from each to make up positions 17-22.
Racing on Saturday, February 21 is scheduled to begin at 7:00 P.M. (ET). For those who cannot attend, live online PPV is available at http://www.xsan.tv.
For continued updates on the Lucas Oil American Sprint Car Series, log onto http://www.ascsracing.com.
Race Results:
Lucas Oil ASCS presented by MAVTV American Real
East Bay Raceway Park – Tampa, Fla.
14th annual Ronald Laney Memorial
Friday, February 20, 2015
Car Count: 67
Heat Races: (10 Laps, taking winners plus Top-9 in Passing Points to the A-Feature.)
Heat 1 (10 Laps): 1. 87-Aaron Reutzel[2]; 2. 6S-Robbie Smith[4]; 3. 52-Blake Hahn[6]; 4. 17B-Josh Baughman[7]; 5. 4M-Michael Miller[5]; 6. 9P-Parker Price-Miller[8]; 7. 49X-Cole Duncan[10]; 8. 10B-Mitch Brown[3]; 9. 83-Mark Ruel Jr[9]; 10. (DNF) 38-Tony Agin[1]
Heat 2 (10 Laps): 1. 59-Danny Holtgraver[2]; 2. 3A-A.J. Maddox[3]; 3. 15H-Sam Hafertepe Jr[4]; 4. 24X-Danny Martin Jr.[5]; 5. 10H-Chad Kemenah[8]; 6. 0-Glenn Styres[7]; 7. 50-Joe Zuczek[1]; 8. 5X-Tyson Hall[6]; 9. 09-Timmy Thrash[10]; 10. 14H-Chris Hoyt[9]
Heat 3 (10 Laps): 1. 24-Terry McCarl[4]; 2. 20K-Thomas Kennedy[6]; 3. M1-Mark Smith[10]; 4. 64-Scotty Thiel[7]; 5. 66-Danny Smith[9]; 6. M16-Justin Hoffman[1]; 7. 33-Kris Miller[2]; 8. 16-Ryan Ruhl[5]; 9. 10J-C.J. Jones[3]; 10. F16-Lance Hester[8]
Heat 4 (10 Laps): 1. 45-Tim Shaffer[3]; 2. 17-Lane Whittington[1]; 3. 95-Matt Covington[2]; 4. 14K-Kyle Bellm[6]; 5. 6-Danny Lasoski[9]; 6. 23-Seth Bergman[10]; 7. 3B-Brad Greer[5]; 8. 4X-Shawn Petersen[7]; 9. 1-Freddie McCall[4]; 10. 67-Chris Durand[8]…(No. 67 DQ'd, missing right Muffler.)
Heat 5 (10 Laps): 1. 18-Tony Bruce Jr[4]; 2. 05-Brad Loyet[6]; 3. 7K-Kyle Pitts[1]; 4. 27-Greg Hodnett[7]; 5. 9JR-Derek Hagar[5]; 6. 81W-Danny Wood[9]; 7. 10-Terry Gray[8]; 8. 61-Parker Evans[3]; 9. (DNF) 10P-Jim Perricone[2]
Heat 6 (10 Laps): 1. 94-Jeff Swindell[4]; 2. 92K-Matt Kurtz[3]; 3. 7S-Jason Sides[9]; 4. 8J-Jess Stiger[1]; 5. 40-Caleb Helms[7]; 6. 21K-Lou Kennedy Jr.[5]; 7. 33M-Randy Hannagan[8]; 8. 3H-Brandon Hanks[2]; 9. 90-Matt Tanner[6]
Heat 7 (10 Laps): 1. 77X-Wayne Johnson[1]; 2. 45X-Johnny Herrera[2]; 3. 49-Shawn Dancer[7]; 4. 10M-Morgan Turpen[4]; 5. 28H-James (Hud) Horton[9]; 6. 15-Johnny Gilbertson[8]; 7. (DNF) 29-Travis Rilat[3]; 8. (DNF) 92W-Jordan Weaver[5]; 9. (DNF) W20-Greg Wilson[6]
B-Features (15 Laps, top 2 advance to the A-Feature.)
B Feature 1 (15 Laps): 1. 45X-Johnny Herrera[2]; 2. 14K-Kyle Bellm[4]; 3. 81W-Danny Wood[6]; 4. 17B-Josh Baughman[1]; 5. 33M-Randy Hannagan[10]; 6. 0-Glenn Styres[9]; 7. 24X-Danny Martin Jr.[5]; 8. 49X-Cole Duncan[8]; 9. 23-Seth Bergman[7]; 10. 10B-Mitch Brown[14]; 11. 29-Travis Rilat[11]; 12. 90-Matt Tanner[15]; 13. 16-Ryan Ruhl[13]; 14. 14H-Chris Hoyt[16]; 15. 10P-Jim Perricone[17]; 16. (DNF) 28H-James (Hud) Horton[3]; 17. (DNF) 50-Joe Zuczek[12]
B Feature 2 (15 Laps): 1. 10H-Chad Kemenah[4]; 2. 66-Danny Smith[2]; 3. 64-Scotty Thiel[1]; 4. 4M-Michael Miller[8]; 5. W20-Greg Wilson[15]; 6. 7K-Kyle Pitts[5]; 7. 21K-Lou Kennedy Jr.[9]; 8. 92W-Jordan Weaver[13]; 9. 10M-Morgan Turpen[6]; 10. 17-Lane Whittington[3]; 11. M16-Justin Hoffman[10]; 12. 33-Kris Miller[11]; 13. 61-Parker Evans[14]; 14. 09-Timmy Thrash[12]; 15. 10J-C.J. Jones[16]; 16. (DNF) 15-Johnny Gilbertson[7]; DNS 38-Tony Agin
B Feature 3 (15 Laps): 1. 6-Danny Lasoski[2]; 2. 27-Greg Hodnett[1]; 3. 15H-Sam Hafertepe Jr[3]; 4. 9JR-Derek Hagar[8]; 5. 40-Caleb Helms[5]; 6. 9P-Parker Price-Miller[6]; 7. 10-Terry Gray[9]; 8. 67-Chris Durand[17]; 9. 3B-Brad Greer[10]; 10. 8J-Jess Stiger[7]; 11. 3H-Brandon Hanks[14]; 12. 95-Matt Covington[4]; 13. 1-Freddie McCall[15]; 14. 83-Mark Ruel Jr[13]; 15. (DNF) 5X-Tyson Hall[12]; 16. (DNF) F16-Lance Hester[16]; 17. (DNF) 4X-Shawn Petersen[11]
A-Feature (25 Laps)
A Feature (25 Laps): 1. 7S-Jason Sides[1]; 2. M1-Mark Smith[2]; 3. 05-Brad Loyet[3]; 4. 94-Jeff Swindell[6]; 5. 87-Aaron Reutzel[10]; 6. 27-Greg Hodnett[22]; 7. 18-Tony Bruce Jr[5]; 8. 77X-Wayne Johnson[14]; 9. 24-Terry McCarl[8]; 10. 45X-Johnny Herrera[17]; 11. 45-Tim Shaffer[7]; 12. 15H-Sam Hafertepe Jr[24]; 13. 14K-Kyle Bellm[20]; 14. 6-Danny Lasoski[19]; 15. 59-Danny Holtgraver[11]; 16. 52-Blake Hahn[13]; 17. 3A-A.J. Maddox[15]; 18. 23-Seth Bergman[23]; 19. 20K-Thomas Kennedy[4]; 20. 10H-Chad Kemenah[18]; 21. 66-Danny Smith[21]; 22. 6S-Robbie Smith[12]; 23. 49-Shawn Dancer[9]; 24. 92K-Matt Kurtz[16]
Lap Leader(s): Jason Sides 1-25
Hard Charger: Greg Hodnett +16
Provisional(s): Seth Bergman (P1); Sam Hafertepe, Jr. (P1)
Event Points:
Rank – Car# – Driver – Points
1 – 87 – Aaron Reutzel – 420
2 – M1 – Mark Smith – 419
3 – O5 – Brad Loyet – 418
4 – 94 – Jeff Swindell – 415
5 – 24 – Terry McCarl – 412
6 – 27 – Greg Hodnett – 407
7 – 45X – Johnny Herrera – 404
8 – 77X – Wayne Johnson – 401
9 – 15H – Sam Hafertepe Jr – 399
10 – 23 – Seth Bergman – 396
11 – 3A – A.J. Maddox – 393
12 – 18 – Tony Bruce Jr – 390
13 – 66 – Danny Smith – 389
14 – 7S – Jason Sides – 387
15 – 92K – Matt Kurtz – 383
16 – 10H – Chad Kemenah – 382
17 – 45 – Tim Shaffer – 380
18 – 21K – Lou Kennedy Jr. – 376
19 – 95 – Matt Covington – 374
20 – 20K – Thomas Kennedy – 372
21 – 59 – Danny Holtgraver – 372
22 – 14K – Kyle Bellm – 371
23 – W20 – Greg Wilson – 371
24 – 6 – Danny Lasoski – 370
25 – 17 – Lane Whittington – 370
26 – 33M – Randy Hannagan – 369
27 – 6S – Robbie Smith – 368
28 – 17B – Josh Baughman – 367
29 – 52 – Blake Hahn – 367
30 – 10 – Terry Gray – 366
31 – 24X – Danny Martin Jr. – 366
32 – 3B – Brad Greer – 363
33 – 81W – Danny Wood – 359
34 – 9JR – Derek Hagar – 357
35 – 49 – Shawn Dancer – 356
36 – 4M – Michael Miller – 356
37 – 9P – Parker Price – Miller – 355
38 – 49X – Cole Duncan – 349
39 – 64 – Scotty Thiel – 348
40 – 10M – Morgan Turpen – 347
41 – 8J – Jess Stiger – 346
42 – 7K – Kyle Pitts – 346
43 – 28H – James (Hud) Horton – 345
44 – 40 – Caleb Helms – 345
45 – 0 – Glenn Styres – 345
46 – 10B – Mitch Brown – 345
47 – 5X – Tyson Hall – 344
48 – 16 – Ryan Ruhl – 343
49 – M16 – Justin Hoffman – 343
50 – 67 – Chris Durand – 343
51 – 61 – Parker Evans – 341
52 – 29 – Travis Rilat – 340
53 – 50 – Joe Zuczek – 340
54 – 33 – Kris Miller – 337
55 – 92W – Jordan Weaver – 336
56 – 3H – Brandon Hanks – 336
57 – 4X – Shawn Petersen – 335
58 – 83 – Mark Ruel Jr – 334
59 – 09 – Timmy Thrash – 334
60 – 1 – Freddie McCall – 333
61 – 10J – C.J. Jones – 333
62 – 90 – Matt Tanner – 332
63 – 15 – Johnny Gilbertson – 331
64 – 10P – Jim Perricone – 331
65 – 14H – Chris Hoyt – 330
66 – 38 – Tony Agin – 327
67 – F16 – Lance Hester – 324