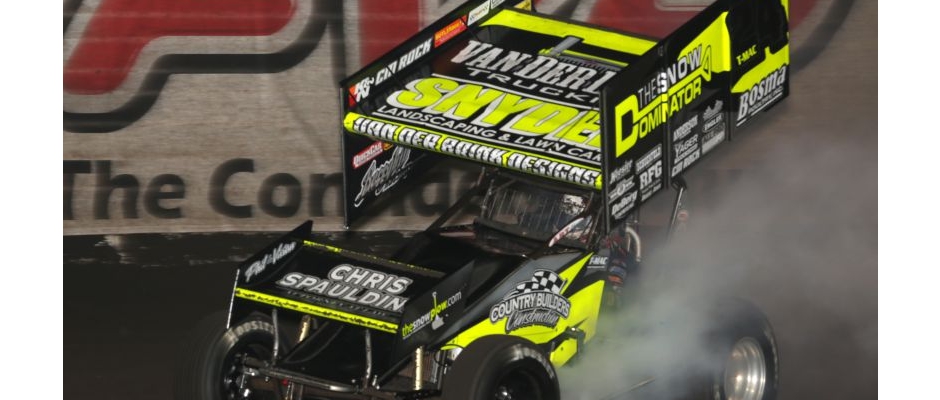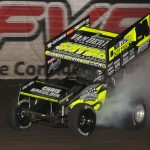 From the World of Outlaws
Las Vegas, NV — (March 5, 2015) —  After a dominant performance in Thursday night's FVP Outlaw Showdown at The Dirt Track at Las Vegas Motor Speedway, Terry McCarl became the fifth different World of Outlaws Sprint Car Series winner in five races.
McCarl came into the night after a disappointing 13th place finish in Wednesday night's feature.
"This place has been so tough on us," McCarl said. "We've ran good and had so many flat tires. I told (my wife) Lori last night, I'm so proud of how fast we were last night. My guys just worked their butts off and we just had bad luck. It gets you down."
The driver of the No. 24 Snowplow.com car had nothing to be disappointed with on Thursday night though. After winning his heat and the Dash, McCarl entered the feature in an enviable position. He held off Ian Madsen early on and then as he wound his way through lapped traffic, worked to keep Joey Saldana back.
With just a few laps to go, Saldana made his move with his Motter Equipment car, closing the gap on McCarl and getting side-by-side with him as the two drivers entered turn two.
"I was kind of having a little trouble with traffic… I was going to try to make him go around me down there but I thought I heard someone," McCarl said. "My dad told me a long time ago you win by an inch, you win by a mile, it still pays the same thing."
Saldana was slowed by a lap car on the bottom of the track and was not able to seriously challenge McCarl.
"We had a shot there at the end but Terry was really, really strong through the majority of that race and it was going to take a lap traffic car to make it happen and we were close, just didn't happen," Saldana said.
McCarl said his crew chief Doug Rankin worked on his car throughout the night and made the right changes. It never got worse, he said, and was able to roll wherever he wanted it to go on the track.
"Believe it or not, we're just a little buck team out of Altoona, Iowa," McCarl said. "Doug Rankin joined us last year and it really helped step up our program. We're just a little family team and running against these big guys to beat them is David vs. Goliath and it means a lot to us."
Tonight's victory was the first series win for McCarl since 2013. This was the 11th World of Outlaws Sprint Car Series win of McCarl's career. He is now tied for 27th on the all-time wins list.
In the feature, McCarl jumped to an early lead with Ian Madsen and Daryn Pittman running second and third. By lap four Saldana was leading a charge forward. As he and third place Pittman rounded turn four Saldana made his move, taking over third spot. He then made quick work of Madsen, getting around the Australia native on the next lap.
Farther back, Danny Lasoski was driving his GoMuddy.com car forward from a sixth place starting position. He took over the fifth spot on lap 10 and then battled past Pittman and Madsen after a restart a few laps later.
Through cautions in the second half of the feature, Lasoski tried to get around Saldana as Saldana tried to best McCarl. Following a restart on lap 16, Lasoski looked poised to take the second spot from Saldana, battling past him in turn two. A wreck on the restart brought out another quick caution though and reset the field.
Saldana closed on McCarl in the closing laps, but was held up by lapped traffic.
The finish was Saldana's third top-five of the season and fifth top-ten run. He scored the quicktime Thursdaynight, the first of his season
"There are so many good cars out here, you've just got to go out and do the best you can and it starts with qualifying and leads right up to the feature," Saldana said. "You know, the guys I'm between, Terry McCarl and Danny Lasoski, they're not too shabby. So it was definitely a good run for us tonight."
Following the night's feature, Saldana took a one point lead over Daryn Pittman in the battle for the championship. Saldana is the fourth different championship points leader of the young season.
Lasoski picked up from a disappointing finish the night before to score his second Outlaws podium finish of the year.
"This feels like a moral victory after the bad luck we had last night," Lasoski said. "We've got a great crew with Guy Forbrook, my crew chief, Nate, Pete and Brady – all these guys work really hard and I've just got the lucky job of driving it."
The World of Outlaws Sprint Car Series returns to action Saturday, March 7 at Tucson's USA Raceway for the NAPA Wildcat Shootout presented by RideNow Powersports. Tickets are still available athttp://www.WorldofOutlaws.com/Tickets or by calling 1-877-395-8606. Watch and listen live onhttp://www.DIRTVision.com.
Follow the World of Outlaws Sprint Car Series on Twitter at www.twitter.com/WorldofOutlaws, like it on Facebook at www.facebook.com/WorldofOutlaws, or check out the latest videos on YouTube atwww.youtube.com/WorldofOutlaws.
The Dirt Track at Las Vegas Motor Speedway Notebook
FVP OUTLAW SHOWDOWN NOTES: Thursday night's win was the 11th Outlaws win of McCarl's career. He is now tied for 27th on the all-time wins list… Terry McCarl's last Outlaws win came at Volusia Speedway Park in 2013… Kraig Kinser was the KSE Hard Charger, advancing 11 positions to finish in 12th… Joey Saldana, 2014's leading qualifier, scored his first quicktime of the season Thursday night.
CONTINGENCY WINNERS – MSD Ignitions ($25 cash): Brian Brown; MSD Ignitions ($50 cash): Terry McCarl; Sweet Manufacturing ($50 cash): Joey Saldana; Penske Shocks ($50 cash): Donny Schatz; Mobil 1 ($50 cash): Donny Schatz; JE Pistons ($50 cash): Jason Sides; Lincoln Welders ($50 cash): Daryn Pittman; VP Racing Fuels ($50 cash): Kerry Madsen; Edelbrock ($50 cash): Shane Stewart; Comp Cams($50 cash): David Gravel; Cometic Gasket ($50 cash): Brad Sweet;Superflow ($50 cash): Logan Schuchart;Sweet Manufacturing ($50 product certificate): Terry McCarl;KSE Racing Products ($100 product certificate): Kraig Kinser; Comp Cams ($50 product certificate): Terry McCarl;Mobil 1 (20% off Mobil1RacingStore.com): Jason Johnson; JE Pistons (Set of Rings): Logan Schuchart; JE Pistons (Set of Rings): Craig Dollansky.
SEASON WINNERS: Terry McCarl – 1 (The Dirt Track at Las Vegas Motor Speedway on March 5); Daryn Pittman – 1 (Volusia Speedway Park on Feb. 13); Donny Schatz – 1 (Volusia Speedway Park on Feb. 14); Shane Stewart – 1 (The Dirt Track at Las Vegas Motor Speedway on March 5); Brad Sweet – 1(Volusia Speedway Park on Feb. 15)
World of Outlaws Sprint Car Series Statistical Report; The Dirt Track at Las Vegas Motor Speedway; Las Vegas, Nev.; March 5, 2015
A-Main – (30 Laps) – 1. 24-Terry McCarl [1] [$10,000]; 2. 71M-Joey Saldana [5] [$5,000]; 3. 2L-Danny Lasoski [6] [$3,000]; 4. 15-Donny Schatz [14] [$2,700]; 5. 7S-Jason Sides [3] [$2,500]; 6. 9-Daryn Pittman [4] [$2,200]; 7. 18-Ian Madsen [2] [$2,000]; 8. 29-Kerry Madsen [7] [$1,800]; 9. 2-Shane Stewart [9] [$1,600]; 10. 83-David Gravel [10] [$1,450]; 11. 51-Paul McMahan [11] [$1,300]; 12. 11K-Kraig Kinser [23] [$1,200]; 13. 49-Brad Sweet [12] [$1,100]; 14. 13-Mark Dobmeier [13] [$1,000]; 15. 24R-Rico Abreu [8] [$950]; 16. 1s-Logan Schuchart [15] [$900]; 17. 82-Dusty Zomer [20] [$850]; 18. 33V-Henry VanDam [24] [$750]; 19. 55-Trey Starks [22] [$725]; 20. 44W-Austen Wheatley [17] [$700]; 21. 41-Jason Johnson [19] [$700]; 22. 7-Craig Dollansky [21] [$700]; 23. 26-Tayler Malsam [16] [$700]; 24. 21-Brian Brown [18] [$700]. Lap Leaders: Terry McCarl 1-30. KSE Hard Charger Award: 11K-Kraig Kinser [+11]
Qualifying – 1. 71M-Joey Saldana, 14.358; 2. 29-Kerry Madsen, 14.419; 3. 9-Daryn Pittman, 14.434; 4. 7S-Jason Sides, 14.488; 5. 18-Ian Madsen, 14.516; 6. 2-Shane Stewart, 14.536; 7. 83-David Gravel, 14.551; 8. 51-Paul McMahan, 14.620; 9. 49-Brad Sweet, 14.639; 10. 13-Mark Dobmeier, 14.644; 11. 15-Donny Schatz, 14.708; 12. 24-Terry McCarl, 14.746; 13. 24R-Rico Abreu, 14.792; 14. 1s-Logan Schuchart, 14.809; 15. 2L-Danny Lasoski, 14.815; 16. 26-Tayler Malsam, 14.854; 17. 44W-Austen Wheatley, 14.882; 18. 21-Brian Brown, 14.901; 19. 41-Jason Johnson, 14.902; 20. 82-Dusty Zomer, 14.942; 21. 7-Craig Dollansky, 14.973; 22. 55-Trey Starks, 15.004; 23. 11K-Kraig Kinser, 15.050; 24. 12-Robbie Stillwagon, 15.057; 25. 33V-Henry VanDam, 15.089; 26. 21X-Carson Macedo, 15.201; 27. 41X-Dominic Scelzi, 15.231; 28. 1A-Jacob Allen, 15.289; 29. 5V-Colby Copeland, 15.441; 30. 88N-DJ Netto, 15.537; 31. 7H-Jojo Helberg, 15.563; 32. 2LX-Logan Forler, 15.601; 33. 31C-Justyn Cox, 22.441
Heat 1 – (8 Laps – Top 5 finishers transfer to the A-feature) – 1. 24R-Rico Abreu [1]; 2. 49-Brad Sweet [2]; 3. 71M-Joey Saldana [4]; 4. 18-Ian Madsen [3]; 5. 7-Craig Dollansky [6]; 6. 44W-Austen Wheatley [5]; 7. 33V-Henry VanDam [7]; 8. 5V-Colby Copeland [8]; 9. 31C-Justyn Cox [9]
Heat 2 – (8 Laps – Top 5 finishers transfer to the A-feature) – 1. 29-Kerry Madsen [4]; 2. 13-Mark Dobmeier [2]; 3. 21-Brian Brown [5]; 4. 1s-Logan Schuchart [1]; 5. 2-Shane Stewart [3]; 6. 21X-Carson Macedo [7]; 7. 88N-DJ Netto [8]; 8. 55-Trey Starks [6]
Heat 3 – (8 Laps – Top 5 finishers transfer to the A-feature) – 1. 2L-Danny Lasoski [1]; 2. 15-Donny Schatz [2]; 3. 9-Daryn Pittman [4]; 4. 83-David Gravel [3]; 5. 41-Jason Johnson [5]; 6. 41X-Dominic Scelzi [7]; 7. 11K-Kraig Kinser [6]; 8. 7H-Jojo Helberg [8]
Heat 4 – (8 Laps – Top 5 finishers transfer to the A-feature) – 1. 24-Terry McCarl [2]; 2. 7S-Jason Sides [4]; 3. 51-Paul McMahan [3]; 4. 26-Tayler Malsam [1]; 5. 82-Dusty Zomer [5]; 6. 1A-Jacob Allen [7]; 7. 2LX-Logan Forler [8]; 8. 12-Robbie Stillwagon [6]
Dash – (6 Laps, finishing order determined first 8 starting positions of A-feature) – 1. 24-Terry McCarl [1]; 2. 18-Ian Madsen [2]; 3. 7S-Jason Sides [3]; 4. 9-Daryn Pittman [4]; 5. 71M-Joey Saldana [6]; 6. 2L-Danny Lasoski [8]; 7. 29-Kerry Madsen [5]; 8. 24R-Rico Abreu [7]
Last Chance Showdown – (12 Laps – Top 4 finishers transfer to the A-feature) – 1. 11K-Kraig Kinser [3] [-]; 2. 44W-Austen Wheatley [1] [-]; 3. 55-Trey Starks [2] [-]; 4. 33V-Henry VanDam [5] [-]; 5. 41X-Dominic Scelzi [7] [$300]; 6. 21X-Carson Macedo [6] [$250]; 7. 88N-DJ Netto [10] [$225]; 8. 12-Robbie Stillwagon [4] [$200]; 9. 1A-Jacob Allen [8] [$200]; 10. 2LX-Logan Forler [12] [$200]; 11. 31C-Justyn Cox [13] [$200]; 12. 7H-Jojo Helberg [11] [$200]; 13. 5V-Colby Copeland [9] [$200]
World of Outlaws STP Sprint Car Series Championship Standings