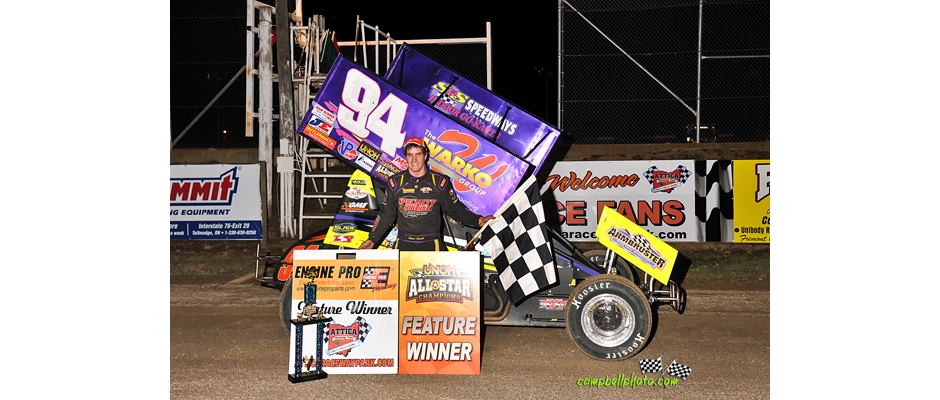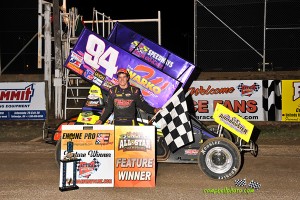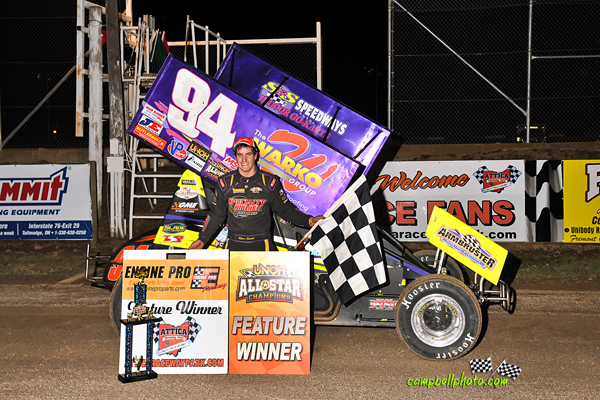 From Brian Liskai
Attica, OH — (April 4, 2015) — Ryan Smith of Kunkletown, Pennsylvania set out to experience different tracks in 2015. Well it paid off in a big way Saturday as the "Kunkletown Kid" led all 40 laps to record his first University of Northwestern Ohio All Star Circuit of Champions victory during the 24th Annual HD Supply/Construction Equipment and Supply Spring Nationals at Attica Raceway Park.
The win not only opened the season for Attica but was also the first point race for Tony Stewart's new UNOH All Stars who were making their 105th appearance at the track. It was Smith's first career win at "Ohio's Finest Racing" venue as well.
The cautions fell just when Smith needed them, keeping him out of heavy lapped traffic. He also made a spectacular move to get past a lapped car with eight laps to go to keep Andrew Palker from getting by.
"I wish we had something like this in Pennsylvania…this was great racing. Small track, elbows up, gas it up. It helped drawing a good number tonight. Laid down a good time and started up front but we were good enough to stay there," said Smith of his Warko Group/S&S Speedways/Quality Roofing Supply/CnB Chubby/GLT Electrical/Armbruster Racing Photos/HP Engines backed #94.
"I was falling out of the seat there…I was hanging on. I was trying to save myself there for a little bit in case someone was coming up on me. I was glad to see that yellow there with three to go…that was a savior. It's awesome to be here and I'm glad to represent Pennsylvania and all my sponsors. My family is here…it's pretty cool," added Smith.
Lodi, Ohio's Andrew Palker would stay close to Smith the entire distance and would hold off Greg Wilson to score the runner-up finish aboard his Seneca Energy/King Inspections/J&J Auto Racing/Albreight Trucking backed #57x.
"A great way to start the year. On that last caution I really think I had something for him (Smith). Lapped traffic was holding him up in the middle and we were starting to roll the top pretty good. I hated to see that yellow come out but what are you going to do. First night out this year…sort of same team with some new people on board…what more could we ask for. All the cars are fresh cars…haven't run them before. We can't wait to get back home to Wayne County for the next one…we'll be ready," said Palker.
Greg Wilson would bring his HerculesTires/Ohio Logistics/DNC Hydraulics backed #W20 home in third.
"We had a great race car. I want to thank all the fans for coming out in this cold weather. I'm a blessed dude. My wife and kids are with me all the time and to come out and start the year like this with all the people that are helping…we're pumped," said Wilson. "Paul Kistler and Kistler Engines have been helping get our program straightened around and we're going to be ready for the season. You guys are in for something with Tony Stewart taking this thing over. You guys are going to see some awesome racing with the All Stars."
Gary Taylor and Palker would bring the field of 26 to green for the 40-lap feature. But Taylor would clip an infield tractor tire on the opening lap and spin, collecting Byron Reed, Travis Philo, Chad Kemenah, Jac Haudenschild, Christopher Bell, and Kyle Patrick with Philo ending up on his side. Taylor, Patrick and Philo would be unable to restart the main.
On the second attempt, new pole-sitter Smith would jump into the lead with Palker, Cody Darrah, Wilson and Tim Shaffer giving chase. Wilson would take third on lap four with Dale Blaney also moving into the top five. With eight laps scored the leaders were getting ready to encounter heavy lapped traffic with Smith leading Palker, Wilson, Darrah and Blaney.
Smith would get a break on lap 11 when Caleb Helms spun, giving the leader a clear track. The caution would fly again on lap 12 when Paige Polyak coasted to a stop in turn four.
Again with a clear track Smith pulled away from Palker with Wilson, Darrah, Blaney, Danny Holtgraver, Shaffer, Sheldon Haudenschild and D.J. Foos in tow. Helms would spin again in turn two on lap 16 to keep the field close.
On the restart Smith again pulled away slightly from Palker who was receiving pressure from Wilson. The car on the move was Cap Henry who started 20th and had worked his way to seventh.
Smith avoided near disaster at the halfway point when he jumped the cushion in turn three but was able to maintain the lead over Palker, Wilson, Blaney, Darrah, Holtgraver and Henry. With 15 laps to go Smith has raced into heavy lapped traffic again allowing Palker and Wilson to close. Palker was right on Smith's rear bumper as they tried to put T.J. Michael a lapped down. Smith would muscle his way under Michael on lap 32 and was then able to pull away slightly.
The final caution flew on lap 37 with Smith leading Palker, Wilson, Blaney and Henry. That's how they would run the final three circuits with Smith getting the win over Palker, Wilson, Blaney and Henry rounding out the top five. Darrah, Holtgraver, Shaffer, Foos and Byron Reed would round out the top 10.
Trey Jacobs and Miller would pace the field to green for the 25-lap 305 sprint feature with Miller holding off Jacobs for the lead while Seth Schneider moved into third followed by Michael, Kyle Capodice and Ricky Peterson. Schneider would grab second on lap four and closed on Miller as they raced into lapped traffic by the seventh circuit.
Meanwhile Michael would drive into third on lap eight bringing defending track champion Jordan Ryan into fourth. Michael and Ryan would swap the third position over the next couple of laps before the red flew for a Paul Weaver tip over in turn two on lap 14. The caution would fly after a lap was completed on the restart when Brian Gibbs spun. On the restart Miller would continue to lead as Michael got under Schneider – whose nose wing had collapsed – for second. Ryan would move into third on lap 17.
Michael drove under Miller for the lead on lap 18 but Miller stayed within striking distance. Lapped traffic would come into play with four laps to go as Michael had troubles getting around some of the cars. As they took the white Miller raced to Michael's outside. Entering the final set of turns, Michael made a daring move under a lapped car and squeezed Miller up the track to take the win. Ryan would finish third with Schneider and Bobby Clark rounding out the top five.
——————————————————
Attica Raceway Park
Saturday, April 4, 2015
HD Supply/Construction Equipment Supply Spring Nationals
42 UNOH All Star Circuit of Champion Sprint Cars
Starting spot in [X]
A Feature (30 Laps): 1. 94-Ryan Smith[3]; 2. 57X-Andrew Palker[2]; 3. W20-Greg Wilson[7]; 4. 1-Dale Blaney[9]; 5. 53-Cap Henry[20]; 6. 89-Cody Darrah[4]; 7. 59-Danny Holtgraver[12]; 8. 45-Tim Shaffer[6]; 9. 21-D.J. Foos[13]; 10. 5-Byron Reed[10]; 11. 4-Danny Smith[22]; 12. 67-Christopher Bell[8]; 13. 9P-Parker Price-Miller[21]; 14. 10H-Chad Kemenah[5]; 15. 33M-Randy Hannagan[26]; 16. 93-Sheldon Haudenschild[17]; 17. 8M-TJ Michael[18]; 18. 40-Caleb Helms[11]; 19. 19P-Paige Polyak[15]; 20. 81-Lee Jacobs[19]; 21. 11-Steve Kinser[25]; 22. 16-Stuart Brubaker[24]; 23. 9-Jac Haudenschild[23]; 24. 1ST-Gary Taylor[1]; 25. 33K-Kyle Patrick[14]; 26. 5T-Travis Philo[16]
B Feature (12 Laps): 1. 9P-Parker Price-Miller[1]; 2. 4-Danny Smith[2]; 3. 9-Jac Haudenschild[5]; 4. 16-Stuart Brubaker[6]; 5. 97-Dean Jacobs[10]; 6. 49-Cole Duncan[4]; 7. 33M-Randy Hannagan[9]; 8. 77-Dain Naida[3]; 9. 55F-Taylor Ferns[7]; 10. 68G-Tyler Gunn[11]; 11. 11R-Chase Ridenour[12]; 12. 5H-Jordan Harble[13]; 13. 15H-Mitchell Harble[14]; 14. 40DD-Nate Dussel[15]; 15. 19-Chris Andrews[16]; 16. 60-Jody Keegan[8]; 17. 11-Steve Kinser[17]
C Feature (8 Laps): 1. 19-Chris Andrews[6]; 2. 11-Steve Kinser[1]; 3. 45L-Brian Lay[2]; 4. 9Z-Duane Zablocki[3]; 5. 7-Troy Kingan[5]
Dash (8 Laps): 1. 1ST-Gary Taylor[6]; 2. 57X-Andrew Palker[3]; 3. 94-Ryan Smith[5]; 4. 89-Cody Darrah[8]; 5. 10H-Chad Kemenah[10]; 6. 45-Tim Shaffer[9]; 7. W20-Greg Wilson[7]; 8. 67-Christopher Bell[11]; 9. 1-Dale Blaney[12]; 10. 5-Byron Reed[4]; 11. 40-Caleb Helms[1]; 12. 59-Danny Holtgraver[2]
Heat 1 (10 Laps): 1. 45-Tim Shaffer[4]; 2. 94-Ryan Smith[1]; 3. 40-Caleb Helms[2]; 4. 5T-Travis Philo[5]; 5. 9P-Parker Price-Miller[7]; 6. 16-Stuart Brubaker[6]; 7. 68G-Tyler Gunn[9]; 8. 11-Steve Kinser[3]; 9. 7-Troy Kingan[8]
Hunt Brothers Pizza Group A – (10 Laps, top 4 to A-main, top 2 to the dash)
Heat 2 (10 Laps): 1. W20-Greg Wilson[2]; 2. 59-Danny Holtgraver[3]; 3. 89-Cody Darrah[4]; 4. 93-Sheldon Haudenschild[5]; 5. 4-Danny Smith[7]; 6. 55F-Taylor Ferns[6]; 7. 11R-Chase Ridenour[8]; 8. 45L-Brian Lay[9]; 9. 19-Chris Andrews[1]
Racing Electronics Group B – (10 Laps, top 4 to A-main, top 2 to the dash)
Heat 3 (10 Laps): 1. 5-Byron Reed[2]; 2. 67-Christopher Bell[4]; 3. 21-D.J. Foos[8]; 4. 8M-TJ Michael[1]; 5. 77-Dain Naida[3]; 6. 60-Jody Keegan[5]; 7. 15H-Mitchell Harble[7]; 8. 49D-Shawn Dancer[6]
Hunt Brothers Pizza Group C – (10 Laps, top 4 to the A-main, top 2 to the dash)
Heat 4 (10 Laps): 1. 57X-Andrew Palker[2]; 2. 1-Dale Blaney[4]; 3. 33K-Kyle Patrick[1]; 4. 81-Lee Jacobs[5]; 5. 49-Cole Duncan[6]; 6. 33M-Randy Hannagan[3]; 7. 15H-Mitchell Harble[8]; 8. 9Z-Duane Zablocki[7]
Racing Electronics Group D – (10 Laps, top 4 to the A-main, top 2 to the dash)
Heat 5 (10 Laps): 1. 10H-Chad Kemenah[2]; 2. 1ST-Gary Taylor[4]; 3. 19P-Paige Polyak[3]; 4. 53-Cap Henry[5]; 5. 9-Jac Haudenschild[6]; 6. 97-Dean Jacobs[1]; 7. 40DD-Nate Dussel[7]; 8. 16X-Ryan Ruhl[8]
Lincoln Electric Group E – (10 Laps, top 4 to the A-main, top 2 to the dash)
Qualifying: 1. 45-Tim Shaffer, 12.569; 2. 89-Cody Darrah, 12.634; 3. 11-Steve Kinser, 12.638; 4. 40-Caleb Helms, 12.639; 5. 94-Ryan Smith, 12.688; 6. 5T-Travis Philo, 12.704; 7. 59-Danny Holtgraver, 12.706; 8. W20-Greg Wilson, 12.738; 9. 1ST-Gary Taylor, 12.753; 10. 19-Chris Andrews, 12.760; 11. 16-Stuart Brubaker, 12.811; 12. 19P-Paige Polyak, 12.827; 13. 9P-Parker Price-Miller, 12.846; 14. 1-Dale Blaney, 12.863; 15. 10H-Chad Kemenah, 12.895; 16. 33M-Randy Hannagan, 12.906; 17. 57X-Andrew Palker, 12.912; 18. 33K-Kyle Patrick, 13.017; 19. 93-Sheldon Haudenschild, 13.032; 20. 67-Christopher Bell, 13.063; 21. 77-Dain Naida, 13.068; 22. 81-Lee Jacobs, 13.069; 23. 49-Cole Duncan, 13.130; 24. 55F-Taylor Ferns, 13.134; 25. 5-Byron Reed, 13.137; 26. 97-Dean Jacobs, 13.144; 27. 8M-TJ Michael, 13.169; 28. 9Z-Duane Zablocki, 13.199; 29. 53-Cap Henry, 13.203; 30. 60-Jody Keegan, 13.244; 31. 4-Danny Smith, 13.340; 32. 9-Jac Haudenschild, 13.367; 33. 11R-Chase Ridenour, 13.475; 34. 45L-Brian Lay, 13.596; 35. 49D-Shawn Dancer, 13.648; 36. 5H-Jordan Harble, 13.817; 37. 7-Troy Kingan, 13.822; 38. 68G-Tyler Gunn, 14.198; 39. 15H-Mitchell Harble, 14.256; 40. 40DD-Nate Dussel, 14.433; 41. 16X-Ryan Ruhl, 14.885
Foster's Auto Body 305 Sprints
Heat 1 – (8 Laps, top 4 redraw for feature)
1. 19R-Steve Rando[2] ; 2. 39-Jamie Miller[1] ; 3. 8-Bobby Clark[7] ; 4. 2-Ricky Peterson[5] ; 5. 22M-Dan McCarron[4] ; 6. 11G-Luke Griffith[6] ; 7. 13-Jeremy Duposki[3]
Heat 2 – (8 Laps, top 4 redraw for feature)
1. 5R-Jordan Ryan[2] ; 2. 1W-Paul Weaver[5] ; 3. 12-Kyle Capodice[6] ; 4. 7M-Brandon Moore[4] ; 5. 4*-Tyler Street[3] ; 6. 75-Jerry Dahms[7] ; 7. 87-Brian Gibbs[1]
Heat 3 – (8 Laps, top 4 redraw for feature)
1. 25-Jason Keckler[2] ; 2. 18-TJ Michael[3] ; 3. 3J-Trey Jacobs[1] ; 4. 36-Seth Schneider[4] ; 5. 77X-Alex Hill[6] ; 6. 18N-Frank Neill[5]
A-Main 1 – (25 Laps)
1. 18-TJ Michael\[8] ; 2. 39-Jamie Miller[2] ; 3. 5R-Jordan Ryan[5] ; 4. 36-Seth Schneider[4] ; 5. 8-Bobby Clark[10] ; 6. 3J-Trey Jacobs[1] ; 7. 2-Ricky Peterson[6] ; 8. 12-Kyle Capodice[3] ; 9. 22M-Dan McCarron[11] ; 10. 1W-Paul Weaver[9] ; 11. 7M-Brandon Moore[12] ; 12. 11G-Luke Griffith[16] ; 13. 25-Jason Keckler[7] ; 14. 13-Jeremy Duposki[15] ; 15. 77X-Alex Hill[17] ; 16. 18N-Frank Neill[13] ; 17. 4*-Tyler Street[14] ; 18. 75-Jerry Dahms[19] ; 19. 87-Brian Gibbs[18]