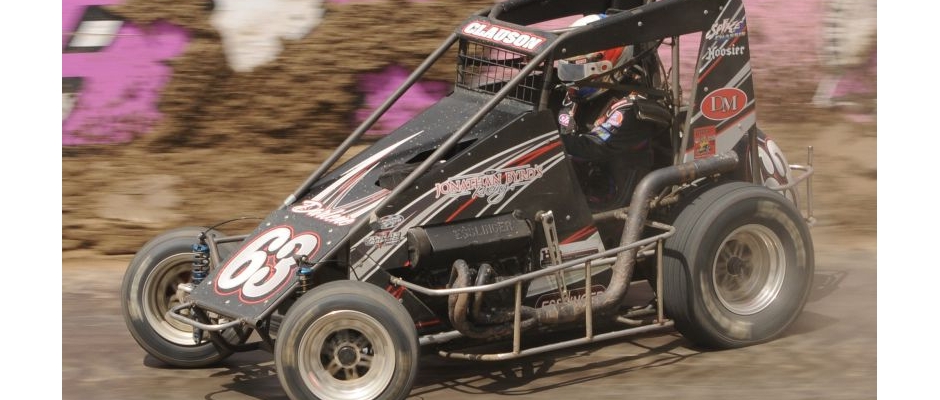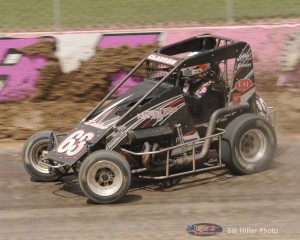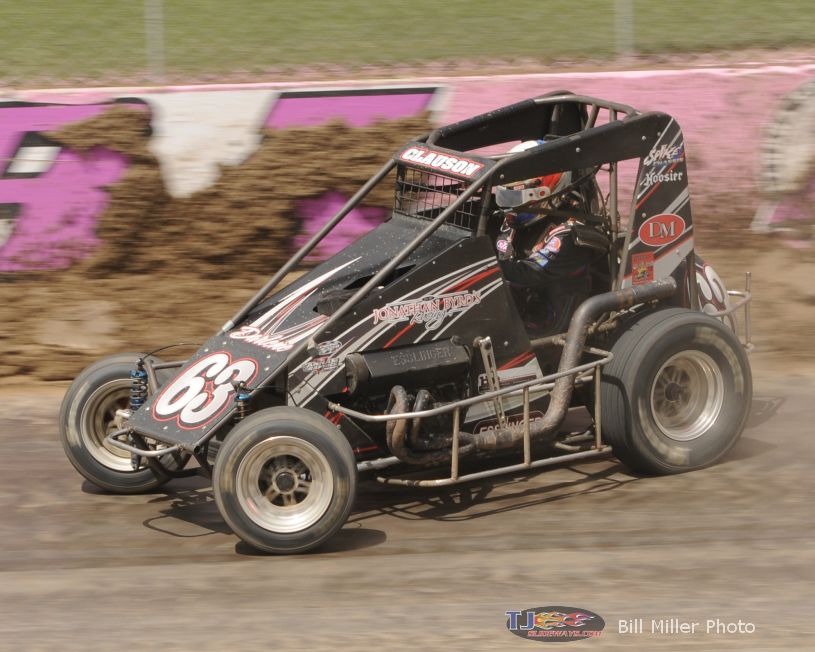 Jacksonville, IL — (April 24, 2015) — Bryan Clauson of Noblesville, Indiana earned his 27th career POWRi Lucas Oil National Midget Series victory after fending off a late race challenge from Christopher Bell, while Aaron Andruskevitch of Riverton, Illinois won the POWRi Speedway Motors 600cc Outlaw Micro Series feature event with a last lap pass on Nathan Benson.
Darren Hagen of Riverside, California started on the pole in the Esslinger-powered #17 BOSS Chassis, sharing the front row with Jake Neuman of New Berlin, Illinois. At the wave of the green flag, Hagen would power into the lead heading straight for the treacherous Jacksonville Speedway curb with Clauson and Neuman in tow. As Hagen worked the outside rim of the ¼ mile oval, Bryan Clauson would begin to meticulously reel in the driver out of Riverside, California. On lap nine, Clauson would slide Hagen in turns three and four, making it stick to become the new race leader, all the while as Andrew Felker's Stanton-powered BOSS Chassis edged closer towards the duo.
As Clauson entered lap traffic, Andy Malpocker would bike his Esslinger-powered Spike Chassis hard on the treacherous curb in turns one and two, barely saving it, but collecting Jake Neuman who pirouetted into the air before landing rubber side down, bringing out the first caution of the night. Neuman would restart at the tail of the field and continue to race. With 12 laps down, Clauson would lead the field back to green setting a blistering pace. On lap 16, Isaac Schuer would bring out the second caution of the night as he tried to exit the track with a flat right rear tire, but got stuck exiting along the front stretch.
Clauson would again lead the field back to green in the Rusty Kunz Racing/Curb-Agajanian SR-11-powered Spike Chassis with Hagen and Felker still in tow. On lap 17 Felker would slide Hagen for second and make it stick. Upon taking over the second position, Felker's slide job would break the momentum just enough for the Keith Kunz/Curb-Agajanian Motorsports duo of Christopher Bell and Tanner Thorson as both drivers overtook Hagen on lap 17. Bell, not satisfied with third, set his sights on Felker, overtaking Felker on lap 20 for the second position. As Clauson began working lap traffic, most likely unaware that Bell was beginning to close in, try as he might, Christopher Bell would be unable to take the lead away from Clauson. Taking the final podium position was Andrew Felker and coming in fourth was Tanner Thorson. Rounding out the top five was Darren Hagen.
"I got a little tight, especially in three and four," explained a victorious Bryan Clauson. "We were struggling, but fortunately we were able to use lap traffic there. Anytime you can beat those Keith Kunz cars, it's a heck of a night."
"Just couldn't quite get around him," said second place finisher Christopher Bell. "I thought I had something for him on the front straightaway and I got into a lap car and ran over his left rear. But, that was still a fun race."
"Just got too tight in the cushion and let Christopher [Bell] back by," explained third place finisher Andrew Felker. "We just really needed lap traffic. Felt like we could really move around better than some of them there in lap traffic. Needed to get ourmomentum up to get going, but overall, a good night."
Feature: 1. 63 – Bryan Clauson, 2. 71 – Christopher Bell, 3. 11A – Andrew Felker, 4. 67 – Tanner Thorson, 5. 17 – Darren Hagen, 6 39 – Spencer Bayston, 7. 91T – Tyler Thomas, 8. 7K – Tyler Courtnery, 9. 5X – Justin Peck, 10 7 – Austin Brown, 11. 22 – Andy Malpocker, 12. 56 – Alex Bright, 13. 14 – Joey Moughan, 14. 18P – Payton Pierce, 15. 3N – Jake Neuman, 16. 7X – Gage Walker, 17. 27 – Tucker Klaasmeyer, 18. 97 – Ryan Robinson, 19. 9K – Kyle Schuett, 20. 2 – Seth Motsinger, 21. 5C – Colten Cottle, 22. 50 – Daniel Adler.