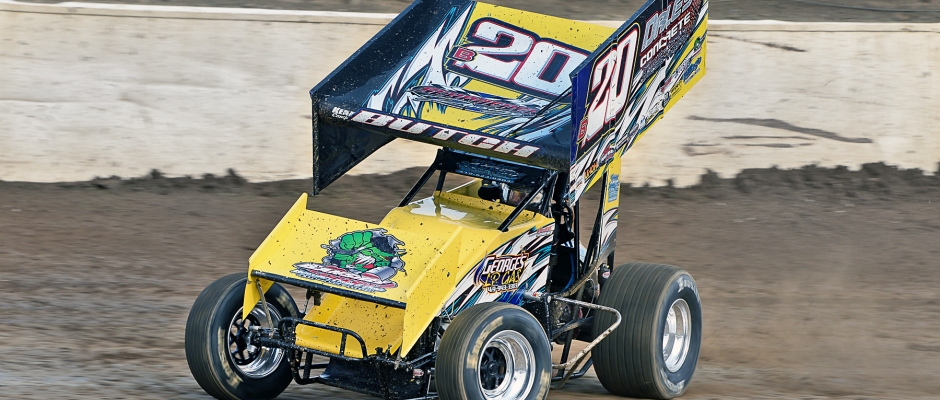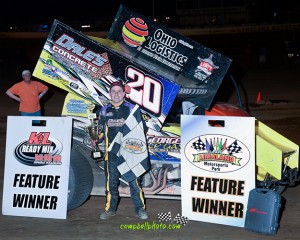 Lima, OH — (May 8, 2015) — The warmest evening of the spring season meant the high-banked ¼-mile Limaland Motorsports Park oval would gradually lose its moisture and result in slicker racing conditions than previously this season. It produced some thrilling slides on the dirt and also a few predictable collisions.
The night of racing also saw veteran Butch Schroeder return to the winner's circle after a few years absence. Schroeder, from Leipsic, Ohio, made the most of his pole starting position for the 25-lap K & L Ready Mix NRA Sprint Invaders feature. He led from start to finish, but constantly fought of a primary challenge from Elida's Max Stambaugh.
Schroeder chose a middle to bottom racing line as it seemed risky hovering too close to the outside wall with a fast drying, slick racing surface. By the event mid-point both Schroeder and Stambaugh were carefully slicing through lapped traffic. With five laps remaining, Max Stambaugh was right on Schroeder's tail trying to inch around on the inside.
Three separate restarts, following caution periods during the final five laps, gave Stambaugh additional opportunities to get around Schroeder. One of the yellow flags came out as point's leader Jared Horstman's #17 machine became flipped on its side on the bottom in turn four. Through the various caution delays, Schroeder showed his experience in holding on to the lead position despite the heavy pressure applied from behind by Stambaugh.
"This car was working excellent on a nice smooth track," said a jubilant Schroeder. "(Crew Chief) Tyson (Schroeder) brought the car here tonight with a little bit different set-up. He told me to just drive it like I wanted. It's great to be back on the front stretch (winner's circle) here at Limaland." It was Schroeder's fourth career win at the track. Stambaugh will likely take over the points lead with the runner-up finish.
Limaland Motorsports Park returns to action on Friday, May 15, with the 80th Anniversary Race including NASCAR veteran Ken Schrader in the K & N Filters UMP Modifieds. Also the K & L Ready Mix NRA Sprint Invaders and Budweiser Thunderstocks will compete. Gates open at 5:00 p.m. with hot laps at 6:30 p.m. Racing begins promptly at 7:30 p.m.
Tickets for the Ohio Logistics 27th Annual Brad Doty Classic presented by Racing Optics, July 15, featuring the World of Outlaws Sprint Car Series, are on sale now. Call 419-998-3199.
All the latest news and information about America's premier quarter-mile dirt track can be found at www.limaland.com.
Limaland Motorsports Park – 5/8/2015
Post Printing Night
McDonald's Dash (5 Laps)
1. 11-Tim Allison: 2. 28H-Hud Horton 3. 83-Kyle Sauder; 4. 23-Devon Dobie
K&L Ready Mix NRA Sprints
Heat 1 – (8 Laps – Top 7 Transfer)
1. 49-Shawn Dancer, 2. 28H-Hud Horton, 3. 17-Jared Horstman 4. 12R-Nick Roberts, 5. 22R-Kevin Roberts, 6. 5W-Jeff Williams 7. 27R-Kyle Locke
Heat 2 – (8 Laps – Top 7 Transfer)
1. B20-Butch Schroeder, 2. 6M-Max Stambaugh, 3. OO-Dane Lorenc 4. 31N-Rod Henning, 5. 6S-Jr Stewart, 6. 12J-Tyler Moore 7. 8J-Jess Stiger
Heat 3 – (8 Laps – Top 7 Transfer)
1. 57-Mike Dunlap, 2. 10X-Dustin Stroup, 3. 83-Kyle Sauder 4. 11-Tim Allison, 5. 16B-Dakota Busche, 6. 23-Devon Dobie
A-Main – (25 Laps) [#]-Starting Position
1. B20-Butch Schroeder[1]; 2. 6M-Max Stambaugh[5]; 3. 57-Mike Dunlap[3] 4. 28H-Hud Horton[4]; 5. 83-Kyle Sauder[9]; 6. 10X-Dustin Stroup[6] 7. 6S-Jr Stewart[14]; 8. 22R-Kevin Roberts[13]; 9. 23-Devon Dobie[18] 10. 49-Shawn Dancer[2]; 11. 31N-Rod Henning[11]; 12.17-Jared Horstman[7] 13. 8J-Jess Stiger[20]; 14. 5W-Jeff Williams[16]; 15. OO-Dane Lorenc [8] 16. 12R-Nick Roberts[10]; 17. 11-Tim Allison[12]; 18. 12J-Tyler Moore[17] 19. 16B-Dakota Busche[15]; 20. 27R-Kyle Locke[19]