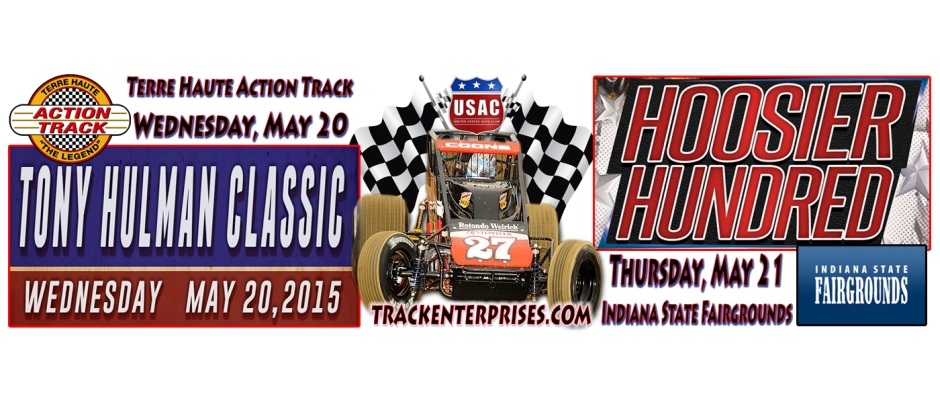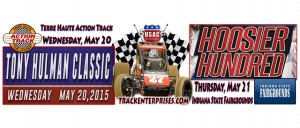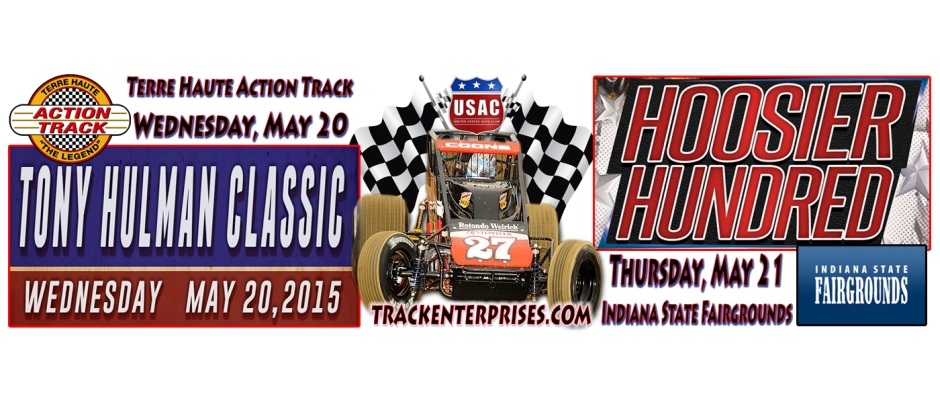 From Track Enterprises
Open wheel fans across the midwest and even the country are pumped up about a number of great shows to attend next week. As a leadup to the Indy 500, Track Enterprises is preparing two huge events that fans mark down on their calendars yearly on Wednesday and Thursday, May 20-21. Terre Haute Action Track in Terre Haute, Indiana and the Indiana State Fairgrounds in Indianapolis, Indiana are the venues for the Tony Hulman Classic and the Hoosier Hundred.
Drivers, teams, and fans will be gathering at the historic Terre Haute Action Track on Wednesday, May 20 for the 45th Tony Hulman Classic. The event, featuring the open wheel stars o f the USAC Sprint cars will be racing along with the UMP Modifieds. While the USAC field is always star studded, the UMP field will also feature some of the best as Kenny Wallace and Ken Schrader battle for bragging rights and the trophy.
On Thursday, May 21st, fans will migrate to the Indiana State Fairgrounds for the 62nd running of the great Hoosier 100. The 1-mile oval will feature the USAC Silver Crown competitors and the UMP Modifieds, running in a $2,000 to win event. Kody Swanson won last year's Hoosier Hundred, while Schrader won the Modified portion. Wallace and a host of others will be looking to knock Schrader off the podium.
On Wednesday, May 20 at Terre Haute, pit gates will open at 3:00, grandstands at 5:00, hotlaps at 6:00, and racing will begin at 7:30. Grandstand admission is $25 for adults and free for 10 and under. Infield admission is $15.
On Thursday, May 21 at the Indiana State Fairgrounds, pit gates open at 12:00, grandstands at 3:00, hotlaps at 5:00, qualifying at 6:00, Modified heats at 6:30, and racing at 7:00. Grandstand admission is $25 if purchased ahead of the event, while it is $30 the day of. Children 11 and under tickets are $10. Infield admission is $15 for adults and $5 for kids. For presale tickets or information, call 217-764-3200.
For info on either event, visit www.trackenterprises.com or www.terrehauteactiontrack.net.