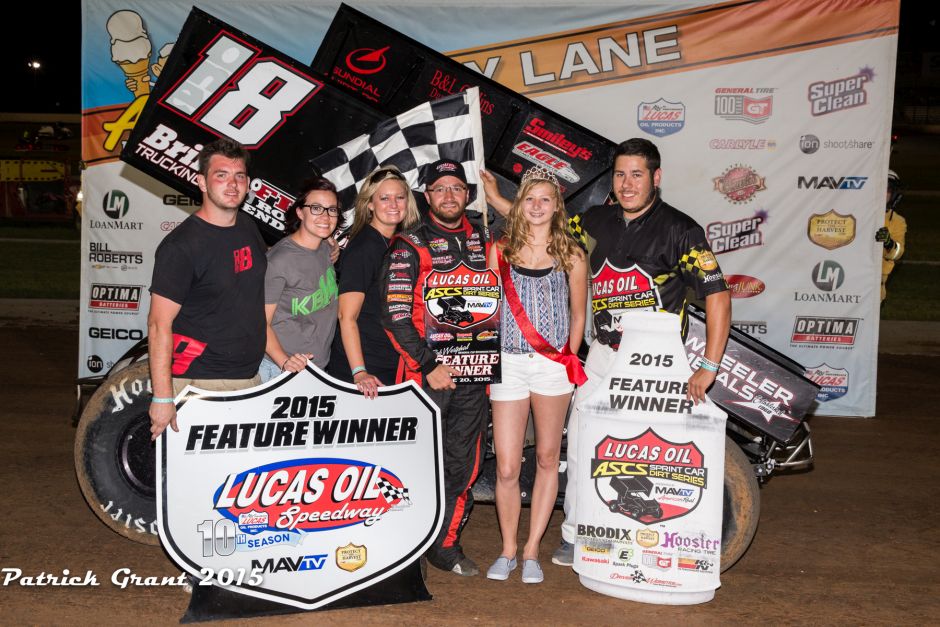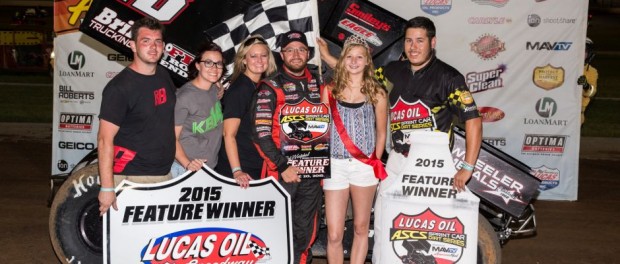 From Bryan Hulbert
Wheatland, MO — (June 20, 2015) — What a way to cap off the 23rd ASCS Sizzlin' Summer Speedweek and Bob Westphal Memorial as Liberal, Kan. shoe Tony Bruce, Jr. picked up his first Protect the Harvest A-Feature victory in 2015 with the Lucas Oil American Sprint Car Series presented by MAVTV American Real at the Lucas Oil Speedway in Wheatland, Mo.
"It means a lot to me to be standing here. We've won a race here before, but this one is pretty special. There's a lot happening with me personally, so this is a big win for us and everyone who's involved with this team," said Bruce in Victory Lane. "Hats off the track crew, Dan, and everybody here at the Lucas Oil Speedway. We're all standing up there having our doubts that the track prep was going to be good or bad, but man, it turned out excellent and that's the best thing about coming to this race track is they strive for greatness."
Executing the bottom groove perfectly, Bruce built his advantage quickly before the caution displayed on Lap 7. Returning to speed, the caution flew again the following lap. Picking things up, the Oil Medics No. 18 began to pace away from the field.
Finding slower traffic at the race's half-way point, the race for the lead began to tighten up as Bruce navigated the back of the field. Searching lines, Bruce became pined behind a pair of slower cars, allowing Kyle Bellm to take a shot at the race lead.
"I thought we had a chance at Tony there, but I got hung up behind the No. 33 car. You know, we had one shot at it there, and just didn't get it done, but it got to be a handful. I think a bleeder quit, or we sealed a tire after that last caution but the way we've been running, a second here is a hell of a feat."
Settling for the final podium step after battling most of the race with Jeff Swindell, Oklahoma's Wayne Johnson described the hard fought finish, "Me and Jeff, neither one of us wanted to give up that spot, and unfortunately it got a little ugly there. I hate to do that, but we're looking at the big picture here and we need every point we can get so sometimes you can't be 'Mr. Nice Guy'."
Wayne's third place finish was enough to secure the 2015 ASCS Sizzlin's Summer Speedweek Title, fending off Tony Bruce, Jr. by seven points. Jeff Swindell, Seth Bergman, and Matt Covington completed the top-five in Speedweek points.
Having to work out of a B-Feature, the night's KSE Hard Charger was Seth Bergman, coming from 20th to fourth after several hard fought battles through the top-ten. After running third for much of the second half of the race, Jeff Swindell would end up crossing fifth.
Derek Hagar came from 12th to grab sixth with Aaron Reutzel fading to seventh after challenging several times for a podium finish. Matt Covington eighth, Blake Hahn ninth, with Jonathan Cornell coming 18th rounded out the top-ten.
With 35 drivers making the call at the Lucas Oil Speedway, five Heat Races went to Kyle Bellm, Chance Morton, Matt Covington, Jordan Weaver, and Evan Martin. A pair of B-Features went to Logan Forler and Jonathan Cornell.
Paired with the Speedway Motors ASCS Warrior Region, Jonathan Cornell earned high points for the region. Tyler Thomas, Jay Russell, Austin Alumbaugh, and Tyler Blank completed the top-five point's earners.
The Lucas Oil American Sprint Car Series presented by MAVTV American Real heads for the Skagit Speedway for the 44th annual Jim Raper Memorial Dirt Cup presented by Jack in the Box on June 25-27. Live online PPV is available at http://www.racinboys.com.
For continued updates on the American Sprint Car Series, log onto http://www.ascsracing.com.
Race Results:
Lucas Oil ASCS National Tour
Speedway Motors ASCS Warrior Region
Lucas Oil Speedway – Wheatland, Mo.
Saturday, June 20, 2015
Car Count: 35
Heat Races: 8 Laps, taking the winner plus the next the next 11 highest in passing points to the A-Feature.
Heat 1 (8 Laps): 1. 14K-Kyle Bellm[2]; 2. 77X-Wayne Johnson[1]; 3. 9JR-Derek Hagar[4]; 4. 42-Andy McElhannon[5]; 5. 23-Seth Bergman[3]; 6. 27-Danny Thoman[6]; 7. (DNF) 72X-Josh Fisher[7]
Heat 2 (8 Laps): 1. 7M-Chance Morton[2]; 2. 76-Jay Russell[1]; 3. 52-Blake Hahn[6]; 4. 20K-Kevin Ulmer[3]; 5. 99X-Mike Ell[5]; 6. 3B-Brad Greer[7]; 7. 99-Andrew Turley[4]
Heat 3 (8 Laps): 1. 95-Matt Covington[3]; 2. 18-Tony Bruce Jr[6]; 3. 8M-Kade Morton[1]; 4. 24S-Ricky Lee Stangl[2]; 5. 84-Brandon Hanks[5]; 6. 75-Tyler Blank[7]; 7. 34-Corey Nelson[4]
Heat 4 (8 Laps): 1. 92-Jordan Weaver[1]; 2. 87-Aaron Reutzel[6]; 3. 45X-Johnny Herrera[3]; 4. 2L-Logan Forler[4]; 5. 28-Jonathan Cornell[7]; 6. 86-Tyler Thomas[2]; 7. 1X-Brad Ryun[5]
Heat 5 (8 Laps): 1. 4-Evan Martin[2]; 2. 94-Jeff Swindell[4]; 3. 33-Kris Miller[1]; 4. 33A-Austin Alumbaugh[5]; 5. 24L-Lanny Carpenter[3]; 6. 9M-Ryan Leavitt[6]; DNS 51-Mitchell Moore
B-Feature(s): 12 laps, taking the top 3 to the tail of the A-Feature.
B Feature (12 Laps): 1. 2L-Logan Forler[2]; 2. 84-Brandon Hanks[4]; 3. 33-Kris Miller[1]; 4. 75-Tyler Blank[5]; 5. 72X-Josh Fisher[8]; 6. 24S-Ricky Lee Stangl[3]; 7. 24L-Lanny Carpenter[6]; 8. 9M-Ryan Leavitt[7]; 9. 99-Andrew Turley[9]; DNS 51-Mitchell Moore
B Feature 2 (12 Laps): 1. 28-Jonathan Cornell[1]; 2. 23-Seth Bergman[5]; 3. 86-Tyler Thomas[7]; 4. 3B-Brad Greer[4]; 5. 20K-Kevin Ulmer[2]; 6. 34-Corey Nelson[9]; 7. 1X-Brad Ryun[8]; 8. (DNF) 27-Danny Thoman[6]; 9. (DNF) 99X-Mike Ell[3]
A-Feature: 30 Laps
A Feature (30 Laps): 1. 18-Tony Bruce Jr[4]; 2. 14K-Kyle Bellm[1]; 3. 77X-Wayne Johnson[10]; 4. 23-Seth Bergman[20]; 5. 94-Jeff Swindell[2]; 6. 9JR-Derek Hagar[12]; 7. 87-Aaron Reutzel[7]; 8. 95-Matt Covington[8]; 9. 52-Blake Hahn[6]; 10. 28-Jonathan Cornell[18]; 11. 45X-Johnny Herrera[14]; 12. 86-Tyler Thomas[22]; 13. 2L-Logan Forler[17]; 14. 84-Brandon Hanks[19]; 15. 42-Andy McElhannon[15]; 16. 8M-Kade Morton[16]; 17. 4-Evan Martin[5]; 18. 7M-Chance Morton[3]; 19. 92-Jordan Weaver[9]; 20. (DNF) 33-Kris Miller[21]; 21. (DNF) 76-Jay Russell[11]; 22. (DNF) 33A-Austin Alumbaugh[13]
Lap Leader(s): Tony Bruce, Jr. 1-30
KSE Hard Charger: Seth Bergman +16
FSR High Point: Tony Bruce, Jr.
Provisional(s): N/A
=======================
2015 Lucas Oil ASCS Winners: Aaron Reutzel 3; Seth Bergman 2; Jason Sides 1; Mark Smith 1; Brian Brown 1; Blake Hahn 1; Wayne Johnson 1; Tony Bruce, Jr. 1;
Lucas Oil ASCS Driver Points (Top 10): 1. Aaron Reutzel 1,386; 2. Johnny Herrera 1,328; 3. Seth Bergman 1,309 4. Wayne Johnson 1,306; 5. Jeff Swindell 1,263; 6. Tony Bruce, Jr. 1,241; 7. Matt Covington 1,181; 8. Blake Hahn 1,138; 9. Kyle Bellm 1,047; 10. Brandon Hanks 971;