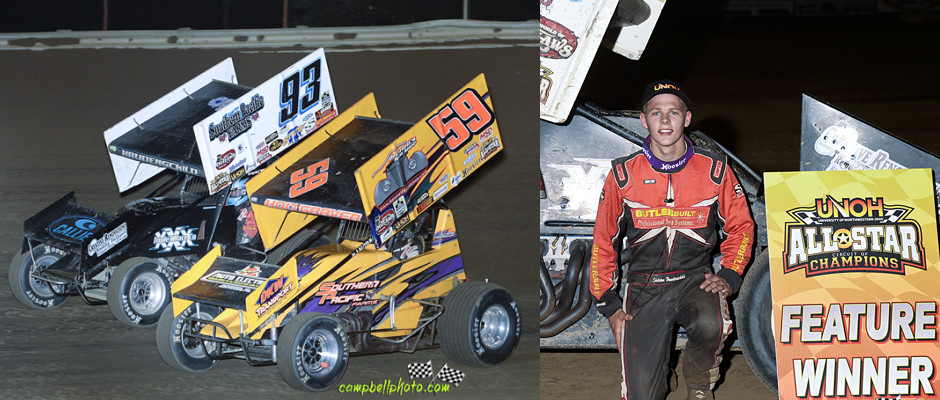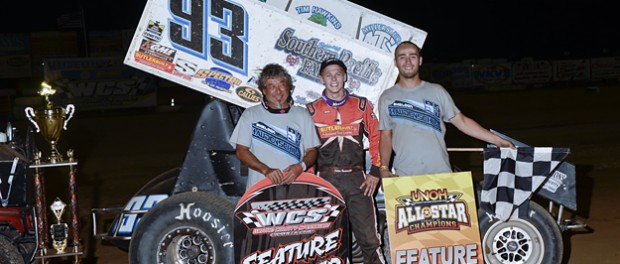 From Tyler Altmeyer
Orrville, OH — (June 22nd, 2015) — Sheldon Haudenschild goes back-to-back in the 'Buckeye State' during round four of the 33rd Annual Ohio Sprint Speedweek presented by Cometic Gasket. Haudenschild earned his second consecutive Speedweek victory on Monday evening, June 22nd at the Wayne County Speedway in Orrville, Ohio; a third-career UNOH All Star victory for the Wooster, Ohio native. Parker Price-Miller, the most recent UNOH All Star winner at Wayne County Speedway entering tonight's program, finished second during tonight's 30-lap, $5,000-to-win main event. Jamie McFadden, one of four Australians signed in, came home third.
"It feels so great to win here" said Sheldon Haudenschild, "This car has been so good lately…we got Bonzai Bruns back on Friday and things have been incredible…I just want to thank all of my sponsors and everyone who supports me and this team."
For the second time in three days, Pittsburgh, Pennsylvania native Danny Holtgraver would lead the UNOH All Star Circuit of Champions main event field to 'green.' An early caution for Danny Dietrich would bring the field back for a complete restart. When the field resumed action, it was round three Ohio Sprint Speedweek winner Sheldon Haudenschild taking command. Haudenschild would lead for two circuits before red flag conditions took over the speedway. It was former Wayne County Speedway track champion Brad Haudenschild getting upside-down.
When the field resumed action, it was Sheldon Haudenschild resuming his command; opening up a near full straightaway lead over Danny Holtgraver and James McFadden. The pilot of the Southern Pacific Farms, Callies Performance, '93' machine maintained his torrid pace over Holtgraver, McFadden and Price-Miller until lap seven when the red flag was displayed again; this time for Broc Martin.
Green flag action would resume with seven laps complete. Sheldon Haudenschild, using the notorious 'Haudenschild Line' up against the outside cushion, would resume the top spot over Danny Holtgraver and James McFadden. KoKomo, Indiana's Parker Price-Miller would roll to the runner-up spot shortly after the restart. Price-Miller would chase Haudenschild for nearly 15 laps; exchanging slide jobs through heavy lapped traffic. Aussie invader James McFadden would eventually take away the runner-up position from seventeen-year-old Parker Price-Miller.
Sheldon Haudenschild would see another caution with 24 circuits in the books. It would be smooth sailing at the restart with six laps to go, with Sheldon Haudenschild earning the 30-lap, $5,000 victory. Parker Price-Miller would work back around James McFadden during the remaining six laps. Parker Price-Miller would finish in the runner-up spot, followed by James McFadden, Chad Kemenah, and Jac Haudenschild. It was a second consecutive podium finish for James McFadden; finishing third at the Waynesfield Raceway Park one night ago.
52 UNOH All Star Circuit of Champions '410' sprint cars were officially signed in at the Wayne County Speedway in Orrville, Ohio on Monday evening. The 52 car roster was divided into five groups of qualifying time trials, with each driver qualifying against those in their respective heat race. Dean Jacobs, Cole Duncan, Dale Blaney, Chad Kemenah, and Danny Dietrich each recorded the fastest time during their group qualifying efforts. Defending UNOH All Star champion Dale Blaney recorded the fastest time of the night overall; an official lap time of 14.896 seconds around the Wayne County Speedway oval. Dean Jacobs, Kenny Jacobs, Jac Haudenschild, and Cole Duncan rounded out the top-five fastest qualifiers.
Preliminary competition would continue with five, eight-lap heat races transferring the top-four finishers to the main event. James McFadden, Parker Price-Miller, Cody Darrah, Tim Shaffer, and Rob Chaney each earned victories during their respective heat races. C-main action went to the '60' of Jody Keegan. Gary Taylor earned the second and final B-main transfer spot in the eight-lap UNOH All Star C-main.
Danny Holtgraver secured his feature pole position by winning the evening's UNOH All Star dash. Waynesfield winner Sheldon Haudenschild finished second; eventually sharing the front row with Phoenix Racing's Danny Holtgraver. All preliminary competition would come to a close after full-time Fremont/Attica Sprint Title competitor Stuart Brubaker earned the 12-lap B-main victory. Brandon Spithaler, Brady Bacon, and Broc Martin each earned A-main starting positions via B-main transfer sports.
The Sharon Speedway in Hartford, Ohio will host round five of the 33rd Annual Ohio Sprint Speedweek presented by Cometic Gasket on Tuesday evening, June 23rd. It will be the first appearance by the UNOH All Star Circuit of Champions at the 3/8's mile dirt oval in 2015. Sharon Speedway was denied Ohio Sprint Speedweek competition in 2013 and again in 2014 due to inclement weather conditions. 'The Wheelman' Brandon Matus is most recent Ohio Sprint Speedweek winner at Sharon Speedway; earning the $5,000 top prize on June 26th, 2015.
Sharon Speedway is scheduled to open pit gates at 3PM, with hot laps going trackside at 6PM. To learn more, please visit Sharon Speedway live on the web at www.sharonspeedway.com.
Full Results – Ohio Sprint Speedweek presented by Cometic Gasket – Round 4 – Wayne County Speedway – Monday, June 22nd, 2015:
Wayne Co. 06-22-2015
410 Sprints – UNOH
Qualifying
1.1-Dale Blaney, 14.896; 2.97-Dean Jacobs, 14.896; 3.6H-Kenny Jacobs, 14.907; 4.73-Jac Haudenschild, 14.923; 5.22-Cole Duncan, 14.988; 6.9P-Parker Price-Miller, 15.002; 7.21-DJ Foos, 15.024; 8.93-Sheldon Haudenschild, 15.031; 9.40-Caleb Helms, 15.043; 10.3G-James McFadden, 15.058; 11.38K-Brad Haudenschild, 15.091; 12.89-Cody Darrah, 15.101; 13.57X-Andrew Palker, 15.163; 14.70-Roger Crockett, 15.191; 15.59-Danny Holtgraver, 15.204; 16.16-Stuart Brubaker, 15.240; 17.22X-Brandon Spithaler, 15.264; 18.99-Brady Bacon, 15.279; 19.17W-Bryan Clauson, 15.357; 20.17-Josh Baughman, 15.407; 21.71m-Paul May, 15.469; 22.48-Danny Dietrich, 15.469; 23.W20-Greg Wilson, 15.470; 24.5T-Travis Philo, 15.486; 25.83M-Broc Martin, 15.499; 26.5-Byron Reed, 15.538; 27.27Z-Sean Zemunik, 15.580; 28.5AU-Danny Reidy, 15.608; 29.4-Danny Smith, 15.635; 30.10H-Chad Kemenah, 15.746; 31.35AU-Jamie Veal, 15.749; 32.9x-Rob Chaney, 15.786; 33.9-Jordan Ryan, 15.829; 34.11-Steve Kinser, 15.850; 35.8M-TJ Michael, 15.856; 36.45-Tim Shaffer, 15.926; 37.11N-Randy Hannagan, 15.967; 38.1st-Gary Taylor, 16.003; 39.60-Jody Keegan, 16.020; 40.81-Lee Jacobs, 16.041; 41.2L-Logan Forler, 16.071; 42.23-Nick Patterson, 16.129; 43.55F-Taylor Ferns, 16.158; 44.11H-Shawn Hubler, 16.270; 45.16M-Jim Morris, 16.365; 46.94-Ryan Smith, 16.375; 47.91-Cale Thomas, 16.495; 48.O8-Dan Kuriger, 16.577; 49.76-David Jones, 16.820; 50.22R-Ryan Fredericks, 17.292; 51.7-Troy Kingan, 17.638; 52.D12-Jason Dolick, 99.440;
Heat 1, Group A – (8 Laps)
1. 3G-James McFadden[1] ; 2. 73-Jac Haudenschild[2] ; 3. 38K-Brad Haudenschild[5] ; 4. 6H-Kenny Jacobs[3] ; 5. 97-Dean Jacobs[4] ; 6. 16-Stuart Brubaker[7] ; 7. 22X-Brandon Spithaler[8] ; 8. 16M-Jim Morris[10] ; 9. 5T-Travis Philo[9] ; 10. 76-David Jones[11] ; 11. 70-Roger Crockett[6]
Heat 2, Group B – (8 Laps)
1. 9P-Parker Price-Miller[3] ; 2. 59-Danny Holtgraver[1] ; 3. 21-DJ Foos[2] ; 4. 22-Cole Duncan[4] ; 5. 99-Brady Bacon[5] ; 6. 17W-Bryan Clauson[6] ; 7. 17-Josh Baughman[7] ; 8. 5AU-Danny Reidy[9] ; 9. 9-Jordan Ryan[10] ; 10. 22R-Ryan Fredericks[11] ; 11. 71m-Paul May[8]
Heat 3, Group C – (8 Laps)
1. 89-Cody Darrah[1] ; 2. 93-Sheldon Haudenschild[3] ; 3. 1-Dale Blaney[4] ; 4. 40-Caleb Helms[2] ; 5. 83M-Broc Martin[6] ; 6. 57X-Andrew Palker[5] ; 7. 55F-Taylor Ferns[9] ; 8. 91-Cale Thomas[10] ; 9. 4-Danny Smith[8] ; 10. 27Z-Sean Zemunik[7]
Heat 4, Group D – (8 Laps)
1. 45-Tim Shaffer[1] ; 2. 10H-Chad Kemenah[4] ; 3. 11-Steve Kinser[2] ; 4. 35AU-Jamie Veal[3] ; 5. 23-Nick Patterson[6] ; 6. 1st-Gary Taylor[5] ; 7. 11H-Shawn Hubler[7] ; 8. 94-Ryan Smith[8] ; 9. O8-Dan Kuriger[9]
Heat 5, Group E – (8 Laps)
1. 9x-Rob Chaney[1] ; 2. W20-Greg Wilson[3] ; 3. 48-Danny Dietrich[4] ; 4. 5-Byron Reed[2] ; 5. 8M-TJ Michael[5] ; 6. 81-Lee Jacobs[8] ; 7. 11N-Randy Hannagan[6] ; 8. 2L-Logan Forler[9] ; 9. 60-Jody Keegan[7] ; 10. 7-Troy Kingan[10]
Dash 1 (6 Laps)
1. 59-Danny Holtgraver[1] ; 2. 93-Sheldon Haudenschild[5] ; 3. 3G-James McFadden[2] ; 4. 45-Tim Shaffer[3] ; 5. 9P-Parker Price-Miller[4] ; 6. 73-Jac Haudenschild[7] ; 7. 10H-Chad Kemenah[11] ; 8. 9x-Rob Chaney[6] ; 9. 89-Cody Darrah[8] ; 10. 1-Dale Blaney[10] ; 11. 6H-Kenny Jacobs[9] ; 12. W20-Greg Wilson[12]
C-Main 1 – (10 Laps)
1. 60-Jody Keegan[3] ; 2. 1st-Gary Taylor[2] ; 3. 11H-Shawn Hubler[8] ; 4. 2L-Logan Forler[5] ; 5. 16M-Jim Morris[9] ; 6. 81-Lee Jacobs[4] ; 7. 76-David Jones[13] ; 8. 7-Troy Kingan[15] ; 9. 22R-Ryan Fredericks[14] ; 10. 55F-Taylor Ferns[7] ; 11. 23-Nick Patterson[6] ; 12. 11N-Randy Hannagan[1] ; 13. 94-Ryan Smith[10] ; 14. 91-Cale Thomas[11] ; 15. O8-Dan Kuriger[12] ; 16. D12-Jason Dolick[16]
B-Main 1 – (12 Laps)
1. 16-Stuart Brubaker[4] ; 2. 22X-Brandon Spithaler[5] ; 3. 99-Brady Bacon[6] ; 4. 83M-Broc Martin[11] ; 5. 5T-Travis Philo[10] ; 6. 17-Josh Baughman[8] ; 7. 9-Jordan Ryan[15] ; 8. 27Z-Sean Zemunik[12] ; 9. 8M-TJ Michael[16] ; 10. 97-Dean Jacobs[1] ; 11. 17W-Bryan Clauson[7] ; 12. 70-Roger Crockett[3] ; 13. 71m-Paul May[9] ; 14. 57X-Andrew Palker[2] ; 15. 1st-Gary Taylor[18] ; 16. 60-Jody Keegan[17] ; 17. 4-Danny Smith[14] ; 18. 5AU-Danny Reidy[13]
A-Main 1 – (30 Laps)
1. 93-Sheldon Haudenschild[2] ; 2. 9P-Parker Price-Miller[5] ; 3. 3G-James McFadden[3] ; 4. 10H-Chad Kemenah[7] ; 5. 73-Jac Haudenschild[6] ; 6. 89-Cody Darrah[9] ; 7. W20-Greg Wilson[12] ; 8. 6H-Kenny Jacobs[11] ; 9. 59-Danny Holtgraver[1] ; 10. 1-Dale Blaney[10] ; 11. 5-Byron Reed[20] ; 12. 11-Steve Kinser[15] ; 13. 5T-Travis Philo[25] ; 14. 40-Caleb Helms[18] ; 15. 9x-Rob Chaney[8] ; 16. 99-Brady Bacon[23] ; 17. 22X-Brandon Spithaler[22] ; 18. 35AU-Jamie Veal[19] ; 19. 22-Cole Duncan[17] ; 20. 83M-Broc Martin[24] ; 21. 21-DJ Foos[14] ; 22. 45-Tim Shaffer[4] ; 23. 38K-Brad Haudenschild[13] ; 24. 16-Stuart Brubaker[21] ; 25. 48-Danny Dietrich[16]
Current Ohio Sprint Speedweek presented by Cometic Gasket Point Standings (Top-10 as of June 22nd): 1. Sheldon Haudenschild: 588 2. Greg Wilson: 552 3. Chad Kemenah: 524 4. Dale Blaney: 516 4. Cody Darrah: 516 6. Parker Price-Miller: 514 7. James McFadden: 506 8. Caleb Helms: 480 9. Tim Shaffer: 470 10. Brady Bacon: 458