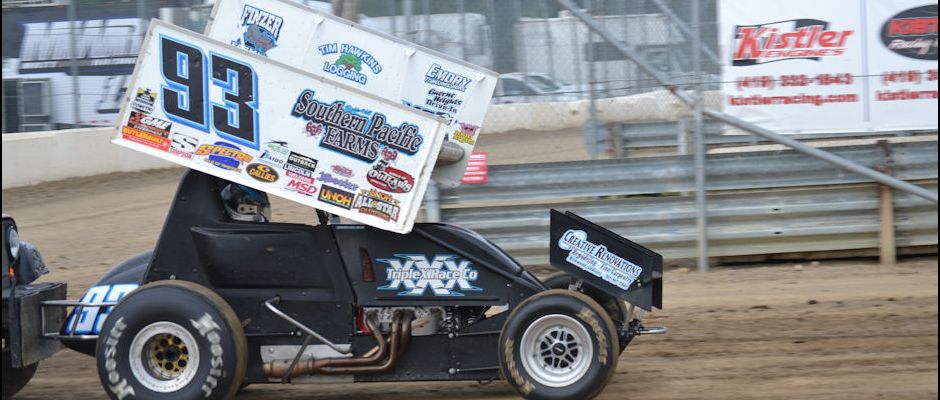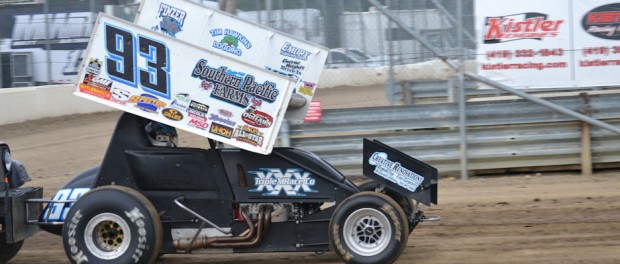 From Tyler Altmeyer
Hartford, OH — (July 11, 2015) — Sheldon Haudenschild earned his third UNOH All Star Circuit of Champions victory of the 2015 season on Saturday night, July 11th at the Sharon Speedway in Hartford, Ohio. Haudenschild, who now has four career UNOH All Star victories to his credit, earned the 7th annual 'Lou Blaney Memorial' worth $10,000 on Saturday night at the Hartford, 3/8-mile dirt oval; becoming the seventh different winner of the prestigious event in sevens years. The Wooster, Ohio native captured the five-digit payday by a nose wing; holding off 'The Kunkletown Kid' Ryan Smith by .021 seconds at the finish. Caleb Helms rounded out the podium finishers.
"I didn't know who was coming or who was behind me" said Sheldon Haudenschild, "I didn't know where Ryan (Smith) was at but it was definitely too close of a finish. I just want to thank Zach, Bonzai, Gary, Mom, Dad, and all of our sponsors. I'm just glad we got the win."
Sheldon Haudenschild and Andrew Palker led the 'Lou Blaney Memorial' field to green. Haudenschild jumped out to the early advantage; leading Andrew Palker and Lee Jacobs for the first five circuits. Ryan Smith, in his familiar Warko Group, Quality Roofing and Supply, # 94, rolled around Lee Jacobs on lap six; chasing down Andrew Palker and race leader Sheldon Haudenschild until the event's first caution on lap seven. The caution flag was flown for Chad Kemenah and Brandon Spithaler who tangled in turn two.
Haudenschild, driving the Southern Pacific Farms, Ham Signs, Callies Performance, # 93, would bring the field back to green with Andrew Palker, Ryan Smith and Lee Jacobs in tow. Those four would race nose to tail until the evening's first red flag was displayed on lap eight for Travis Philo. Philo rolled over between turns one and two; he would walk away unharmed.
Once again, Sheldon Haudenschild brought the field back to green flag conditions ahead of Palker, Smith and Jacobs. Haudenschild would race the next 22 laps without any cautions or interruptions; navigating heavy lapped traffic while being chased by Kunkletown, Pennsylvania's Ryan Smith. The two-time UNOH All Star winner in 2015 made his move into the runner-up spot with 10 laps in the books. Despite Haudenschild's torrid pace through traffic, Ryan Smith never allowed the '93' to stretch his advantage; using all lanes of the racing surface, high and low, to keep up with Haudenschild.
In the mean time, Caleb Helms worked his way into the third position after starting on the inside of the third row. Helms, who was eventually followed by fifth-starter Dale Blaney, joined Ryan Smith in a pursuit to chase down Sheldon Haudenschild, but they would not succeed.
Ryan Smith raced even with Sheldon Haudenschild entering turn one on the final circuit, but fell behind the '93' exiting turn two. The former 'Pennsylvania Posse' regular would then attempt a last-ditch-effort move; diamonding off the corner in turns three and four in an attempt to out drag race Haudenschild to the finish. Haudenschild would hold off Smith's attempt; winning by .021 seconds. Caleb Helms, Dale Blaney and Andrew Palker rounded out the top-five finishers.
It was a near perfect evening for the Sheldon Haudenschild at Sharon Speedway; earning heat race, dash and feature victories.
"This is pretty awesome" said Sheldon Haudenschild, "The 'Lou Blaney Memorial' is definitely turning into a big event. Having Dale Blaney and Dave Blaney both here is awesome. To have the opportunity to race against them is really special; especially at an event honoring their father. This is really something to be proud of."
There were 35 UNOH All Star Circuit of Champions '410' sprint cars checked in on Saturday night at Sharon Speedway. The 35 car entry list was split into four groups of Lincoln Electric qualifying time trials, with each driver qualifying against those in their respective heat race. Cody Darrah, Jack Sodeman, Jr., Tim Shaffer, and Caleb Helms each earned 'fast time' during their group qualifying sessions. Jack Sodeman, Jr. earned the fastest time of the night overall during UNOH All Star Lincoln Electric qualifying; recording an official time of 12.805 seconds around the Sharon Speedway 3/8 -mile dirt oval.
Preliminary action would continue with four, eight-lap UNOH All Star heat races with the top-five finishers transferring to the 30-lap, $10,000-to-win main event. Steve Kinser, Sheldon Haudenschild, Tim Shaffer, and Lee Jacobs each earned victories during heat race competition. The six-lap dash victory went to Sheldon Haudenschild; guaranteeing the pole position for the 'Lou Blaney Memorial' main event. Travis Philo earned the evening's B-main victory; ending all UNOH All Star preliminary competition.
Full Results: Sharon Speedway – Hartford, Ohio – Saturday, July 11th, 2015:
Lincoln Electric Fast Qualifier: Jack Sodeman, Jr. – 12.805
Kistler Racing Products Heat #1: Steve Kinser
All Pro Aluminum Cylinder Heads Heat #2: Sheldon Haudenschild
Hunt Brothers Pizza Heat #3: Tim Shaffer
Kistler Engines Heat #4: Lee Jacobs
JE Pistons Dash: Sheldon Haudenschild
Qualifying
1.25-Jack Sodeman Jr., 12.805; 2.89-Cody Darrah, 12.867; 3.98H-Dave Blaney, 12.927; 4.94-Ryan Smith, 12.950; 5.26-Tayler Malsam, 13.007; 6.45-Tim Shaffer, 13.012; 7.1-Dale Blaney, 13.025; 8.11-Steve Kinser, 13.083; 9.10H-Chad Kemenah, 13.102; 10.93-Sheldon Haudenschild, 13.120; 11.57X-Andrew Palker, 13.167; 12.5T-Travis Philo, 13.183; 13.40-Caleb Helms, 13.196; 14.5K-Adam Kekich, 13.204; 15.9P-Parker Price-Miller, 13.208; 16.10-Carl Bowser, 13.225; 17.7-Eric Williams, 13.238; 18.73-Jac Haudenschild, 13.375; 19.5-Justin Barger, 13.386; 20.81-Lee Jacobs, 13.407; 21.22-Brandon Spithaler, 13.433; 22.13-Brandon Matus, 13.453; 23.O8-Dan Kuriger, 13.486; 24.4-Danny Smith, 13.487; 25.15-Scott Priester, 13.495; 26.16-Jim Morris, 13.505; 27.59-Danny Holtgraver, 13.524; 28.49-Cole Duncan, 13.534; 29.W20-Greg Wilson, 13.623; 30.7K-Dan Shetler, 13.735; 31.46-Michael Bauer, 13.917; 32.33-Brent Matus, 14.101; 33.4W-Eric Williams, 14.214; 34.57-Gary Edwards, 14.322; 35.76-David Jones, 14.355;
Heat 1, Group A – (8 Laps)
1. 11-Steve Kinser[1] ; 2. 94-Ryan Smith[2] ; 3. 89-Cody Darrah[4] ; 4. 10H-Chad Kemenah[5] ; 5. 98H-Dave Blaney[3] ; 6. 5T-Travis Philo[6] ; 7. 13-Brandon Matus[8] ; 8. 10-Carl Bowser[7] ; 9. 33-Brent Matus[9]
Heat 2, Group B – (8 Laps)
1. 93-Sheldon Haudenschild[2] ; 2. 57X-Andrew Palker[1] ; 3. 25-Jack Sodeman Jr.[4] ; 4. 26-Tayler Malsam[3] ; 5. 7-Eric Williams[6] ; 6. 5-Justin Barger[7] ; 7. 9P-Parker Price-Miller[5] ; 8. 4-Danny Smith[8] ; 9. 15-Scott Priester[9]
Heat 3, Group C – (8 Laps)
1. 45-Tim Shaffer[4] ; 2. 1-Dale Blaney[3] ; 3. 22-Brandon Spithaler[1] ; 4. 59-Danny Holtgraver[6] ; 5. 5K-Adam Kekich[2] ; 6. 16-Jim Morris[5] ; 7. 57-Gary Edwards[8] ; 8. 4W-Eric Williams[7] ; 9. 76-David Jones[9]
Heat 4, Group D – (8 Laps)
1. 81-Lee Jacobs[2] ; 2. 40-Caleb Helms[4] ; 3. 73-Jac Haudenschild[3] ; 4. W20-Greg Wilson[6] ; 5. 49-Cole Duncan[5] ; 6. O8-Dan Kuriger[1] ; 7. 7K-Dan Shetler[7] ; 8. 46-Michael Bauer[8]
Dash 1 (6 Laps)
1. 93-Sheldon Haudenschild[2] ; 2. 57X-Andrew Palker[1] ; 3. 94-Ryan Smith[3] ; 4. 81-Lee Jacobs[5] ; 5. 40-Caleb Helms[6] ; 6. 1-Dale Blaney[7] ; 7. 25-Jack Sodeman Jr.[4] ; 8. 89-Cody Darrah[8] ; 9. 11-Steve Kinser[9] ; 10. 45-Tim Shaffer[10]
B-Main 1 – (12 Laps)
1. 5T-Travis Philo[1] ; 2. 5-Justin Barger[4] ; 3. 10-Carl Bowser[3] ; 4. O8-Dan Kuriger[6] ; 5. 15-Scott Priester[8] ; 6. 4-Danny Smith[7] ; 7. 13-Brandon Matus[5] ; 8. 7K-Dan Shetler[10] ; 9. 16-Jim Morris[9] ; 10. 57-Gary Edwards[14] ; 11. 46-Michael Bauer[11] ; 12. 4W-Eric Williams[13] ; 13. 33-Brent Matus[12] ; 14. 9P-Parker Price-Miller[2] ; 15. 76-David Jones[15]
A-Main 1 – (30 Laps)
1. 93-Sheldon Haudenschild[1] ; 2. 94-Ryan Smith[3] ; 3. 40-Caleb Helms[5] ; 4. 1-Dale Blaney[6] ; 5. 57X-Andrew Palker[2] ; 6. 81-Lee Jacobs[4] ; 7. 11-Steve Kinser[9] ; 8. 89-Cody Darrah[8] ; 9. 45-Tim Shaffer[10] ; 10. 73-Jac Haudenschild[12] ; 11. 59-Danny Holtgraver[15] ; 12. W20-Greg Wilson[16] ; 13. 5-Justin Barger[22] ; 14. 10H-Chad Kemenah[13] ; 15. 26-Tayler Malsam[14] ; 16. 5K-Adam Kekich[19] ; 17. 7-Eric Williams[18] ; 18. O8-Dan Kuriger[24] ; 19. 10-Carl Bowser[23] ; 20. 49-Cole Duncan[20] ; 21. 22-Brandon Spithaler[11] ; 22. 25-Jack Sodeman Jr.[7] ; 23. 98H-Dave Blaney[17] ; 24. 5T-Travis Philo[21]