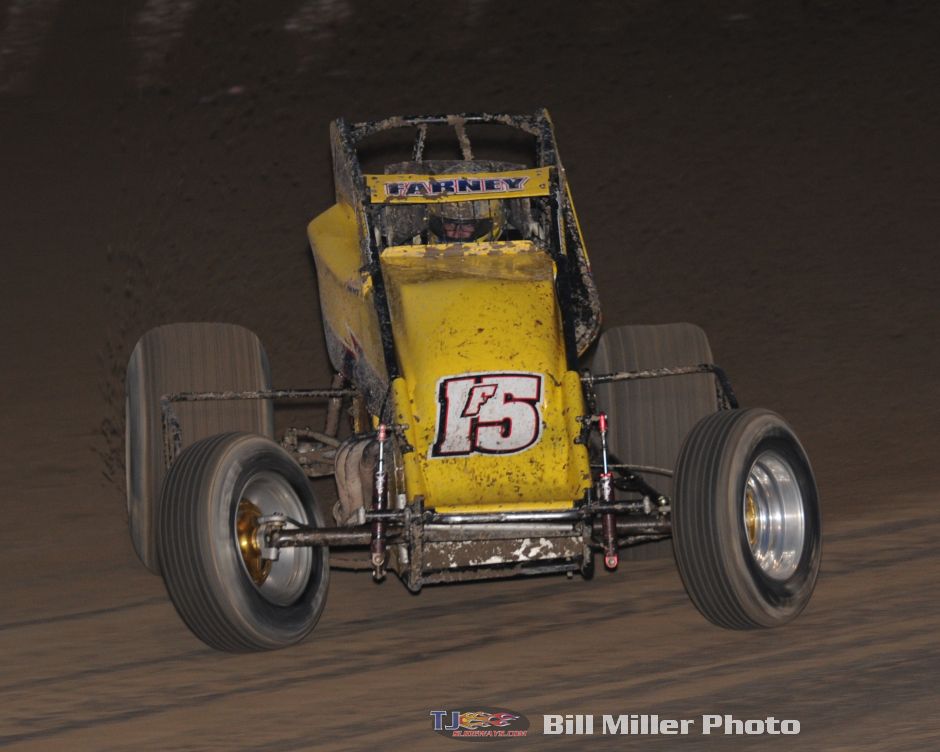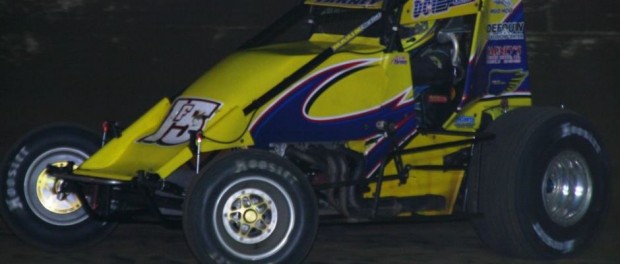 By Dick Jordan
Terre Haute, IN — (July 15, 2015) — Aaron Farney completed a dominant, wire-to-wire first career win in Wednesday night's "Don Smith Classic" at the Terre Haute Action Track. The 19-year-old from Brookston, Indiana ran the extreme high side of the vaunted half-mile and continually pulled away from the field, slicing through lapped traffic and capping it off with a spiritied fist pump at the finish line after a 5.193-second victory in the DCT Motorsports – Brettnacher Farms #15F Maxim/Ott.
"It means the world to me. I can't believe it. The whole race, I just thought someone would be there every time I screwed up. I hit the wall too many times, and luckily it always bounced just right. To say that I won at Terre Haute is amazing, and to do it on the fence. I can't even explain it. I can't thank Robert Ballou enough. He sets up my car and tries to teach me how to do this right. He told me it would be up there, and I have had to learn how to run a cushion. I knew had to get through traffic quickly, so I tried to be as aggressive as possible. It's not easy in USAC, and I never would have thought it would come this fast, or especially at this track," Farney said.
Farney took the lead from the pole, as Chad Boespflug took second and Robert Ballou jumped all the way to fourth from ninth on the opening lap, sneaking past Justin Grant for third right after. A pair of cautions after four laps were complete showed that Ballou was strong, as he was attacking for second on both restarts.
Ballou slid to the second spot on the restart on lap four, and he took off after Farney for the lead. The lead duo took off and checked out on the field, as the race went past halfway in a torrid pace. Farney was flawless as he encountered traffic, making huge runs on the backmarkers to put some distance between himself and Ballou.
A red flag for Thomas Meseraull with 13 laps to go set up a run to the checkered, as Farney had one lapped car between himself and Ballou. He cleared that one quickly, but Farney was running high and hard down the stretch. He continually entered up in the fluff of turn-one and kissed the concrete in turn-two on multiple occasions.
As Farney pulled away when they hit traffic again, and Ballou had to settle for second in the Blakesley Auto – Twister X #12 Maxim/Ott.
"I couldn't be happier. If I'm ever gonna get beat by anybody, I want it to be him. They're a great family, and they've let me help them with these sprint cars and building their cars and teaching Aaron. I knew on that red that as long as he could keep that thing pointed forward, it was his race to win. He showed up ready to run and run hard tonight, and he had a one-track mind toward the end, trying to knock down laps as fast as he could. I've been there before myself, and I'm glad the rope didn't ever break on him. I know what I've got, probably even before the green drops, and I knew we were a bit too good too early. I'm tickled with a 1-2 finish for us and ready for tomorrow," Ballou said.
Behind the lead duo, it was a great dice for position as Dave Darland used a lower line and a diamond to march his way onto the podium in the Phillips/Curb-Agajanian Motorsports – Trench Shoring #71P DRC/Foxco.
"I found something down through the middle through turns one and two. I kept doing that and using the cushion through turns three and four. I had to experiment a lot to find where my car wanted to work the best, and we took advantage of the last restart to pass some cars. We got a terrible start and had to work our way forward, one time going three-wide to get to the top-five. We were strong late, so we salvaged a pretty good finish out of it," Darland said.
Boespflug held on for fourth in the Amati Racing – Marion Underground Construction #66 DRC/Dynotech, and Chase Stockon drove his way into the top-five from 13th in the Superior Tank & Trailer – Crescent Electric Supply #32 DRC/Fisher.
Mitch Wissmiller started the night by setting the ProSource "Fast Time Award" but fell out of the feature early in the going. Scotty Weir earned the American Racing Ministries "Perseverance Award" as the final transfer out of the Semi-Feature. Shane Cottle earned the night's B&W Auto Mart "Hard Charger Award" as he came from 21st up to tenth.
AMSOIL USAC NATIONAL SPRINT CAR RACE RESULTS: July 15, 2015 – Terre Haute, Indiana – Terre Haute Action Track – 28th "Indiana Sprint Week" – "Don Smith Classic"
QUALIFICATIONS: 1. Mitch Wissmiller, 1M, Wissmiller-21.361; 2. Jerry Coons Jr., 10E, Edison-21.453; 3. Jarett Andretti, 18, Andretti-21.466; 4. Dave Darland, 71p, Phillips/Curb-Agajanian-21.542; 5. Chad Boespflug, 66, Amati-21.597; 6. Kevin Thomas Jr., 17RW, Dutcher-21.685; 7. Justin Grant, 5, Baldwin-21.690; 8. Aaron Farney, 15F, Farney-21.713; 9. Robert Ballou, 12, Ballou-21.723; 10. Jon Stanbrough, 81, Stanbrough-21.734; 11. Chris Windom, 21x, Pollock-21.778; 12. Kyle Wissmiller, 3x, Simmons-21.809; 13. Bill Rose, 6, Rose-21.817; 14. Brady Short, 11p, Pottorff-21.830; 15. J.J. Hughes, 76, Hughes-21.835; 16. Scotty Weir, 11, Walker-21.871; 17. Landon Simon, 24, LSR-21.885; 18. Chase Stockon, 32, 32TBI-21.892; 19. Carson Short, 21, Short-21.905; 20. Brady Bacon, 69, Dynamics-21.920; 21. Hunter Schuerenberg, 2E, Epperson-21.923; 22. Lee Dakus, 75, Dakus-21.925; 23. Kent Christian, 1c, Christian-21.935; 24. Logan Jarrett, 29, Jarrett-21.938; 25. Shane Cottle, 17, McGhee-21.969; 26. Jake Swanson, 92, Sertich-22.021; 27. Cole Ketcham, 41x, Ketcham-22.088; 28. C.J. Leary, 30, Leary-22.106; 29. Casey Shuman, 2x, Barnhill-22.310; 30. Chris Babcock, 35, Babcock-22.387; 31. Kurt Gross, 1x, Gross-22.440; 32. Josh Hodges, 4, THR/Hodges-22.520; 33. Thomas Meseraull, 39, Goodnight-22.853; 34. Robert Bell, 71, Bell-23.708; 35. Tony DiMattia, 50, DiMattia-23.788; 36. Nathan Moore, 48, Moore-NT; 37. Shelby VanGilder, 22V, VanGilder-NT.
FIRST HEAT: (8 laps) 1. Ballou, 2. Schuerenberg, 3. Boespflug, 4. Simon, 5. M.Wissmiller, 6. Meseraull, 7. S.Cottle, 8. Rose, 9. Shuman. 2:52.66
SECOND HEAT: (8 laps) 1. Stockon, 2. Stanbrough, 3. K.Thomas, 4. Coons, 5. B.Short, 6. Dakus, 7. Swanson, 8. Babcock, 9. Bell. 2:50.07
THIRD HEAT: (8 laps) 1. C.Short, 2. Windom, 3. Grant, 4. Hughes, 5. Christian, 6. Ketcham, 7. Gross, 8. DiMattia, 9. Andretti, 3:03.96
FOURTH HEAT: (8 laps) 1. Jarrett, 2. Bacon, 3. Farney, 4. Darland, 5. Hodges, 6. Weir, 7. Leary, 8. K.Wissmiller. NT
SEMI: (12 laps) 1. Meseraull, 2. S,Cottle, 3. Andretti, 4. M.Wissmiller, 5. B.Short, 6. Weir, 7. Swanson, 8. Hodges, 9. Leary, 10. Shuman, 11. Ketcham, 12. Rose, 13. Christian, 14. Babcock, 15. K.Wissmiller, 16. DiMattia, 17. Bell, 18. Dakus, 19. Gross. NT
FEATURE: (30 laps) 1. Aaron Farney, 2. Robert Ballou, 3. Dave Darland, 4. Chad Boespflug, 5. Chase Stockon, 6. Jon Stanbrough, 7. Brady Bacon, 8. Justin Grant, 9. Jerry Coons Jr., 10. Shane Cottle, 11. Hunter Schuerenberg, 12. Kevin Thomas Jr., 13. Jarett Andretti, 14. Chris Windom, 15. Scotty Weir, 16. J.J. Hughes, 17. Landon Simon, 18. Logan Jarrett, 19. Thomas Meseraull, 20. Carson Short, 21. Brady Short, 22. Mitch Wissmiller. NT
—————————-
**Bell flipped during the semi. Meseraull flipped on lap 18 of the feature.
FEATURE LAP LEADERS: Laps 1-30 Farney.
NEW AMSOIL NATIONAL SPRINT POINTS: 1-Ballou-1,161, 2-Stockon-1,135, 4-Darland-1,112, 4-Thomas-1,034, 5-Bacon-1,016, 6-Stanbrough-1,013, 7-Tracy Hines-818, 8-Leary-775, 9-Grant-700, 10-Windom-680.
NEW INDIANA SPRINT WEEK POINTS: 1-Ballou-191, 2-Bacon-175, 3-Darland-169, 4-Schuerenberg-150, 5-Thomas-148, 6-Farney-143, 7-Boepflug-140, 8-Grant & Stockon-135, 10-Stanbrough-134.
NEXT AMSOIL NATIONAL SPRINT RACE: July 16 – Putnamville, IN – Lincoln Park Speedway – 28th "Indiana Sprint Week"