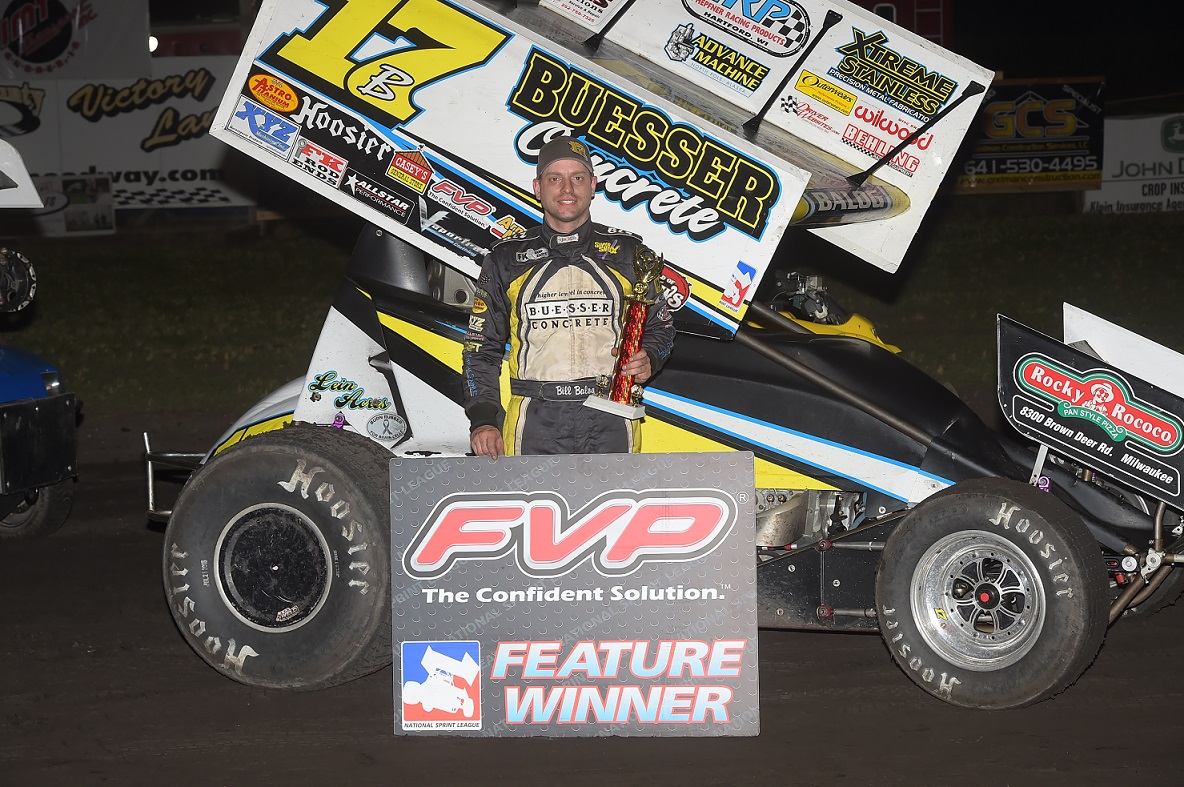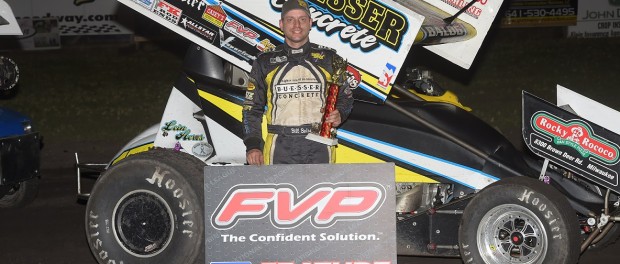 From Bill Wright
Britt, IA — (July 21, 2015) — Bill Balog shook off the bad luck that has plagued him at times this season and recorded his first career feature victory with the FVP National Sprint League Tuesday night at the Hancock County Speedway near Britt, Iowa. The "North Pole Nightmare" almost completed a sweep of the night's events by setting quick time and winning the Dash, needing only a heat win for the sweep. The Brookfield, Wisconsin driver earned $3,000 for his win.
Balog shot out early from his pole position in the 25-lap feature ahead of Ian Madsen and Brian Brown. Tim Kaeding spun while running seventh with two laps in the books, bringing the first of three cautions in the event. Balog used the bottom of the track to increase his lead when the green flag fell again.
With eight laps in the books, Madsen reeled the leader in by using the high side and pulled even with him down the back straightaway. Balog was able to hold his lead in turns three and four, and went to the high side where Madsen was running. He continued to build his lead.
On lap eleven, Danny Lasoski took third from Brown, who would spin while running fourth on lap 17. The caution erased a 2.3 second lead for Balog, who led Madsen, Lasoski, Bryan Clauson and Terry McCarl back to green flag racing.
The seven-time IRA champion was a half lap from victory, when Dakota Hendrickson spun in turn one, setting up a green, white, checker finish. Balog was unfazed, pulling away and winning ahead of Madsen and Lasoski, who earned his sixth straight podium finish. Clauson, Terry McCarl, KSE Hard-charger Mark Dobmeier, Kaeding, Logan Forler, Brown and Brooke Tatnell completed the top ten.
Balog's quick time lap was 14.537 seconds on the 4/10-mile banked oval. Kaeding, Clauson and Terry McCarl won heat races, and Balog took the B. Tasker Phillips and Austin McCarl tangled during their heat race, but both returned for the main event.
"This is awesome," said Balog in Victory Lane. "Something finally went our way. We had a couple restarts, and I was worried about Ian getting me on the other end. I have to thank Buesser Concrete. We're against some great competition out here this year, and they've stuck by me all these years. We played our cards right tonight."
"I tried everything I could," added Madsen. "We just got beat by the better team tonight. Congratulations to him. He's done an awesome job lately, and is fast wherever he goes. It was an awesome night for our team. We're really getting into a rhythm here with the Nehring Construction KCP Racing team. I knew the top was coming in. I probably showed that to Bill a bit. We just got beat. That's all you can say."
"They did a great job, both of them," said Lasoski of Balog and Madsen. "I was hoping they'd get to racing each other and leave a spot open. They did a good job. We did a great job running third. We weren't quite where we needed to be, but we'll be back tomorrow."
FVP National Sprint League "Fair Speedweek" rolls on Wednesday, July 22 at the Iowa State Fair Speedway in Des Moines, and then moves to Jackson Speedway in Minnesota on Thursday, July 23. The NSL will finish this weekend at Huset's Speedway near Brandon, South Dakota on Sunday, July 26. For more information on the FVP National Sprint League, visit www.NationalSprintLeague.com!
Results from Hancock County Speedway
FVP A main (25 Laps): 1. 17B, Bill Balog, Brookfield, WI [1]; 2. 18, Ian Madsen, St. Mary's, NSW, Aust. [2]; 3. 2, Danny Lasoski, Dover, MO [6]; 4. 17W, Bryan Clauson, Noblesville, IN [7]; 5. 24, Terry McCarl, Altoona, IA [4]; 6. 13, Mark Dobmeier, Grand Forks, ND [12]; 7. 3, Tim Kaeding, San Jose, CA [5]; 8. 2L, Logan Forler, Boise, ID [8]; 9. 21, Brian Brown, Grain Valley, MO [3]; 10. 55, Brooke Tatnell, Sans Souci, NSW, Aust. [15]; 11. 7, Kaley Gharst, Decatur, IL [17]; 12. 12, Lynton Jeffrey, Prairie City, IA [11]; 13. 81, Austin Johnson, Pleasant Hill, IA [9]; 14. 7TAZ, Tasker Phillips, Pleasantville, IA [16]; 15. 09, Matt Juhl, Sioux Falls, SD [18]; 16. 5H, Dakota Hendrickson, Omaha, NE [10]; 17. 44, Chris Martin, Ankeny, IA [14]; 18. 17A, Austin McCarl, Altoona, IA [13] DNS – Brandon Stevenson. Lap Leader: Balog 1-25. KSE Hard-charger: Dobmeier.
Fuel Safe Dash (started), 6 Laps: 1. Bill Balog [1]; 2. Ian Madsen [2]; 3. Brian Brown [3]; 4. Terry McCarl [6]; 5. Tim Kaeding [7]; 6. Danny Lasoski [8]; 7. Bryan Clauson [4]; 8. Logan Forler [5]
DMI Heat one (started), 8 Laps: 1. Tim Kaeding [3]; 2. Danny Lasoski [4]; 3. Mark Dobmeier [1]; 4. Matt Juhl [6]; 5. Dakota Hendrickson [2]; 6. Brooke Tatnell [5]
Kaeding Performance Heat two (started), 8 Laps: 1. Bryan Clauson [4]; 2. Lynton Jeffrey [1]; 3. Logan Forler [3]; 4. Austin Johnson [2]; 5. Chris Martin [5]; 6. Kaley Gharst [6]
Maxim Racing Heat three (started), 8 Laps: 1. Terry McCarl [1]; 2. Ian Madsen [3]; 3. Brian Brown [2]; 4. Bill Balog [4]; 5. Austin McCarl [5]; 6. Tasker Phillips [6] DNS – Brandon Stevenson
The Minnesota Mafia Time Trials (Qualifying Order), 2 Laps: 1. Bill Balog, 14.537 [2]; 2. Bryan Clauson, 14.584 [7]; 3. Danny Lasoski, 14.684 [19]; 4. Ian Madsen, 14.869 [14]; 5. Logan Forler, 14.873 [5]; 6. Tim Kaeding, 14.911 [8]; 7. Brian Brown, 14.979 [4]; 8. Austin Johnson, 14.996 [6]; 9. Dakota Hendrickson, 15.036 [3]; 10. Terry McCarl, 15.037 [11]; 11. Lynton Jeffrey, 15.079 [13]; 12. Mark Dobmeier, 15.137 [18]; 13. Austin McCarl, 15.299 [15]; 14. Chris Martin, 15.323 [9]; 15. Brooke Tatnell, 15.422 [16]; 16. Tasker Phillips, 15.446 [10]; 17. Kaley Gharst, 15.550 [1]; 18. Matt Juhl, 15.739 [17]; 19. Brandon Stevenson, NT [12]
Contingencies
Minnesota Mafia Quick Time – Bill Balog
Fuel Safe Dash – Bill Balog
DMI Heat – Tim Kaeding
Kaeding Performance Heat – Bryan Clauson
Maxim Racing Heat – Terry McCarl
Speedway Graphics "From the Tail Award" – Matt Juhl
KSE Hard-charger Award – Mark Dobmeier
Bell Helmets "Hard Luck Award" – Brandon Stevenson
Brown & Miller Racing Solutions "3 for 3 Award" – Danny Lasoski