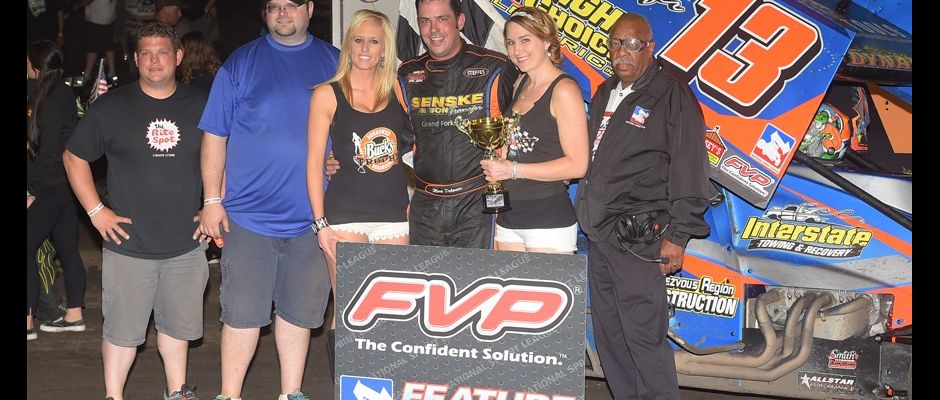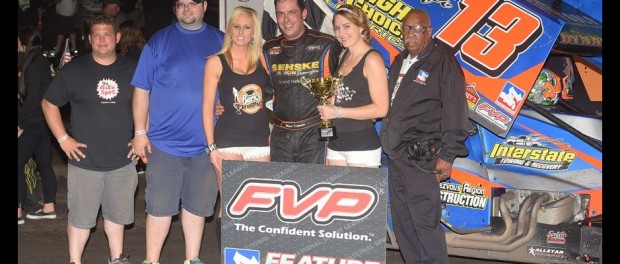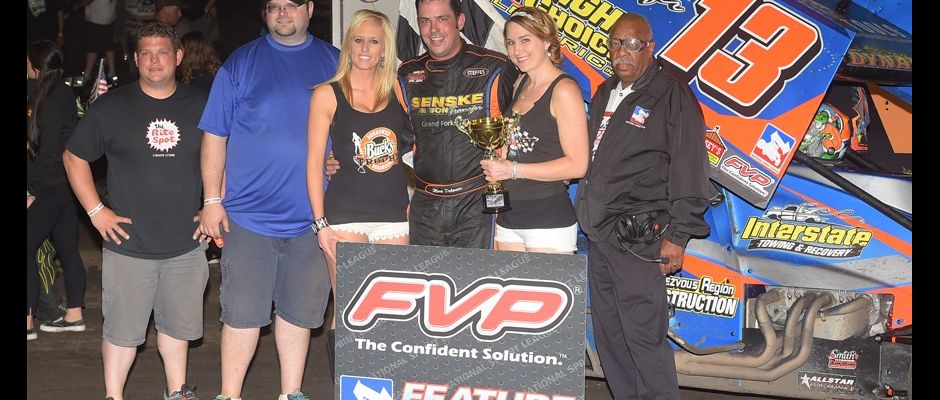 From Bill Wright
Brandon, SD — (July 26, 2015) — Mark Dobmeier notched his 60th career feature win at Huset's Speedway near Brandon, South Dakota on Sunday night, and in turn, posted his second FVP National Sprint League victory of 2015. The win was worth $3,000 and came aboard the Jimco Racing #13. The Grand Forks, North Dakota driver is second on the all-time feature winners' list at Huset's. Dobmeier also donated $500 of his winnings to four year old Emmett Zoor, who is battling Rhabdomyosarcoma and was in attendance at Huset's. A large donation was made to the Zoor family, thanks to drivers and fans.
It was Dusty Zomer who led early in the 35-lap feature event ahead of Dobmeier and Matt Juhl. By lap three, Danny Lasoski moved past Ian Madsen to take over the fourth spot. Things came to a halt with six laps in the books, when Thomas Jeffrey flipped in turn two. He was uninjured. Zomer led Dobmeier, Juhl, Lasoski and Madsen back to green. Meanwhile, Bill Balog, who had advanced to seventh needed attention to the front axle in the work area.
Zomer shot out in clean air, while Lasoski disposed of Juhl and took third on lap 15. Two laps later, Eric Schulz spun, bringing the caution. Dobmeier had reeled in Zomer, but the leader was getting through lapped traffic in good order. Madsen moved into fourth on the restart.
Zomer was back in heavy lapped traffic by lap 25, and Dobmeier was in position to pounce. On lap 26, when Zomer was briefly stuck behind a lapper, Dobmeier made his move on the low side of turn two to slide in front of him for the lead. When Tasker Phillips stopped on lap 32, Dobmeier had pulled away out front. One last red flag for Joe Riedel didn't deter Dobmeier from getting the win.
Dobmeier would lead Zomer, Lasoski, and Bryan Clauson, who passed Madsen for fourth with two to go, to the stripe. Tim Kaeding, Logan Forler, Terry McCarl, Lynton Jeffrey and Juhl rounded out the top ten. Jeffrey set quick time on the 3/8-mile oval at 10.642 seconds. Kaeding, Balog and Terry McCarl won heat races. Dylan Peterson got upside down in his heat, but returned for the feature, as did Brooke Tatnell and Terry McCarl who made engine changes.
"It feels great," said Dobmeier in Victory Lane. "That race was about patience. I was right behind him, but (Zomer) was setting a fast pace. I could hardly stay with him. My only chance was getting to lapped cars when he would have to move around a little bit. I tried staying right on him until I could capitalize on it."
"It's all it takes is one car to slow your pace up," said Zomer. "Mark is a good driver here. He's definitely a guy to beat here. I was happy to run well. My hat's off to my crew guys. They've been working hard all week. We just came up one spot short. There were a couple errors on my part. We'll work on it, and hopefully, just keep getting better."
"You had one try at those guys in one and two, then you had to get up top," said Lasoski. "The track was too good up there. Turn three really wasn't that bad. I just like to see all these folks out here enjoying this race. I can't wait to come back."
The FVP National Sprint League will compete in the "Road to Knoxville" event also featuring the Lucas Oil ASCS National Series at the I-80 Speedway near Greenwood, Nebraska this Thursday, July 30 and Friday, July 31. NSL events will pay $5,000 to the winner Thursday, and $10,000 to Friday's winner! There is a $20,000 bonus for sweeping all four sprint car features. For more information on the FVP National Sprint League, visit www.NationalSprintLeague.com!
Results from Huset's Speedway
FVP A main (started), 35 Laps; 1. 13, Mark Dobmeier, Grand Forks, ND [3]; 2. 82, Dusty Zomer, Sioux Falls, SD [1]; 3. 2, Danny Lasoski, Dover, MO [4]; 4. 17w, Bryan Clauson, Noblesville, IN [7]; 5. 18, Ian Madsen, St. Mary's, NSW, Aust. [5]; 6. 3, Tim Kaeding, San Jose, CA [14]; 7. 2L, Logan Forler, Boise, ID [13]; 8. 24, Terry McCarl, Altoona, IA [10]; 9. 12, Lynton Jeffrey, Prairie City, IA [6]; 10. 09, Matt Juhl, Tea, SD [2]; 11. 17B, Bill Balog, Brookfield, WI [11]; 12. 21, Brian Brown, Grain Valley, MO [8]; 13. 14, Jody Rosenboom, Rock Rapids, IA [15]; 14. 7TAZ, Tasker Phillips, Pleasantville, IA [9]; 15. 55, Brooke Tatnell, Sans Souci, NSW, Aust. [24]; 16. 25, Dylan Peterson, Sioux Falls, SD [18]; 17. 17, Ryan Bickett, Ramona, SD [12]; 18. 23s, Stu Snyder, Waverly, NE [17]; 19. 101, Chuck McGillivray, Madison, SD [20]; 20. 51, Andy Anderson, Brandon, SD [22]; 21. 15, Joe Riedel, Ramona, SD [16]; 22. 4x, Eric Schulz, Sioux Falls, SD [19]; 23. 41A, Andee Beierle, Bismarck, ND [25]; 24. 1, Justin Glaser, Sioux Falls, SD [26]; 25. 4K, Thomas Jeffrey, Kelleyville, NSW, Aust. [21]; 26. 17A, Austin McCarl, Altoona, IA [23]. Lap Leaders: Zomer 1-25, Dobmeier 26-35. KSE Hard-charger: Tatnell.
Fuel Safe Heat one (started), 10 Laps: 1. Tim Kaeding [1]; 2. Ryan Bickett [2]; 3. Brian Brown [4]; 4. Dusty Zomer [5]; 5. Tasker Phillips [3]; 6. Stu Snyder [6]; 7. Chuck McGillivray [7]; 8. Austin McCarl [8]
DMI Heat two (started), 10 Laps: 1. Bill Balog [2]; 2. Mark Dobmeier [3]; 3. Matt Juhl [4]; 4. Danny Lasoski [5]; 5. Joe Riedel [6]; 6. Eric Schulz [7]; 7. Andy Anderson [8]; 8. Justin Glaser [9]; 9. Brooke Tatnell [1]
Kaeding Performance Heat three (started), 10 Laps: 1. Terry McCarl [2]; 2. Ian Madsen [3]; 3. Bryan Clauson [4]; 4. Logan Forler [1]; 5. Lynton Jeffrey [5]; 6. Jody Rosenboom [6]; 7. Thomas Jeffrey [8]; 8. Andee Beierle [9]; 9. Dylan Peterson [7]
The Minnesota Mafia Time Trials (Qualifying Order), 2 laps: 1. Lynton Jeffrey, 10.642 [18]; 2. Danny Lasoski, 10.759 [22]; 3. Dusty Zomer, 10.785 [7]; 4. Bryan Clauson, 10.790 [3]; 5. Matt Juhl, 10.839 [23]; 6. Brian Brown, 10.847 [19]; 7. Ian Madsen, 10.882 [24]; 8. Mark Dobmeier, 10.940 [26]; 9. Tasker Phillips, 10.943 [13]; 10. Terry McCarl, 10.987 [8]; 11. Bill Balog, 11.003 [17]; 12. Ryan Bickett, 11.038 [9]; 13. Logan Forler, 11.064 [10]; 14. Brooke Tatnell, 11.086 [1]; 15. Tim Kaeding, 11.152 [25]; 16. Jody Rosenboom, 11.181 [2]; 17. Joe Riedel, 11.194 [12]; 18. Stu Snyder, 11.250 [15]; 19. Dylan Peterson, 11.278 [4]; 20. Eric Schulz, 11.451 [20]; 21. Chuck McGillivray, 11.512 [14]; 22. Thomas Jeffrey, 11.522 [21]; 23. Andy Anderson, 11.571 [11]; 24. Austin McCarl, 11.577 [6]; 25. Andee Beierle, 11.805 [16]; 26. Justin Glaser, 11.869[5]
Contingencies
Minnesota Mafia Quick Time – Lynton Jeffrey
Fuel Safe Heat – Tim Kaeding
DMI Heat – Bill Balog
Kaeding Performance Heat – Terry McCarl
Maxim Driver of the Night – Brooke Tatnell
Speedway Graphics "From the Tail Award" – Andee Beierle
KSE Hard-charger Award – Brooke Tatnell
Bell Helmets "Hard Luck Award" – Joe Riedel