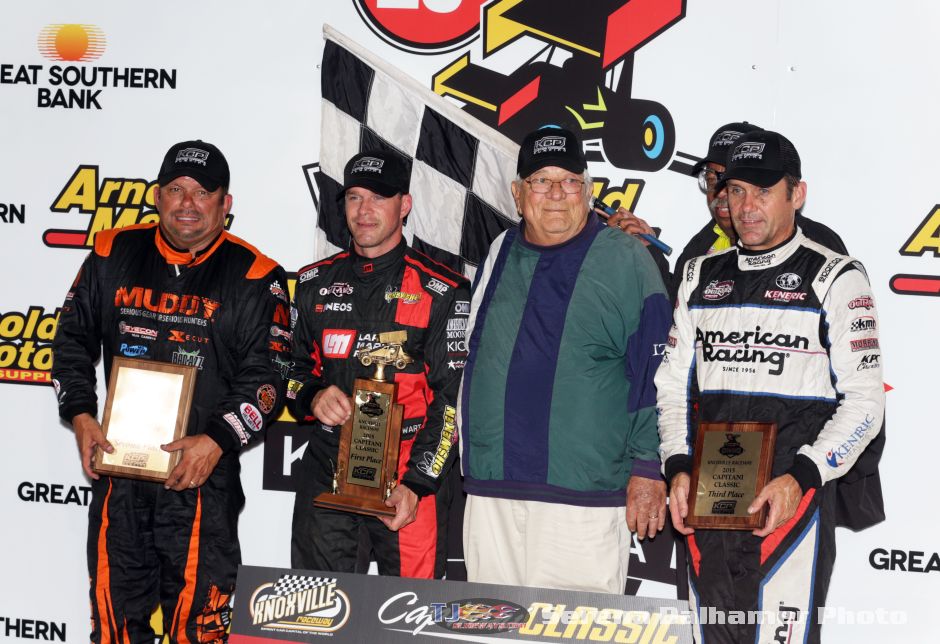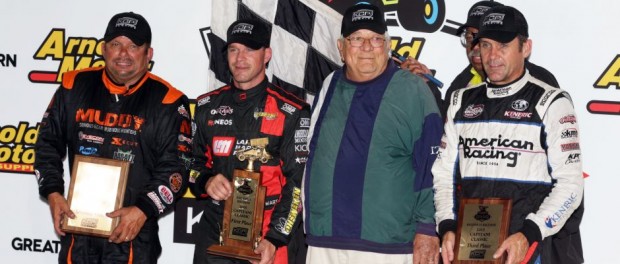 By T.J. Buffenbarger
Knoxville, IA — (August 11, 20150 — After a 10 year hiatus from the Knoxville Raceway I returned to witness Donny Schatz making one of the more inspired drives I have ever seen in sprint car racing winning the FVP Knoxville Nationals finale after transferring from the B-Main in 2013. Last year Brian Brown was able to capitalize on a rare Schatz bobble to take the lead during the 2014 finale, only to make one small mistake that Schatz capitalized on to take the lead back for good. Those type of performances combined with winning eight of the last nine Saturday features including four in a row Schatz the undeniable favorite this year at Knoxville.
If you are looking for likely challengers to Schatz for the 2015 Nationals title look no further than the drivers finished on the podium during Sunday's Capitani Classic: Shane Stewart, Danny Lasoski, and Kerry Madsen.
Stewart has run well all season, but kicked it into another gear following his weekend sweep of the Kings Royal in July. Since that even Stewart has been the only full time Outlaw driver to beat Schatz. Regional drivers and Mother Nature being the only things that have slowed down this duo of Outlaw drivers since the Royal. Stewart commented following his Ironman 55 victory last Saturday that the Larson/Marks team has worked hard on making their car better during the later portion of events. This is something Schatz has done for several seasons, but Stewart's team appears to be gaining on Schatz and Tony Stewart Racing. What remains to be seen is if their hard work has helped closed that gap on what might be Schatz's strongest race track.
Before winning his first of four Knoxville Nationals championships while being a full time driver on the World of Outlaws tour Danny Lasoski found himself as the Knoxville Raceway weekly competitor with the best chance at winning the Nationals. Lasoski is likely in the same position again in 2015. Paired with car owner Tod Quiring this season Lasoski might be in his best position in several years to win a Nationals title. Lasoski has an insurmountable lead in the Knoxville Raceway point standings to capture the 10th Knoxville track championship of his career. With 10 wins in 39 starts overall this season Lasoski is once again in the conversation of top contenders for this year's Nationals.
Kerry Madsen might be the most unlikely of the trio to be listed in this article. With no feature victories this season picking Madsen as a favorite to win the Nationals might seem far fetched. Madsen and the Keneric Racing team have recently picked up the pace with a strong showing at the Iron Man 55. Madsen is a driver that seems to rise to the occasion at the big races no matter how good or bad his season is going.
It would also be easy to make cases for Brad Sweet, Daryn Pittman, Dale Blaney, Greg Hodnett, Brian Brown, Justin Henderson and several other drivers. No matter who the case is made for Schatz is still the favorite going into this year's Nationals. Earlier this year Schatz picked up his 12th World of Outlaws feature win of the season during the series' only other appearance at Knoxville this year. Schatz has also won two of the last three World of Outlaws features.
Early Wednesday morning notes:
Bernie Stuebgen from Indy Race Parts became a little busier this week as Jac Haudenschild will drive a third car for the team at the Nationals. Haudenschild will drive the Jason Leffler tribute car that Kevin Swindell piloted early this year. Swindell will drive a different entry for Stuebgen while also fielding a Nationals effort for Tyler Courtney.
Wednesday is always our busiest day at the Nationals. At 10:30 a.m. T.J. will host a fan forum about the Pay Less Little 500 with winning car owner Jason Goacher at the National Sprint Car Hall of Fame and Museum Theater on the second floor. The Third Annual Weld Racing Go-Kart Spectatular also takes place on Wednesday at 2:00 p.m. at the Slideways Karting Center (note: Slideways Karting Center and TJSlideways.com are not affiliated).