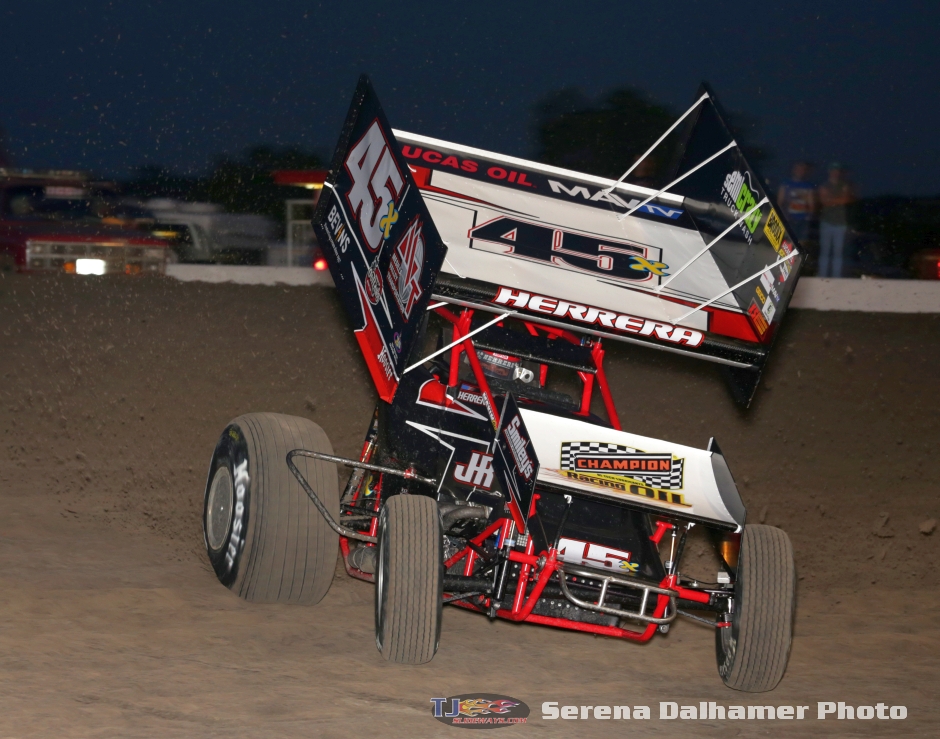 By Bryan Hulbert
AZTEC , N.M. (October 3, 2015) If Johnny Herrera's first win after the loss of his Father was emotional, Saturday night at the Aztec Speedway with the ASCS Southwest Region set the record as the No. 45x dominated the inaugural Joe Herrera Memorial.
In tears, Herrera thanked the fans, his family, and the staff of the Aztec Speedway for hosting his Father's memorial race.
Having to repeat the start three times after a false start, followed by a crash involving John Carney II, Don Grable, and Jesse Baker, the green flew with Herrera taking advantage of his pole starting position; beating J.T. Imperial to the first two turns.
Caution on Lap 13 for Cody Baker, Imperial looked for the run, but would not be able to keep pace. Challenged by Lorne Wofford, the No. 18 worked the low line to the runner-up spot in the closing laps, but would not be able to run down Herrera who crossed 2.962 seconds ahead of the MTS No. 18.
Involved in the flip on the races second restart, John Carney II was able to return to action and charged from the back to third. Towing 500 miles from Lubbock, Carney picked up an ASCS Hoosier Right Rear from RSS Industries. J.T. Imperial faded back to fourth with Gary Taylor completing the top-five.
James Mosher was the night's Hard Charger in sixth and picked up a certificate from SpeedMart, as well as an ASCS Hoosier Right Rear from RSS Industries. Josh Grady was seventh with Bob Ream, Jr., Josh Hodges and Colt Treharn completing the top-ten.
Bud and Cathy Goodwin also pitched in $100 to the driver who as second in Hard Charger standings. That went to John Carney II. Wesmar Racing Engines donated a Shaver/Wesmar Gear Drive which went to Darrell Sickles.
The ASCS Southwest Region returns to action on Saturday, October 10 at the Arizona Speedway. For continued updates on the ASCS Southwest Region, log onto http://www.ascsracing.com.
Race Results: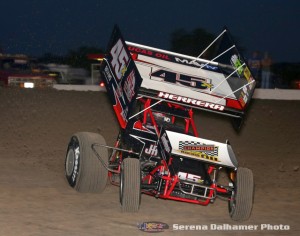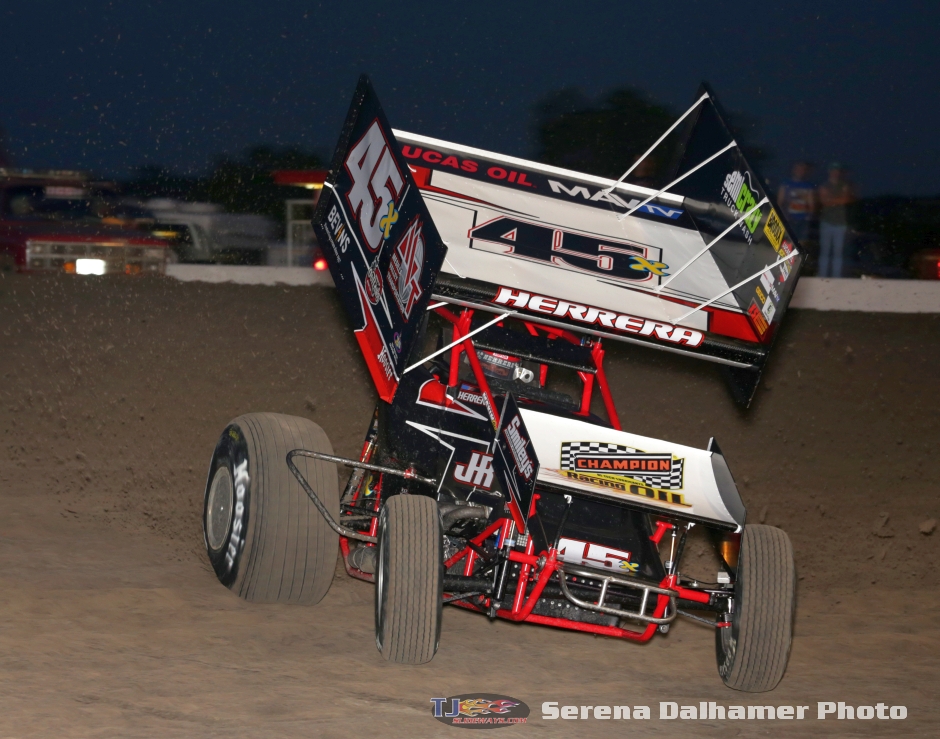 ASCS Southwest Region
Aztec Speedway – Aztec, N.M.
Joe Herrera Memorial
Saturday, October 3, 2015
Car Count: 25
Heat 1 (8 Laps): 1. 18-Lorne Wofford[2]; 2. 40X-Don Grable[1]; 3. 9-Ryan Linder[4]; 4. 91-Casey Buckman[3]; 5. 45-Gary Taylor[8]; 6. 74X-Joshua Hodges[5]; 7. 90-Lance Norick[7]; 8. 14-Cody Sickles[6]; 9. (DNF) 96-Brandon Tubbs[9]
Heat 2 (8 Laps): 1. 74B-John Carney II[2]; 2. 45X-Johnny Herrera[1]; 3. 8-Bob Ream Jr[3]; 4. 22-Jesse Baker[6]; 5. 77-Colt Treharn[7]; 6. 131-Royal Jones[8]; 7. 19-Wes Wofford[4]; 8. 29-Darrell Sickles[5]
Heat 3 (8 Laps): 1. 75X-J.T. Imperial[2]; 2. 12J-Josh Grady[1]; 3. 20Z-Rick Ziehl[3]; 4. 12-James Mosher[5]; 5. 01-Kaylene Verville[7]; 6. 13-Glen Brace[4]; 7. 73-Nick Rael[6]; 8. 49-Chuck Jackson[8]
B Feature (12 Laps): 1. 74X-Joshua Hodges[5]; 2. 77-Colt Treharn[1]; 3. 90-Lance Norick[7]; 4. 131-Royal Jones[4]; 5. 01-Kaylene Verville[2]; 6. 19-Wes Wofford[9]; 7. 91-Casey Buckman[3]; 8. 73-Nick Rael[8]; 9. 14-Cody Sickles[10]; 10. 13-Glen Brace[6]; 11. 29-Darrell Sickles[11]; 12. (DNF) 49-Chuck Jackson[12]; DNS 96-Brandon Tubbs
A Feature (25 Laps): 1. 45X-Johnny Herrera[1]; 2. 18-Lorne Wofford[5]; 3. 74B-John Carney II[7]; 4. 75X-J.T. Imperial[2]; 5. 45-Gary Taylor[9]; 6. 12-James Mosher[12]; 7. 12J-Josh Grady[6]; 8. 8-Bob Ream Jr[10]; 9. 74X-Joshua Hodges[13]; 10. 77-Colt Treharn[14]; 11. 9-Ryan Linder[3]; 12. 20Z-Rick Ziehl[11]; 13. 90-Lance Norick[15]; 14. 19-Wes Wofford[18]; 15. 131-Royal Jones[16]; 16. 73-Nick Rael[20]; 17. 91-Casey Buckman[19]; 18. (DNF) 01-Kaylene Verville[17]; 19. (DNF) 22-Jesse Baker[4]; 20. (DNF) 40X-Don Grable[8]