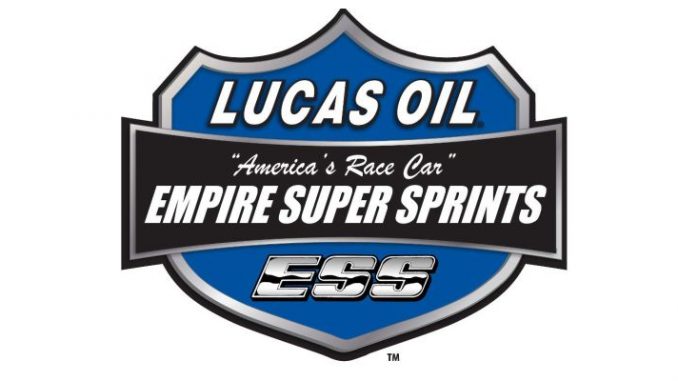 By Dean Reynolds
SYRACUSE, NY – The Lucas Oil Empire Super Sprints (ESS) have many long-time returning sponsors and one is Lonnie Lacaillade and Lacaillade Masonry.  Once again the winner of every B-Main at each full point event will receive a $50 cash bonus.
Lonnie Lacaillade has been a fan of ESS for many years in sponsoring with the club and also drivers such as Lance Yonge and Anthony Cain.  The title sponsorship of the B-Main now dates back to 2013.
The excitement of the last chance race, 10 laps that adds the last four starters to each A-Main.  Thanks to Lonnie it's nice to give a little reward for winning the high pressure event.
Lacaillade Masonry in located in Huntington, Vt., established in 1976.  It does all facets of masonry and stone work throughout the New England area.  Please call (802) 434-5151.
The 33rd. Anniversary Tour will be kicking off next Saturday with the Spring Showdown at Selinsgrove, an open compeition event with added purse being offered before the battle for the Lucas Oil ESS Championship begins Friday, April 22 at the Outlaw Speedway.
Steve Poirier will be looking for his seventh crown but with the likes of Barney, Kinney, Tanner, Hebing, Wickham, Colagiovanni, Axton, Donath, Cook and so many more.  It will be another exciting tour.  It will continue the tradition of excitement guaranteed!
For more Information on the Lucas Oil Empire Super Sprints:
Web: www.empiresupersprints.com
Twitter: @ESSprints
Facebook: https://www.facebook.com/EmpireSuperSprints
Android App: Empire Super Sprints
The Lucas Oil Empire Super Sprints are brought to you by: Lucas Oil, Mach 1 Chassis, Einstein Construction Group, NAPA Auto Parts, Hoosier Racing Tires, Donath Motorworx, Insinger Performance, Car Mate Trailers, SUNY Canton, Fondations 4 Saisons, Beard Sewer and Drain, Cobra Coaches, Westward Painting Company, Fondations 55, E&V Energy, Panther Frameworx, 911 Restoration, YorkMont Auctions, Engler Machine and Tool, Northwood 2 Construction, Brodix Cylinder Heads, Lacaillade Masonry, FX Chevy, ASI Racewear and many, many associate sponsors!!