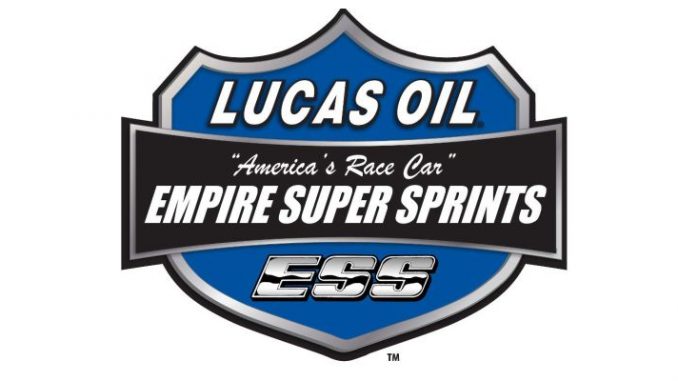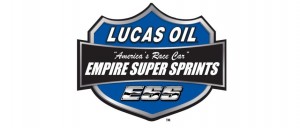 By Dean Reynolds
SYRACUSE, NY – It all started in 1983, the birth of the Empire Super Sprints (ESS) now sponsored by Lucas Oil.  This Friday marks the opener of the 33rd Anniversary Season and it starts at one of the old stomping grounds, the Outlaw Speedway in Dundee, NY.
Outlaw Speedway is under new ownership of Tyler Siri, the Yates County oval has hosted 64 ESS events dating back to 1984 when Lenny Krautheim graced victory lane.  On Friday, the battle for the 2016 Tour Championship begins with a $2,000 to win event and it's all part of the big opening Outlaw Sprint Nationals that kicks off their season as well.
The stars and cars of ESS will be out in force headed by Six-Time Champion Steve Poirier.  His famed #28FM will make the long haul from Quebec.  He will be joined by Jason Barney, Paul Kinney, Matt Tanner, Paulie Colagiovanni, Tommy Wickham, Shawn Donath, Dave Axton, Parker Evans, Denny Peebles, Pete Richardson, Keith Granholm and more.
New for 2016 will see the return of Sammy Reakes IV to the tour, Chad Miller will pilot Lee Gurney's mount for a full tour assault and just announced this week former late model pilot Brandon Kidd will be aboard Doug Emery's #33 at all ESS events.
Many outside travelers and part-time tour followers will fill the pits as well on Friday.  Mark Smith will be aboard Patrick Vigneault's #55, Davie Franek will trek up from New Jersey, the last ESS winner at Outlaw , Jared Zimbardi will make his return, Larry Kelleher, Steve Collins, George Suprick, Dane Lorenc, Dan Douville, Dave Just, Tyler Graves, Paul Habeck, Derrick Juliano and others are expected to see the work Siri has done with his new project.
The Beard Sewer and Drain Timed Hot Laps will be followed by the Car Mate Trailers Heat Events.  Lane's Yamaha will be sponsoring the Cobra Coaches Dash with the Lacaillade Masonry B-Main all leading up to the 25 lap A-Main paying $2,000 to win.
Pit Gates open at 4:30 with racing scheduled to begin at 7:00.
It's the point opener for the Lucas Oil ESS Gang, we are back at in Dundee and the Outlaw Speedway will play host.  Let's kick off 2016 in grand style and it will be excitement guaranteed!!!
Past Empire Super Sprint Winners at Outlaw Speedway.
Aug. 3, 1984
Lenny Krautheim III
May 5, 1985
Gordy Button
July 17, 1987
Mal Lane
Sept. 11, 1987
John Zentner
July 22, 1988
Mal Lane
Aug. 19, 1988
Gordy Button
Sept. 9, 1988
John Brutcher
June 2, 1989
Rick Crane
July 14, 1989
Tom Taber
Aug. 11, 1989
Rob Hart
Sept. 8, 1989
Mal Lane
May 6, 1990
Mal Lane
July 29, 1990
Jeff Thomas
July 5, 1991
Mal Lane
Aug. 9, 1991
Kim Gagliardi
Aug. 30, 1991
Tom Taber
Sept. 20, 1991
Jeff Thomas
May 10, 1992
Jeff Thomas
July 3, 1992
Bobby Parrow
Aug. 7, 1992
Bobby Parrow
Sept. 4, 1992
Bobby Parrow
May 9, 1993
Mal Lane
July 2, 1993
Tom Taber
Aug. 6, 1993
Craig Lane
May 30, 1994
Kramer Williamson
July 3, 1994
Craig Lane
Sept. 4, 1994
Craig Keel
Sept. 8, 1995
Craig Lane
April 20, 1996
Craig Lane
Sept. 6, 1996
Scott Holcomb
Sept. 5, 1997
Tim Kelly
April 18, 1998
Mike Woodring
Sept. 11, 1998
Bobby Parrow
April 30, 1999
Mike Woodring
July 14, 1999
Bobby Parrow
Sept. 10, 1999
Greg Coverdale
Rob Dietrick
Dan Kaszubinski
Sept. 11, 1999
Craig Keel
April 15, 2000
Dan Kaszubinski
July 3, 2000
Mike Woodring
Sept. 8, 2000
Scott Holcomb
Tom Taber
George Suprick
Sept. 9, 2000
George Suprick
July 6, 2001
John Karklin Jr.
Aug. 10, 2001
Randy Years
Sept. 7, 2001
Phil Mott
Sept. 8, 2001
George Suprick
July 5, 2002
Brian Dumigan
Aug. 9, 2002
Mike Lutz
Sept. 6, 2002
Chris Coyle
Dave McGough
Erin Crocker
Sept. 7, 2002
Mike Woodring
April 12, 2003
Mike Lutz
July 4, 2003
John Karklin Jr.
Aug. 8, 2003
Lance Yonge
Sept. 5, 2003
Mike Lutz
Kevin Welsh
Chris Coyle
Sept. 6, 2003
Scott Bonnell
Aug. 14, 2004
Blake Breen
Sept. 10, 2004
Midge Miller
Dave McGough
Curt Michael
Sept. 11, 2004
Trevor Lewis
Aug. 19, 2005
George Suprick
Sept. 10, 2005

Sept. 9, 2006

Apr. 12, 2008

May 9, 2011

July 8, 2011

July 18, 2014

Trevor Lewis

Curt Michael

Justin Barger

JJ Grasso

Chuck Hebing

Jared Zimbardi
For more Information on Outlaw Speedway:
Web: http://www.outlawspeedwayllc.com/
Twitter: @OutlawSpeedPR
Facebook: https://www.facebook.com/OutlawSpeedwayLLC/?fref=ts
For more Information on the Lucas Oil Empire Super Sprints:
Web: www.empiresupersprints.com
Twitter: @ESSprints
Facebook: https://www.facebook.com/EmpireSuperSprints
Android App: Empire Super Sprints
The Lucas Oil Empire Super Sprints are brought to you by: Lucas Oil, Mach 1 Chassis, Einstein Construction, SUNY Canton, NAPA Auto Parts, Hoosier Racing Tires, Donath Motorworx, Insinger Performance, Car Mate Trailers, Fondations 4 Saisons, Beard Sewer and Drain, Cobra Coaches, Westward Painting Company, Fondations 55, E&V Energy, Panther Frameworx, YorkMont Auctions,, Engler Machine and Tool, Northwood 2 Construction,Brodix Cylinder Heads, Lacaillade Masonry, FX Chevy, ASI Racewear and many, many associate sponsors!!