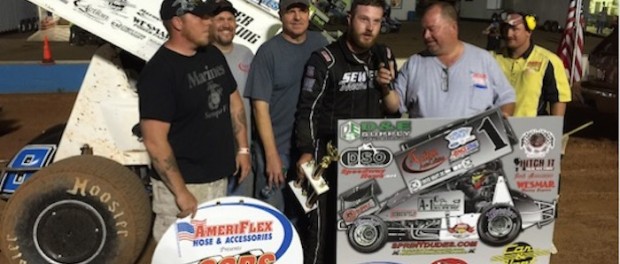 From John Rittenoure
Pocola, OK — (April 23, 2016) — Alex Sewell made it look all to easy Saturday night at Tri-State Speedway.
The Broken Arrow, Oklahoma racer led all 25-laps to win his second consecutive Ameri-Flex Hose and Accessories / Oil Capital Racing Series sprint car main event.
Sewell became the first driver to visit victory lane twice this season and the victory vaulted him from sixth to fourth in Ameri-Flex / OCRS series points.
Sewell raced unchallenged throughout the race and told OCRS announcer John Lemon in victory lane he knew his car was working exceptionally well.
"You can tell when someone is on you and when your car is fast," Sewell said. "I could pretty well drive uncontested. When we got into lapped traffic I got into some cars that were slower then me and I was able to get around them easily."
The only worry Sewell had was when he encountered lapped traffic in the final 10 laps.
"I was worried once when I had to get outside of somebody and chopped their nose off," he recalled. "When you are leading like that you don't know how far out the guy is and you just go hard."
Starting on the pole, Sewell jumped into the early lead with Glen Passmore and Zach Chappell giving chase. Following a lap seven yellow for Alex DeCamp, who could not restart and earned the D&E Supply Hard Luck Award, Chappell charged into second but could not reel Sewell in over the final 17 laps.
Chappell felt a lap two yellow flag hurt his efforts to catch Sewell.
"They are lucky there was a caution on the second lap because I was fixing to check out," Chappell said. "I had the bottom figured out and everyone else was still running the top. You get a caution and the guys in the infield are telling them where to drive.
"But we will take it starting 7th and ending up second.
"We are still trying to figure out this motor and it was running a little hot. But all in all it was a great night."
Johnny Kent ran third using a backup engine and was happy with his finish. Kent was not even expected to run the event after blowing an engine earlier in the season, but thanks to his dad they were able to make the show.
"Dad and one of his buddies, Travis Wilson, got together Sunday and Travis helped us put a bottom end together for us so we could get out here and race," Kent said of his surprise appearance at Tri-State. "We cannot complain. Glad to be back here racing for sure.
"We are going to run this a little bit till we can get our other one put back together.
"We did exactly what we wanted to do and get back here and run in the top five."
Kent blames himself for not being able to challenge Chappell for second.
"We made a little ground up on Zach (Chappell) and I made a few mistakes and missed the bottom a couple of times and gave up everything that I made up," he said. "That is part of it some nights."
Defending champion Robert Sellers made an amazing run from 14th to finish fourth. Sellers had to forfeit his outside front row start and start on the rear after some mechanical issues in the pits forced Sellers crew to work on the car during the pace laps. Sellers was racing hard to make up ground on the start and was up to fifth by the fourth lap. On lap eight Sellers climbed to fourth where he finished.
Whit Gastineau finished fifth after suffering a left rear flat on lap two. With the yellow flag out Gastineau ducked to the work area for a quick tire change and returned to salvage his night.
Ameri-Flex / OCRS Official Results
Tri-State Speedway, Pocola Okla.
Saturday, April 23, 2016
Car count: 14.
(Pos-Car-Driver-Start)
Drive Shafts, Inc. Heat (8 laps)
1, 4X-Robert Sellers[2]. 2, 69-Glen Passmore[4]. 3, 55-Johnny Kent[5]. 4, P78-Perry Pickard[3]. 5, 8J-James Fabian[1]. 6, 3-Brian Gramm[6]. 7, 7D-David Baxter[7].
A1 Machine Shop Heat (8 laps)
1, 8-Alex Sewell[1]. 2, 2W-Whit Gastineau[3]. 3, 50Z-Zach Chappell[5]. 4, 31-Casey Wills[7]. 5, 84-Alex DeCamp[4]. 6, 5-Cameron Hagin[2]. 7, 01-Mike Huard[6].
AmeriFlex Hose & Accessories A Feature (25 laps)
1, 8-Alex Sewell[1]. 2, 50Z-Zach Chappell[7]. 3, 55-Johnny Kent[5]. 4, 4X-Robert Sellers[14]. 5, 2W-Whit Gastineau[3]. 6, 69-Glen Passmore[2]. 7, 31-Casey Wills[4]. 8, 5-Cameron Hagin[9]. 9, P78-Perry Pickard[8]. 10, 3-Brian Gramm[11]. 11, 8J-James Fabian[10]. 12, 01-Mike Huard[12]. 13, 7D-David Baxter[13]. 14, 84-Alex DeCamp[6].
Lap Leaders: Alex Sewell, 1-25.