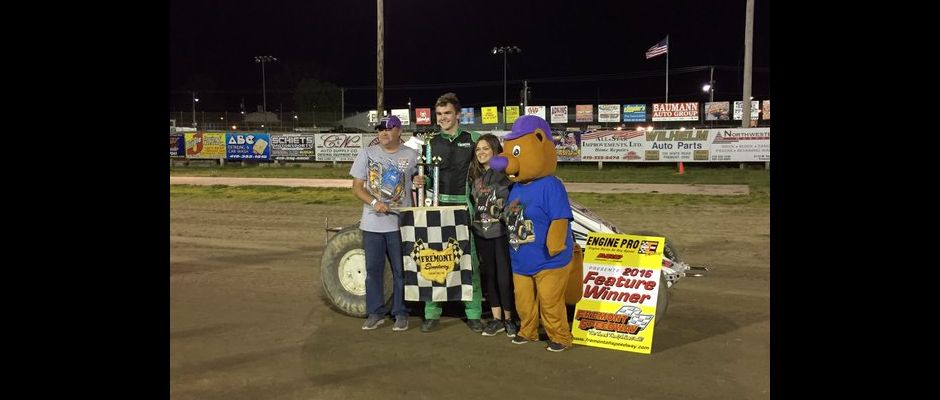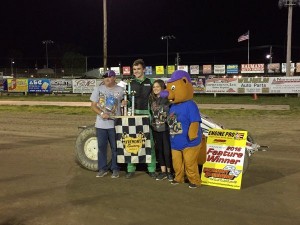 From Brian Liskai
Fremont, OH — (May 7, 2016) — Cooper Clouse and Tyler Gunn tangled battling for the lead of the Rick's Truck & Equipment Buckeye Outlaw Sprint Series (BOSS) season opener at Fremont Speedway Saturday. Gunn would end up on the hook while Clouse would drive to the victory on Smith Family Foods Night.
For the 17-year-old Clouse of Ohio City, Ohio, it was his second career BOSS win and his first at "The Track That Action Built."
"I hate to win like this. I'm sorry guys. I want to offer my truest apologies to Tyler Gunn. My throttle was sticking at the beginning and I know that's why I ended up running the top. I did not mean to do that," said a contrite Clouse in the Engine Pro Victory Lane.
"This is my second win in Ohio. I hate to win this way but I wouldn't want to win any place else but here. I want to thank Hawk Chassis, Burtch Seed, Mark Basab, Craig Critten, SJA Transport and K Buildings," added Clouse.
Bradner, Ohio's Nate Dussel didn't know if he would have a sprint car ride in 2016. After having a very good rookie year in 2015 in the 410 sprints, that team would disband. Dussel and his family decided to put the 305 sprint back together. Then, Nate's dad George suffered health problems that left him clinging for his life. George would not only survive, but was in victory lane Saturday with Nate.
Nate Dussel would execute a spectacular "flier" on leader Jamie Miller on a restart with seven laps to go to take the lead in the Fremont Federal Credit Union 305 Sprint feature. He drove to his 18th career Fremont victory.
"This is 100 percent for my dad. Our family went through the hardest week or two of our lives as he was in a coma. One of the first things he said when he came out is 'we have to race this year.' That's why we're here. Without him and without Al Davis coming on board to help us out and Scott Gressman…Bill Berrier busts his ass all the time for us. We just got Industrial Movers put on the wing…I'm looking forward to having a lot of fun this year," Dussel said beside his Foster Fabrication, Real Geese, Kistler Racing Products, Berrier Custom Fabrication, Al Davis Carpet and Lament, Gressman Powersports backed machine.
"I could just tell Jamie was kind of nursing it through that hole in turn three so I knew that was my best opportunity. I probably wasn't close enough to slide but I knew how much he was slowing up getting in so I figured I'd go for it and at worse he would cross me over," Dussel said about his winning move.
Fremont's Keith Sorg made it three wins in a row behind the wheel of his dirt truck as he won two weeks ago at Fremont, Friday at Attica and now Saturday again at Fremont. He would battle with defending track champion Kent Brewer the entire race before securing the victory in the Burmeister Trophy Dirt Trucks.
"I joked with my wife and kids before I left that if I won again we're burning down the house and roasting marshmallows. I can't believe this is happening," said Sorg beside his Fremont Fence, M&L Excavating, Advanced Auto Parts backed truck.
Last time Ky Harper visited the Engine Pro Victory Lane at Fremont Speedway it was after flipping his late model across the checkers. On Saturday the Delta, Ohio driver took the lead on lap six after a battle with John Brooks and drove to his sixth career Fremont win in the McCullough Industries 602 Late Models.
"I want to give these to my mom for Mother's Day," Harper said handing his mom a bouquet of flowers in victory lane.
"The first week out it wasn't very fast. We broke and had some problems in the heat race but we got it figured out I hope so we can get a lot more of these," added Harper beside his Handy Grafix, Cut Right Lawn Care, Jed's Twist T-Freez, Rocket Chassis, Childress Collision, Classic Industries backed late model.
Clouse and Gunn brought the field to green for the 25 lap BOSS feature but before a lap could be scored a multi-car pile-up involving four cars would necessitate a complete restart. On the next green Brandon Moore would stop bringing about a third try.
When the green flew Clouse would grave the lead with Gunn challenging while Dustin Smith, Michael Fischesser, Cody Gardner and Brian Smith gave chase. The car on the move early was Brandon Spithaler who moved from his 11th starting position to fourth by the second lap.
Clouse and Gunn would battle side by side with Gunn making hard contact with the front stretch wall at one point. That wouldn't slow Gunn who took the lead on lap five with Cooper, Dustin Smith, Spithaler, Fischesser, Brian Smith and Gardner in pursuit.
A caution on lap eight would put Clouse on the rear bumper of Gunn, whose battered sprint car began to exhibit sounds of engine woes. On the restart Clouse would get into the side of Gunn as the pair battled for the lead in turn three, sending Gunn into the outside softwall, ending his night. On the ensuing restart Spithaler and Gardner would get together.
When the green flew again Clouse lead Dustin Smith, Fischesser, Brian Smith, Carmen Perigo and Chris Andrews. Steve Little would bring out another caution a lap later. This time when the green flew Clouse lead Dustin Smith, Fischesser, Perigo, and Brian Smith. Perigo would drive into third on lap 11 with Andrews moving into the top five.
Clouse began to pull away from the field while Perigo took second on lap 15. The leaders would find lapped traffic with eight laps to go with Clouse leading Perigo, Dustin Smith, Shawn Westerfeld (who was involved in the opening lap tangle that sent him to the tail) and Fischesser.
Dustin Smith would stop on the track with six laps to go for the final caution. On the green Clouse would pull away again from Perigo, Westerfeld, Fischesser and Brian Smith. Clouse would drive to the win over Perigo, Westerfeld, Brian Smith and Fischesser.
In the 25 lap 305 sprint feature Frank Neill and Jamie Miller would bring the field to green but before a lapped could be scored Neill would spin on the restart John Ivy would battle with Miller and Trey Jacobs for the lead. Ivy would lead the first two circuits before Miller drove around him with Dussel moving into third.
Just as Miller was preparing to race into heavy lapped traffic on lap 7, Dustin Dinan would bring out the caution. When the green reappeared Miller would lead as Dussel slipped past Ivy for the runner-up spot. Lapped traffic would come into play on lap 12 as Dussel closed on Miller with Ivy, Ricky Peterson, Steve Rando, Paul Weaver and Alvin Roepke in tow.
With 10 laps to go Jason Keckler would make contact with an infield tire, bringing about a caution. The restart order was Miller, Dussel, Ivy, Peterson, Rando, Weaver, Roepke, Matt Foos and Bobby Clark. Kyle Capodice and Keckler would tangle on lap 17, setting up Dussel's winning move.
When the green flew Dussel would drive deep into turn three and slid up in front of Miller for the lead. The only thing that would slow his march to the win was a caution for Brandon Moore on lap 19. On the restart Dussel drove away from Miller, Ivy, Peterson, Clark (up from 16th), Weaver, Rando and Foos.
At the checkers it was Dussel, Miller, Ivy, Peterson and Clark rounding out the top five.
In the 15-lap truck feature, only one caution – on lap four – would slow the race pace. Brad Stuckey would grab the early lead, but Kent Brewer would take the top spot on lap two. Brewer, Stuckey, Keith Sorg and Jim Holcomb would wage a terrific battle over the next hand full of laps. Sorg would take the lead on lap four and he and Brewer would battle the rest of the way.
Sorg would edge Brewer out for the win with Cory McCaughey coming from the tail for third while Stuckey and Jeff Ward rounded out the top five.
After Kyle Dukeshire tumbled to start the late model feature – he was uninjured – John Brooks would capture the lead over Dustin Keegan, Tim Sabo, Harper, Steve Sabo and Matt Shipley. Harper would drive into second on lap 4 and closed quickly on Brooks.
Following a caution on lap five, Harper would drive around Brooks for the lead on the ensuing restart. Only one final caution on lap 10 would stop Harper's march to the win. He would take the checkers ahead of Shipley, Chester Fitch, Brooks and Keegan.
Fremont Speedway will be back in action Saturday, May 14 for the Baumann Auto Group Night. It's the Race Into Summer event with 10,000 free admission tickets distributed to all the schools in Sandusky County.
It will be a Kistler Racing Products FAST Championship Series Presented by KS Sales and Service point night for the Fort Ball Pizza Palace 410 Sprints. It is also a JLH General Contractor 305 FAST Championship Series Presented by Engine Pro point night for the 305 sprints. The late models and dirt trucks are also in action.
For more information go to www.fremontohspeedway.com or like Fremont Speedway on Facebook at www.facebook.com/FremontSpeedway and on Twitter @FremontSpeedway.
Fremont Speedway
Smith Family Foods Night
Saturday, May 7, 2016
Starting Position [*]
BOSS non-wing sprints
Heat 1 – (8 Laps, top 4 to A)
1. 4-Michael Fischesser[1] ; 2. 53-Steve Little[2] ; 3. 46-Cody Gardener[4] ; 4. 08-Andy Feil[5] ; 5. 18-Arnie Kent[9] ; 6. 91x-Aaron Middaugh[7] ; 7. 3-Joe Butera[6] ; 8. 2DI-Dustin Ingle[8] ; 9. 12X-Mike Flynn[3]
Heat 2 – (8 Laps, top 4 to A)
1. 2+-Brian Smith[2] ; 2. 14C-Cooper Clouse[7] ; 3. 82-Mike Miller[6] ; 4. 4J-Justin Owen[4] ; 5. 2-Mike Galajda[1] ; 6. 48M-Mike Moore[3] ; 7. 71-Straton Briggs[5] ; 8. 14-Chad Wilson[8]
Heat 3 – (8 Laps, top 4 to A)
1. 89-Shawn Westerfeld[4] ; 2. 77-Dustin Smith[2] ; 3. 57B-Brandon Spithaler[7] ; 4. 21-Carmen Perigo[3] ; 5. 59J-Kirk Jeffries[5] ; 6. 9X-Chris Andrews[8] ; 7. 48-Mike Burkin[6] ; 8. 5-Bob McMillen[1]
Heat 4 – (8 Laps, top 4 to A)
1. 74-Drew Rader[1] ; 2. 16-Tyler Gunn[3] ; 3. 69R-Todd Kane[6] ; 4. 7M-Brandon Moore[4] ; 5. 32M-Derek Hastings[5] ; 6. 97-Scott Hardman[2] ; 7. J1-Mark Shultz[7] ; 8. 18D-Bobby Distel[8]
B-Main 1 – (10 Laps, top 4 to A)
1. 18-Arnie Kent[1] ; 2. 9X-Chris Andrews[7] ; 3. 2-Mike Galajda[2] ; 4. 59J-Kirk Jeffries[3] ; 5. 91x-Aaron Middaugh[5] ; 6. 14-Chad Wilson[14] ; 7. 32M-Derek Hastings[4] ; 8. 97-Scott Hardman[8] ; 9. 48-Mike Burkin[11] ; 10. 2DI-Dustin Ingle[13] ; 11. 71-Straton Briggs[10] ; 12. 48M-Mike Moore[6] ; 13. 3-Joe Butera[9] ; 14. J1-Mark Shultz[12] ; 15. 12X-Mike Flynn[17]
A-Main 1 – (25 Laps)
1. 14C-Cooper Clouse[1] ; 2. 21-Carmen Perigo[15] ; 3. 89-Shawn Westerfeld[5] ; 4. 2+-Brian Smith[6] ; 5. 4-Michael Fischesser[3] ; 6. 18-Arnie Kent[17] ; 7. 2-Mike Galajda[19] ; 8. 46-Cody Gardener[9] ; 9. 9X-Chris Andrews[18] ; 10. 4J-Justin Owen[14] ; 11. 14-Chad Wilson[22] ; 12. 74-Drew Rader[7] ; 13. 77-Dustin Smith[4] ; 14. 91x-Aaron Middaugh[21] ; 15. 59J-Kirk Jeffries[20] ; 16. 53-Steve Little[8] ; 17. 16-Tyler Gunn[2] ; 18. 57B-Brandon Spithaler[11] ; 19. 08-Andy Feil[13] ; 20. 7M-Brandon Moore[16]
Hard Charger: Carman Perigo +13
305 Sprints – Fremont Federal Credit Union
Heat 1 – (8 Laps, top 5 to A)
1. 66-Jamie Miller[2] ; 2. 1XX-Trey Jacobs[4] ; 3. 41-Thomas Schinderle[1] ; 4. 2F-Matt Foos[6] ; 5. 10X-Dustin Stroup[3] ; 6. 12-Kyle Capodice[9] ; 7. 8-Bobby Clark[5] ; 8. 10-Josh Harrison[7] ; 9. 75-Jerry Dahms[8]
Heat 2 – (8 Laps, top 5 to A)
1. 1-Nate Dussel[6] ; 2. 18N-Frank Neill[1] ; 3. 1X-Dustin Dinan[8] ; 4. 99-Alvin Roepke[2] ; 5. 27-Cody Gallogly[5] ; 6. 25-Jason Keckler[3] ; 7. 45-Trevor baker[7] ; 8. 7M-Brandon Moore[4] ; 9. 9R-Dustin Rall[9]
Heat 3 – (8 Laps, top 5 to A)
1. 2-Ricky Peterson[3] ; 2. 1W-Paul Weaver[2] ; 3. 19R-Steve Rando[4] ; 4. 77I-John Ivy[6] ; 5. 36-Seth Schneider[5] ; 6. 22M-Dan McCarron[8] ; 7. 20I-Kelsey Ivy[1] ; 8. 44-Kyle Farmer[7] ; 9. 87-Brian Gibbs[9]
B-Main 1 – (10 Laps, top 5 to A)
1. 8-Bobby Clark[4] ; 2. 12-Kyle Capodice[1] ; 3. 25-Jason Keckler[2] ; 4. 22M-Dan McCarron[3] ; 5. 7M-Brandon Moore[8] ; 6. 20I-Kelsey Ivy[6] ; 7. 44-Kyle Farmer[9] ; 8. 75-Jerry Dahms[10] ; 9. 9R-Dustin Rall[11] ; 10. 45-Trevor baker[5] ; 11. 87-Brian Gibbs[12] ; 12. 10-Josh Harrison[7]
A-Main 1 – (25 Laps)
1. 1-Nate Dussel[4] ; 2. 66-Jamie Miller[2] ; 3. 77I-John Ivy[5] ; 4. 2-Ricky Peterson[7] ; 5. 8-Bobby Clark[16] ; 6. 19R-Steve Rando[10] ; 7. 2F-Matt Foos[8] ; 8. 10X-Dustin Stroup[13] ; 9. 1W-Paul Weaver[12] ; 10. 36-Seth Schneider[15] ; 11. 1X-Dustin Dinan[9] ; 12. 41-Thomas Schinderle[11] ; 13. 99-Alvin Roepke[6] ; 14. 22M-Dan McCarron[19] ; 15. 7M-Brandon Moore[20] ; 16. 18N-Frank Neill[1] ; 17. 12-Kyle Capodice[17] ; 18. 25-Jason Keckler[18] ; 19. 27-Cody Gallogly[14] ; 20. 1XX-Trey Jacobs[3]
Hard Charger: Bobby Clark +8
Dirt Trucks – Burmeister Trophy
Heat 1 – (8 Laps)
1. 4s-Keith Sorg[1] ; 2. 16-Jim Holcomb[4] ; 3. 7f-Dana Frey[3] ; 4. 22-Brandon Leighton[6] ; 5. 4x-Matt Foos[2] ; 6. 99-Gene Potridge[5]
Heat 2 – (8 Laps)
1. 8KB-Kent Brewer[4] ; 2. 5s-Brad Stuckey[2] ; 3. 17x-Dustin Keegan[1] ; 4. 33-Jeff Ward[3] ; 5. 36M-Cory McCaughey[5]
A-Main 1 – (15 Laps)
1. 4s-Keith Sorg[4] ; 2. 8KB-Kent Brewer[5] ; 3. 36M-Cory McCaughey[10] ; 4. 5s-Brad Stuckey[1] ; 5. 33-Jeff Ward[8] ; 6. 7f-Dana Frey[3] ; 7. 16-Jim Holcomb[2] ; 8. 17x-Dustin Keegan[6] ; 9. 22-Brandon Leighton[7] ; 10. 99-Gene Potridge[11] ; 11. 4x-Matt Foos[9]
Hard Charger: Cory McCaughey +7
602 Late Models – McCullough Industries
Heat 1 – (6 Laps)
1. 44-Matt Shipley[2] ; 2. 34-Ky Harper[4] ; 3. 00-John Brooks[6] ; 4. 16-Steve Sabo[5] ; 5. 12-Kyle Dukeshire[1] ; 6. 43K-Louis Alan[3] ; 7. 32-Brandon Myers[7]
Heat 2 – (6 Laps)
1. 101-Chester Fitch[1] ; 2. 98-Tim Sabo[2] ; 3. 01-Brandon Perkins[5] ; 4. 17x-Dustin Keegan[3] ; 5. 4M-Jamie Miller[6] ; 6. 04-Jeff Hites[4]
A-Main 1 – (15 Laps)
1. 34-Ky Harper[5] ; 2. 44-Matt Shipley[7] ; 3. 101-Chester Fitch[6] ; 4. 00-John Brooks[2] ; 5. 17x-Dustin Keegan[1] ; 6. 98-Tim Sabo[4] ; 7. 4M-Jamie Miller[10] ; 8. 01-Brandon Perkins[8] ; 9. 16-Steve Sabo[3] ; 10. 43K-Louis Alan[11] ; 11. 04-Jeff Hites[12] ; 12. 32-Brandon Myers[13] ; 13. 12-Kyle Dukeshire[9]
Hard Charger: Matt Shipley +5