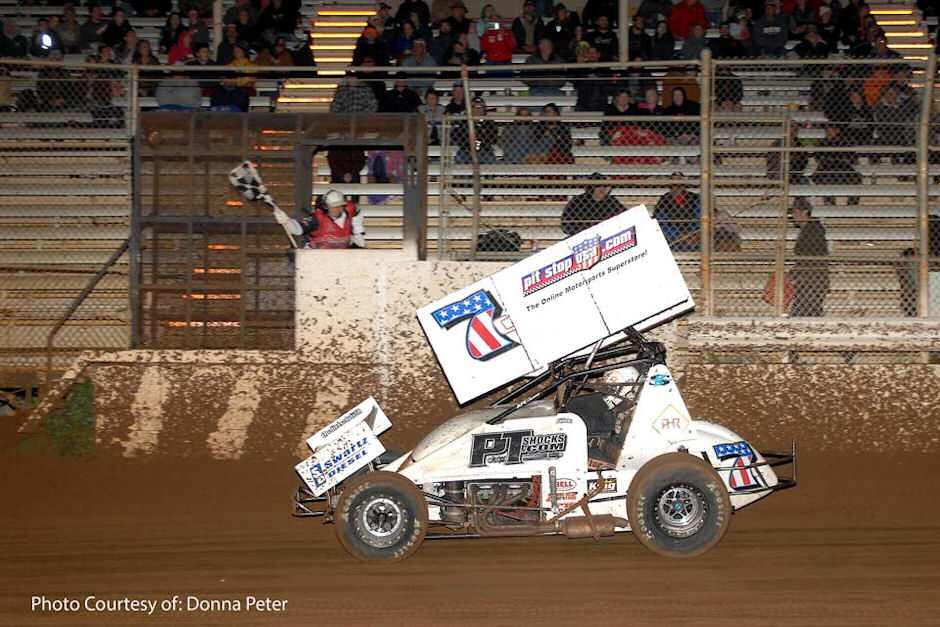 PETERSEN MEDIA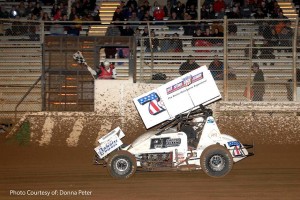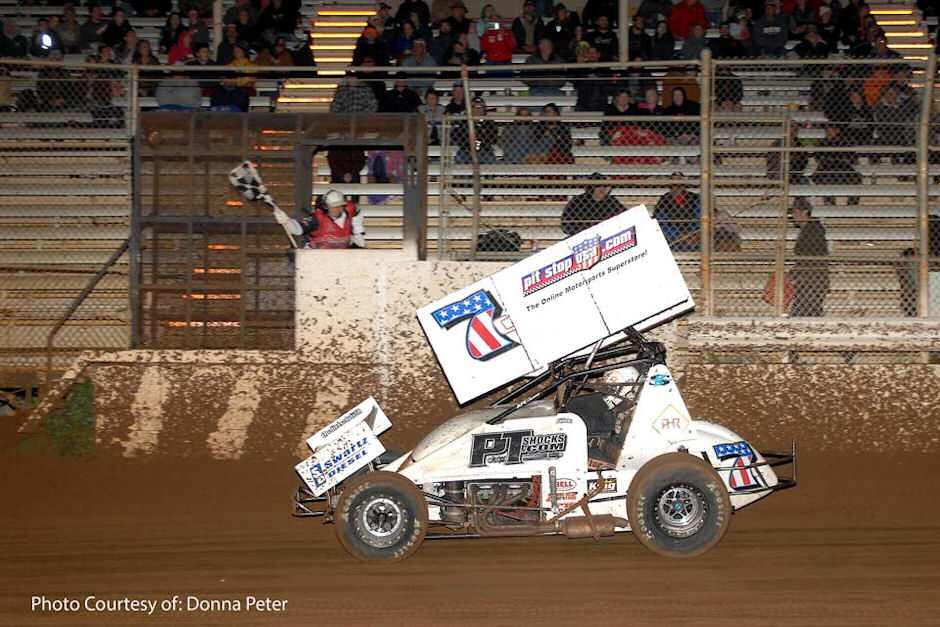 With isolated storms popping up all over Northern California over the weekend, Andy Forsberg and his C&M Motorsports team got word of the KWS 410ci cancellation at the Petaluma Speedway on Saturday morning, and quickly unloaded their car, installed their 360ci and headed to Placerville Speedway where Forsberg went out and scored his fourth win of the season.
"I really have to thank Cody and everyone who made the call to switch engines and still get a race in over the weekend," Forsberg said. "We don't get to Placerville as much as I used to so to get another race there and pick up a win is pretty cool."
On a wet and muddy night at the ¼ mile facility, Forsberg would get his night started off in fine fashion as he timed the PitStopUSA/Autism Awareness/Pacific Highway Rentals No. 7c in fastest in time trials.
Picking up  a third place finish during his heat race, the Auburn, CA driver would be eligible for the redraw where the number one pill would put him on the pole for the 25-lap feature event.
Jumping out to the lead on an extremely heavy surface, Forsberg would be flanked by a pesky Sean Becker who kept Forsberg on his toes lap after lap. In heavy traffic, the two drivers would get into a nice battle for the lead, and Becker would slip by and briefly take command of the race.
Using a restart to get back into the lead, Forsberg would set a blistering pace as the drivers got battling behind which allowed him to open up a comfortable lead.
Avoiding some close calls in traffic, Forsberg would grab his fourth win of the season aboard the PT Shocks/Swartz Diesel/Velocity Race Gear No. 7c, and his first of the year at the Placerville Speedway.
"Not many people thought they would get this race in tonight, but my entire team thanks Scott (Russell) and Kami (Arnold) for doing all they could to get this show in," Forsberg added. "Again, huge thanks to my guys for all of their hard work."
The C&M Motorsports team would like to thank PitStopUSA, Autism Awareness, Pacific Highway Rentals, PT Shocks, Swartz Diesel, and Velocity Race Gear and all of their product sponsors for their continued support.
ON TAP: The C&M Motorsports team will return to action on Saturday night at the Petaluma Speedway.
2016 BY THE NUMBERS: Starts-10, Wins-4, Top 5's-7, Top 10's-8.
STAY CONNECTED: For at the track updates, follow Andy Forsberg on Twitter @AForsberg92.
PETERSEN MEDIA: Petersen Media is a promotional agency that can handle your public relations, marketing, and any other promotional needs. Petersen Media utilizes multiple tactics to help you reach your intended audience, and boost awareness.
For more information contact sales@petersenmediainc.com, by phone at 916-342-3424, visit www.petersenmediainc.com,  www.facebook.com/PetersenMedia, or follow www.twitter.com/petersen_media.