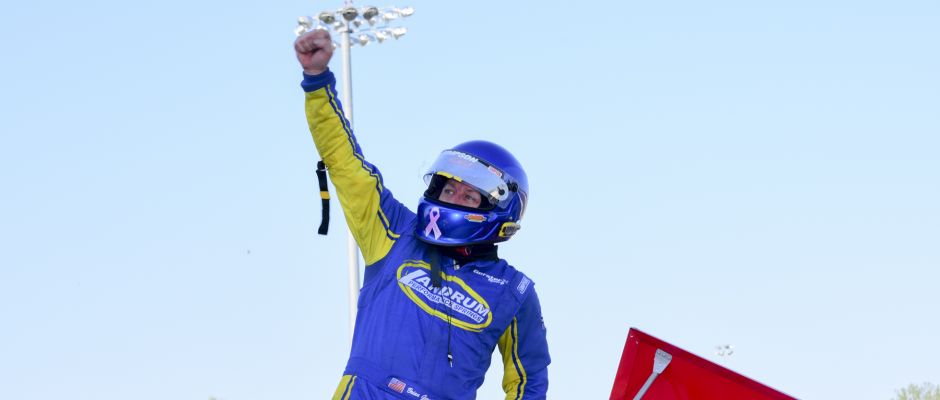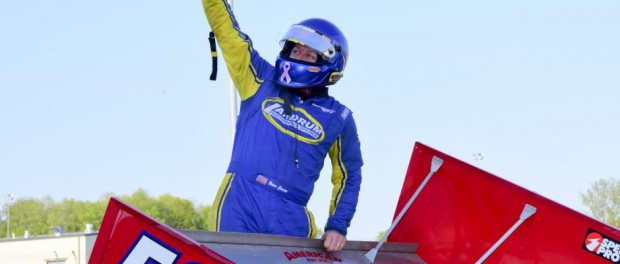 From Jacob Seelman
Mansfield, OH — (May 22, 2016) — Brian Gerster completed a weekend sweep of Must See Racing action on Sunday afternoon at Spitzer Motor Speedway of Mansfield, using a three-wide maneuver to catapult himself from third to first in the opening corner of the 30-lap A-Main and never looking back from there.
The two-time series champion pulled out to a near-five second lead at times, but faded back to the field late after fighting overheating issues and held off a fast-charging McCune for the win by just 0.702 of a second in round four of the six-race American Sprint Cup mini-series.
The win was Gerster's second of the weekend in the Buckeye State after also dominating the previous night's main event at Shady Bowl Speedway, and extended his series wins record to 16.
"The front row took off but our Mopar (engine) had a little bit more steam on the start, there," said Gerster, who led all 50 laps despite his late-race struggles. "I'm not sure if Jacob (Wilson) just stumbled a bit or what, but we got going and once we were past the cone I took the look going down into (turn) one. I knew it would be easy if we could get him by the time we got there and it worked out that way."
"The motor got real warm there at the end so I was taking it pretty easy, trying to give it as much air as I could. I know they were catching us, but we nursed it home and got another win – and at the end of the day, that's what this whole team is about, no matter how we got there."
Wilson led the field to the green flag after an invert of four placed fast qualifier Bobby Santos back on the outside of row two, but stumbled on the initial start and lost momentum entering turn one, allowing Gerster the inside lane and a lead he would never relinquish.
From there, a caution-free race – one that took just seven minutes and 25 seconds to complete – meant there was little time for anyone to mount a charge, despite McCune working his way from seventh on the grid to the runner-up position by lap 16.
Though the reigning series champion hammered three seconds out of the deficit as Gerster saved his motor, it wasn't enough to give him a third win in four races to start the season.
"We just struggled again today," McCune admitted. "We changed a motor this morning and then lost the first hot laps session because of a driver error … and plugged some nozzles up in qualifying because we hadn't run this motor in almost a year, so we were just playing catch-up all day. To come home second, though, I'm real pleased with it. We raced our tails off and I'm real proud of the effort by our whole team."
Wilson hung on for his first Must See Racing podium finish of the season, giving him a shot of momentum heading into Little 500 week at Anderson (Ind.) Speedway.
"I think the timing messed up; I think they couldn't see the car and we actually won the race with everyone a lap down," Wilson joked about his camouflage-painted sprinter. "We just didn't have the best start though. That hurt us the rest of the race, but we had a good go of it after the first turn there. Solid day, and we'll take it going into the Little 500 … try to win there for a third time next weekend."
Santos, the 2010 NASCAR Whelen Modified Tour champion, finished right where he started in fourth after smashing the Spitzer track record to kick off the afternoon's racing program.
The Franklin, Massachusetts veteran toured the historic half-mile oval in 12.881 seconds (139.741 mph), marking the first-ever 12 second lap at the facility and breaking the old mark of 13.124 set by Cameron Dodson in 2006, but didn't have the race pace to contend at the front after being inverted back into traffic.
Two-time USAC Eastern Midget Series champion Chris Lamb rounded out the top five, a career-best finish for the series rookie after hauling north from Greensboro, N.C.
The Must See Racing Sprint Car Series returns to action for their fifth race of the 2016 season on Wednesday, May 25 with the running of the Must See Racing 60 at Anderson (Ind.) Speedway. McCune is the three-time defending series winner at the high-banked quarter-mile.
For more information on Must See Racing, including schedule information, driver and team profiles, series rules and more, visit www.mustseeracing.com.
RESULTS: Must See Racing Sprint Car Series; Spitzer Motor Speedway of Mansfield; May 22, 2016
Engine Pro Time Trials (best of two laps): 1. #22A – Bobby Santos III, 12.881 seconds (139.741 mph; new all-time track record); 2. #50M – Brian Gerster, 13.231; 3. #9 – Chris Lamb, 13.481; 4. #07W – Jacob Wilson, 13.553; 5. #45 – Ryan Gillenwater, 13.560; 6. #07 – Johnny Bridges, 13.706; 7. #88 – Jimmy McCune, 13.804; 8. #22S – Derek Snyder, 14.029; 9. #26 – Jeff Bloom, 14.211; 10. #42 – Jason Blonde, 14.214; 11. #75C – Jerry Caryer, 14.541; 12. #88N – Frank Neill, 14.569.
Mahle Heat Race #1 (eight laps, all transfer): 1. Jimmy McCune, 2. Ryan Gillenwater, 3. Chris Lamb, 4. Jerry Caryer, 5. Bobby Santos III, 6. Jeff Bloom.
SpeedPro Heat Race #2 (eight laps, all transfer): 1. Johnny Bridges, 2. Brian Gerster, 3. Derek Snyder, 4. Jacob Wilson, 5. Frank Neill, 6. Jason Blonde.
Engine Pro A-Feature (30 laps): 1. Brian Gerster [3], 2. Jimmy McCune [7], 3. Jacob Wilson [1], 4. Bobby Santos III [4], 5. Chris Lamb [2], 6. Jason Blonde [10], 7. Ryan Gillenwater [5], 8. Derek Snyder [8], 9. Jerry Caryer [11], 10. Frank Neill [12], 11. Johnny Bridges [6], 12. Jeff Bloom [9].
Lead Changes: One between two drivers.
Lap Leaders: Wilson Grid; Gerster 1-30.
Laps Led: Gerster – 30
Time of Feature: 7:25.