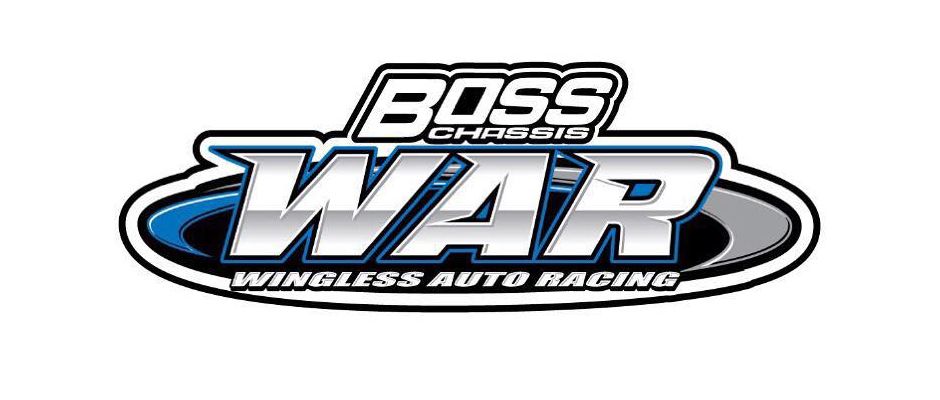 From Chad Buford
Wheatland, MO — (June 18, 2016) — Retaking the lead after a lap twenty one yellow for leader Mitch Wissmiller, Korey Weyant picked up his third straight Boss Chassis WAR Series A-Main at Lucas Oil Speedway on Saturday night.
Riley Kreisel assumed the point early on as he was followed by Weyant. Kreisel would lead the first couple of laps as Weyant got a great run off of the top of turn two to move into the lead. Weyant would lead laps three and four with Kreisel hitting his marks on the bottom to retake the point on lap five.
Kreisel was strong on the bottom and Weyant was strong on top as Kreisel was never more than a few car lengths ahead. Kreisel would lead until a lap fourteen caution for Kyle Clark, who spun in turn two while running fourth.
On the restart, Wissmiller would flex his muscle as he moved from fifth to third in turn one. He then moved past Weyant and then Kreisel to take control on lap seventeen. Weyant would work past Kreisel and into second as he stayed within striking distance of the leader.
Wissmiller would continue to lead until the red flag came out for a JD Black flip in turn one with twenty one laps complete. Black was not injured, but was done for the night.
On the restart, Weyant got a great run on the bottom and used an aggressive slide job in turn two. Wissmiller tried to get on the brakes to turn underneath Weyant, but he killed his momentum and spun in turn two.
The yellow would put Weyant back out front and Weyant would not be denied as he went on to his third straight WAR win in the Ealey Transportation/Moore Automotive/Mahan's Fiberglass Eagle with Automotive Machine power. Kreisel was a strong second in the Rick and Deb Smith/R&K Express/ Engine Connection-powered MRP. Craig Carroll was the Indy Race Parts Hard Charger as he moved forward ten spots from his thirteenth-starting position to finish third in the Risley's Trash Service/Get Er Done Tree Service XXX. Current WAR points leader Clinton Boyles moved up five spots to finish fourth in the Jesse Hockett Racing/Lucas Oil/Rod End Supply Maxim with RMS power. Kenny Potter moved up seven spots to finish fifth in his Dayco Painting XXX with Wesmar power. Terry Babb was sixth followed by Layne Himebaugh. Mitchell Moore, Warren Johnson, and Chris Parkinson rounded out the top ten. Heat races for the twenty-two car field were won by Wissmiller, Weyant, and Black.
The Boss Chassis WAR Series will next be in action on Friday July 9 at the Belle-Clair Speedway in Belleville, IL. They will then travel the next night to St. Francois County Raceway in Farmington, MO.
You can go to http://warwinglessautoracing.myracepass.com to get the latest information about the Boss Chassis WAR Series.
Wingless Auto Racing
Lucas Oil Speedway
Wheatland, MO
Saturday June 18, 2016
Hinchman Racewear Heat Race #1 (8 Laps): 1. 1-Mitch Wissmiller, Saybrook, IL (5); 2. 9$-Kyle Clark, Sapulpa, OK (2); 3. 77-Clinton Boyles, Greenwood, MO (3); 4. 8D-Terry Babb, Decatur, IL (4); 5. 5$-Danny Smith, Sapulpa, OK (1); 6. 75K-John Carney, Lubbock, TX (7); 7. 8K-Katlynn Leer, Moulton, IA (6); DNS: 12-Danny Thoman, Lexington, MO
Wilwood Disc Brakes Heat Race #2 (8 Laps): 1. 99-Korey Weyant, Springfield, IL (2); 2. 90-Riley Kreisel, Warsaw, MO (4); 3. 24L-Layne Himebaugh, Collinsville, OK (4); 4. 51-Mitchell Moore, Edgerton, KS (6); 5. 3-Raven Culp, Mesquite, TX (3); 6. 70-Pete Palazzolo, Ballwin, MO (5); 7. 65M-TJ Muths, Sedalia, MO (7)
Bell Helmets Heat Race #3 (8 Laps): 1. 7JR- JD Black, Grain Valley, MO (2); 2. 99L-Michael Ell, Raymore, MO (4); 3. 65-Chris Parkinson,) Gladstone, MO (7); 4. 55-Kenny Potter, Harrisonville, MO (3); 5. 24C-Craig Carroll, Collinsville, OK (5); 6. 42-Warren Johnson, Overland Park, KS (6); 7. 82-Vinny Ward, Warrenton, MO (2)
Feature (25 Laps): 1. 99-Weyant (2); 2. 90-Kreisel (1); 3. 24C-Carroll (13); 4. 77-Boyles (9); 5. 55-Potter (12); 6. 8D-Babb (11); 7. 24L-Himebaugh (10); 8. 51-Moore (8); 9. 42-Johnson (17); 10. 65-Parkinson (3); 11. 8K-Leer (19); 12. 99L-Ell (5); 13. 82-Ward (21); 14. 1-Wissmiller (4)-DNF; 15. 7JR-Black (6)-DNF; 16. 75K-Carney (14)-DNF; 17. 9$-Clark (7)-DNF; 18. 5$-Smith (16)-DNF; 19. 65M-Muths (20)-DNF; 20. 70-Palazzolo (18)-DNF; 21. 3-Culp (15)-DNF; 22. 12-Thoman (22)-DNF