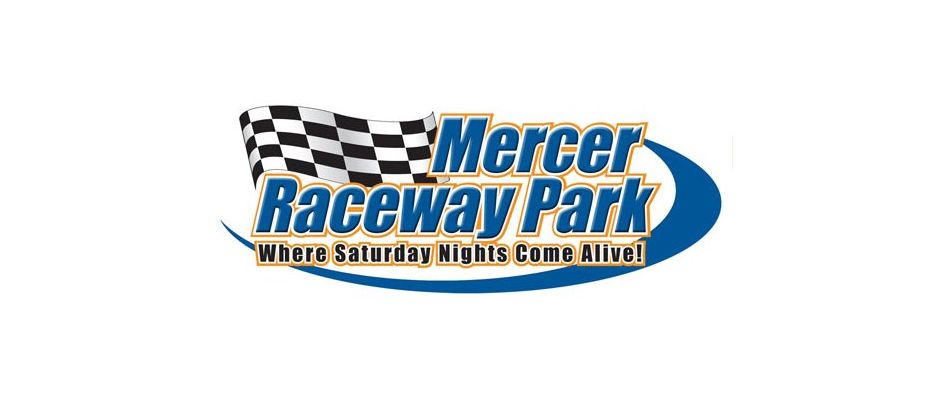 From Mercer Raceway Park
Mercer, PA — (June 25, 2016) — Jack Sodeman, Jr. carried the colors of his dad's famous Sprint Car into victory lane for the first time in 2016. The car may have a retro color scheme and graphics package, but it has all of the modern bells and whistles. Sodeman splits his time between his contemporary car and the throw-back machine, but he likes to bring the traditional one to Mercer, in particular. "Mercer is kind of its home, my dad actually made a pretty good career out of Mercer Raceway Park in the exact same car. It must be the theme that everybody likes," he said.
Gregg McCandless won the Outlaw Sprint Warriors feature.
Sodeman, Jr. took the lead at the drop of the green in the 4 Your Car Connection 410 Sprints, and he methodically built his lead. Before the first caution was displayed, on lap 18, he had a half track lead over Michael Bauer, who had wrestled second away from Jason Dolick. After that first caution, there were a number of other interruptions, including one final caution when Sodeman was a half lap away from victory.
"I was just hoping that they put enough fuel in the car," Sodeman said about the numerous cautions over the final seven laps. "As long as I hit my marks, I knew that I would be OK." Sodeman did have enough fuel to go the rest of the way.
"There were a lot of young guns behind us, but I liked the spot that we were in," Sodeman explained. One of those younger drivers was Michael Bauer, who scored his best finish in a 410 Sprinter, second. Carl Bowser was third, a position that he occupied for almost the entire 25 laps. Brandon Spithaler came on to get fourth, with Brandon Matus a close fifth.
After making an appearance on MRN's Winged Nation earlier in the week, A.J. Flick was sixth. Dan Kuriger was seventh. It is now officially summer, as Andy McKisson made his first run at the Park to get seventh. Invader Sean Zemunik was ninth, and Scott Priester in tenth.
There were three heats for the 22 cars on hand. The winners were Brandon Spithaler, Zemunik, and Bauer. There was no B Main, as all cars were allowed to start the feature race.
McCandless drove a perfect race in the Bonnell's Rod Shop Outlaw Sprint Warriors, and he had to becasuse Darin Gallagher was nipping on his heels for the final seven laps. McCandless had a two second advantage evaporate over the second half of the non-stop twenty lapper. Gallagher did get his nose under McCandless once in turn one, but McCandless went back to the top shelf to maintain the lead. "I saw him, I was just moving around, just making sure that I wasn't missing anything,"moved my line a couple of times and all of a sudden I saw him and I went back to my line, and I don't know where he was at the end." In fact, McCandless did open a few car lengths over the final few laps.
For McCandless, it was his first win in any kind of Sprint Car, and he is showing no signs of rust despite being out of a racer for more than a decade.
After McCandless and Gallagher came two-time winner Andy Preist, Cody Bova, and Jimmy Seger, the new pilot of the potent Lockhart 58. SIxth belonged to Mike Miller. Mike Marano II, George Englert, and Eric L. Williams were the remaining finishers. Early retirees Vincent Daugherty and Rod Jones were next. Harold Braden, Jr. was unable to start any of the races this night.
The heat wins went to Gallagher and McCandless.
4 Your Car Connection 410 Sprints: Jack Sodeman, Jr., Michael Bauer, Carl Bowser, Brandon Spithaler, Brandon Matus, A.J. Flick, Dan Kuriger, Andy McKisson, Sean Zemunik, Scott Priester, Jason Dolick, Gale Ruth, Jr., Dennis Wagner, Clay Riney, Zach Morrow, John Garvin, Alex Paden, James Pych, George Hobaugh, Jr., Darren Pifer, Brent Matus, Gary Edwards.
Bonnell's Rod Shop Outlaw Sprint Warriors: Gregg McCandless, Darin Gallagher, Andy Preist, Cody Bova, Jimmy Seger, Mike Miller, Mike Marano II, George Englert, Eric L. Williams, Vincent Daugherty, Rod Jones, Harold Braden, Jr. (DNS