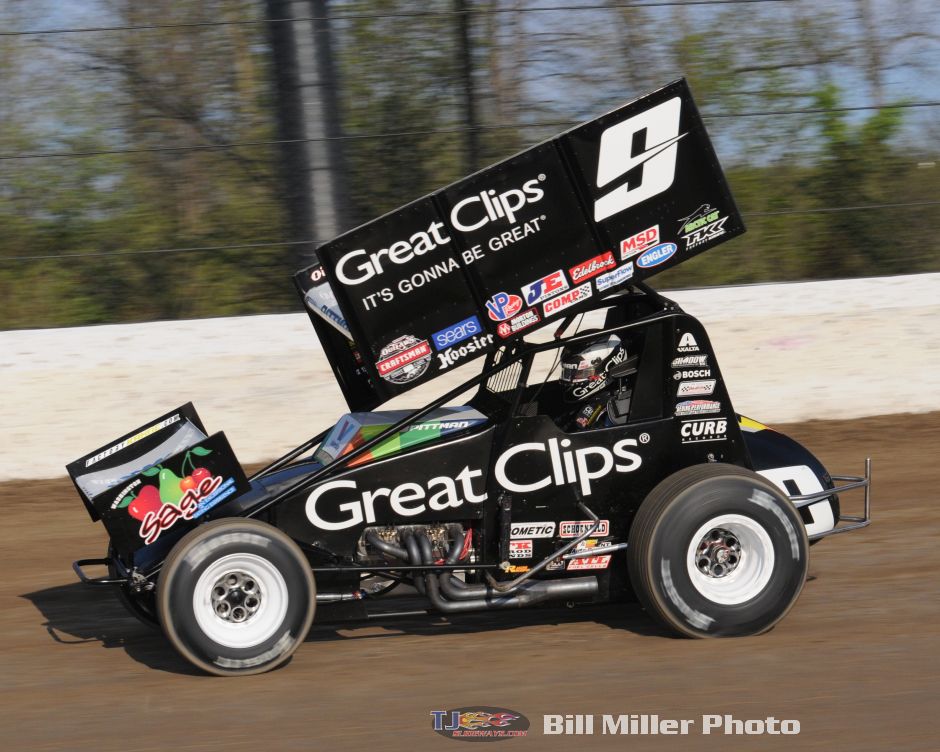 From Bill Wright
OSKALOOSA, IA (August 8, 2016) – Daryn Pittman netted $22,500 plus contingencies with his win Monday night at Southern Iowa Speedway's 21st Annual Price Chopper Front Row Challenge presented by Musco Lighting, Searsboro Telephone Company and Hiland Dairy. The Owasso, Oklahoma driver won the 30-lap feature event aboard the Kasey Kahne Racing #9. In addition to the $20,000 winner's share, a $1,000 bonus from USA Chemical, $500 cash from Country Builders Construction for setting quick time, and $1,000 from TK Concrete for winning the Keith Hutton "King of the Hill" Match Race were part of Daryn's haul!
It was an emotional night in Oskaloosa, and much was done to honor the memory of the late Bryan Clauson. In addition to raising funds for the Clauson family in a number of ways, the Matt Wood Racing #17w piloted by Bryan the last two seasons, set the pace for the feature field.
Pittman jumped out to an early lead in the 30-lap main event over Brian Brown and Danny Lasoski. Just two laps in, the caution came out for Jason Johnson, who needed a new right rear. He would rejoin the field. Brown used the restart to gain the lead, before the red was displayed for Rager Phillips, who got into the turn three wall. He was uninjured.
Brown led Pittman, Lasoski, David Gravel and Kerry Madsen back to green. Rico Abreu jumped into the top five immediately, but the pace was slowed again when Ian Madsen suffered rear-end issues on the backstretch. Abreu surged to fourth on lap five, but the momentum was halted once again when Brent Marks spun behind the turn three wall. He would rejoin the field.
Brown led the field again on the restart with just six laps counted, ahead of Pittman, Lasoski, Abrue and Gravel. The track yielded some racy action! Pittman challenged Brown for the point again, grabbing it on lap seven. Meanwhile, Gravel and Abreu were going back and forth in the fourth spot. Brad Sweet, who started twelfth, surged into the top five on lap 12.
The final caution came for Bob Weuve, who needed a wrecker in turn three. Pittman led Brown, Lasoski, Kerry Madsen and Sweet back to green. The action in positions three through seven became intense! Sweet passed both Kerry Madsen and Lasoski on the restart to gain third. Madsen moved into fourth. Madsen would not be denied in a battle with Sweet, however, grabbing second with ten laps to go.
Pittman stretched his lead in the closing stages to earn his third career Front Row Challenge win (2008, 2012), while Madsen gained speed, grabbing the runner-up spot with three to go. Brown would end up third, ahead of Sweet and Lasoski. Abreu, Gravel, hard-charger Sheldon Haudenschild, James McFadden and Craig Dollansky would complete the top ten.
In addition to the $500 bonus given to Pittman for quick time, Country Builders Construction also awarded the same cash bonus to heat winners, McFadden, Dakota Hendrickson and Abreu, and B main winner, Cory Eliason. Kale Kahne was selected as Mechanic of the Race, accepting a 3/8 Micro Lithium Impact Kit courtesy of Mark Stuchel Snap-On Tools franchisee. Sheldon Haudenschild received $500 from Country Builders Construction and a KSE Power Steering Pump for his Hard-charger honors.
Former Ultimate Challenge champion, Kyle Larson, showed speed in his heat race before contacting an infield tire and getting upside down in his heat. He was uninjured.
21th Annual Price Chopper Front Row Challenge presented by Musco Lighting, Don Long's Searsboro Telephone Company and Hiland Dairy Results
Front Row Challenge Main Event (started), 30 laps: 1. 9, Daryn Pittman, Owasso, OK (1) 2. 29, Kerry Madsen, St. Mary's, NSW, Aust. (6) 3. 21, Brian Brown, Grain Valley, MO (2) 4. 49, Brad Sweet, Grass Valley, CA (12) 5. 2, Danny Lasoski, Dover, MO (3) 6. 24, Rico Abreu, St. Helena, CA (7) 7. 5, David Gravel, Watertown, CT (4) 8. 93, Sheldon Haudenschild, Wooster, OH (18) 9. 3H, James McFadden, Alice Springs, NT, Aust. (8) 10. 2KS, Craig Dollansky, Elk River, MN (14) 11. 13, Mark Dobmeier, Grand Forks, ND (15) 12. 1, Sammy Swindell, Germantown, TN (9) 13. 7w, Tasker Phillips, Pleasantville, IA (19) 14. 41, Jason Johnson, Eunice, LA (13) 15. 55, Brooke Tatnell, Sans Souci, NSW, Aust. (20) 16. 10, Dakota Hendrickson, Omaha, NE (11) 17. 1x, Chad Trout, Dover, PA (22) 18. 19m, Brent Marks, Myerstown, PA (10) 19. 19, Bob Weuve, Newton, IA (23) 20. 71, Robert Bell, Colfax, IA (24) 21. 99, Brady Bacon, Broken Arrow, OK (16) 22. 7, Paul McMahan, Nashville, TN (21) 23. 18, Ian Madsen, St. Mary's, NSW, Aust. (5) 24. 10V, Rager Phillips, Pleasantville, IA (17) DNS – 5H, Cory Eliason, Selma, CA. Lap Leaders: Pittman 1-2, Brown 3-6, Pittman 7-30. KSE Hard-charger: Haudenschild.
Seafoam Motor Treatment Heat one (started, *qualified for feature), 8 laps: 1. James McFadden (2*) 2. Craig Dollansky (1*) 3. Ian Madsen (4*) 4. Daryn Pittman (6*) 5. Kerry Madsen (5*) 6. Brady Bacon (3*) 7. Brooke Tatnell (9) 8. Tasker Phillips (7) 9. Chad Trout (8)
Tasos Steak House Heat two (started, *qualified for feature), 8 laps: 1. Dakota Hendrickson (1*) 2. Brad Sweet (2*) 3. Brent Marks (3*) 4. Sammy Swindell (4*) 5. Brian Brown (6*) 6. Sheldon Haudenschild (8) 7. 18JS, Jason Solwold, Burlington, WA (7) 8. Bob Weuve (9) 9. 57, Kyle Larson, Elk Grove, CA (5)
Arnold Motor Supply Heat three (started, *qualified for feature), 8 laps: 1. Terry McCarl (4*) 2. Mark Dobmeier (1*) 3. Jason Johnson (3*) 4. Danny Lasoski (5*) 5. David Gravel (6*) 6. Rager Phillips (2) 7. Paul McMahan (8) DNS – Robert Bell
TK Concrete Keith Hutton Memorial "King of the Hill" Match Races, 2 laps: Round one: Daryn Pittman defeats James McFadden, David Gravel defeats Ian Madsen, Danny Lasoski defeats Rico Abreu, Brian Brown defeats Kerry Madsen; Round two: Daryn Pittman defeats David Gravel, Brian Brown defeats Danny Lasoski; Final Round: Daryn Pittman defeats Brian Brown
B Main (started), 10 laps: 1. Cory Eliason (2) 2. Rager Phillips (1) 3. Sheldon Haudenschild (3) 4. Tasker Phillips (4) 5. Brooke Tatnell (5) 6. Paul McMahan (6) 7. Chad Trout (7) 8. Bob Weuve (8) 9. Robert Bell (9) / DNS – Kyle Larson, Jason Solwold