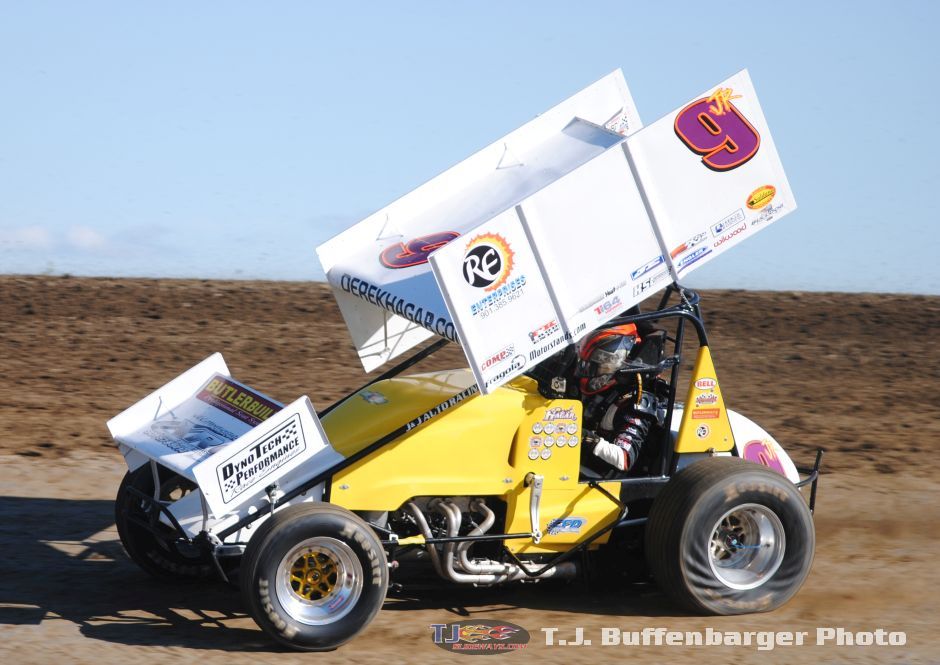 From Pete Walton
MAGNOLIA, Ms. (February 5, 2016) — Derek Hagar of Marion, AR topped a star-studded field of United Sprint Car Series presented by K&N Filters entrants on Saturday night to take the win in the 30-lap winged sprint car A-Main at Magnolia Motor Speedway. Hagar took the lead at the start of the race and was never challenged in a wire-to-wire victory on the "Black Ice" racing surface of the track known as the MAG. It was Hagar's 44th trip to the www.rockauto.com USCS Victory Lane in a USCS career that goes back to his 2006 USCS Rookie of the Year season.
Behind Hagar, there were battles for position throughout the 25-car field. When all was "said and done", 11-time USCS National Champion Terry Gray of Bartlett, TN finished second and 2015 Sprint Car Hall of Fame Inductee Danny Smith of Chillicothe, OH took the third spot.
The defending and two-time USCS National Champion Morgan Turpen was fourth after she opened the 2017 and 21st USCS season on Friday night at Hattiesburg Speedway in Hattiesburg, MS with a win. A pair of former USCS Champions took the next two spots with Tim Crawley of Benton, AR finishing fifth and Marshall Skinner of Marion, AR taking the sixth spot.
The 2016 USCS Rookie of the Year, 14-year-old Danny Sams III of Englewood, FL, took the seventh spot, and Andy McElhannon of Nesbit, MS was eighth. Rookie of the Year contender, Brandon Taylor of Cumming, GA finished ninth after starting eighteenth and running as high as fifth, and former Cajun Sprints Champion Shane Morgan of Biloxi, MS rounded out the Top 10. 2016 ASCS/Southern Outlaw Rookie of the Year, Joey Schmidt of Ellisville, MS, was the Wilwood Disc Brakes Hard Charger of the Race after starting 24th and finishing 14th.
In preliminary action, three-time NASCAR Champion and former Indy Car Champion Tony Stewart of Columbus, IN was in the house at The Mag and won the Hoosier Speed Dash as well as the third eight-lap Butlerbuilt Heat Race. Tim Crawley won the eight-lap Engler Machine and Tool First Heat Race and Derek Hagar won the eight-lap Brown and Miller Racing Solutions Second Heat Race.
After earning the K&N Filters Pole Award, Hagar took the lead at the start of the race, followed by Gray, Crawley, Stewart, and Smith. Crawley and Stewart passed Gray on lap three to move up to second and third respectively. Gray got around Stewart on lap seven to reclaim the third spot behind Hagar and Crawley.
Smith got around Stewart for the fourth position on lap nine, and on lap ten, Turpen knocked Stewart out of the top five on the tenth lap. Stewart began to fade from that point before retiring from the race on lap 21 and was credited with a 23rd-place finish.
On lap 13, Smith and Gray got around Crawley to move up to the second and third spots respectively. At the halfway point, Hagar held a 1.5 second lead over Smith in second with Gray, Crawley and Turpen rounding out the top five. Turpen got by Crawley on lap 18 to move up to the fourth position.
Gray moved up to the second spot on lap 22 by passing Smith, but by then, Hagar had opened a five second lead over the second-place driver. Veteran Terry Gray got up on the wheel in his effort to close in on Hagar over the final eight laps of the race. By lap 28, Gray had closed to within four seconds of Hagar.
Hagar's lead was gone on lap 28 when the caution flag came out for Tony Again, who spun in turn one. Hagar led Gray, Smith, Turpen, Crawley, Skinner, Taylor, Sams, Morgan and McElhannon down for the green flag to begin the three-lap dash to the checkered flag.
Hagar was up to the challenge with clear race track in front of him, as Gray was unable to get close. Hagar took a 2.169 second margin of victory under the checkered flag. The next event on the 2017 United Sprint Car Series Outlaw Thunder Tour is on Saturday night, March 18 at Lexington 104 Speedway in Lexington, TN.
In support Division action on Saturday night at Magnolia Motor Speedway, Preston Seratt was the winner in the 20-lap K&N Filers USCS Outlaw Modified A-Main, and Dusty Young took the victory in the 20-lap www.RockAuto.com USCS 600 Mini Sprint A-Main.
For rules and updated schedule information about the United Sprint Car Series Outlaw Thunder Tour, please visit www.uscsracing.com or call the series office at 770-460-7223 or 770-865-6097. You can also like the United Sprint Car Series Facebook page at USCS Racing.
OFFICIAL RESULTS OF ROUND 2 AT MAGNOLIA MOTOR SPEEDWAY IN COLUMBUS, MS ON 3/4/17:
USCS Outlaw Thunder Tour presented by K&N Filters A-MAIN: (30 LAPS):
POS STRT CAR # DRIVER
1. 1 9jr Derek Hagar, Marion, AR
2. 3 10 Terry Gray, Bartlett, TN
3. 4 4 Danny Smith, Chillicothe, OH
4. 8 10m Morgan Turpen, Cordova, TN
5. 2 88 Tim Crawley, Benton, AR
6. 11 26 Marshall Skinner, Marion, AR
7. 13 24 Danny Sams III, Englewood, FL
8. 12 42 Andy McElhannon, Nesbit, S
9. 17 07 Brandon Taylor, Cumming, GA
10. 7 01 Shane Morgan, Biloxi, MS
11. 10 14m Jordon Mallett, Greenbrier, AR
12. 15 17 Harli White, Lindsay, OK
13. 9 13 Todd Fayard, Saucier, MS
14. 24 15 Joey Schmidt, Ellisville, S
15. 14 27 Curt Terrell, Bartlett, TN
16. 19 10k Dewayne White, Byhalia, MS
17. 6 40 Howard Moore, Memphis, TN
18. 25 1a Lee Moore, Tuscaloosa, AL
19. 21 93 Jake Knight, Georgetown, MS
20. 20 38 Tony Again, Myers, FL
21. 18 21 Butch David, Geismar, LA
22. 16 28 Jeff Willingham, Ripley, MS
23. 5 14 Tony Stewart, Columbus, IN
24. 23 01t Brandon Olson, Gulfport, MS
25. 22 23 Seth Bergman, Snohomish, WA -DNS
USCS Sprint Car Series Race Awards:
Hoosier Tire Speed Dash: Tony Stewart
Engler Machine and Tool First Heat: Tim Crawley
Brown and Miller Racing Solutions Second Heat: Derek Hagar
Butlerbuilt Third Heat: Tony Stewart
K&N Filters Pole Award: Derek Hagar
JE Pistons Top Guns Award: (2nd Place) Terry Gray
PRO Shocks Champion Choice Award: (3rd Place) Danny Smith
K&N Filters Podium (3rd place) Award: Danny Smith
Wilwood Disc Brakes Hard Charger Award: Joey Schmidt (started 24th and finished 14th)
Saldana Racing Products Super Sixth Award: Marshall Skinner
Pyrotect Racing Cells Lucky Seven Award: Danny Sams III
DHR Suspension Eighth Place Award: Andy McElhannon
DMI/Bulldog Rear Ends Top Ten Award: Shane Morgan
Hoosier Tire Speed Dash: 1. Stewart; 2. Turpen; 3. Gray; 4. Skinner; 5. Mallett; 6. Sams III.
Engler Machine and Tool First Heat: 1. Crawley; 2. Morgan; 3. Smith; 4. H. White; 5. Sams III; 6. David; 7. D. White; 8. Olson.
Brown and Miller Racing Solutions Second Heat: 1. Hagar; 2. Moore; 3. Mallett; 4. Skinner; 5. Fayard; 6. Willingham; 7. Knight; 8. Bergman – DNF.
Butlerbuilt Third Heat: 1. Stewart; 2. Gray; 3. McElhannon; 4. Turpen; 5. Taylor; 6. Terrell; 7. Agin; 8. Schmidt.
Frostbuster 150
United Sprint Car Series
Magnolia Motor Speedway
Columbus, MS
Saturday February 5, 2017
Feature:
1. 9JR – Derek Hagar
2. 10 – Terry Gray
3. 4 – Danny Smith
4. 10M – Morgan Turpin
5. 88 – Tim Crawley
6. 26 – Marshall Skinner
7. 24D – Danny Sams
8. 42 – Andy McElhannon
9. 07T – Brandon Taylor
10. 01 – Shane Morgan
11. 14M – Jordan Mallett
12. 17W – Harli White
13. 13 – Todd Fayard
14. 15 – Joey Schmidt
15. 27 – Curt Terrell
16. 10K – Dewayne White
17. 40 – Howard Moore
18. 1A – Lee Moore
19. 93 – Jake Knight
20. 38 – Tony Agin
21. 21 – Butch David
22. 28 – Jeff Willingham
23. 14 – Tony Stewart
24. 01T – Brandon Olson