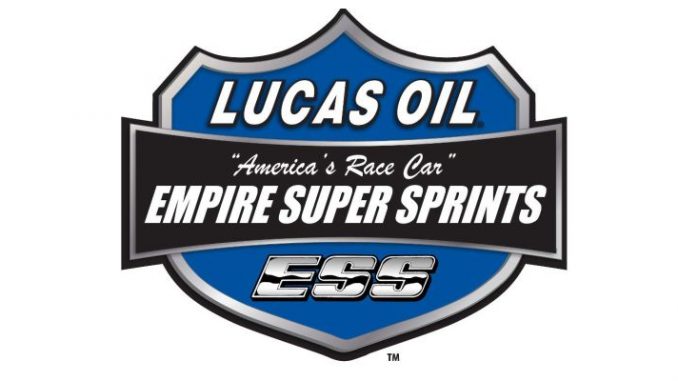 From Dean Reynolds
No driver likes to lose a race on the last lap, but that was exactly what happened to Chuck Hebing last weekend. On Friday night at the Fulton Speedway, Hebing had that in the back of his mind and this time, he wasn't going to give it away.
The Ontario, N.Y., driver was aggressive from his second starting spot. He made moves where he had to and he was flawless in hitting his marks. When all was said and done, Hebing left Fulton with $2,075 for winning the 25-lap, NAPA Auto Parts, SUNY Canton Racing Series A-main. It was the 32nd time that he's reached Lucas Oil Empire Super Sprint Victory Lane.
"It's good to be back in Victory Lane because every year my hair gets more titanium," joked Hebing. "Alan Johnson and Danny Johnson, seeing those guys still do it. That gives us all hope."
Hebing was flanked by Cory Turner for the start of the feature. Hebing quickly went to the top in turns one and two in order to take the lead. It was a short lived advantage as prior to the completion of the first lap, Larry Wight got over. He wasn't harmed but a full restart was required.
As he did on the initial green, Hebing again went to the top of turns one and two allowing him to bolt by Turner into the race lead a second time. Turner didn't go down without a fight, Turner stayed with Hebing. Hebing worked low in turns three and four where Turner followed him. He stayed high in turns one and two which kept Turner in striking distance.
Hebing approached traffic for the first time on lap nine. Before the 10th lap could be completed, Paul Kinney's car spun into the infield forcing the second and final yellow of the event. On the following restart, Turner hung with Hebing through turns one and two on the bottom while Danny Varin tried to sneak through the middle. Turner stayed with him in turns three and four, but Hebing was too strong. Hebing rallied to hold his own on the outside while Varin hung close to Turner.
"I kept going real hard because I made a mistake last week losing a race on my own," commented Hebing. "I kept pushing the car every lap. I have to thank 87 Speed, X-1 Race Cars. This is the third time out with a brand new car."
Hebing continued to lead as the race for second picked up. Turner had run second up to this point, but now Danny Varin began applying pressure. Varin worked over Turner to eventually take over position on lap 12. Now it was his turn to attempt to track down Hebing.
Hebing was unstoppable in clean air which meant that Varin's only chance was traffic. Hebing found traffic a second time with only eight laps remaining. Although traffic was thick at times, Hebing wasn't going to be denied on this night. When it was required, Hebing made a couple of three wide moves to work his way through keeping Varin and everyone else behind him.
"I don't know how close anyone was, but the car was awfully good," said Hebing. "I could run the bottom down here (turns three and four) and roll the middle at both ends pretty well. Nobody ended up that close so it was good."
Hebing took the checkers while Varin, of Fonda, N.Y., ended up finishing in second. The fifth starting Varin simply didn't have enough to catch him. Varin wanted the win, but after the long week repairing the car following a flip last weekend, second was good enough.
"We had a real good car; it was a little too lose," mentioned Varin. "We'll put that in the notebook. I can't thank these guys enough. They worked all week to get this car back together. It was tore up. The track was smooth and slippery. It makes for a phenomenal race. What more can you ask for? We were racing three wide for the lead. Well, just need to be one spot better."
Turner, of Caistor Centre, Ont., completed the podium Friday. It was one of his best career finishes with the Empire Super Sprints. He had a great battle with both Hebing and Varin. He fought hard way down on the bottom of the speedway
"I was getting a good run down on the bottom," said Turner. "The earlier I pitched the car in the more I was able to get sideways then diamond it off and get a good run. Chuck crossed me over their on the restart on lap nine. I thought I had him but he was able to check out. My hats off to him and Danny, they ran a great race. We're off to a hot start this year. I hope there is more to come."
Bryan Howland finished fourth from ninth with Jason Barney rallying late in the affair to get back into the top five.
Lucas Oil Empire Super Sprints
Fulton Speedway
Fulton, NY
Saturday April 28, 2017
Heat Race #1:
1. 99L – Larry Wight
2. 87 – Jason Barney
3. 36 – Matt Billings
4. 47x – Dylan Westbrook
5. c10 – Paulie Colagiovanni
6. 29k – Dalton Herrick
7. 53 – Shawn Donath
8. 30 – Scott Goodrich
9. 66 – Eric Karlsen
10. 77x – Alex Hill
11. 13 – Keith Granholm
Heat Race #2:
1. 0 – Glenn Styres
2. 0 – Danny Varin
3. 123 – Yan Bilodeau
4. 10 – Jeff Cook
5. 90 – Matt Tanner
6. 88c – Chad Miller
7. 14b – Brett Wright
8. 11 – Robbie Shuttleworth
9. 22x – Ethan Preston
Heat Race #3:
1. 19K – Paul Kinney
2. 45 – Chuck Hebing
3. 22 – Jonathan Preston
4. 514 – James Hanson
5. 33 – Brandon Kidd
6. 14 – Colman Gulick
7. 56 – Billy VanInwegen
8. 5x – Bob Gray
9. 2 – Dave Axton
10. 67 – Pete Richardson
Heat Race #4:
1. 51 – Bryan Howland
2. 17 – Sammy Reakes IV
3. 97 – Cory Turner
4. 98 – Joe Trenca
5. 48j – Darryl Ruggles
6. 10 – Kelly Hebing
7. 91 – Ryan Turner
8. 21 – Alex Vigneault
9. 2H – Steve Hutchinson
10. X – Dan Bennett
Dash:
1. 47x – Dylan Westbrook
2. 10 – Jeff Cook
3. 514 – James Hanson
4. 98 – Joe Trenca
B-Main #1:
1. 88c – Chad Miller
2. 53 – Shawn Donath
3. 76 – Larry Kelleher
4. 14b – Brett Wright
5. 29k – Dalton Herrick
6. 30 – Scott Goodrich
7. 66 – Eric Karlsen
8. 77x – Alex Hill
B-Main #2:
1. 14 – Colman Gulick
2. 10 – Kelly Hebing
3. 21 – Alex Vigneault
4. 91 – Ryan Turner
5. 56 – Billy VanInwegen
6. 5x – Bob Gray
7. 67 – Pete Richardson
8. X – Dan Bennett
9. 2 – Dave Axton
10. 2H – Steve Hutchinson
Feature:
1. 45 – Chuck Hebing
2. 0 – Danny Varin
3. 97 – Cory Turner
4. 51 – Bryan Howland
5. 87 – Jason Barney
6. 90 – Matt Tanner
7. 98 – Joe Trenca
8. 17 – Sammy Reakes IV
9. 47x – Dylan Westbrook
10. 10 – Jeff Cook
11. 48j – Darryl Ruggles
12. 123 – Yan Bilodeau
13. c10 – Paulie Colagiovanni
14. 14 – Colman Gulick
15. 36 – Matt Billings
16. 33 – Brandon Kidd
17. 514 – James Hanson
18. 10 – Kelly Hebing
19. 56 – Billy VanInwegen
20. 21 – Alex Vigneault
21. 88c – Chad Miller
22. 0 – Glenn Styres
23. 22 – Jonathan Preston
24. 19K – Paul Kinney
25. 53 – Shawn Donath
26. 99L – Larry Wight